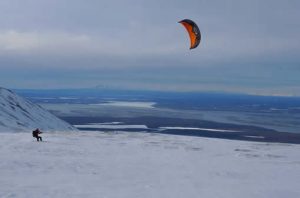 Crossing complete 3/16/11.
Scroll down for the full expedition report.
January 2011:  Jason and Troy are in full expedition planning mode and all systems are go for a March 12th departure. The crossing will be made from Chernof to Exit glacier with an attempt on Mt. Truuli.   Kite training is in full swing in Turnagain Pass.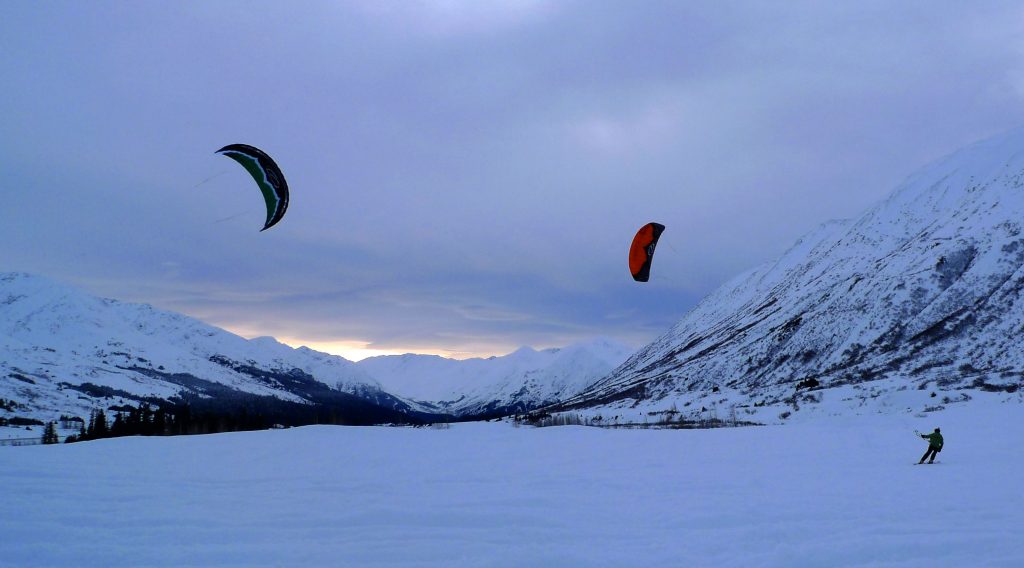 February 2nd:  A new sled design is being developed for the crossing that will find the best mix of durability and compactability.    Our Ace designer/fabricator Ben Kremer is in the midst of testing new designs that utilize a thorough understanding of kiting, airplane mechanics, and construction.
February 10th:  Ben Kramer is putting the final touches on the new sled design.  I got a first hand look at it and it looks to be ultracompact and lightweight.   Pefect for what we are trying to do on the Harding crossing. 
I will have the sled in hand in a few days to take it in the field and put it through the paces.  I can't wait.
February 20th:  Field testing of the new lightweight and super tough sled design is complete.  Ben is now in full production mode of two new sleds for the expedition team. The sled was put through the paces fully loaded and across tougher terrain than we will encounter on the icefield. It peformed nearly flawlessly.  With a few modifications it should be the perfect sled for this crossing. 
March 2nd: Preparations have been in full swing for the past month.  Jason arrives in Alaska on the 8th and we will have a final training session on crevasse rescue procedures as well as a final gear check. Food is packed and gear is showing up from sponsors.  New kites from Ozone should be arriving sometime this week as well.  A shorter expedtion and having it close to home is a nice change of pace this time around.
Food packed for the crossing.
                                                                                            Oakley gear from the best sponsor in the world.
March 8th:  New kites just arrived from my sponsor Ozone, directly from their factory in Vietnam.  This new generation of Frenzy's are a step above the older models and I can't wait to get them in the air.  I spent some time rigging and doing final inspections and pack up. 
So the last piece of gear is in hand and all systems are a go.
March 10th: Jason is back in Alaska!  We met tonight and went over some final gear issues. 
We also had a thorough review session of crevasse rescue scenarios. 
Hopefully we won't be needing these skills, but you can never be too prepared.
Jason figuring out a 6:1 pulley system.  This will be used for any crevasse rescue scenarios we might encounter.
March 11th: Final decisions are being made before we fly onto the icefield tomorrow morning.  The two big decisions that we struggle with are if we should take a sat phone or not and which sleds to take.  The sled decision ends up being an easy one, as over a week ago our custom designer and fabricator Ben, found out the plastic he needed to build the second sled was not available in Alaska.   He tested a substitute which cracked quite easily in cold temperatures.  As or the Sat phone, the decision was made to take the phone, just in case.  In some respects it distracts from a true wilderness experience, but we can envision numerous situations where we could need two way communicaiton.  Better safe than sorry.
March 12th:  Under clear skies we meet up with Jim Chaplain our ace pilot who will fly us onto the Icefield in his Cessna 185.  After warming up and loading all our gear into the plane we take off to a spectacular day.  We pass over Turnagain Arm, where every summer Jason and I kiteboard and into the mountains of the Kenai Peninsula.  Forty minutes later and we are flying over the icefield.  Jim is nice enough to fly the entire route so we can scout out our exit route as well as get a handle on how severe the crevasse danger will be.  After a very hard landing it is confirmed that this part of the icefield might not be suitable for landing, but it's too late for that. Jim drops us off and is gone.  When we can't hear engine noise from the plane any longer, Jason and I both realize we are really, finally on the icefield.  Odd to say, but the silence is deafening.  We don't waste any time and pack up our gear on the sleds and start pulling up hill to scout out a route to get to Trulli Peak.  After about ten minutes we realize there is enough of a breeze to kite.  So out come the kites and we have a great session for about an hour.  We try to make some progress with the sleds but it is not quite windy enough for that. After the wind dies, we pull out the maps and figure out we are about 20 miles from the start of the climbing route. We both realize this is too much for the time we have.  That would add 4o miles round trip, not counting the time it would take to climb.  And judging from the forecast, there won't be enough clear weather for us to pull that off.  We're okay with that because we came here to kite and get across the icefield.
We start pulling our sleds North and East and make it about four miles before we decide to drop the sleds and climb a close by nunatak and scout out a route for the next day.  This offers beautiful views and we decide our direction for morning.  We set up camp under clear skies and a beautiful moon.  It's about -5F but we're toasty warm in our tent.
Jason loading the plane on a chilly Anchorage morning.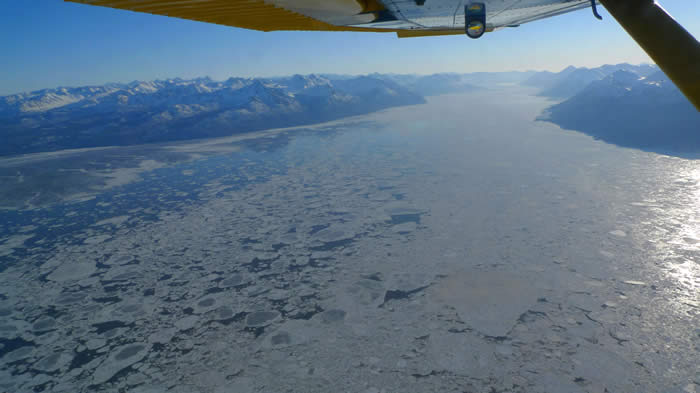 Flying over Turnagain Arm, heading into the Kenai Mountains.
Harding Icefield.  Crevasses to the right of center.  This is what we are trying to avoid.
                   Jim Chaplain looking for a landing zone.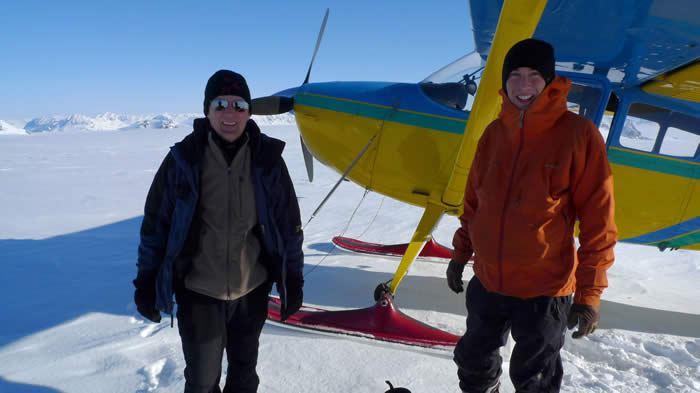 Jim and Jason at our landing spot on the Icefield.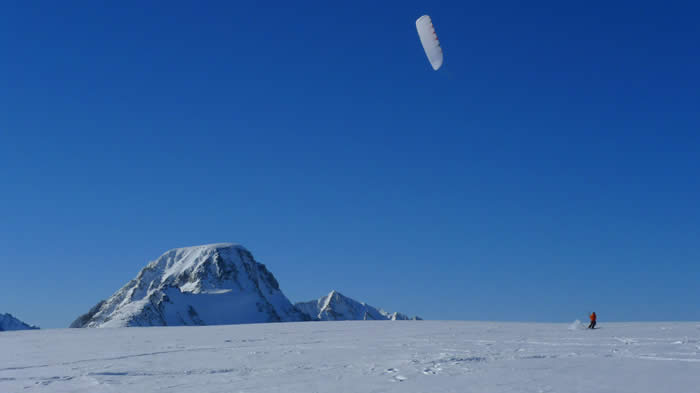 Jason kiting on the Harding Icefield.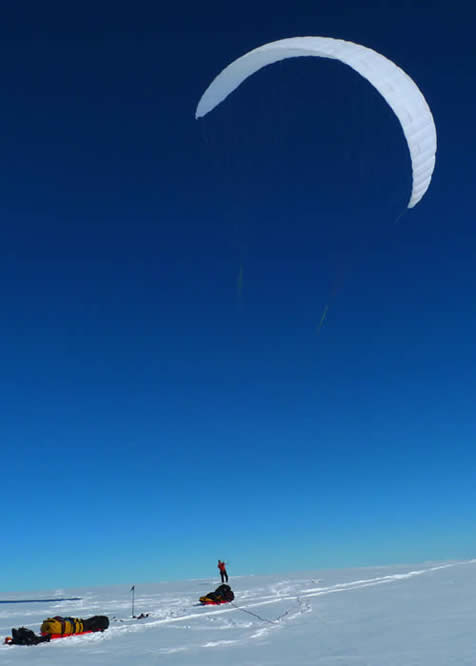 Kiting on the Harding.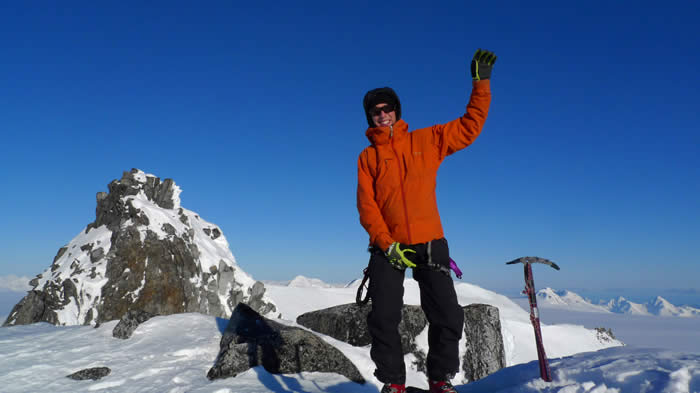 Jason on top of a Nunatak.
                    Troy Scouting out the route from a high Nunatak.
March 13:  We're up early under clear, crisp skies.  The entire process of getting up, dressed, boil water, eat, break down camp, and load sleds takes about two hours.  By mid-morning we are moving and headed between two Nunataks to get down onto the main part of the Icefield.  This requires traversing a downhill section, which is likely loaded with crevasses.  For safety if we are not kiting or camping we are roped up and prepared.  We manage this without seeing a hint of a crevasse.  By the time we reach the bottom, the wind is blowing so we put up the kites.  But it's a trick as it is just surface wind.  The kites will fly until about twenty feet off the ground, after that they fall from the sky.  We know what that means, pack up the kites and start dragging the sleds.
We pull the sleds all day long through some of the worst sastrugi and most difficult surface that we've seen so far.  All day it seems like we are pulling the sleds uphill, but when we look back, we realize that a good portion of it has been downhill.  With one more attempt at kiting late in the day, we decide to set up camp and hope for better wind in the morning.
Once in the tent we both can tell it is substantially colder than last night.  A check of the thermometer confirms....it's -20F!!  Chilly!   We start our routine of boiling water to make dinner, all of a sudden the stove starts on fire, not once but twice, before I figure out what is going on.  There is an irrepairable leak in one of the connections.  We try our back up stove, but due to the cold we can not even get it lit!   We both realize this is a situation that could turn dire if we don't react.  With a quart of water between us and at least three days from being off the icefield, we both know that either the trip is over or we have to come up with another stove in order to continue the crossing.  After a discussion we decide to make a call.  Thank goodness we decided to bring the satphone.   I call my buddy SuperDave Calkins and after describing our situation, he says, "Tell me what you need and I'll be there by mid-morning".   We feast on canned salmon and tuna and pre-cooked bacon that Jason thought might be just the thing to bring on such a trip.  Good thing he did....or we'd be hungry boys.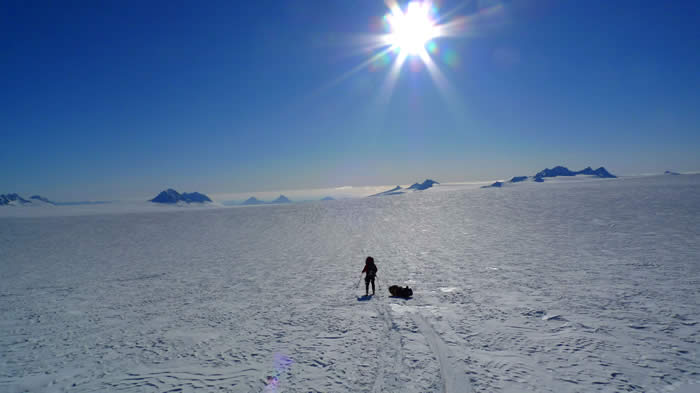 Distances and uphills are deceiving.
                              Sled tracks on the icefield.

Jason attempting to get the backup stove going at -20F.  No luck
            .                                                                Jason and his one pound of pre-cooked bacon....which was pretty darn good.  
March 14:  By mid-morning I hear a plane low on the horizon.  Sure enough, SuperDave is inbound with a new stove to save the expedition.   Dave is the best bush pilot I know and he's with his friend Ron Tharaldson, who has a beautiful homebuilt SuperCub.   Dave pulls up ten feet from the tent and despite the chilly temps they stay for about 45 minutes catching up on our trip, weather reports, and us checking out the plane.   They take off and do a low flyover before heading towards Exit glacier to check out our route.  After a half hour we have snow melted for water and we hear Dave and Ron on their way back towards us.  Surprisingly they land and give us some great info on the route ahead and our departure strategy to get off the icefield.    They are then off again and we are back to silence and dragging sleds north and east.  Having gotten a late start today we decide to lay down some miles while the weather is still beautiful and navigation relatively easy.  The weather is supposed to get worse with a low overcast ceiling tomorrow, so our hopes are to get as close as we can to Exit glacier by nightfall.  This is where we will get off the icefield and find our way back down to sea level.
Being in the middle of the icefield offers pretty perfect conditions for pulling our sleds and from here on out it will mostly be downhill.   We enjoy the sun and the solitude and warm temps(15F) as we drag sleds for hours on end with the peaks on the horizon seemingly never getting any closer.   Oddly enough I came across several things today on the ice that were surprising.  First was a leaf sitting on top of the snow.  It looked to be left over from last fall but obviously blew in from some place lower.  And we came across animal tracks cutting directly across the icefield.   I suspect they were fox or wolf tracks, but it is unreal to think an animal would be traversing a place where there is no food.   By late in the day, the wind is up and Jason puts up his kite and is able to kite to where we end up setting up camp.   We take turns kiting while getting camp set up, racing to get things done before darkness.   It ends up being a pretty good session and a beautiful sunset.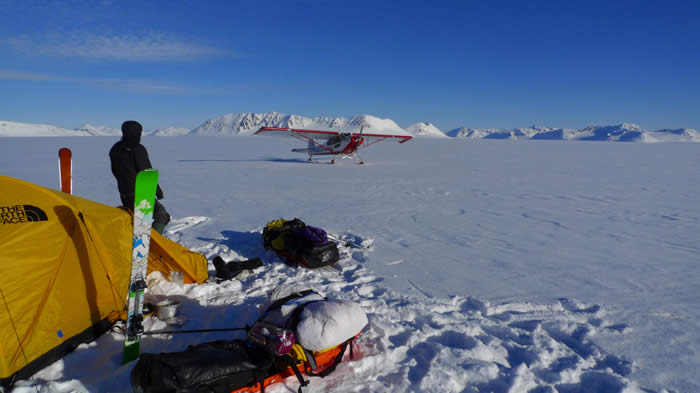 SuperDave and Ron landing at Camp 3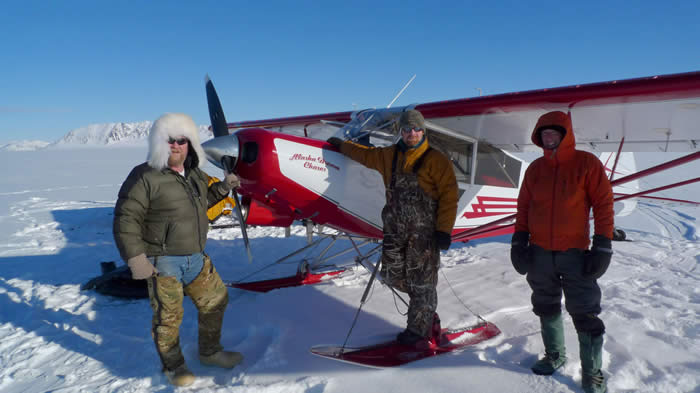 .                                                                                       Ron, Dave, Jason, and Ron's Alaska Dream Chaser.

Ron and Dave getting ready to take off.
                                                                                           Click for short video clip of SuperDave doing a low flyby.   
Jason pulling towards mountains on the horizon.
Lone leaf on the the Icefield.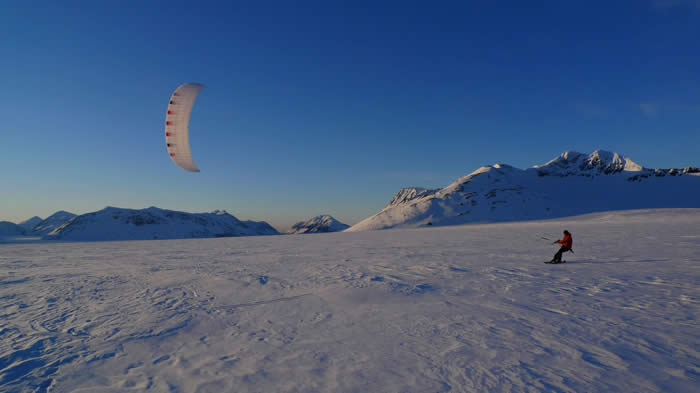 Jason getting in a good session.

Click for a short video of Jason Kiting.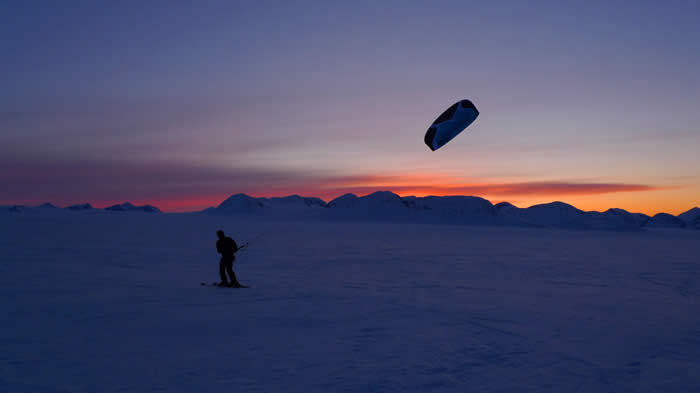 Kiting at sunset on the Harding Icefield.
March 15:  We wake to overcast skies and a low cloud ceiling, just as forecasted.  We still have at least three miles to ski before we are at the top of Exit glacier, aptly named by the first crossing team in 1968, because it is how they exited off the icefield. We are both glad we put in the miles when we had good weather.  When we look back to the way we came it is a total whiteout, which would have made navigating difficult and potentially dangerous.    We hastily pack up camp and start skiing towards the top of Exit glacier and our departure point.  It takes us over two hours to make it there and scout out our route to get off the icefield and safely onto land.  I really contemplate going straight down the glacier, which looks easy but I have seen it in summer and we flew over, and it is a mine field of crevasses.  So we opt for getting on land and hopefully picking up a summer trail that will take us down to the base of the glacier.  Getting off the icefield is easy but requires some exhausting hauling of our 150 pound sleds up some extremely steep terrain before we can start, what we hope will be all downhill.
We cross a saddle and start down into a large bowl that is fairly easy going.  But this is shortlived and we realize that with so much snow it will be impossible to pick up the trail that is here in summer. It becomes quite clear that getting off the side of this mountain will be a challenge consideing the snow depth, steepness, and avalanche debris all around.  We start down and promptly find ourselves naturally getting sucked into gulleys that are perfect avalanche chutes.  I know our route finding and decision making must be spot on as going down in the wrong place could not only be detrimental but could require difficult and exhausting work to get our gear back up to start again, if that is even possible.  We end up having to hike down, without gear, and scout out our route before we commit to it.  One or the more challening ones finds us in a narrow 45 degree chute with not many options but to "send" our sled down the hill and watch it tumbling several hundred feet below.   This was after navigating the upper ramparts of the slope managing the sled, which was an ordeal in itself.
Once to the bottom of this chute we contine down in a quagmire of avalanche debris from slides earlier in the season.   The going is rough and exhausting to say the least.  Just when we thought we might be out of the serious stuff, we end up in a narrow canyon surrounded by steep cliff walls.  I scout out a route and find myself standing on a cliff that is easily 200 feet high.  I do not have enough rope to repel down, so we must find another way.  I climb up one of the cliffs and set up a 3:1 pulley system and begin hauling our gear up the cliff.  Meanwhile, Jason hauls up gear on his back and reloads the rope at the bottom.  After an hour we have all our gear up top and are now confronted with the next challenge, being on top of a cliff and surrounded by cliffs.  But, after more than ten hours on the move today we are literaly spent and it's getting dark.  We set up camp right there, despite it being a fairly precarious perch.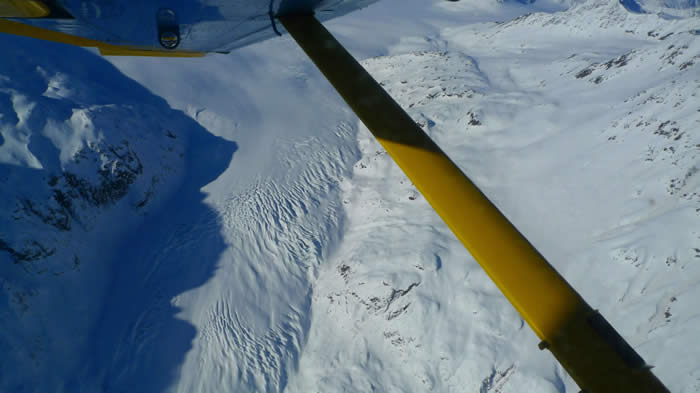 Our exit route along the right hand side of Exit glacier, from the air.  Looks pretty easy.
             Our exit point from the Icefield onto land again.
Jason pulling hard getting onto land.
                                                 Heading down just before the going got really tough.  Our goal the valley floor below.
Jason negotiating a steep chute after sending his sled, seen far below.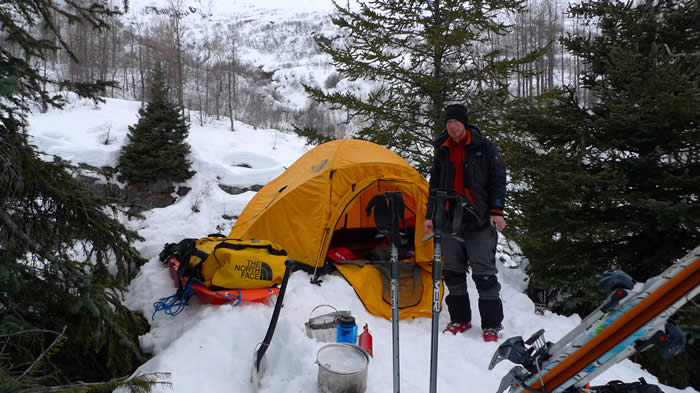 Our last night camping perched in a somewhat precarious spot.  Out the back door is a severe drop off. 
March 16:  We are up early in hopes of getting off the mountain today.  Jason scouted out a route and we headed in that direction but quickly found more roadblocks in the way of steep cliffs.  We sidehilled searching for a safer route down.  This was outrageous as the snow ranged from knee deep to waist deep, making the going slow and tedious, not to mention trying to manuever a sled that loves gravity, through thick alders and willows.  We find ourselves hemmed in by steep cliffs and a canyon on one side and cliffs falling away to the glacier on the other.  After scouting out the entire hillside, we find the one safe route down.  It won't be easy, as it is a narrow shelf, skirting below a cliff, but it is the only safe way down.  This takes us two hours to negotiate.  But finally, with much relief we are standing on level ground again.
We ski to the Exit glacier visitor center and take a break before the long seven mile ski out to the highway.  The photo map in front of the visitor center confirms my assumption that we crossed the summer trail numerous times, but we just didn't know it.  We are both just glad to be back on flat ground after the ordeal of the last two days of getting off the icefield.  This turned out to be a pretty 'full on' experience and a classic Alaska adventure that certainly did not disappoint.
After several more hours on the skis we are back in civilization, expedition complete.  My friend Harry, from Seward picks us up, gives us showers, beer, and cooks us dinner.  Jason and I can only shake our heads in disbelief.  24 hours ago we were wondering if we would ever make it out.  All Jason can say is, "Dude, that was pretty rad."  And I would have to say, I agree.  
 Navigating the lower section.
                                                                                               Jason negotiating the final ramp off the mountain.
The photo map at Park Service headquarters showing the summer trail to Harding Icefield.  If it were only that easy.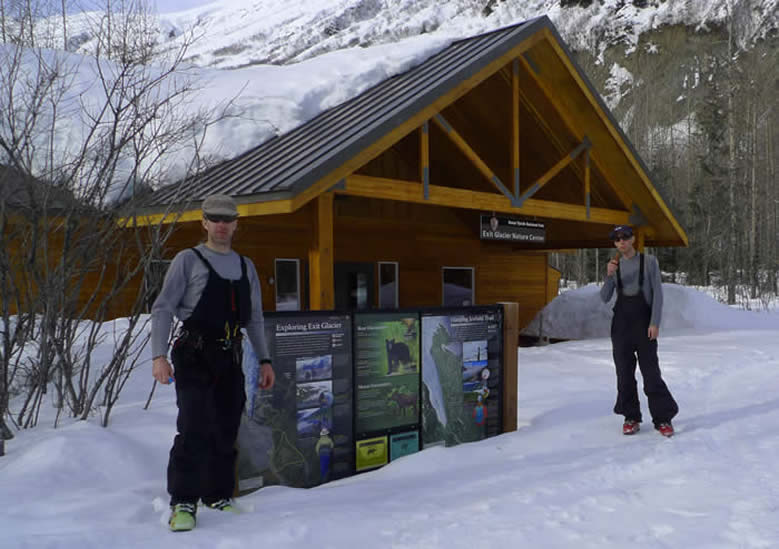 Troy and Jason, expedition complete.
Harding Icefield map with our approximate route.