Tracy arrived back in Chile after three weeks with his wife exploring the Galapagos and Machu Picchu.  He had a fabulous trip and was glad to see those sites and have the time with his wife, MaryLee.  However, the morning he arrived back in Santiago, he received the news that his Mom passed away.  She had just turned 92, and although not totally unexpected, it wasn't really expected either.  Before he left, his Mom was steadfast that no matter what happened with her, she wanted him to finish  the trip.  So, with heavy hearts and for Marion, we loaded up the bikes and headed south.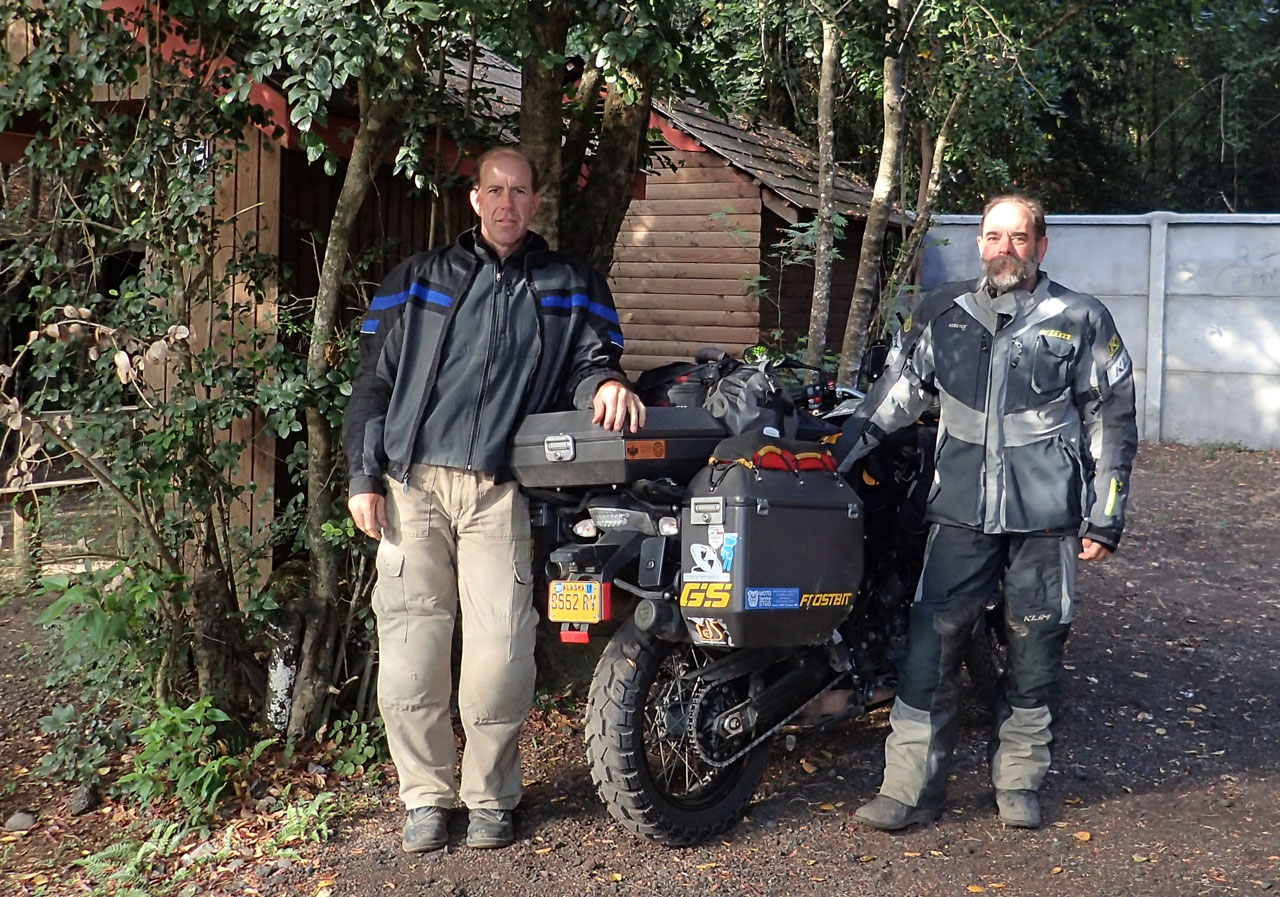 We headed east to cross the border into Argentina.  This border crossing was pretty quick as we were able to drive to the front of the line, as is customary in South America.  The line was a bit staggering as we left Chile and entered into Argentina.  We were both glad to be on motorbikes and not waiting in line  We would have been there all day.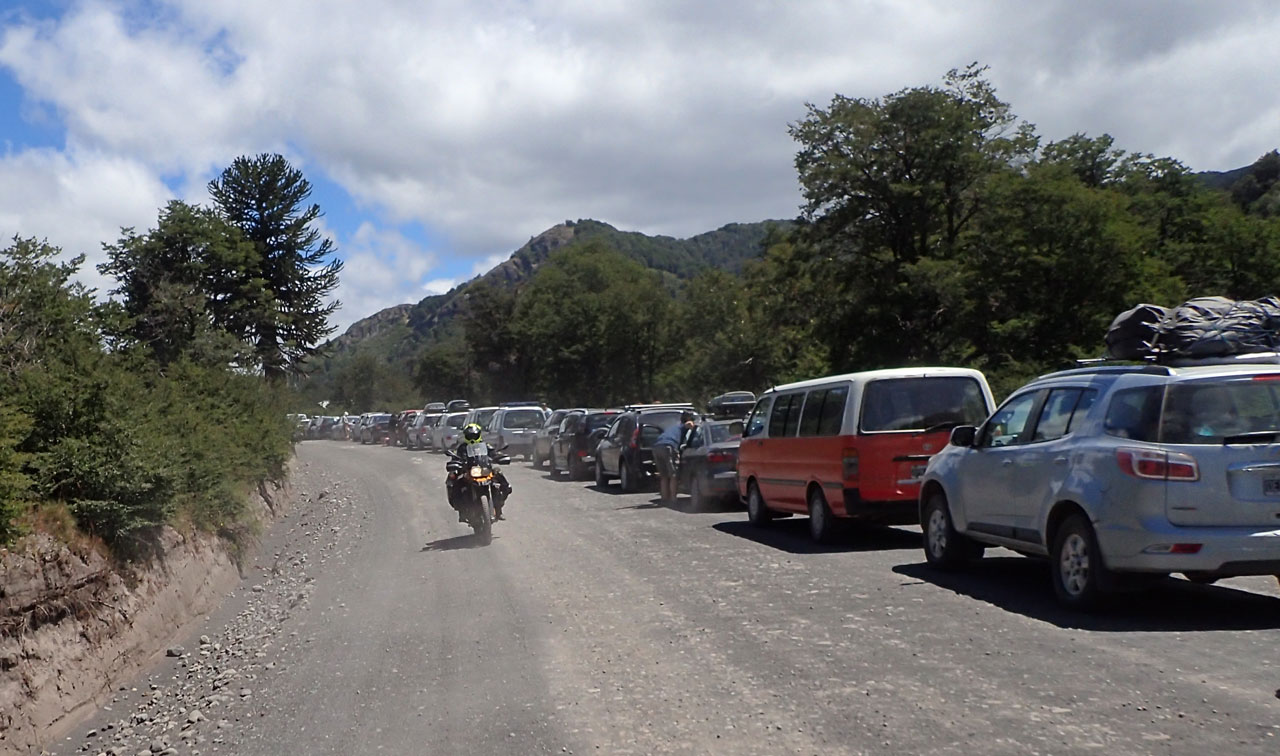 This road passes through Lanin National Park and Volcan Lanin is right next to the road.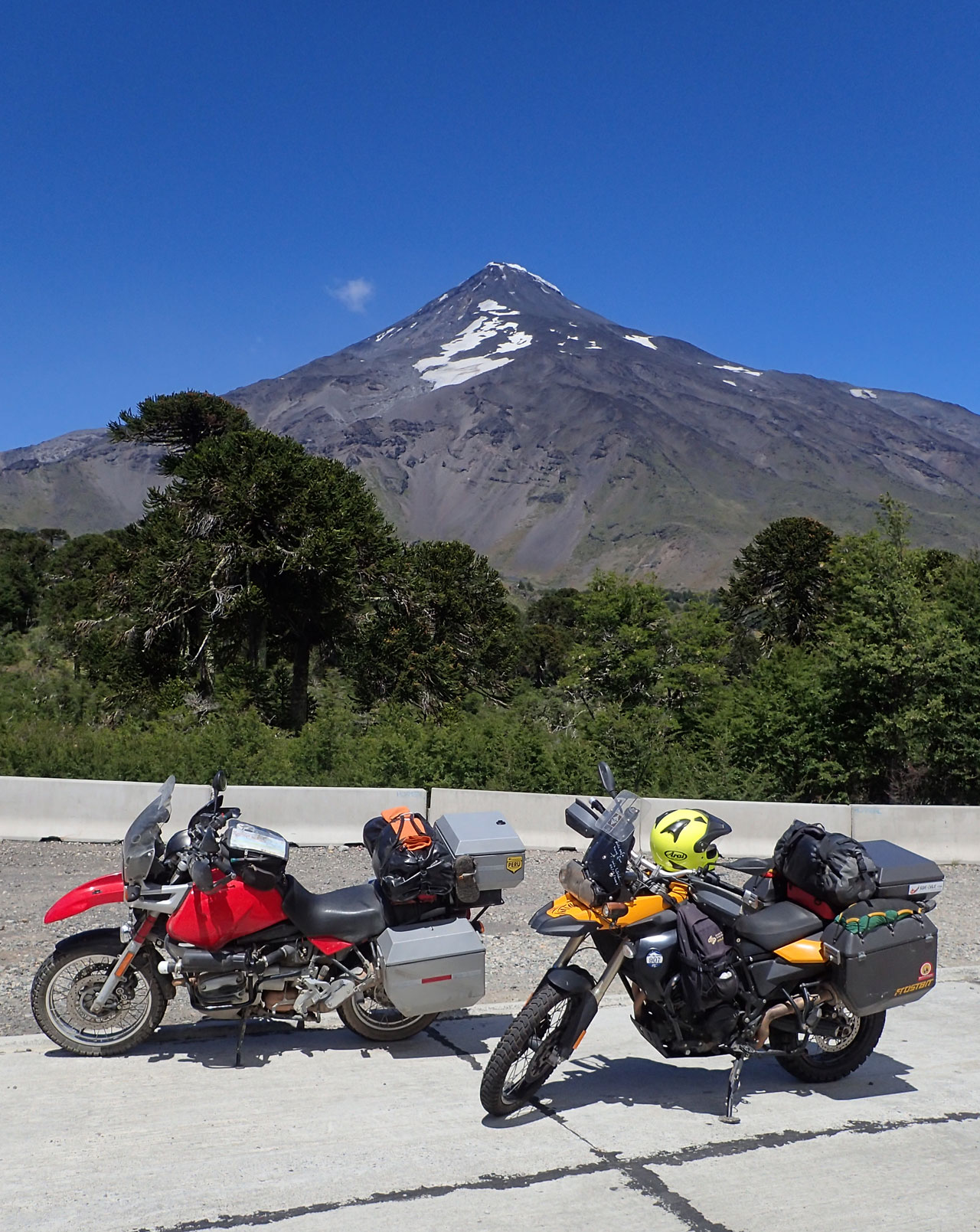 Once into Argentina, all the volcanoes were in the rear view mirror.  There seem to be no volcanoes in Argentina, certainly not like in Chile where they are everywhere.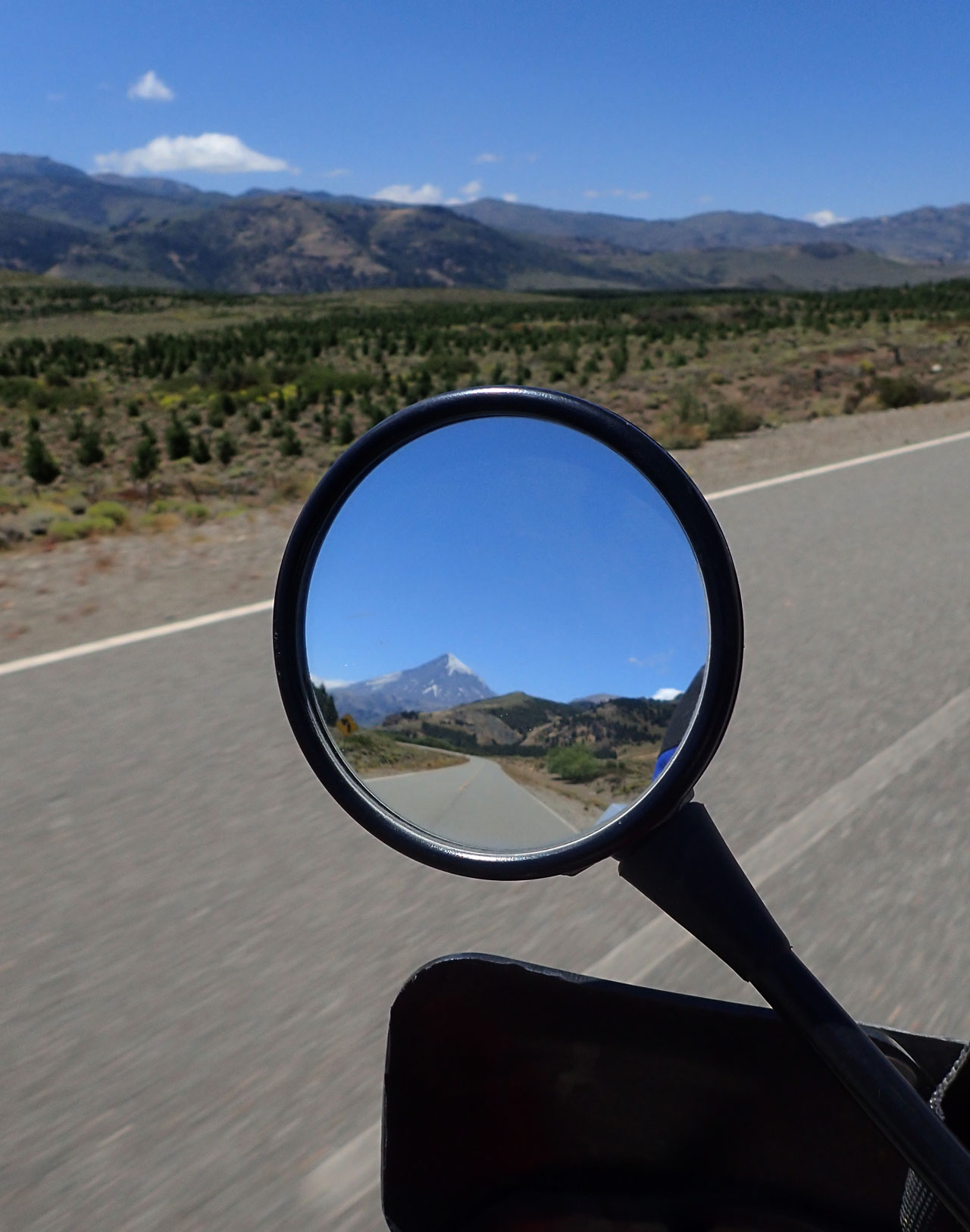 The drive from the border to Bariloche is off the charts.  It is one of the most scenic areas we've been to so far with some great roads weaving through a chain of lakes, complete with waterfalls and mountains all about.
Mountains and lakes were the norm for the entire day of driving.  There was never a dull moment.

We spent the night camping at a farmers campground, right in his pasture and next to his garden.  We had a pretty good view of the surrounding mountains right from our camp.
.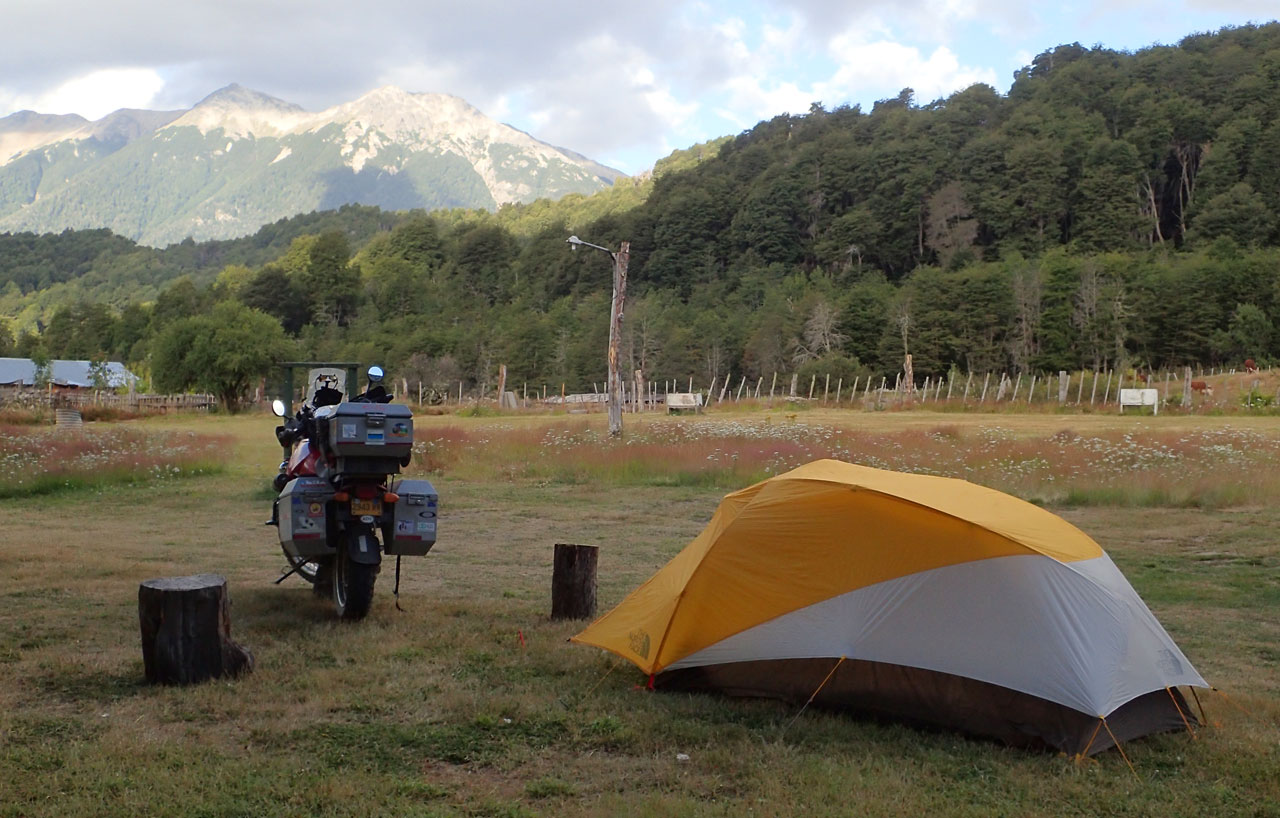 As the sun went down the skies and mountains became more dramatic. A great way to end the day. 

We set out in the morning with frost on the grass and temperatures hovering around 35F.  A bit brisk for riding, but by noon time it had warmed up to an acceptable level.  We both have heated jackets and that makes all the difference, though Tracy's isn't working at the moment.  The ride south towards Bariloche was really nice as we left the Seven lakes area.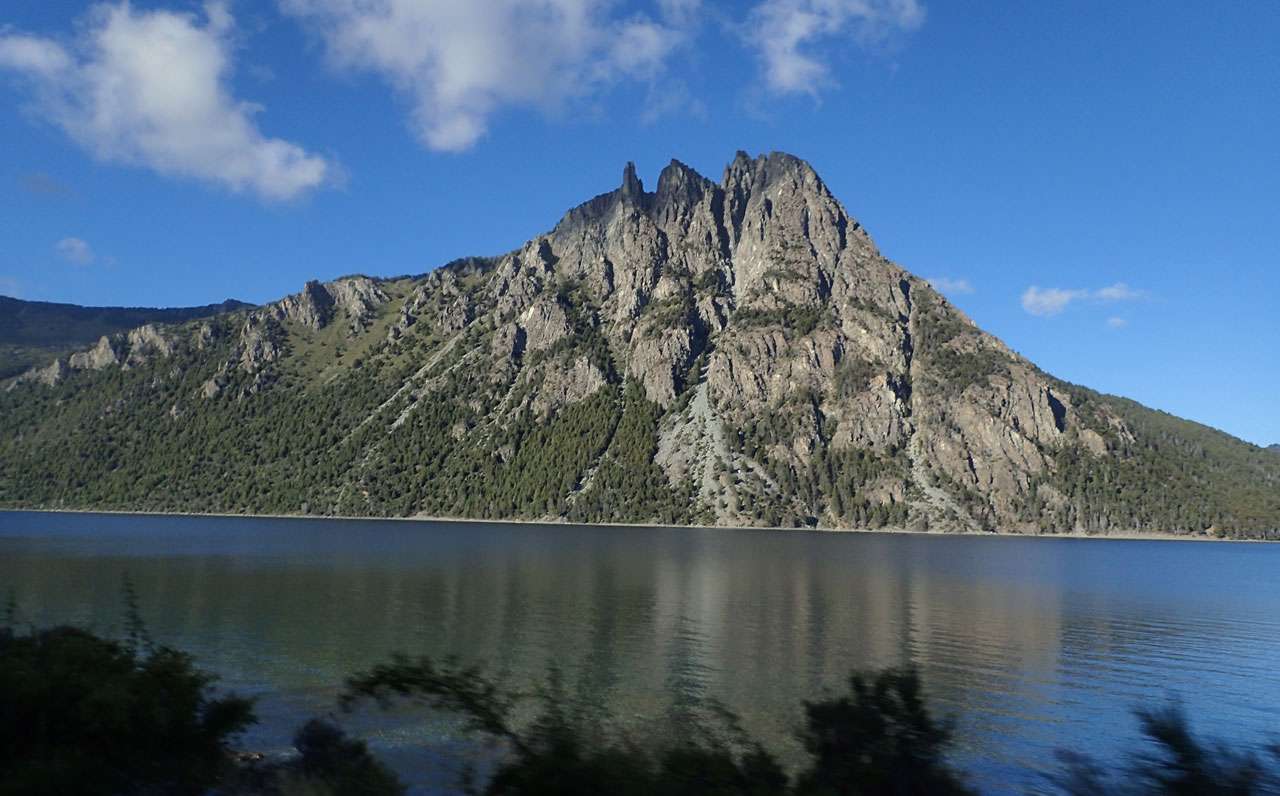 Just south of Bariloche we drove right past the mountains where Connie and I had been hiking a few weeks earlier.  With the clear weather it was easy to see the spires that we had been hiking near. 
The mountains in this area offer some really great rock climbing.  Next time I'll bring gear for that.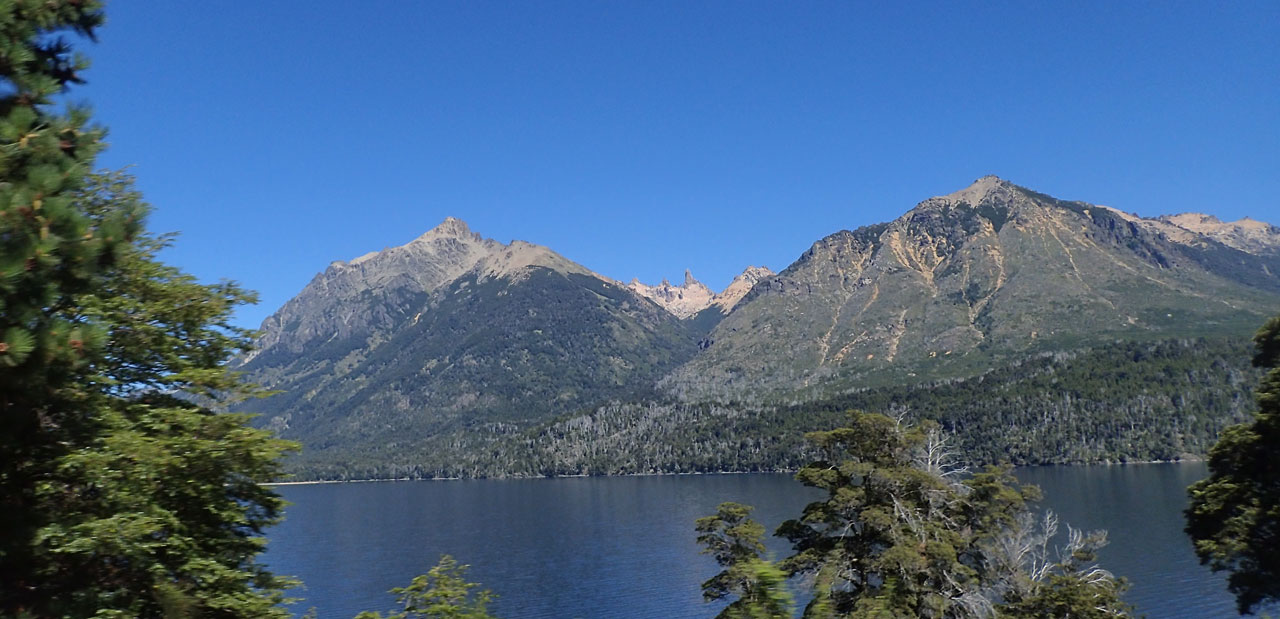 As we worked our way south, things really flattened out and warmed up.  We had an entire afternoon of landscape that didn't change much and looked like this. 
And the roads were long and straight with little variation.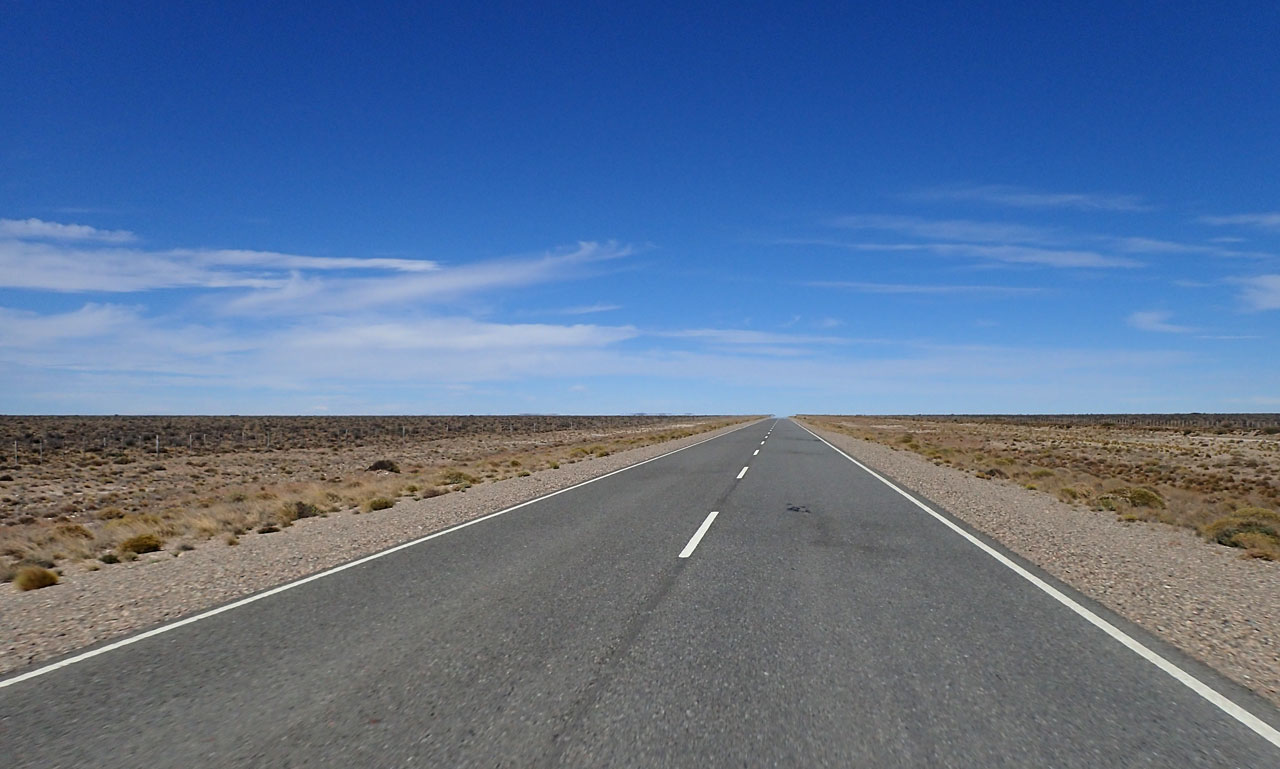 On our second day of roads leading south, deeper into Patagonia, we started to feel the famous winds of this region.  Every time we stopped we were just dumbfounded that there is just nothing out there, except a sole ribbon of highway cutting through this endless landscape.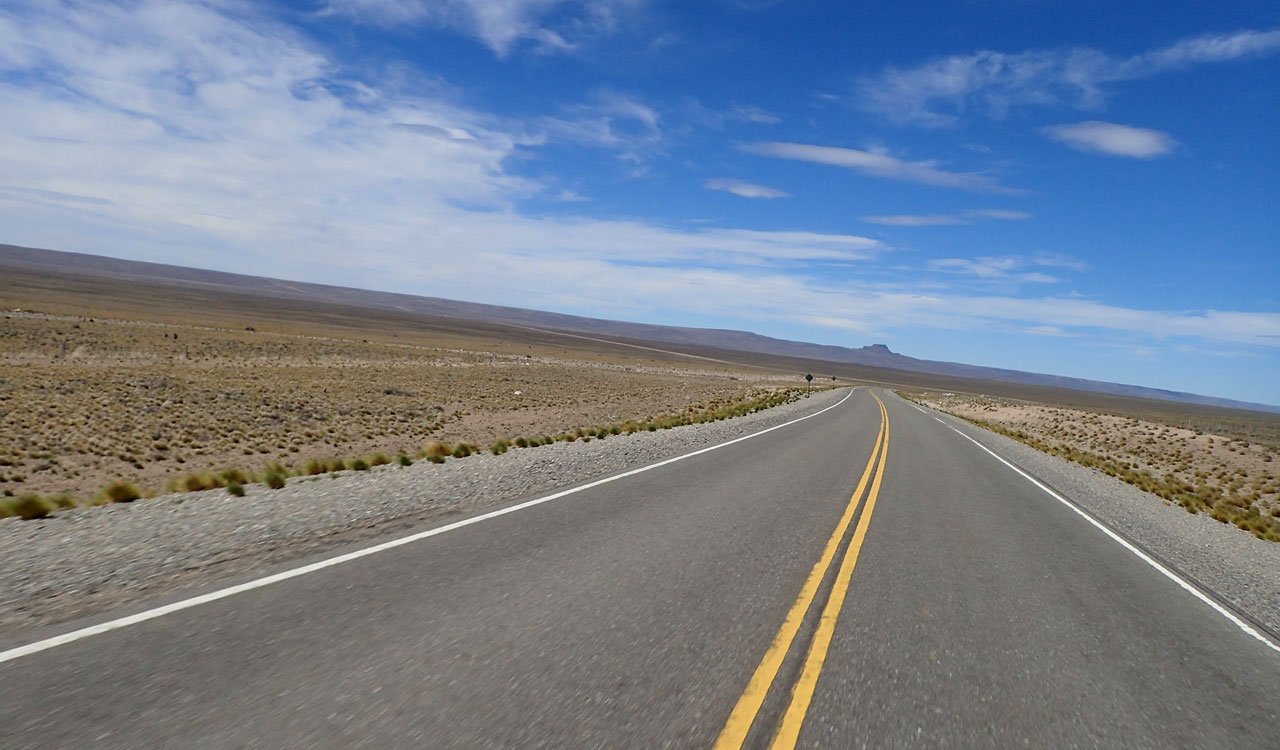 For several hundred miles we had the wind at our back and so we were able to move along at a pretty good pace, often averaging above 80mph and sometimes 90!! Both bikes are running well even at these speeds for extended durations.  BMWs are in their element with this type of riding. 
But not being so lucky and the road often changing directions, we inevitably had a head wind and cross wind which kept things interesting as we tried to keep the bikes from being blown out of the lane  The landscape started to vary a bit and the clouds were ever changing.  It really is beautiful in these parts, but in a very desolate sort of way.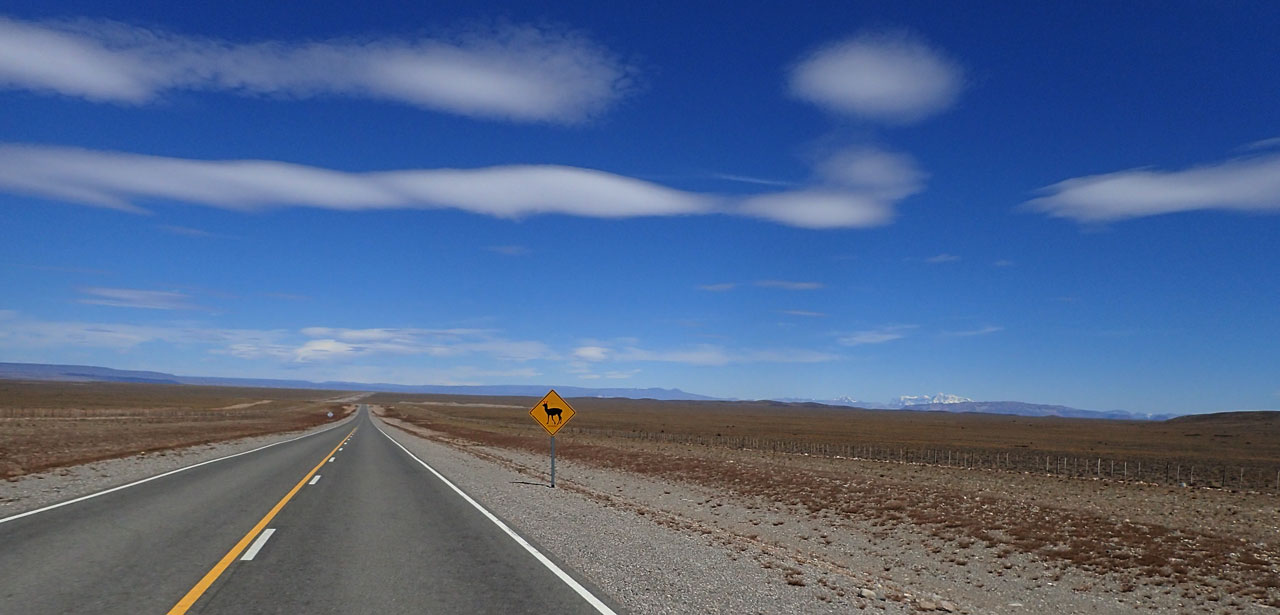 And the further south we traveled the more Guanaco we came across along the sides of the road.  They are much like a llama and we would always slow down.  But they are very skiddish and didn't seem to want to jump in front of the bikes…..thankfully.  And snow covered mountains started to appear on the horizon.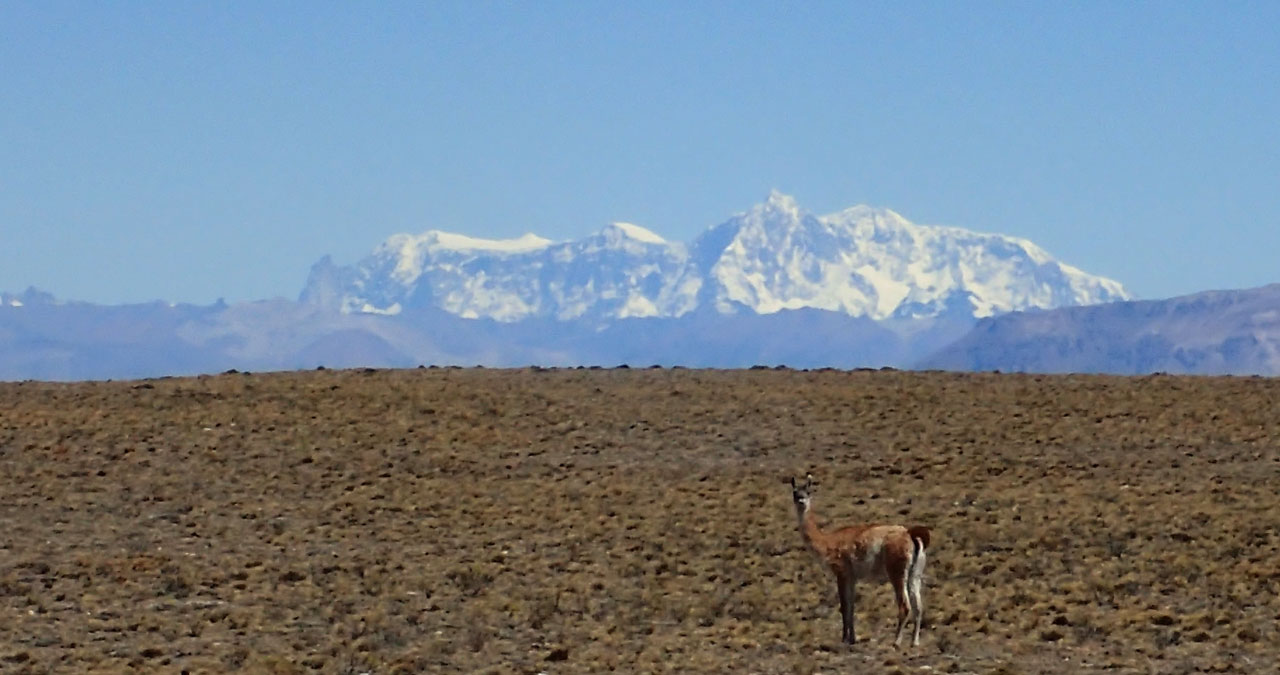 Often times the Guanaco were in big groups and they seemed oblivious to the high winds in the area.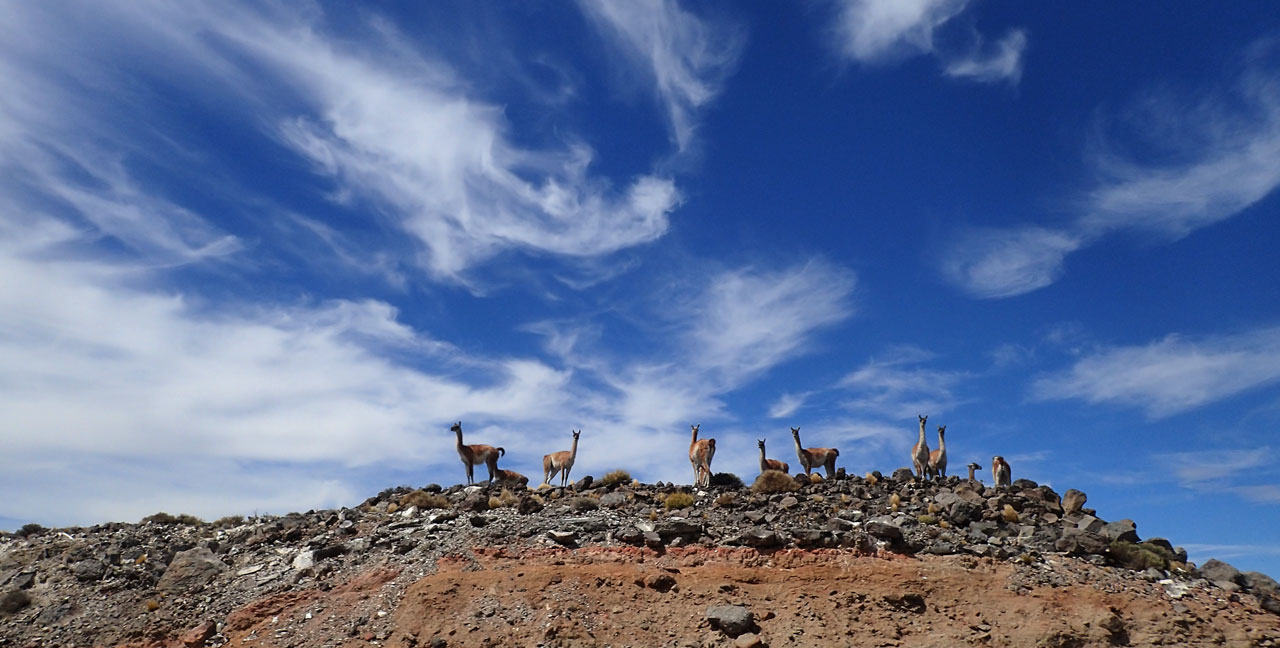 At one remote gas stop, this was our gas station attendant.  Nice guy but it was clear he had seen a lot of motorcyclists come through.   The gas pumps are covered in stickers from all sorts of overland travelers like ourselves…most of them on motorcycles.  And of course, we had to find a bare spot to add our sticker.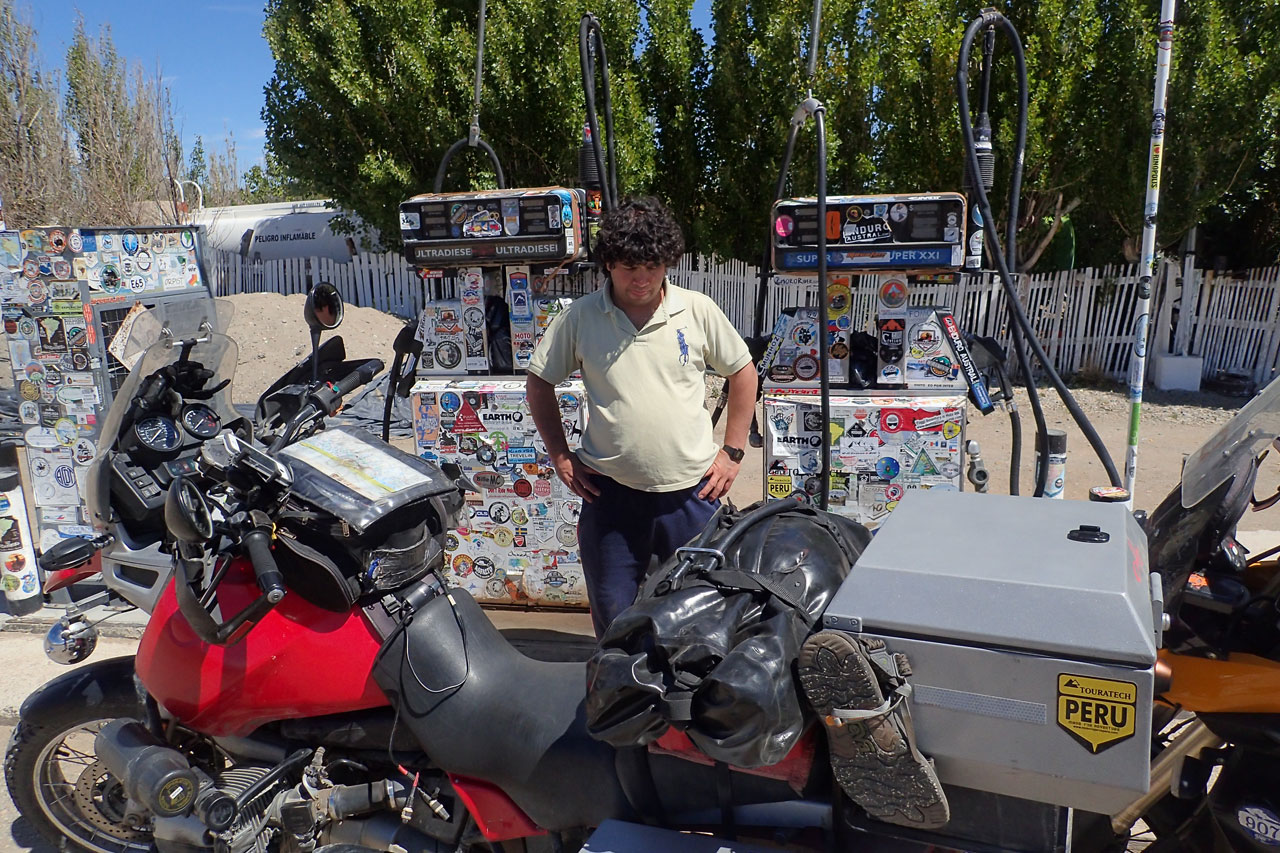 And I was fortunate enough to run into Sean and Jody again from Canada.  We met a few weeks ago at a border crossing between Argentina and Chile.  They had already been south and were headed north again, back over to Uruguay. 
At the same stop, we met Gabrielle from Denmark.  She's on the road for a year and riding solo  She and the Canadians gave us warning of the rough gravel road ahead.  Gabrielle had been cruising along and wiped out on the gravel and the bike landed on top of her.  She couldn't get out from under it and had to wait for a car to come along to help her out.  Needless to say she nor the bike were severely damaged…thankfully.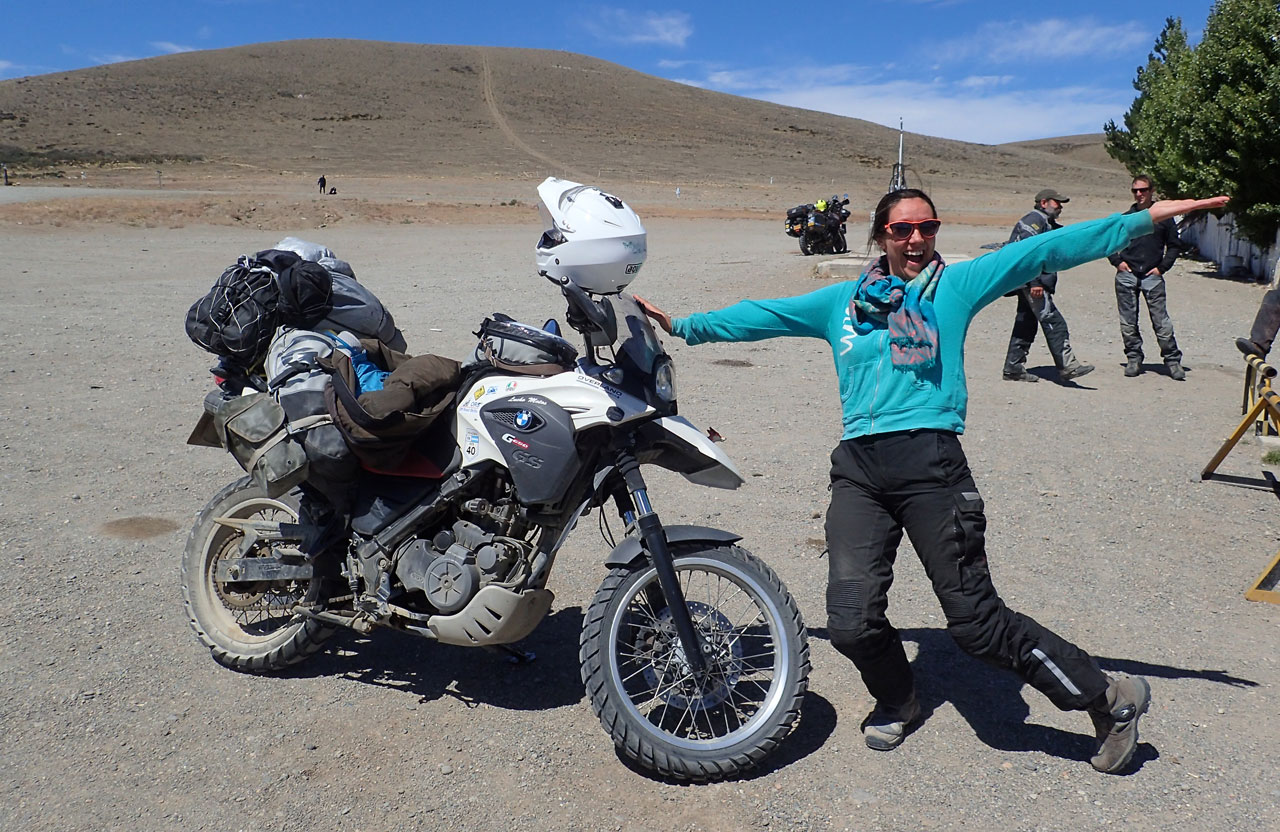 Before long we were into the gravel.  Several weeks ago I had several hundred miles of rough gravel so I had an idea of what we were in for.  We had about 50 miles of gravel to cover, some of it not to bad, some of it like riding on marbles.  The problem is, it changes quickly and there's no real telling what you are in for at any given moment.  That's on a good day, then factor in a 40mph cross wind and things get really interesting. 
The real key is to keep your speed in check and keep the bike between the grooves that the cars have worn into the gravel. It's nearly impossible with a cross wind.  This section wasn't to bad, as I was able to drive with one hand and snap a picture with the other.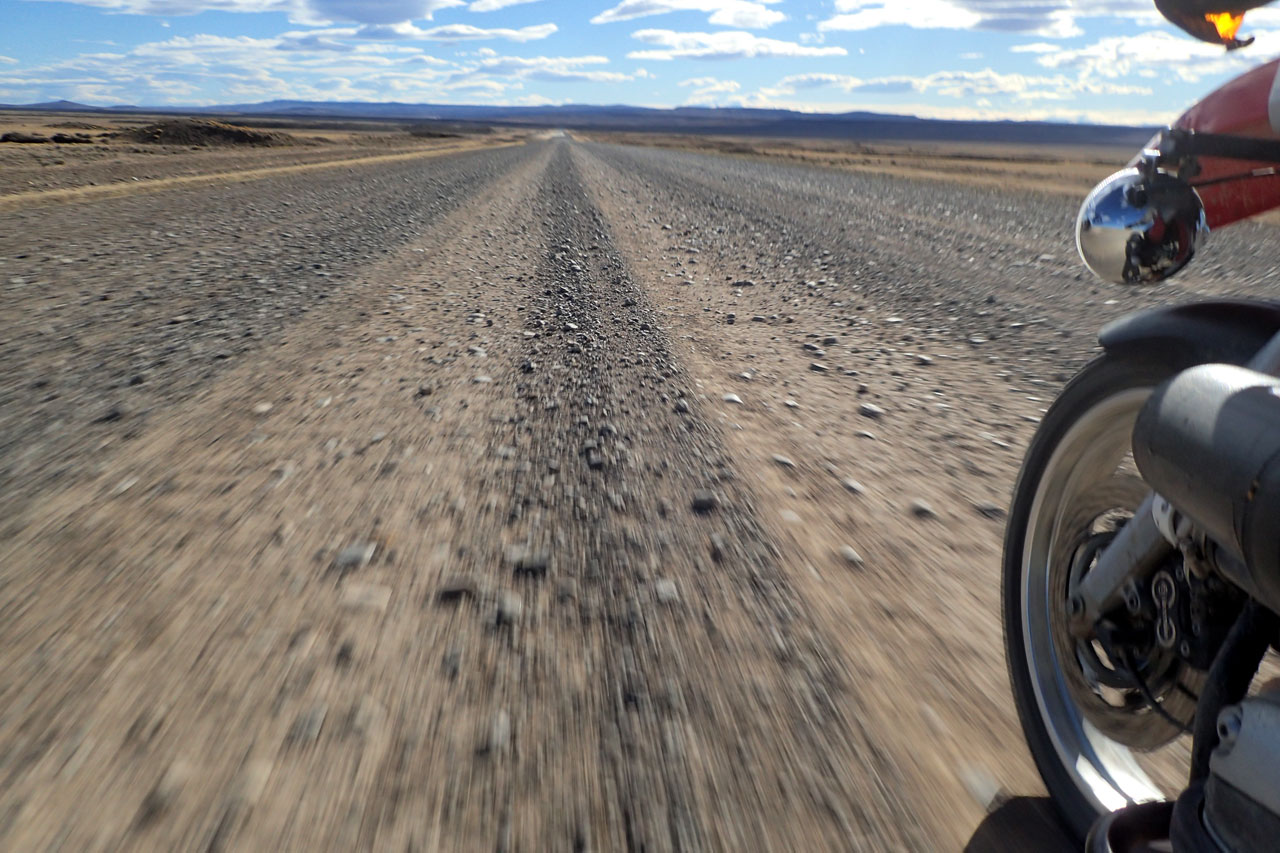 As Tracy soon found out.  He was traveling along at 40mph, got pushed into loose gravel, and went down hard.  I was a minute behind and by the time I arrived a car had stopped to see if he was okay and help him get the bike upright again.  He and the bike were a bit banged up, but nothing too severe.  Oddly enough he hurt the same leg he hurt earlier in the trip.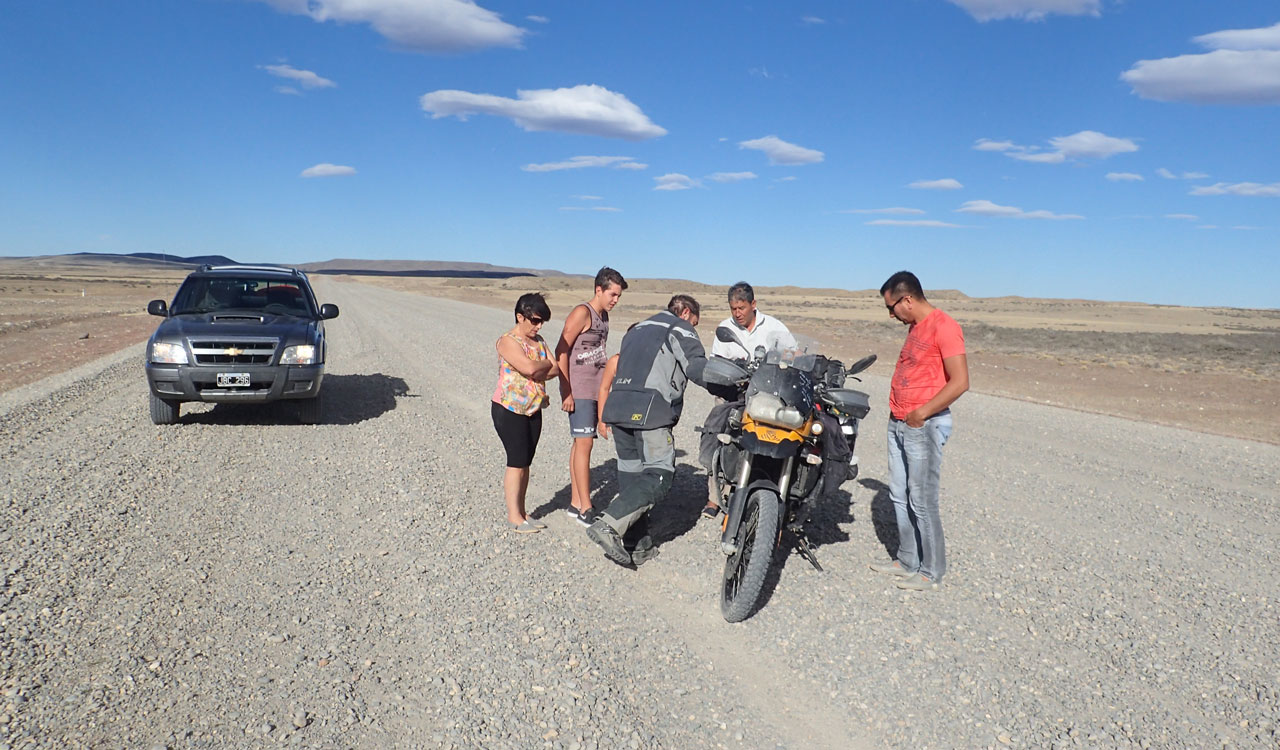 A few more war wounds from Patagonia on the 800GS.  Notice the rock wedged under his windshield.  It was apparent he went sliding on the gravel for a while as there were rocks falling off his bike all over the place and gravel scratches in the face shield of his helmet.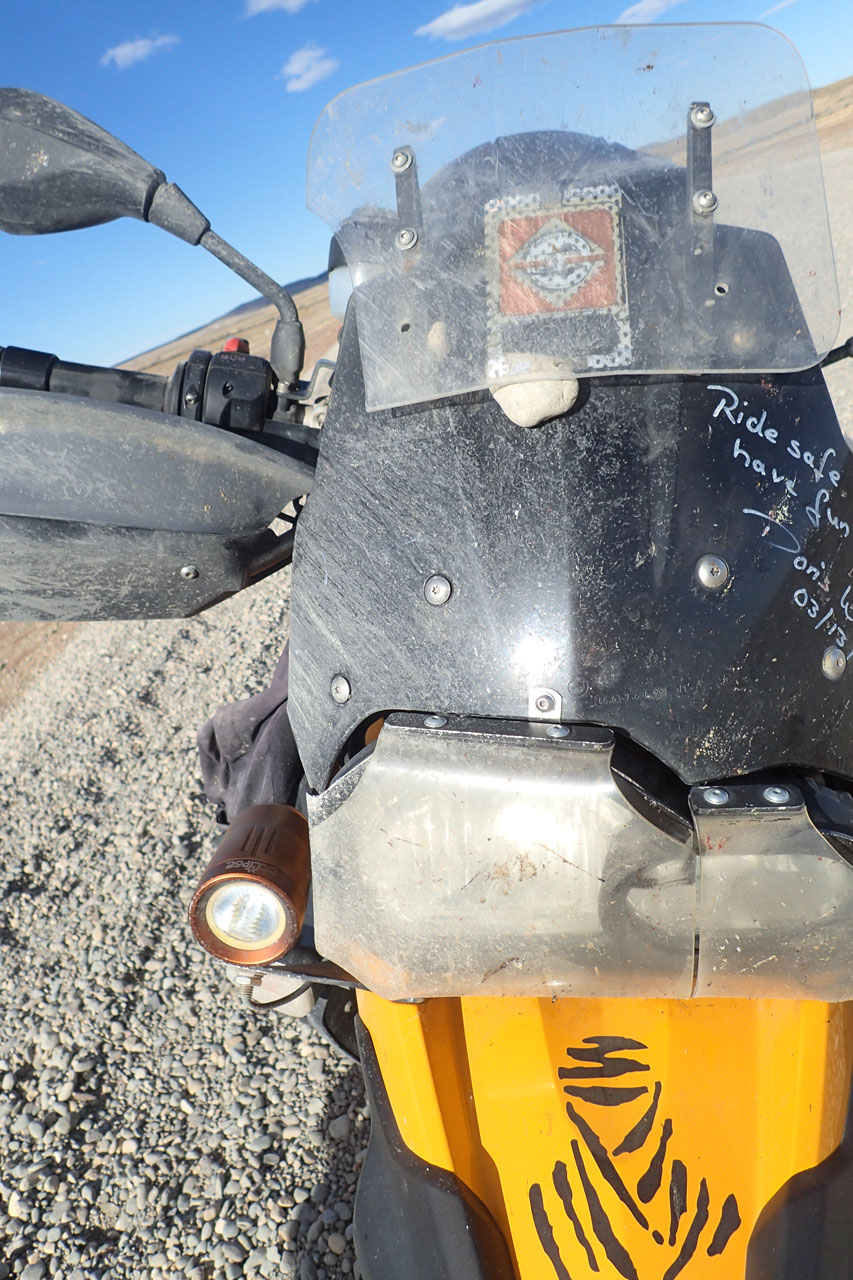 Assessing the damage and wondering how much more gravel and wind we can put up with. 
This gives you a little better idea of the troughs left by cars.  It's easy to fall out of them and get into loose gravel, particularly considering the wind.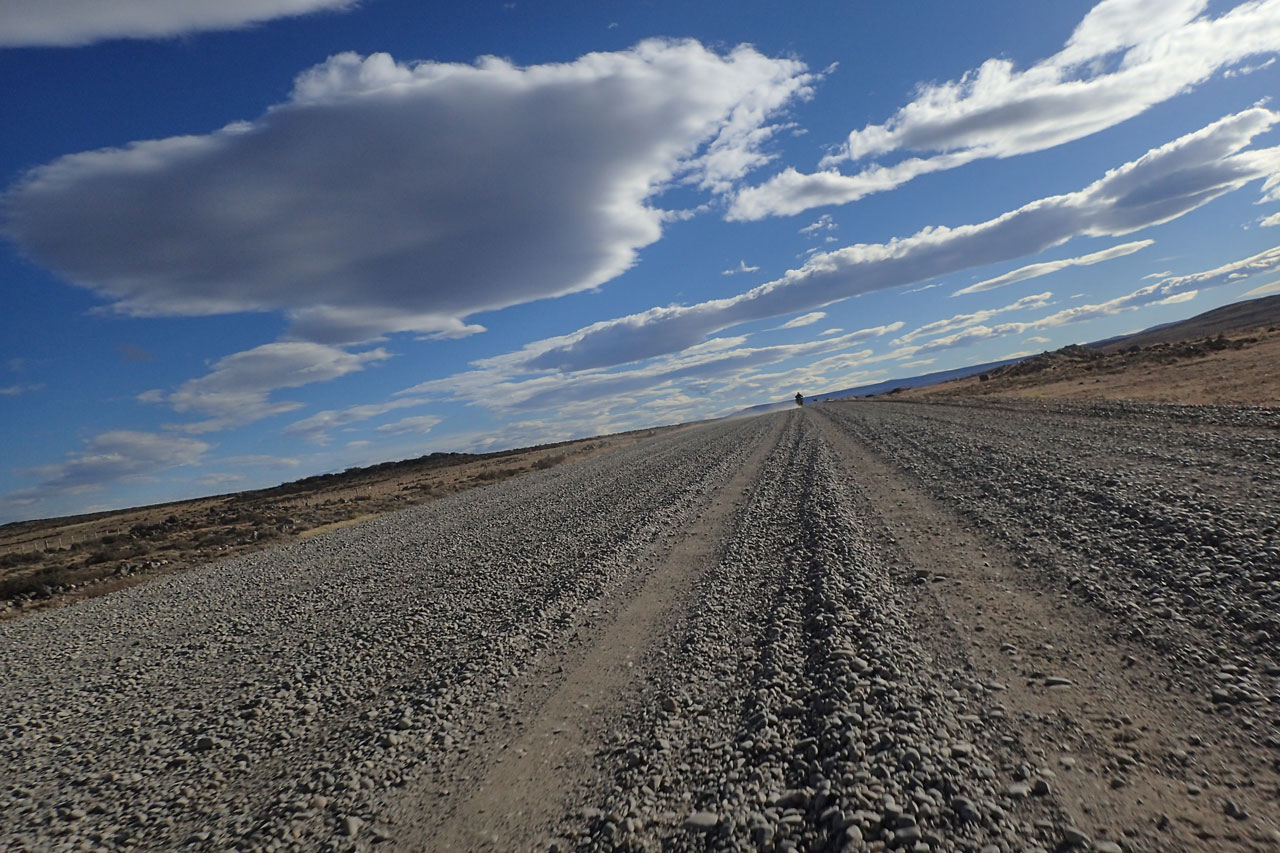 We continued on with an ever changing road surface to keep things interesting. 
Finally back on pavement!! 
After 11 hours on the road today and putting in 560 miles, we ended the day in a tiny town called Tres Lagos with pretty much the same scenery that we started with.  An abnormally long day for us, but good to get some miles behind us.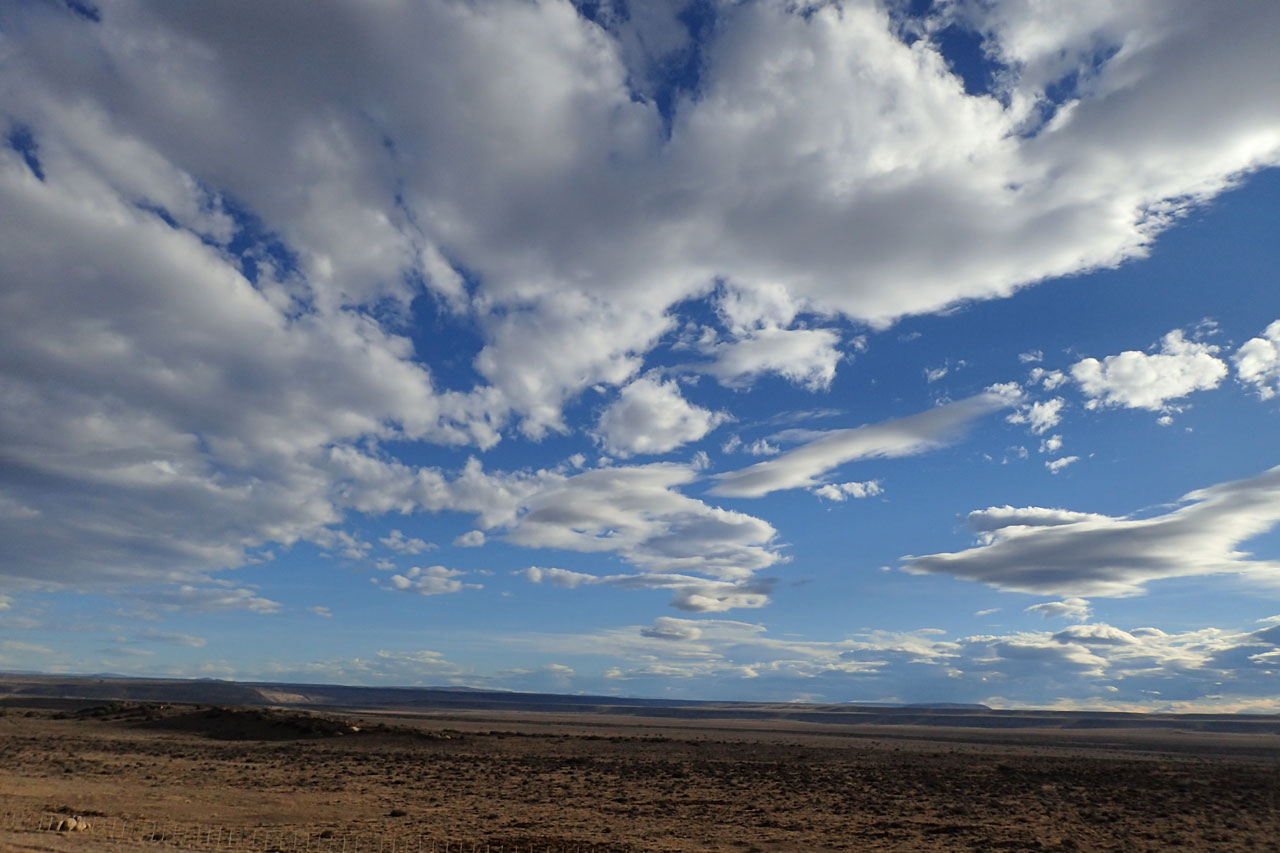 We had a very dramatic day driving into Parque Nacional Los Glaciares.  It is a place that I have been wanting to visit for many, many years.  Most notably this is home to a very iconic peak called Monte Fitz Roy, which is one of the most technically challenging mountains on earth for climbers.  Unfortunately the weather prevented us from seeing the peak, but the mountains in southern Patagonia are like none other.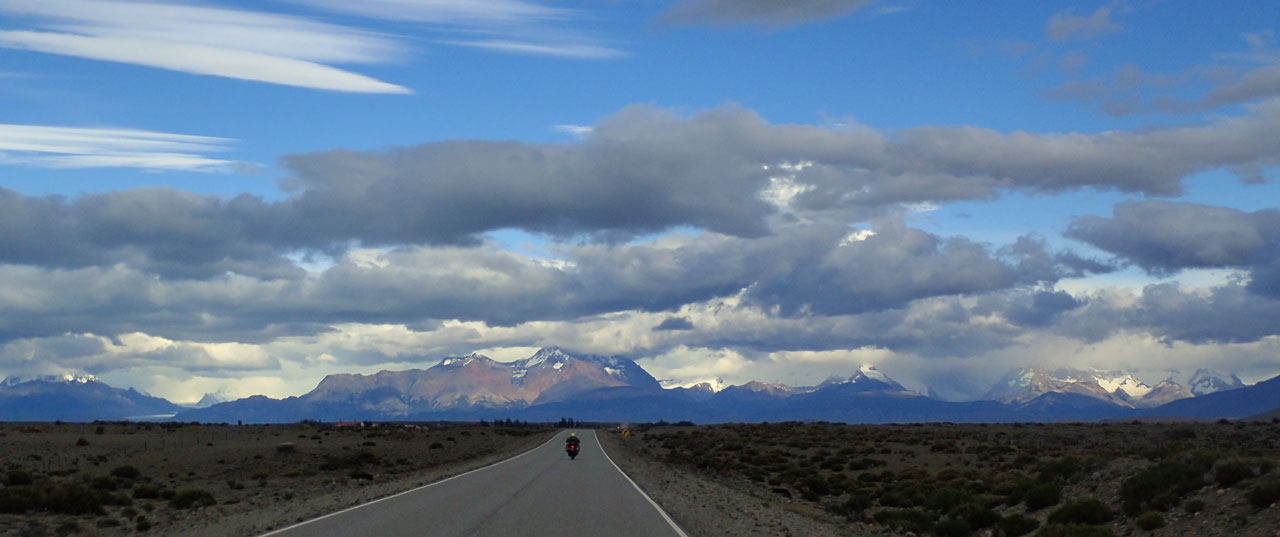 The drive into this area was jaw dropping and this was on a bad weather day!!
The closer we got the weather cleared up slightly, but never enough to see the actual peaks.  To get a better idea of what it REALLY looks like here, google Monte Fitz Roy.  
At the base of the mountains is El Chalten, a very neat little town that is mostly geared towards tourism and climbers that come to Patagonia.  I will certainly be back in the years to come with hiking boots, crampons, and my ice axe. 
As the weather further cleared we were treated to some really great vistas of classic Patagonia landscapes.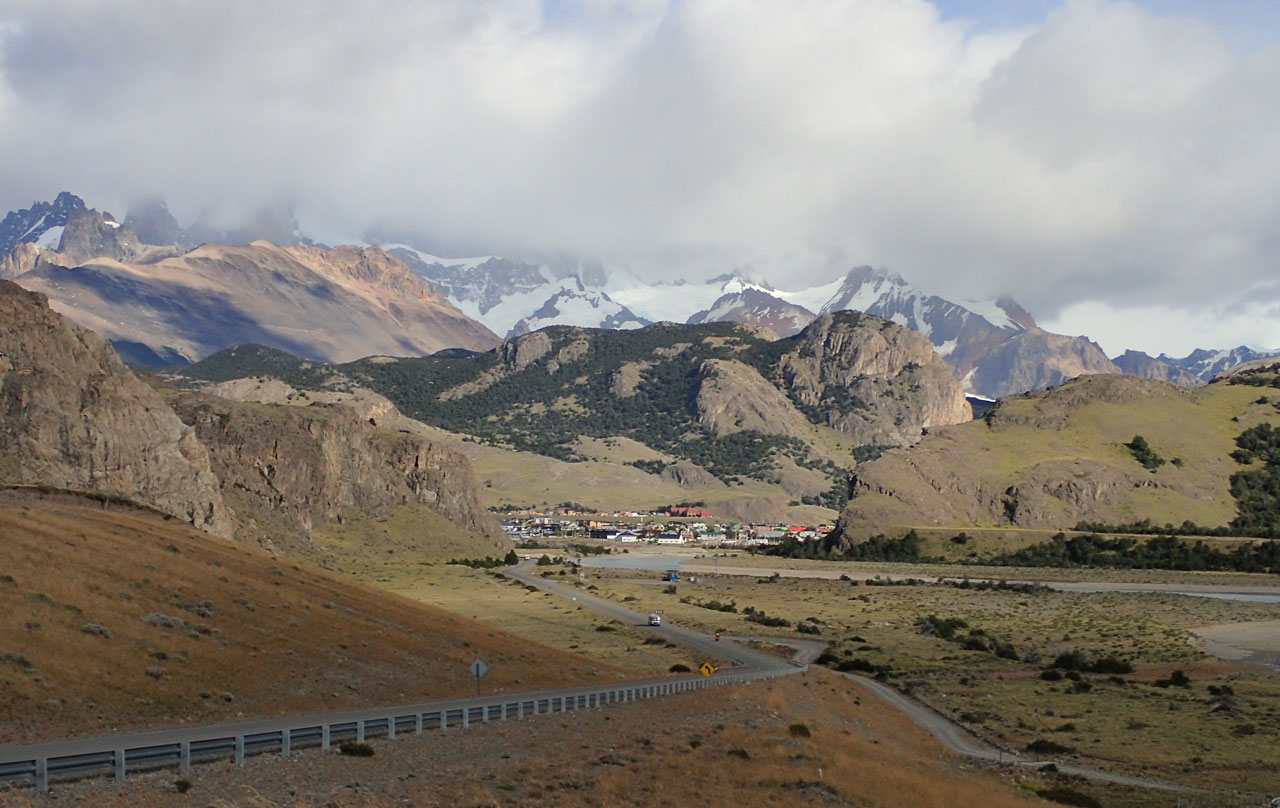 I think the mountains here rival anything that is in Alaska.  The entire mountain range lies right on the border between Argentina and Chile and has very unique peaks.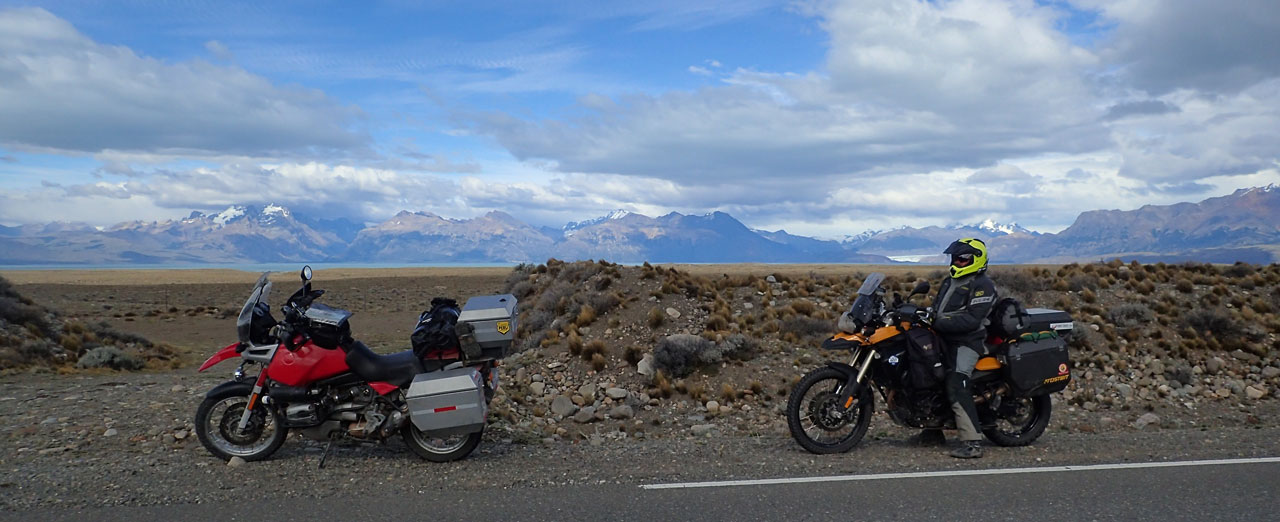 We then headed east across Argentina to the Atlantic coast.  As the skies became overcast we had several hundred miles of true Argentinian pampas.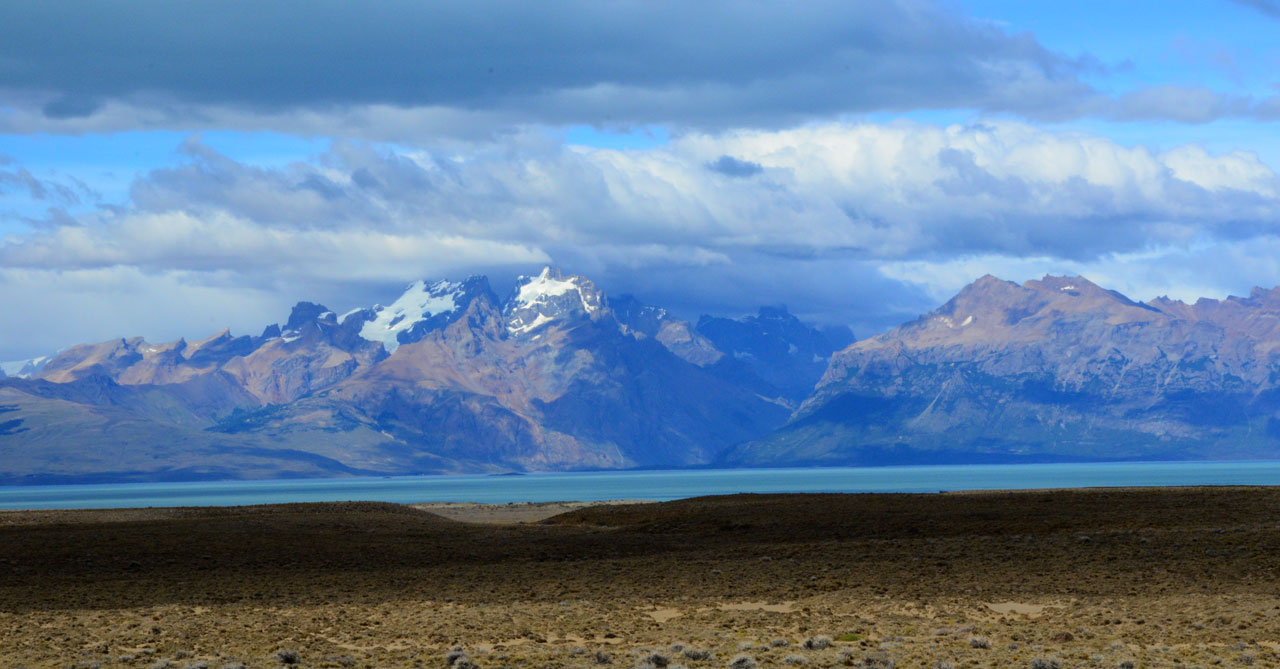 We spent the night in Rio Gallegos and had dinner with our old friends that we met in Central America, Rachel and Paul and a new friend Patrick.  Rachel and Paul made it to Ushuaia and are now on their way to Buenos Aires to ship their sidecar back to England.  They have become great friends and a solid moral support crew on this trip. We'll certainly miss crossing paths with them.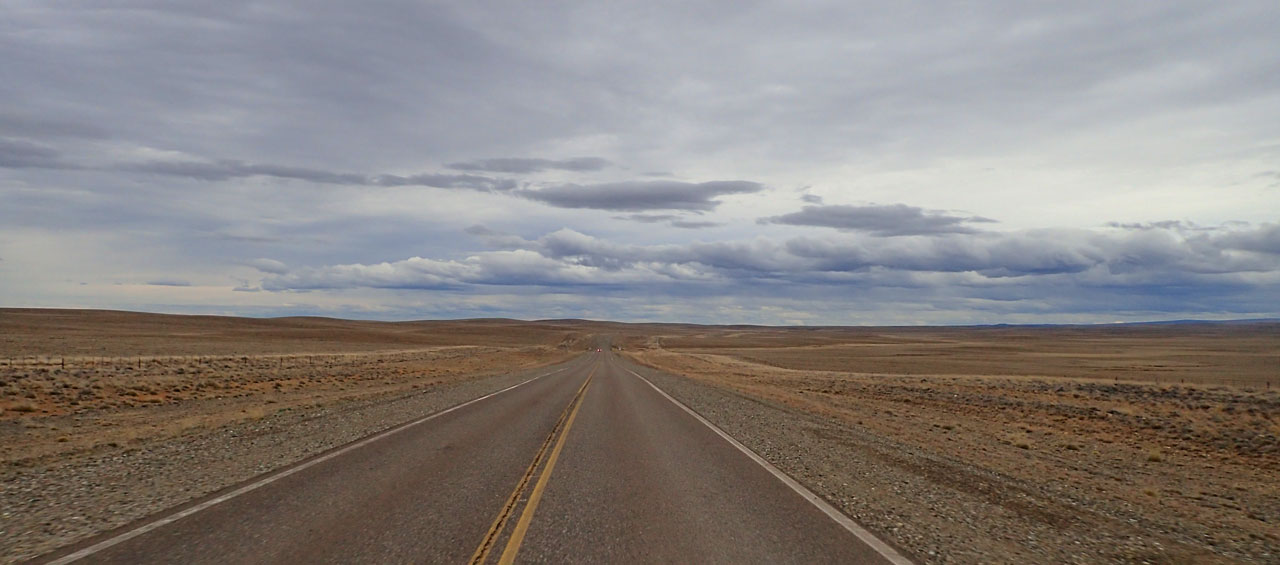 We said our final farewells to Paul and Rachel this morning.  It was a bit bittersweet as we won't see them again on this trip, but we had a great time crossing paths with them so often.  It's worth having a look at their blog.  Rachel is an excellent wordsmith and will be writing a book about their adventures in the sidecar, traveling from New York to Alaska to Ushuaia.  Have a look here.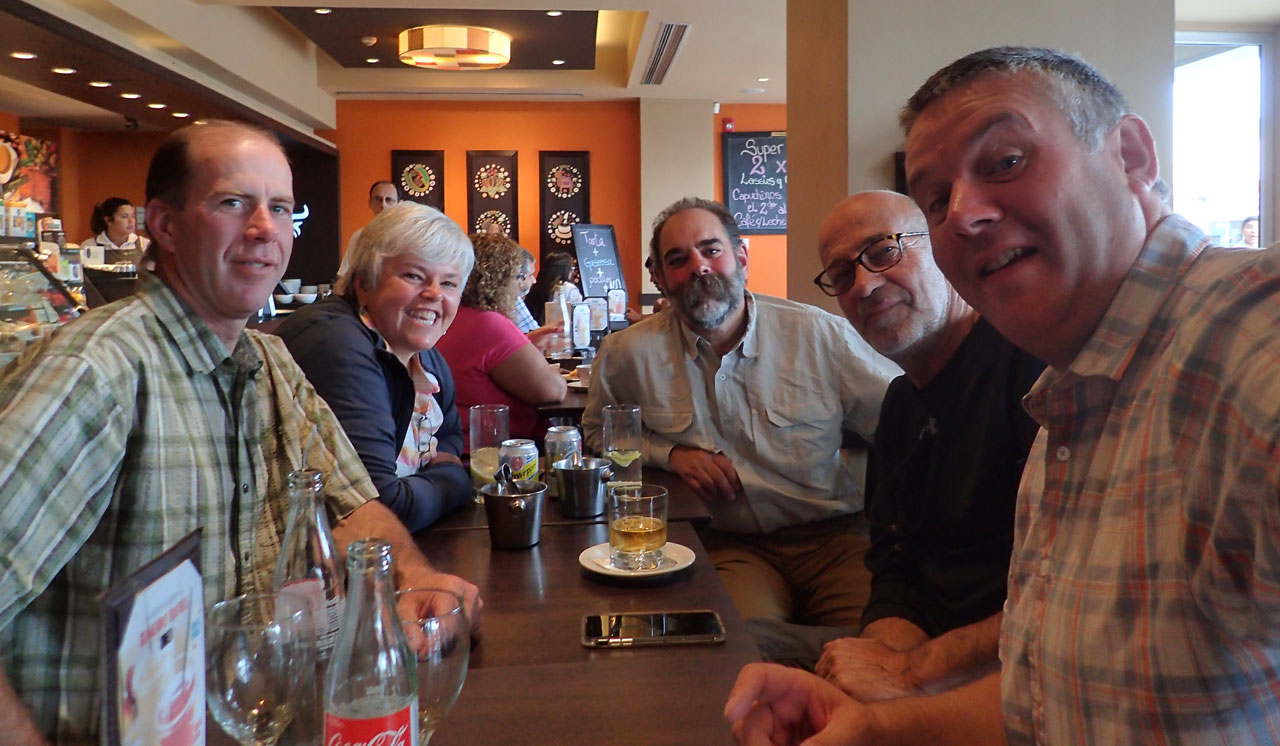 As we get deep into southern Patagonia the weather is finally noticeably colder and today we had rain and overcast skies all day.  This is typical weather for the this part of the world, plus strong winds.  Tracy is suffering a bit more than me in the cold weather.  My heated jacket that I plug into the bike, has been mostly working, while his worked for only 10 minutes today before it blew a fuse.  We crossed the Straits of Magellan today on a ferry that took less than an hour.  This stretch of water separates mainland South America and Tierra Del Fuego.  It is said to be the most important natural passage between the Atlantic and Pacific oceans.  The last time I was on this ferry was in 2002 when I first visited Ushuaia at the end of an expedition with my climbing partner, Ford.  At that time I thought it would be the only time in my life I'd get to Ushuaia.  And now, it's hard to believe this will be my fourth trip to the southern most city in the world.  You can read about my first trip and our climb here.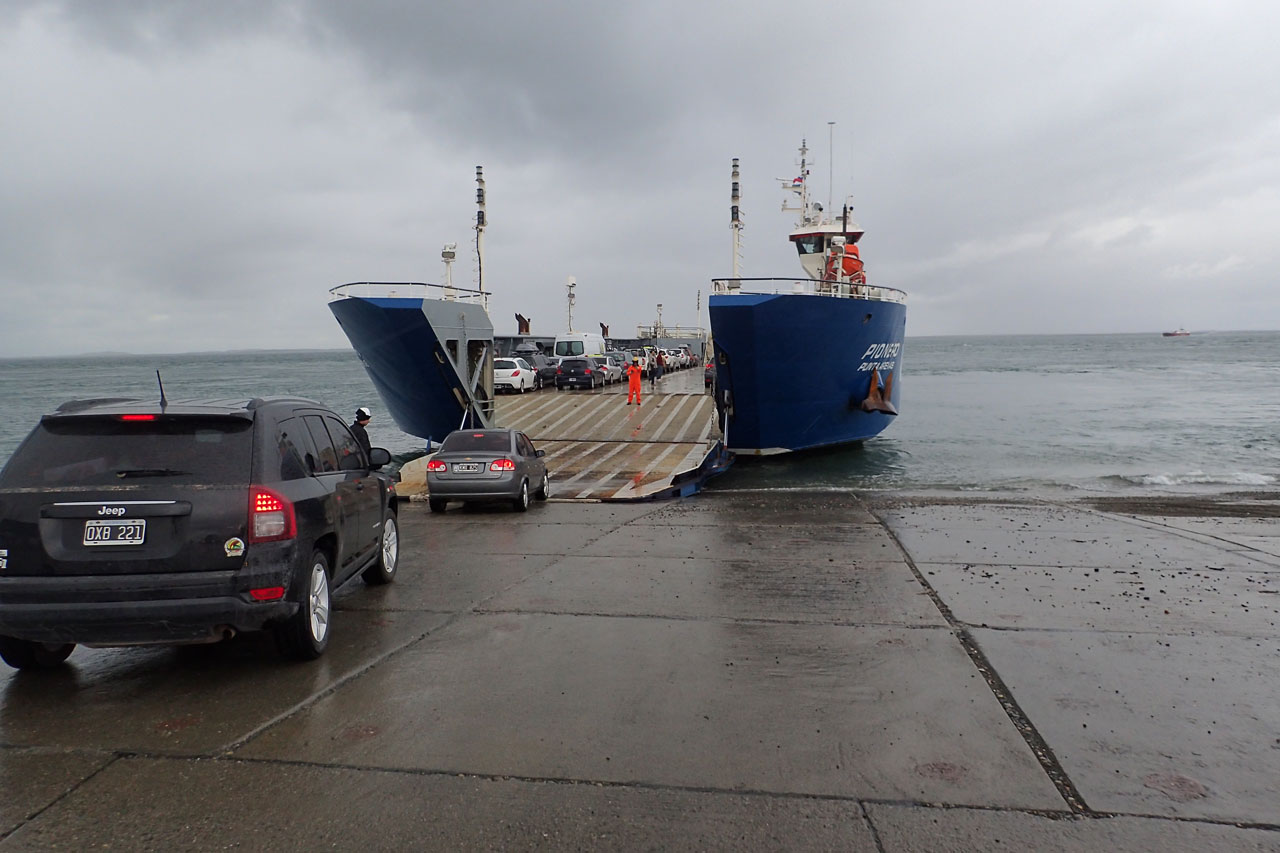 Much of the day looked like this.  Overcast, flat, and uninspiring.  Head down, drive on.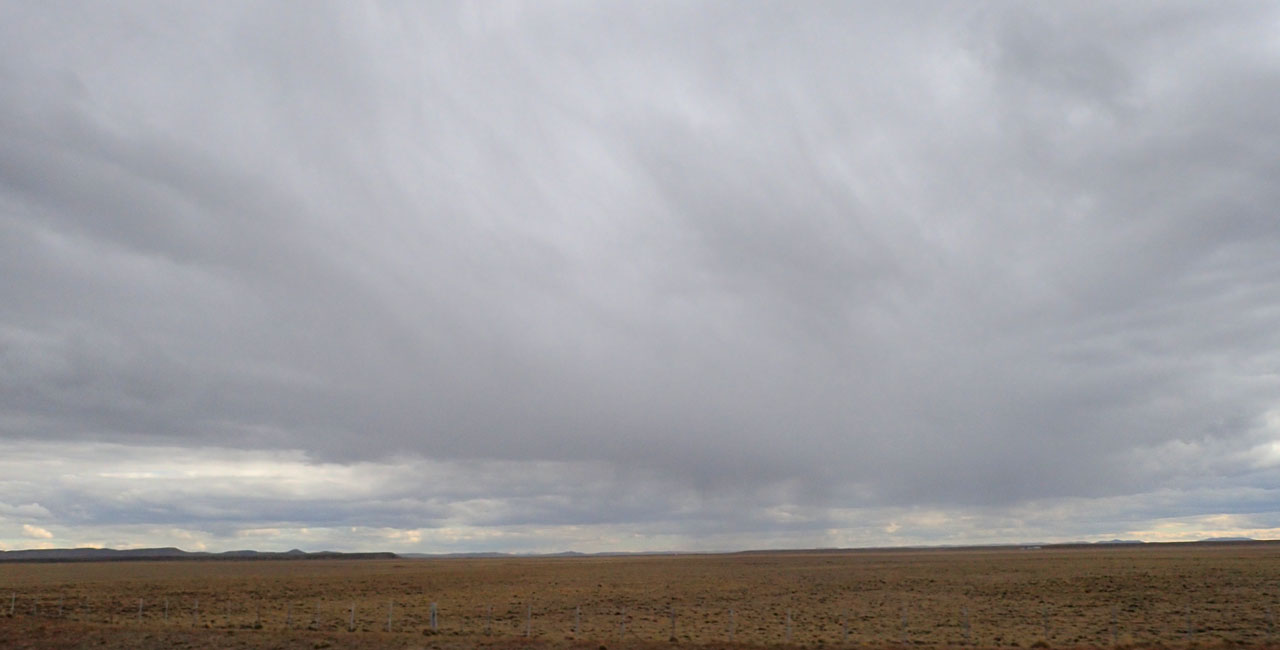 And being deep in Patagonia we have been seeing quite a few travelers.  This one in the quintessential rig for touring this part of the world. 
We had very infrequent breaks in the clouds and actually had about 10 minutes of sun today.  We're hoping for better weather tomorrow. We did hear that it snowed on the mountains above Ushuaia last night.  We'll see what it looks like when we get there. 
Two border crossings today.  We left Argentina and entered into Chile, but only for a short stretch of land and then we were out of Chile and back into Argentina.  Fortunately the border crossings were easy and not very busy.  We did come across one other Overlander on a bike, from Chile.    He was on the same bike as Tracy. 
The 45km of gravel today were dreamy and no one went down…thankfully. 
After the gravel, it was nice pavement and dark skies all the way to Rio Grande, where we are spending the night.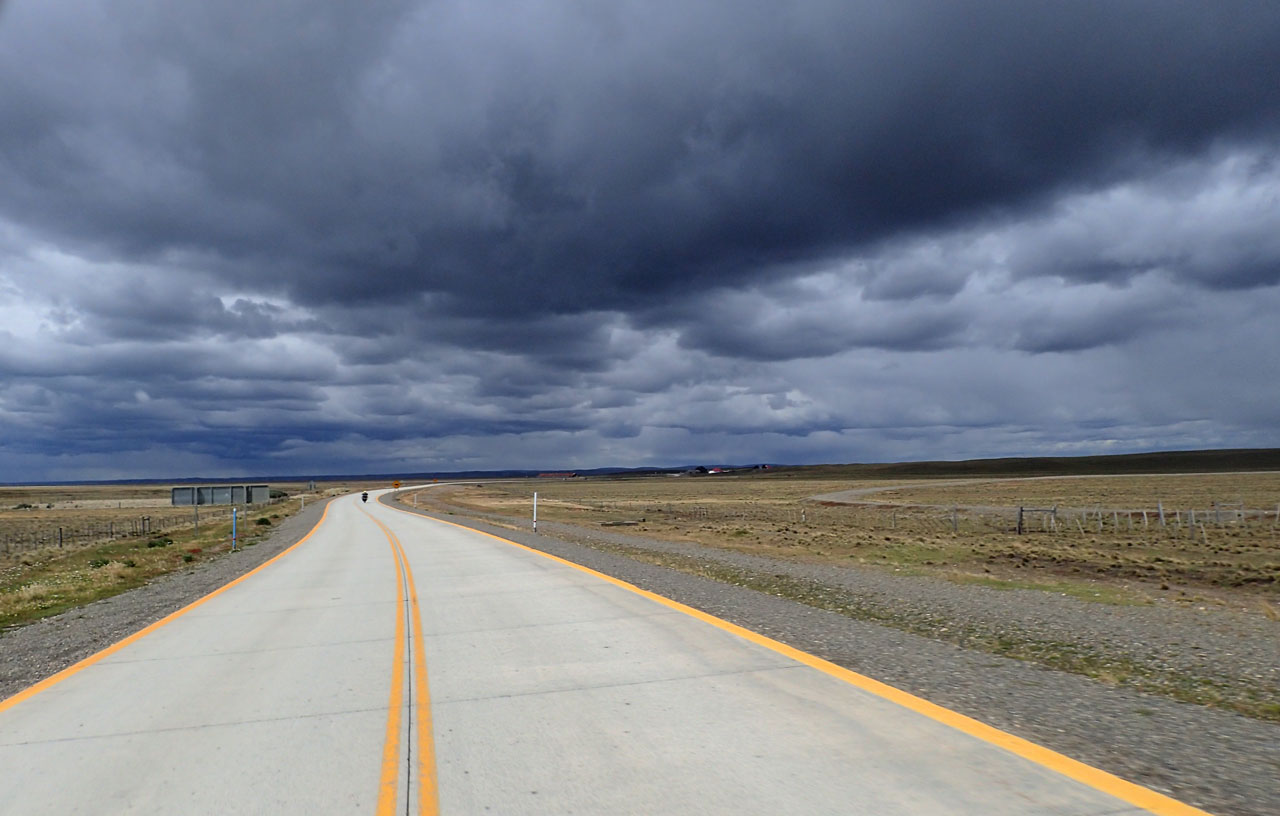 In the morning we headed south towards Ushuaia.  The further into Tierra del Fuego we rode the more spectacular and severe the mountains became.

Nice curvy roads through some of the most amazing landscape we've been through. 
One section on Ruta 3 had some pretty severe drop offs and it was clear from the guardrail that it was not a place to become complacent.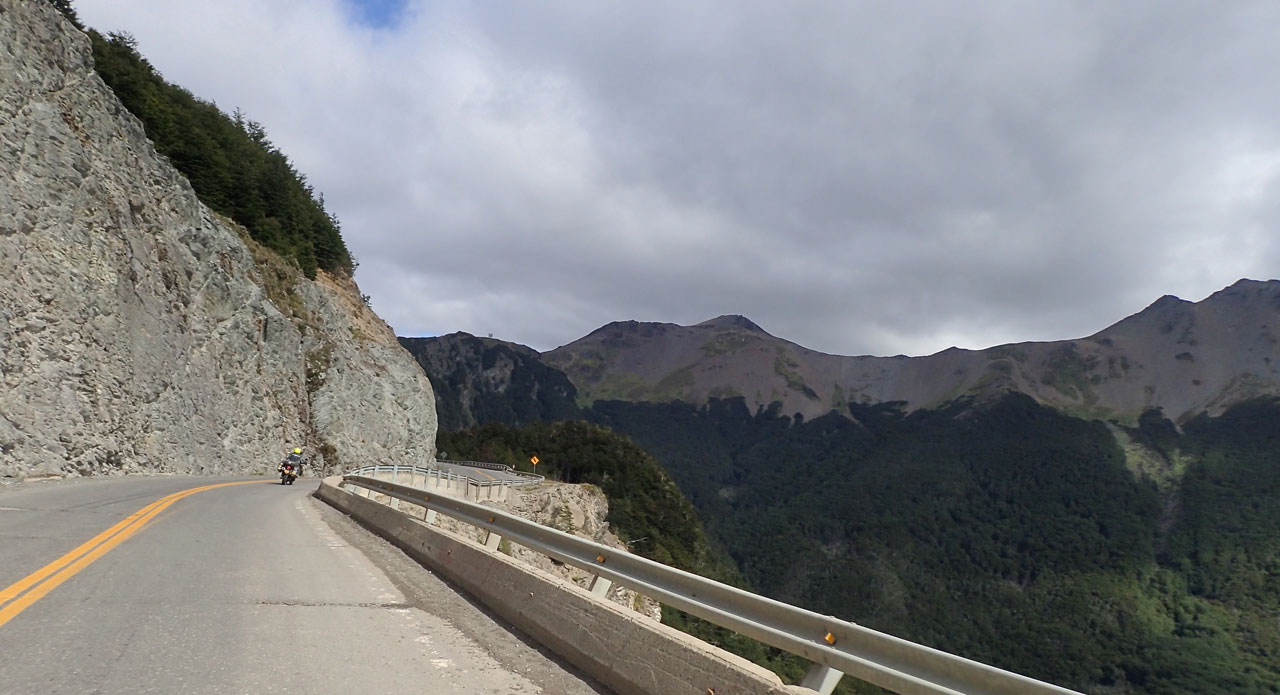 Several tunnels we passed through led me to believe that they get a fair bit of snow here.  I think there is a ski slope that went over the highway here.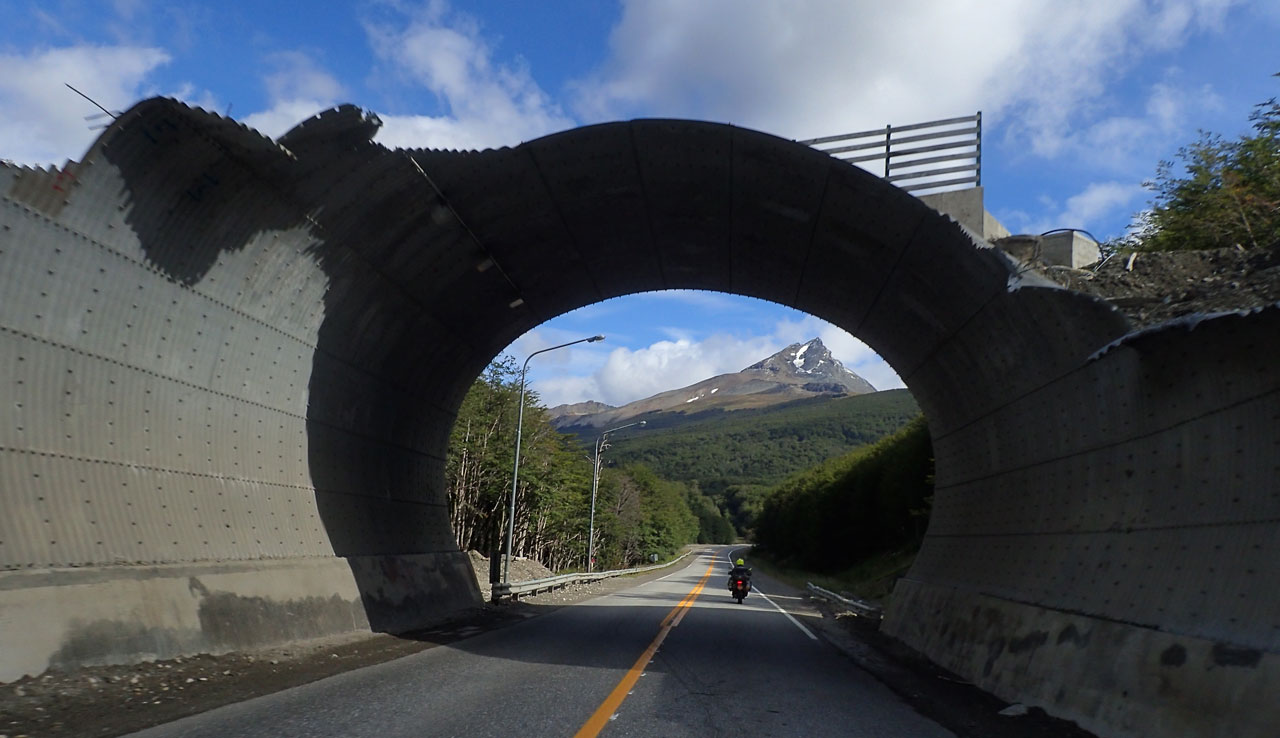 Stunning peaks, to say the least, had me wishing I had my climbing gear packed.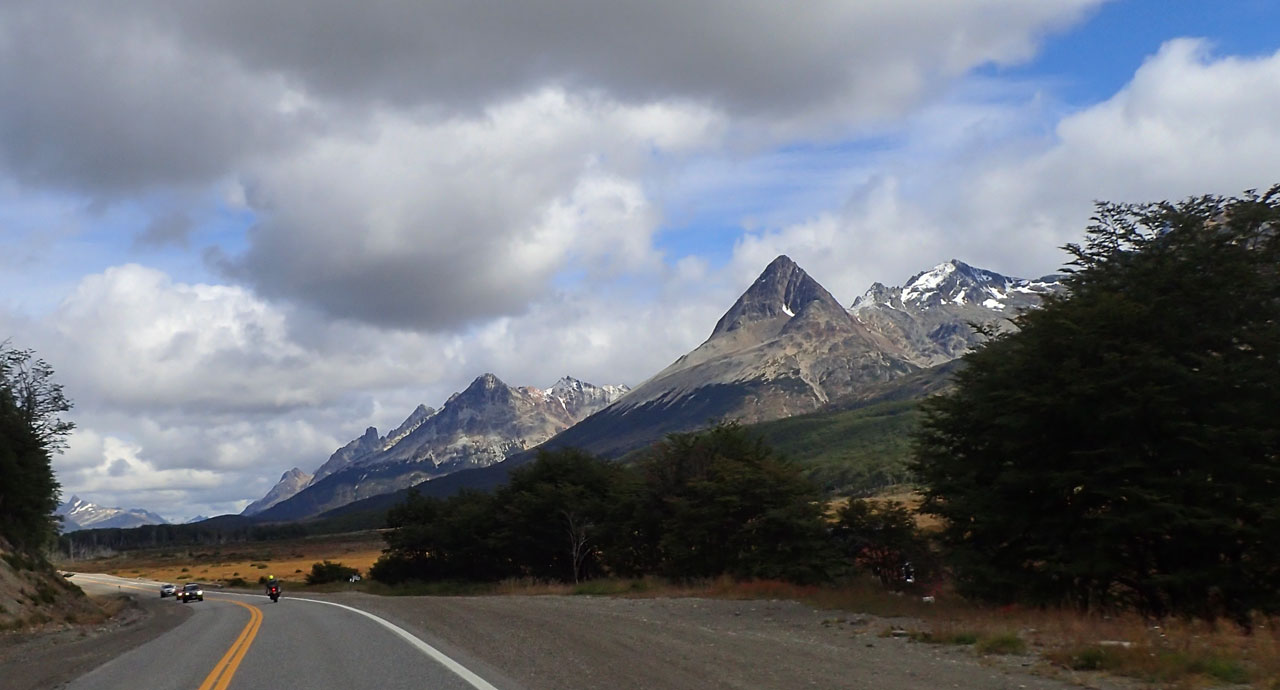 On the outskirts of Ushuaia we stopped for a picture.  In the car behind us was a gal from northern Argentina and her boyfriend from Cuba.  They had been following us for awhile and were discussing the idea of getting motorcycles and doing a trip on bikes. She was convinced it was the thing for her.  Of course she wanted her picture with the bikes, but after sitting on it for a few minutes, realized maybe it might be a bit big for her. 
So, on the 100th day of our trip we made it to the southern most city in the world, Ushuaia.  We stopped in town for a picture at the tourist sign.  Ushuaia, the end of the world.
By the time we got back to the bikes we had a group of people gathered around and were amazed that we had rode the motorcycles here all the way from Alaska.  They had to have a picture with us.  Here is a really nice couple from the Philippines and another couple from Argentina.  There were a lot of questions and a lot of 'suerte'(good luck) going around.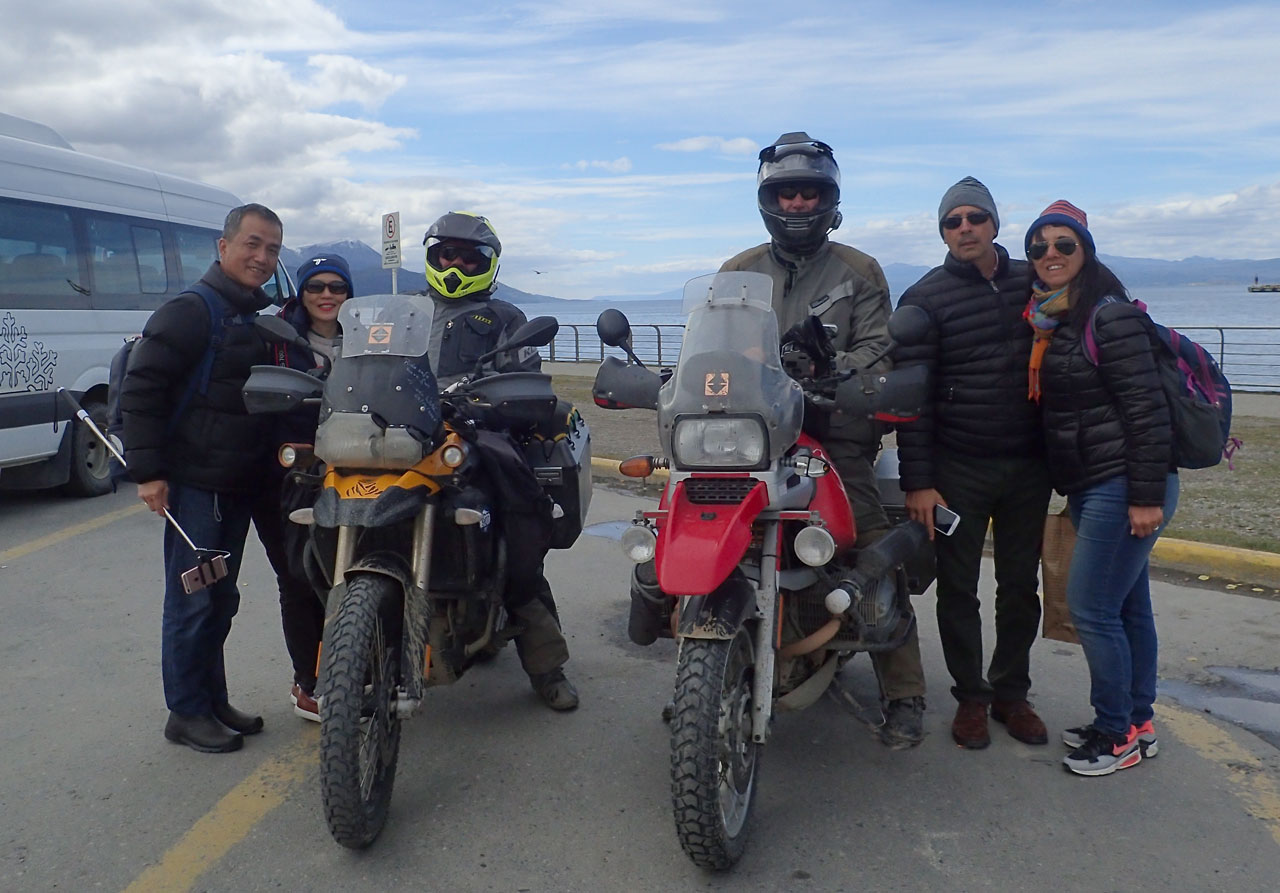 We had to continue on, past Ushuaia on Ruta 3, to the very end of the road in the Tierra del Fuego National Park.  This truly is the very end of the road and as far south as you can drive on this continent.  The sign says we are 17,898km/11,090 miles from Alaska.  We haven't figured it out yet, but our trip was somewhere between 15,000 and 20,000 miles in total.  We were both elated to be here, finally.  We both had Tracy's Mom, Marion, on our minds and we contemplated all we've been through for the past 100 days of this adventure.  It truly has been the trip of a lifetime.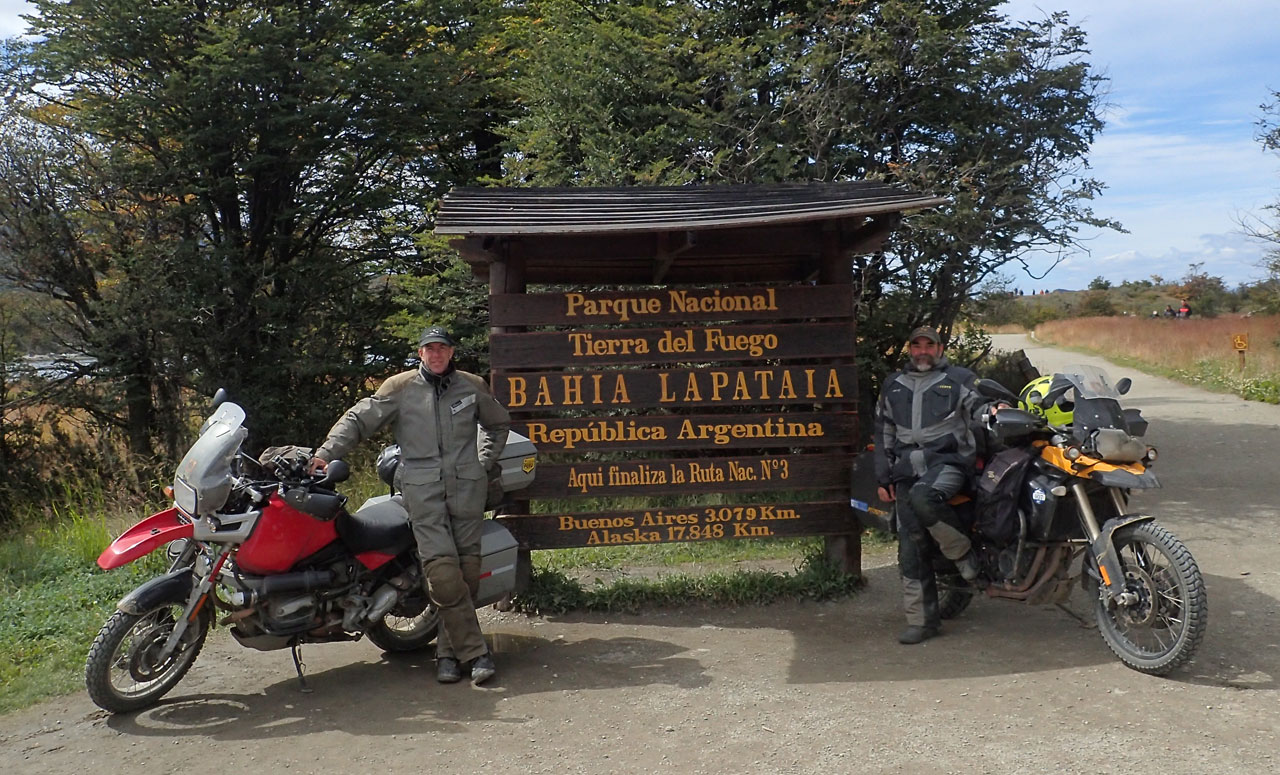 This is the view from Arias Point, the end of the small hiking trail at the end of the road.  It's a beautiful spot in a beautiful park in a very out of way place on the planet.  This is the third time I've been to this spot.  Tracy hasn't been to this exact spot, but has also spent time in Antarctica and had been on a ship in the Beagle Channel looking in from the water towards this spot.  We both felt pretty lucky to be back here and to have this experience.
On the way back into Ushuaia we stopped at a little place called Zaratiegui Bay.  There is a quaint little post office here where you can get a post mark from the end of the earth.  The Postmaster has been here for 20 years and I've met him three times now.  Of course he doesn't ever remember me, as he gets a lot of visitors.  Tracy seems to have the prerequisite beard for the Postmaster position here, but he could not talk the guy out of his job.  He's got a pretty sweet spot.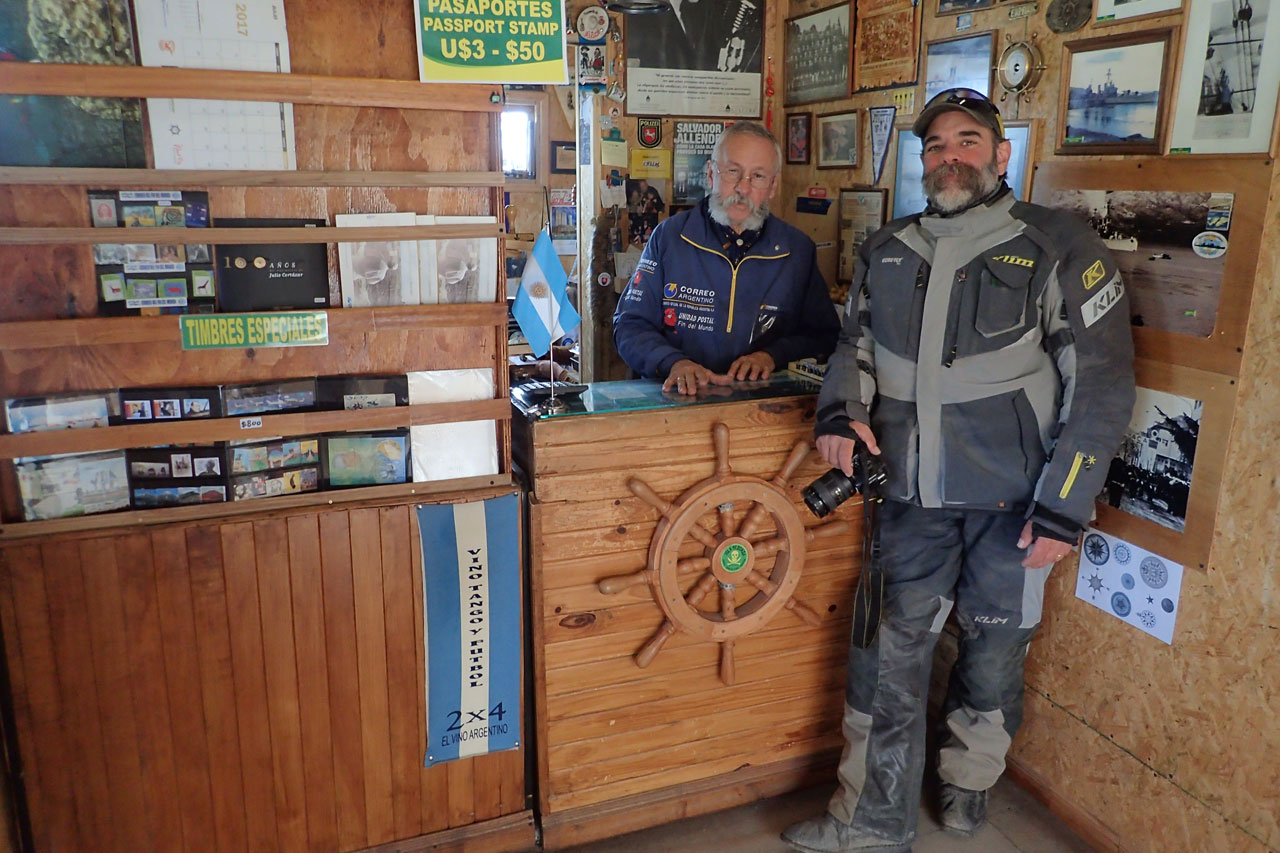 This is the view from Zaratiegui Bay.  Although the Argentina flag flies, the mountains in this picture are actually across the Beagle channel and are in Chile.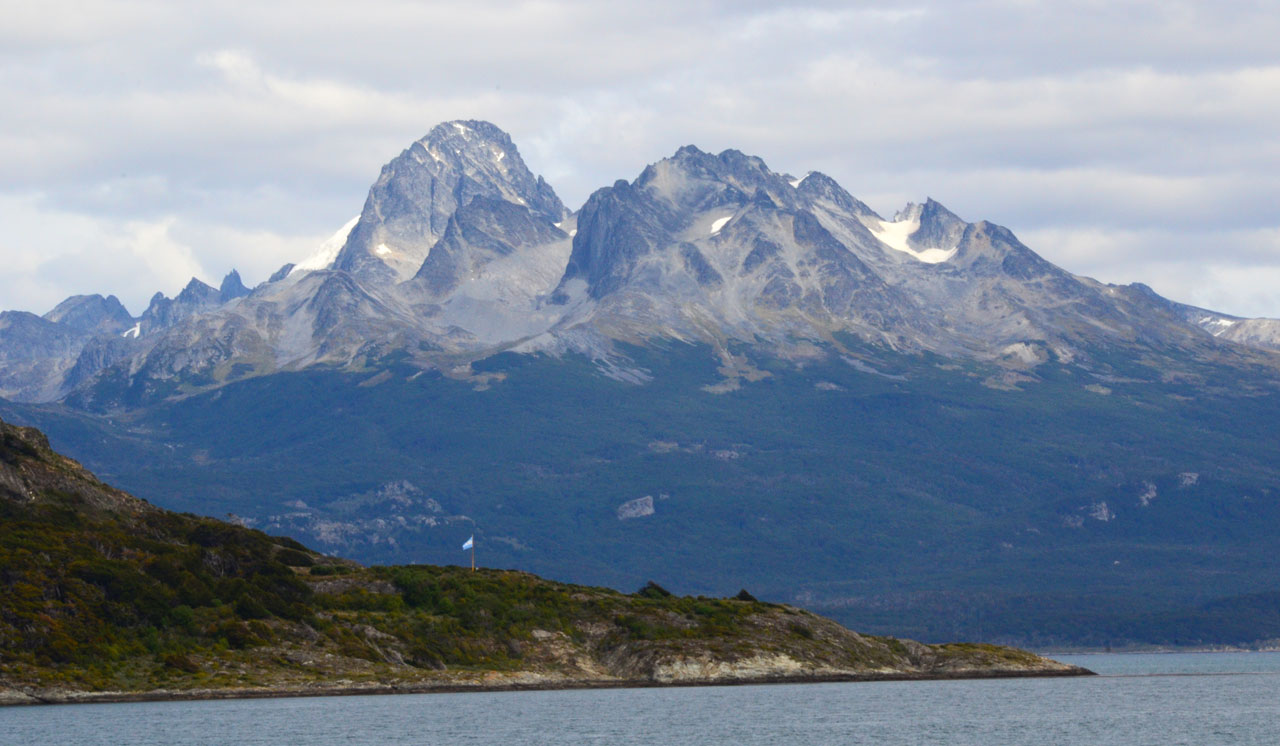 Ushuaia is a town of about 60,000 people and sits right on the ocean and is backed by beautiful mountains.  It has a really interesting mix of architecture with hints of Germany, Switzerland, and Iceland.  In some places it feels very European and Argentinian all at the same time with lots of color thrown in. 
In 2007 I spent a month in Ushuaia on the Belgica Expedition.  It was a thrill to be here for that amount of time.  It allowed me to really explore the place and get to know the locals.  Many of the peaks behind town I was able to climb, and on windy days I kitesurfed most of the waterways in the area.  I had to go back down to the water where our sailboat was docked before we left, and when we returned from Antarctica.  I was a bit envious of the boats that were gearing up to head south in the days to come.  That particular trip was also a once in a lifetime experience.  You can read about it here.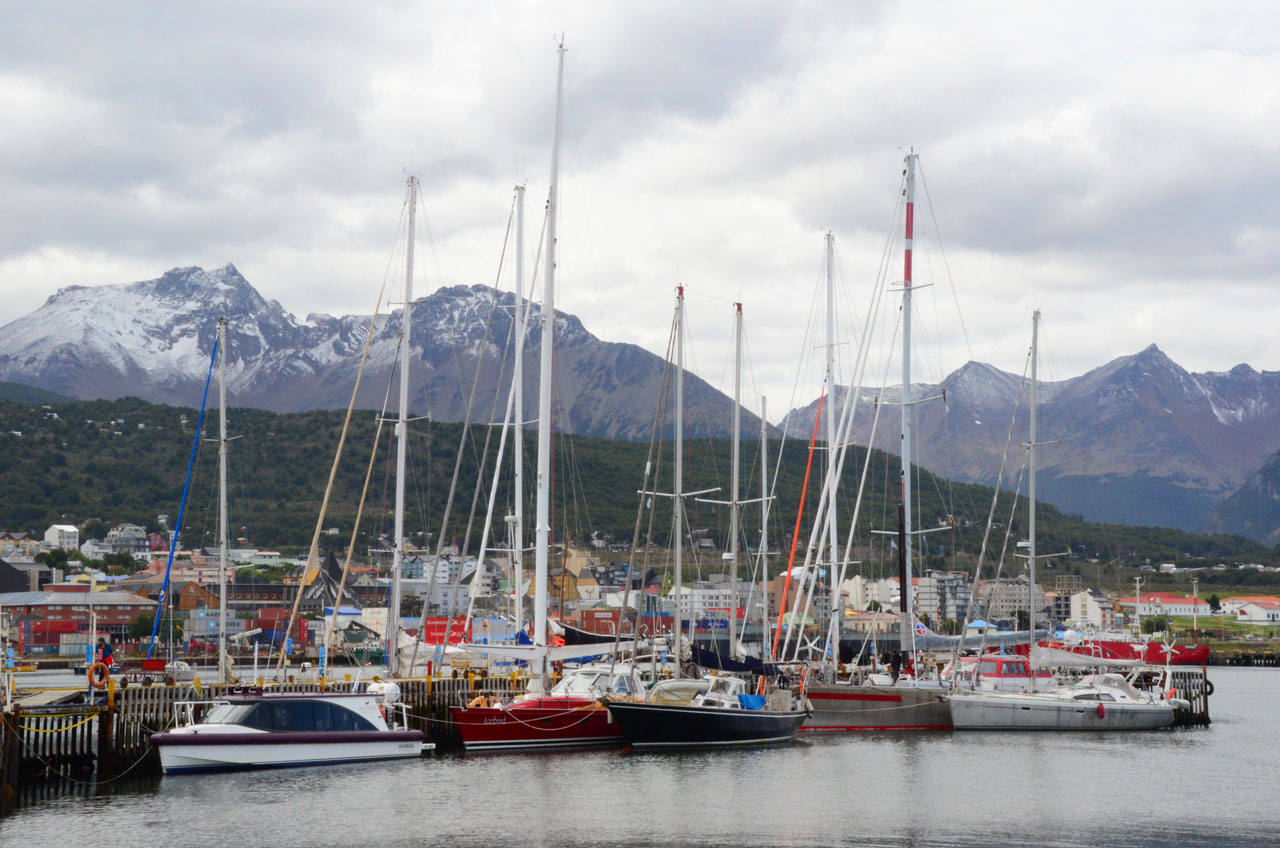 Some great artwork on an old boat near the docs.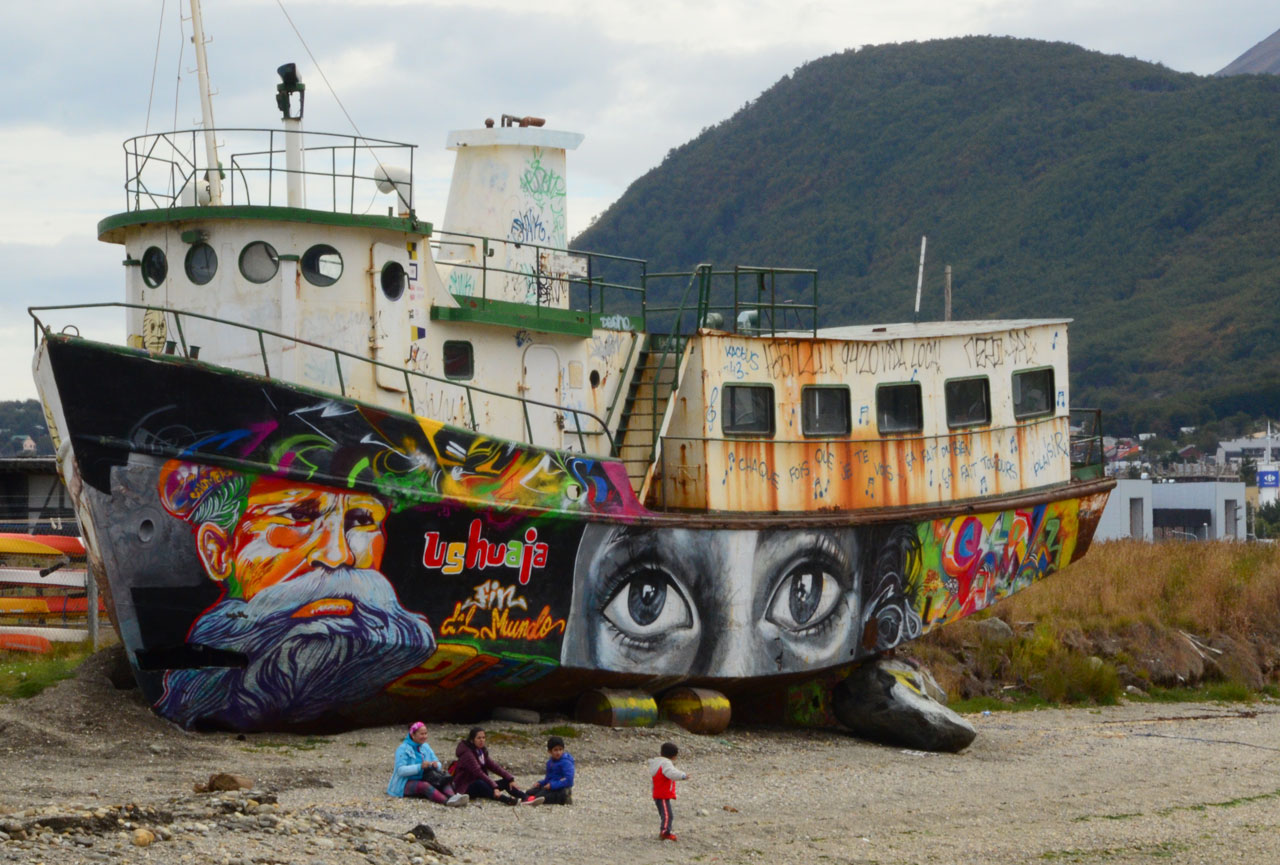 Ushuaia is a beautiful place backed by the Martial mountain range on one side and the Beagle channel on the other.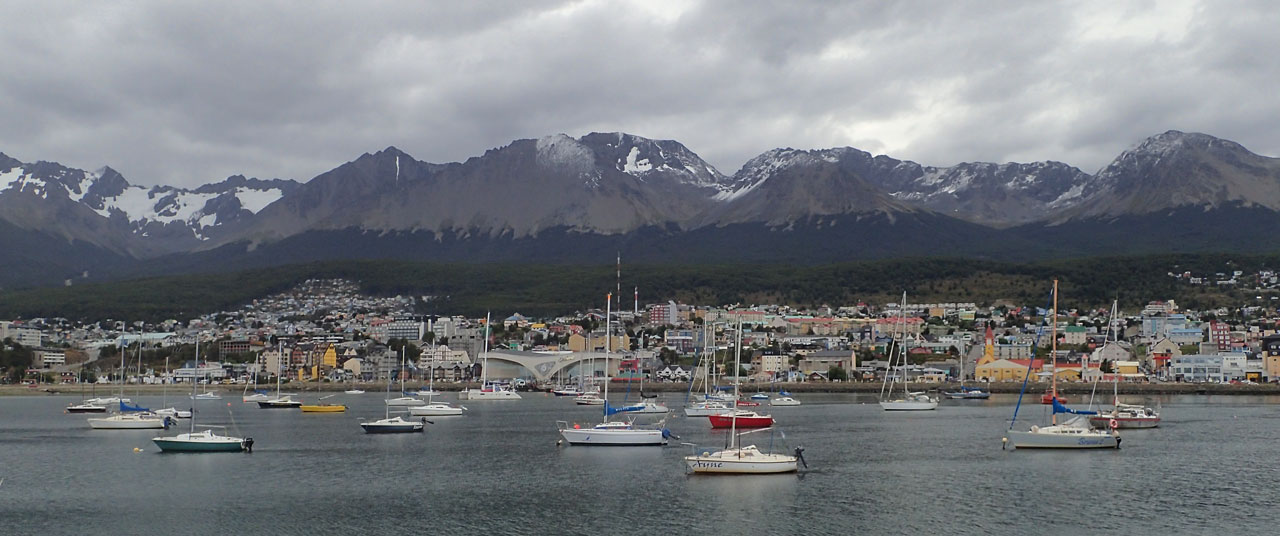 It's been a few years since I was here, but I was able to drive right to the place where we stayed during our time in Ushuaia on the Belgica expedition.  We had become friends with the family that owned the Cabanas and when I walked in Alejandra knew exactly who I was.  She turned around and pulled a photo card I had sent her in 2007 as a thank you.  Unfortunately her husband and daughter were on vacation in Mendoza and I didn't get to see them.  We had a great time catching up.  We'll spend a few days here before heading north to Punta Arenas where we'll hopefully sell or ship the bikes back to Alaska.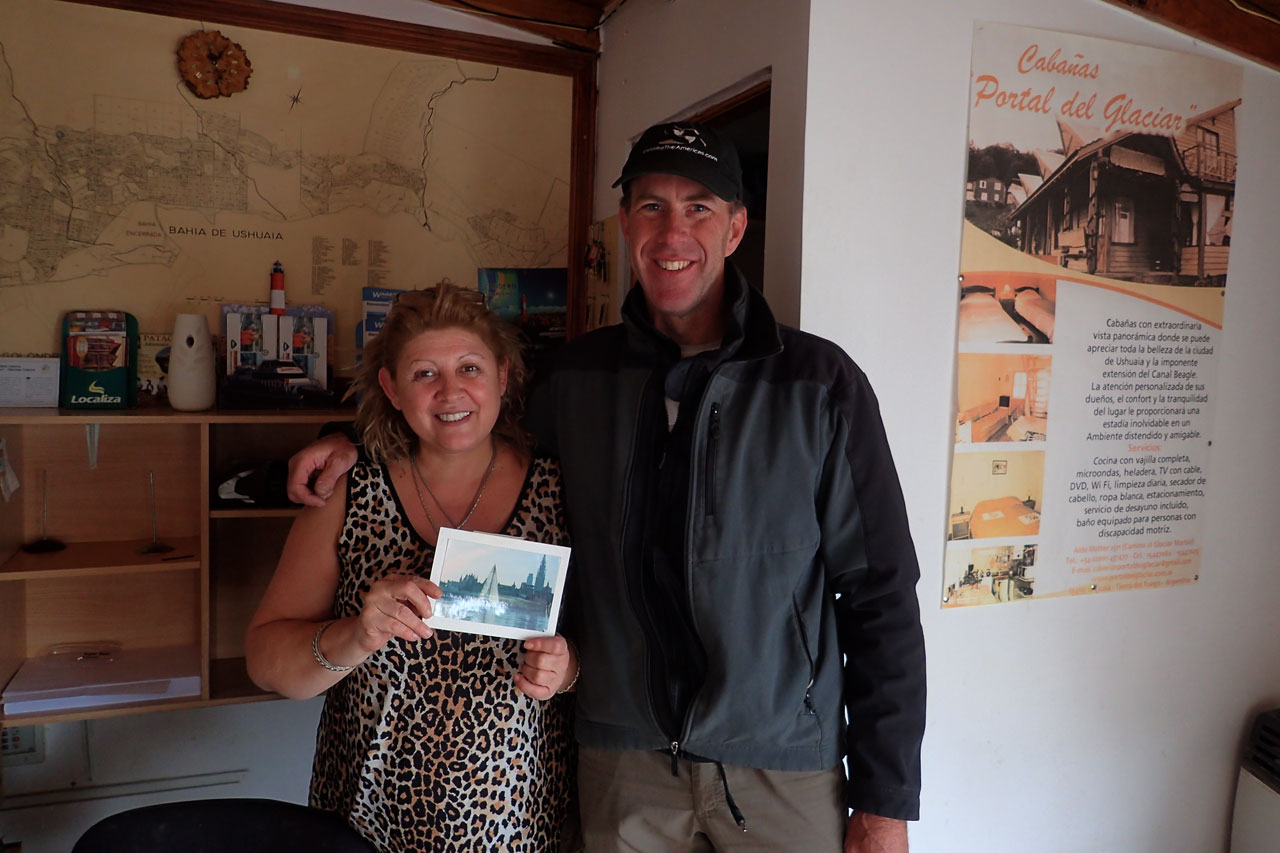 Time spent in Ushuaia is always special for me.  It's a place that I've grown quite fond of because of my time spent here.  Although the weather can be quite atrocious, we lucked out with several days of relatively nice weather and no wind.  Despite spending so many days on a motorcycle, we jumped on the bikes and had a nice tour around the local area.  The mountains here are quite dramatic.   And this is the jumping off point for tourists heading to Antarctica, so there were several cruise ships and a lot of tourists around town.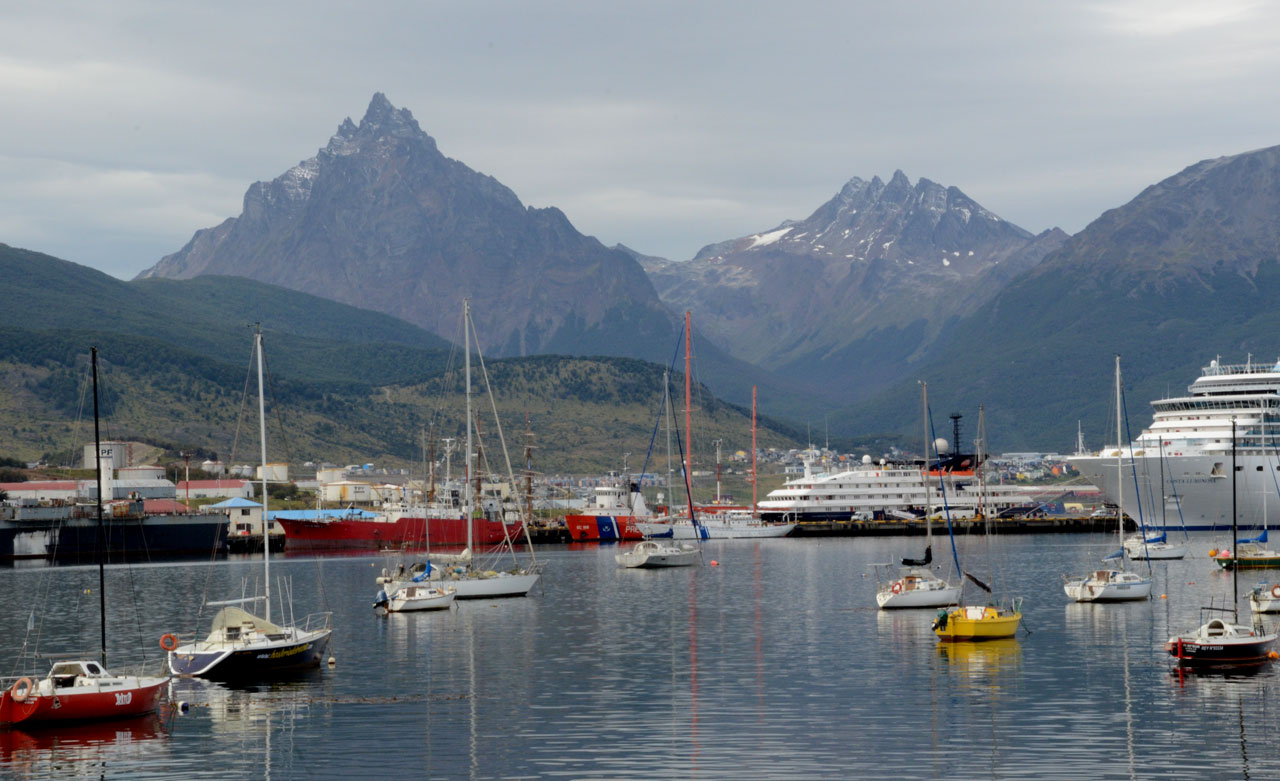 There are a lot of shipwrecks in this part of the world due to the wild weather and rough seas.  The St. Christopher is grounded right in front of Ushuaia.  It was built in the United States in 1943 and served as a rescue tug in the Royal British Navy during World War II.  Later it was sold to be used commercially in Argentina, until it was grounded in 1957.  It now serves as a monument to shipwrecks in the region.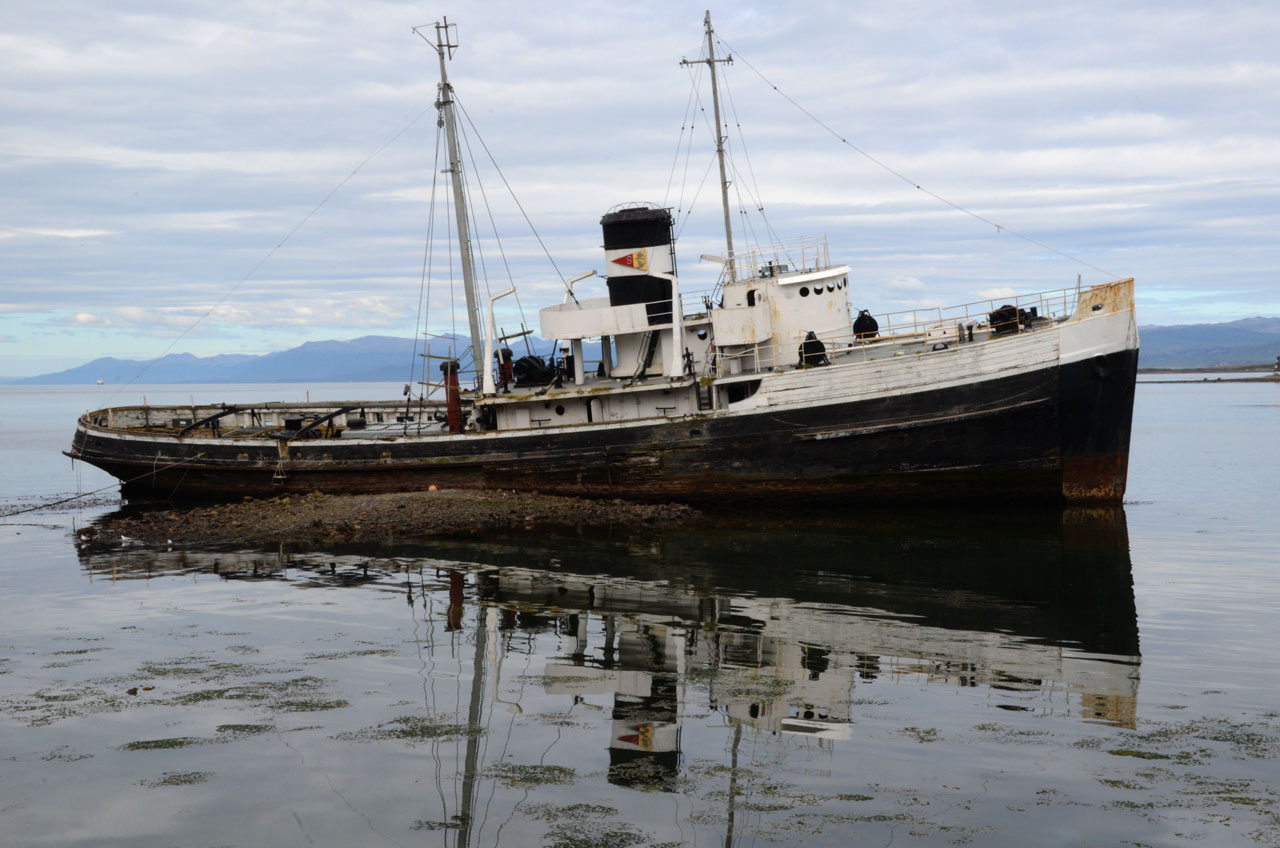 The mountains serve as a dramatic backdrop around Ushuaia and the mix of architecture and color is like no place I've been before.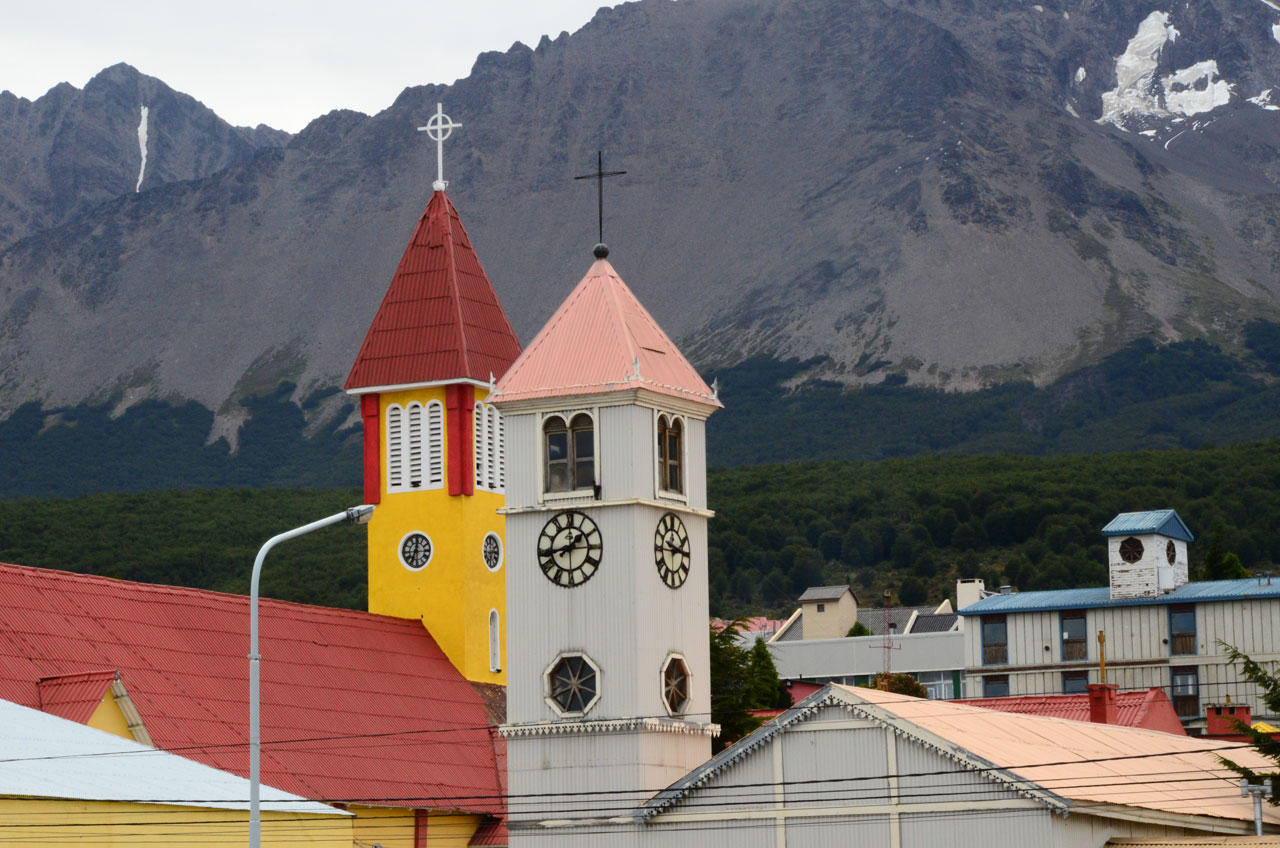 The Darwin Mountain Range, which you can see from Ushuaia, is actually entirely in Chile.  These mountains are difficult to get to and as a result have seen few expeditions.  There's a chance that I'll be back to Ushuaia again in the future on an expedition into these mountains.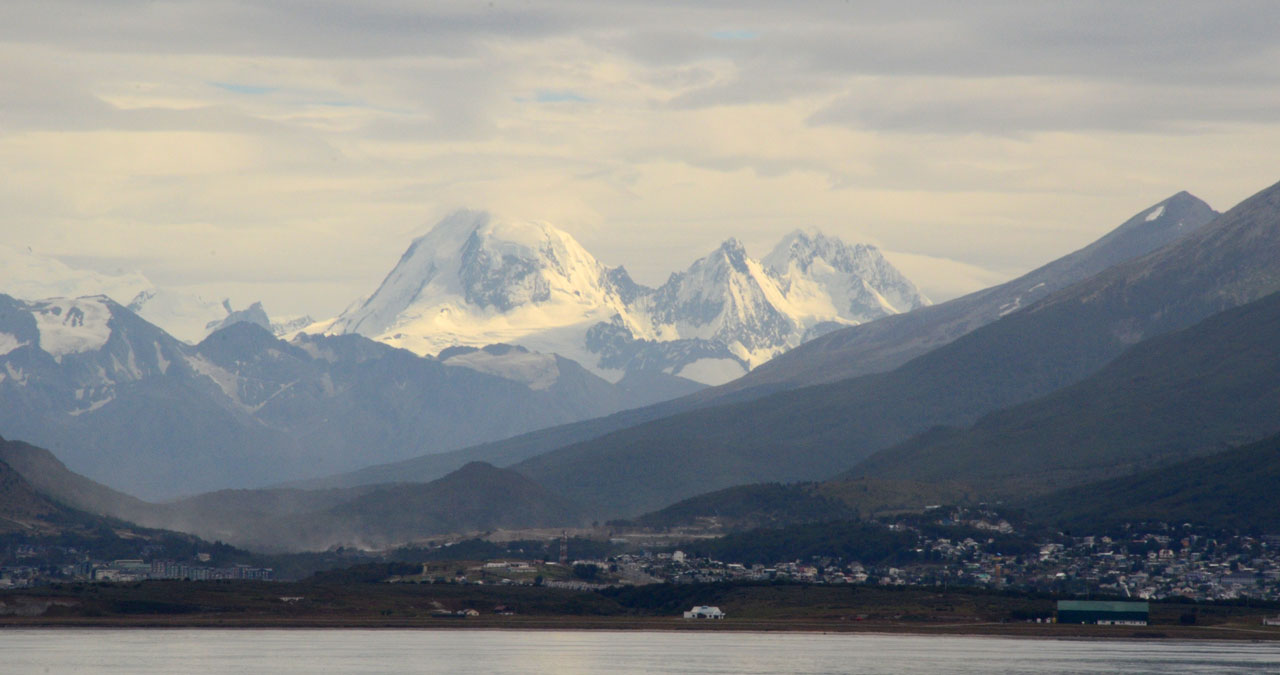 Another view of the Chilean peaks across the Beagle Channel.  The sailboat is very reminiscent of the Belgica.  I remembered there was a better article out there about the expedition, with some great pictures by Laurent Dick, our expedition photographer.  You can see those by clicking here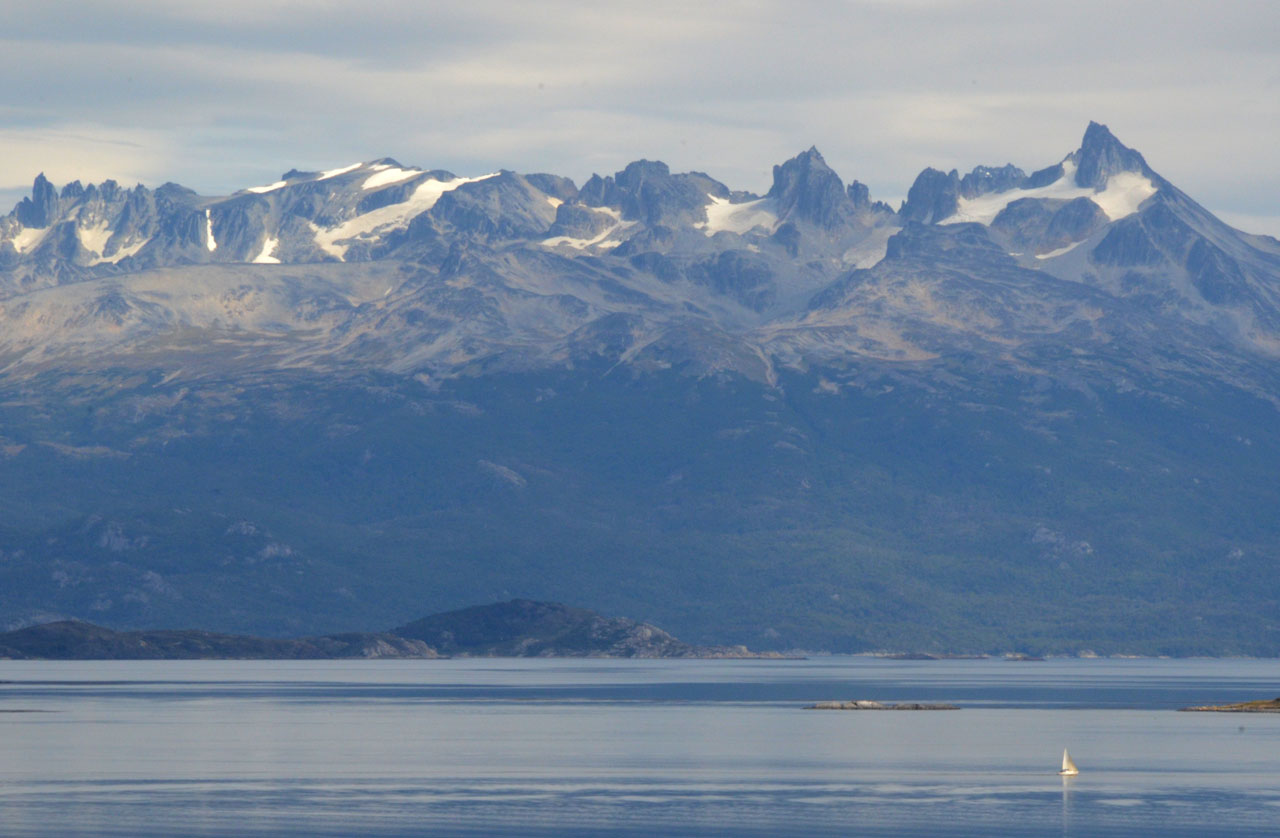 A view of Ushuaia and the surrounding mountains. 
With reasonable weather I couldn't stay out of the mountains.  I hiked up one of the peaks behind town that I hadn't been up before, when I was here previously.  I was treated to a stunning view of Ushuaia and the Beagle Channel looking east toward Puerto Williams.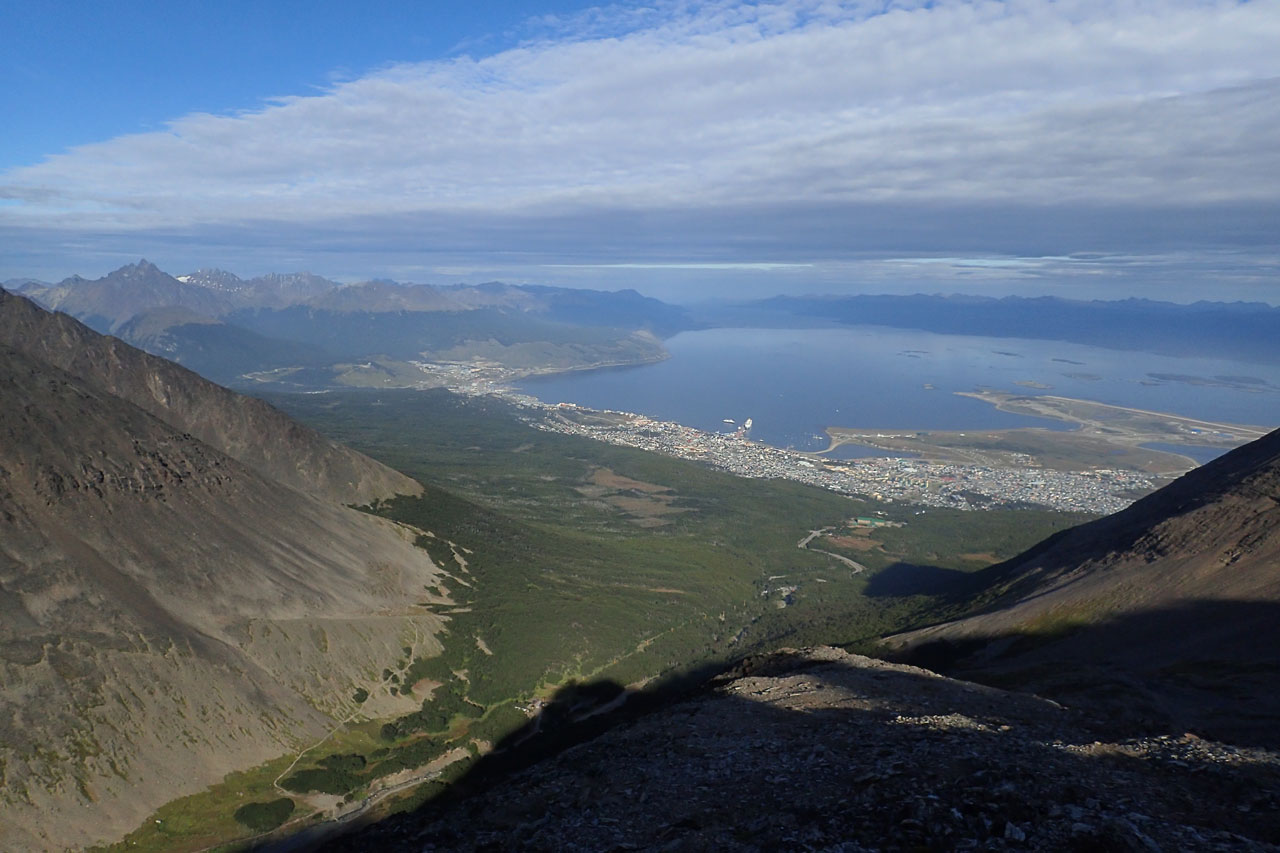 High in the mountains the vegetation was bursting with color.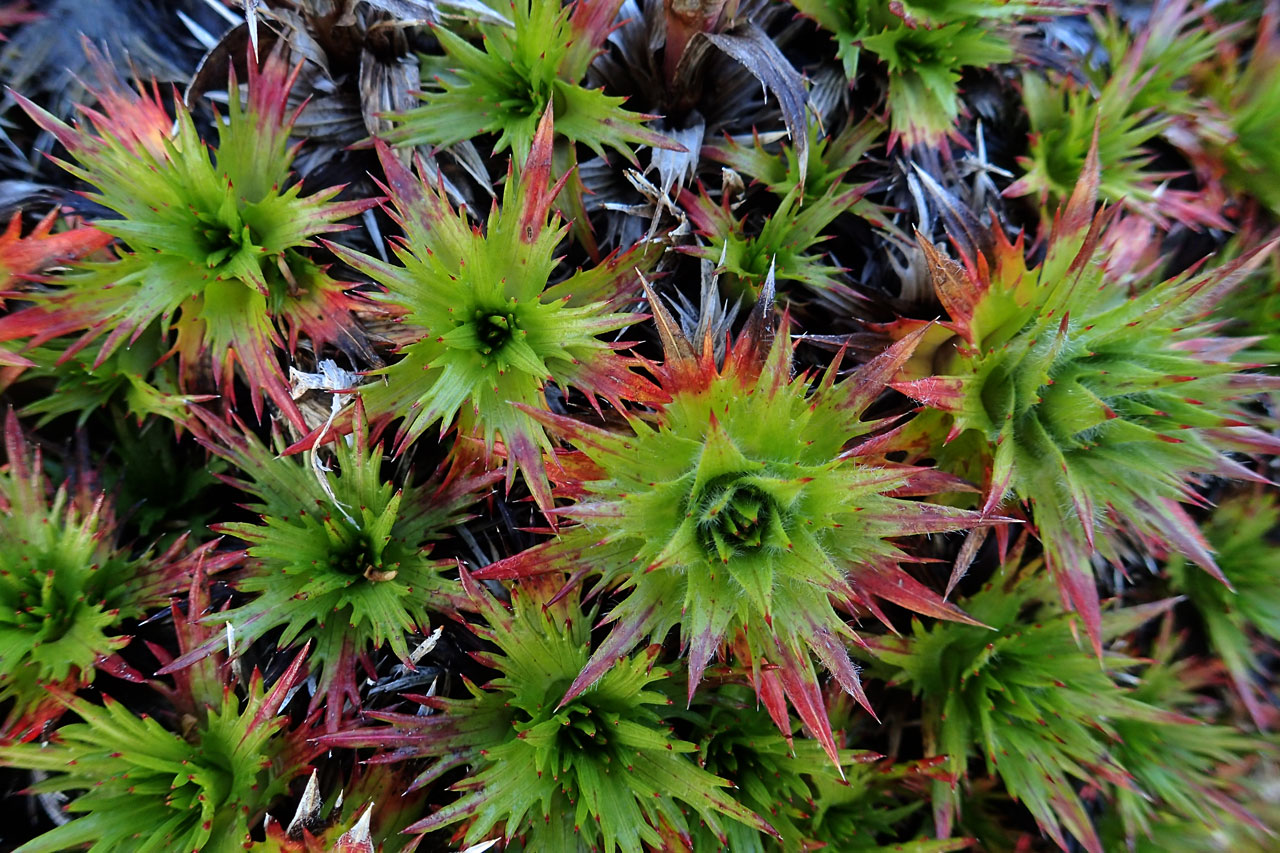 The next morning we hit the road in pouring rain and headed North, retracing part of our route back into Chile.  Just outside of Ushuaia, as I rounded a corner with a bit of construction, I looked in my mirror for Tracy and he wasn't there.  Just as I slowed down to make sure everything was alright, a crackle came over the radio…….."I'm down".  I turned around and found Tracy and his bike laying in the middle of the roadway, facing the other direction.  Tracy went down going around the corner at about 55mph.  There was an edge where they were putting new pavement down and loose gravel from that in our lane.  He said all of sudden his rear tire slipped from under him and the next thing he knew he was sliding down the pavement sideways with the bike.  He slid for over 100 feet before he stopped and was facing the way we had come.  I rolled up and he was trying to lift the bike up, so I knew he was mostly okay.  But we knew we had to get the bike out of the middle of the road before someone else came around the corner.  It took both of us to lift the bike up and thankfully, Tracy only had some scuff marks on his jacket and several ares on the bike were scraped up.  But no real damage to the rider or bike.  Lucky.  REALLY lucky.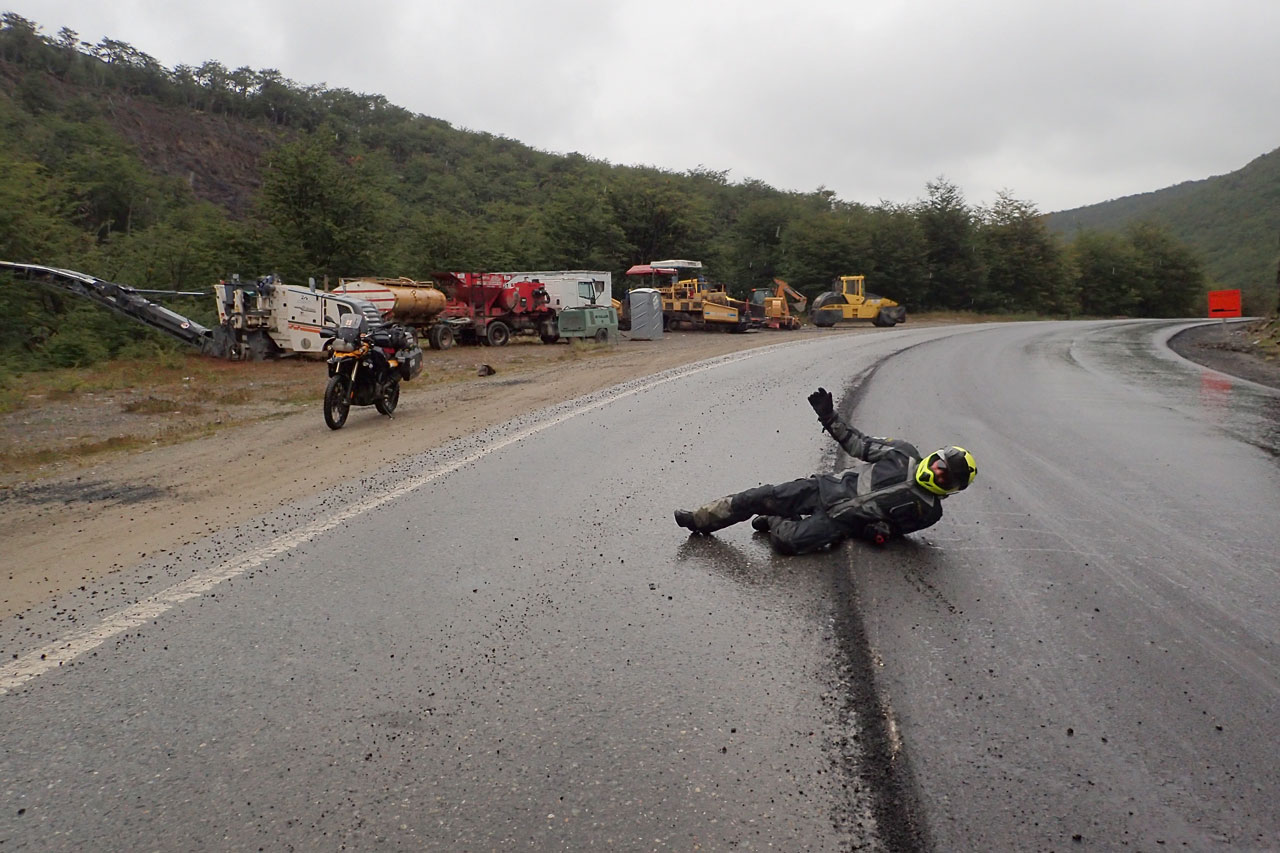 This gives you an idea of the gravel on wet pavement that didn't agree with his back tire.  Tracy was a bit sore the next day, and was glad to walk away from this one unscathed.  On the entire trip we've had the bikes fall over plenty of times.  It's hard not to have some incidents with these heavy bikes.  Most often mine was falling over when we were stopped.  Laying a bike down while moving can get somewhat serious quite quickly.  I went down once and Tracy three times while moving.  We were thankful that there were no serious injuries to us or the bikes.  Pretty fortunate on all counts.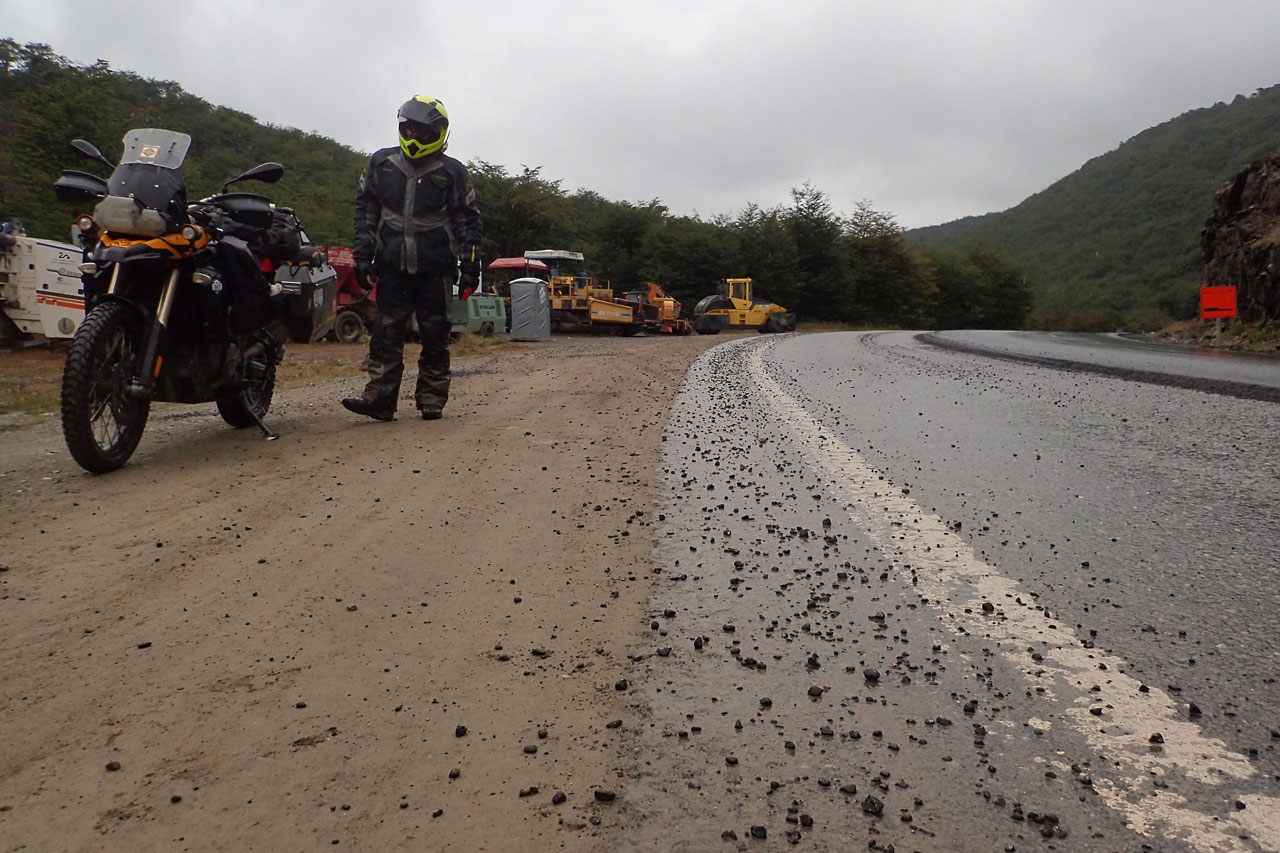 We rode in the rain all day, until we crossed the ferry and were back on mainland and turned west towards Punta Arenas.  The sun came out, there was no wind, and we had a great ride into Punta Arenas.   This type of weather rarely happens here and so we were both pretty happy about that.  We passed the abandoned Estancia San Gregorio, northeast of Punta Arenas.  The buildings and ships are relics of the 1800s from the Menendez wool empire in Chilean Patagonia.  It's now a historical monument..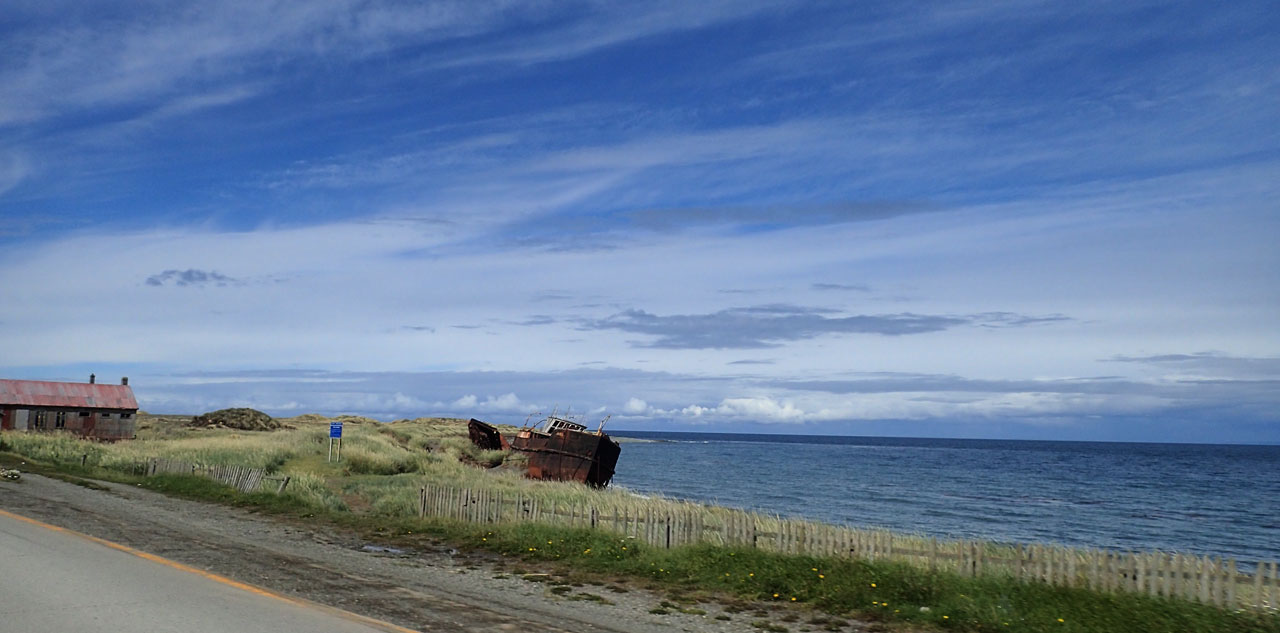 We rode along the Straits of Magellan all the way into Punta Arenas.  We'll see what the next few days holds for us.  We'll try to sell the bikes in Punta Arenas, which is one of two Zona Franca's in Chile.  This is essentially a tax free trade zone.  If we can't find a buyer, then we'll ride north several thousand miles back to Santiago and ship them back to Alaska.  I'm seriously considering leaving mine in South America and coming back next winter for some further explorations.  Most countries only allow the bike to be in the country for 90 days.  But, Uruguay allows for 365 days.  I found a shop in Montevideo that will store it for me, but it's a loooong ride to get there, so we'll see.  We would both prefer to sell the bikes, but realize it could be difficult to do in this part of the world.  Time will tell. 
Punta Arenas has turned out to be a nice surprise.  Tracy spent several months here, on a couple occasions, twenty years ago, during his days working in Antarctica.  I was here quite a few years ago on an expedition.  Both of us remember it as a grey, dismal, quiet, dying town, with terrible weather and lots of wind.  But it has changed. The waterfront has been developed.  There are lots of restaurants, nice stores, and well kept buildings.  Tourism seems to be driving much of the economy, but the port is also quite busy with a new cruise ships every day, many commercial fishing boats, and even a NOAA boat in port.
There are many signs around town of what use to be here. 
There are many nice monuments along the waterfront and a nice promenade for walking, running, and biking.
There is even some really fabulous street art on the sides of old buildings.


It's a very metropolitan and colorful city of about 125,000 people.  We've had good luck with the weather and lack of wind.  But we both know it is not always this way. 
A really great hotel that Tracy stayed in for a month while he was working here, preparing for a departure on a ship to Antarctica.  It's still the same, twenty years later.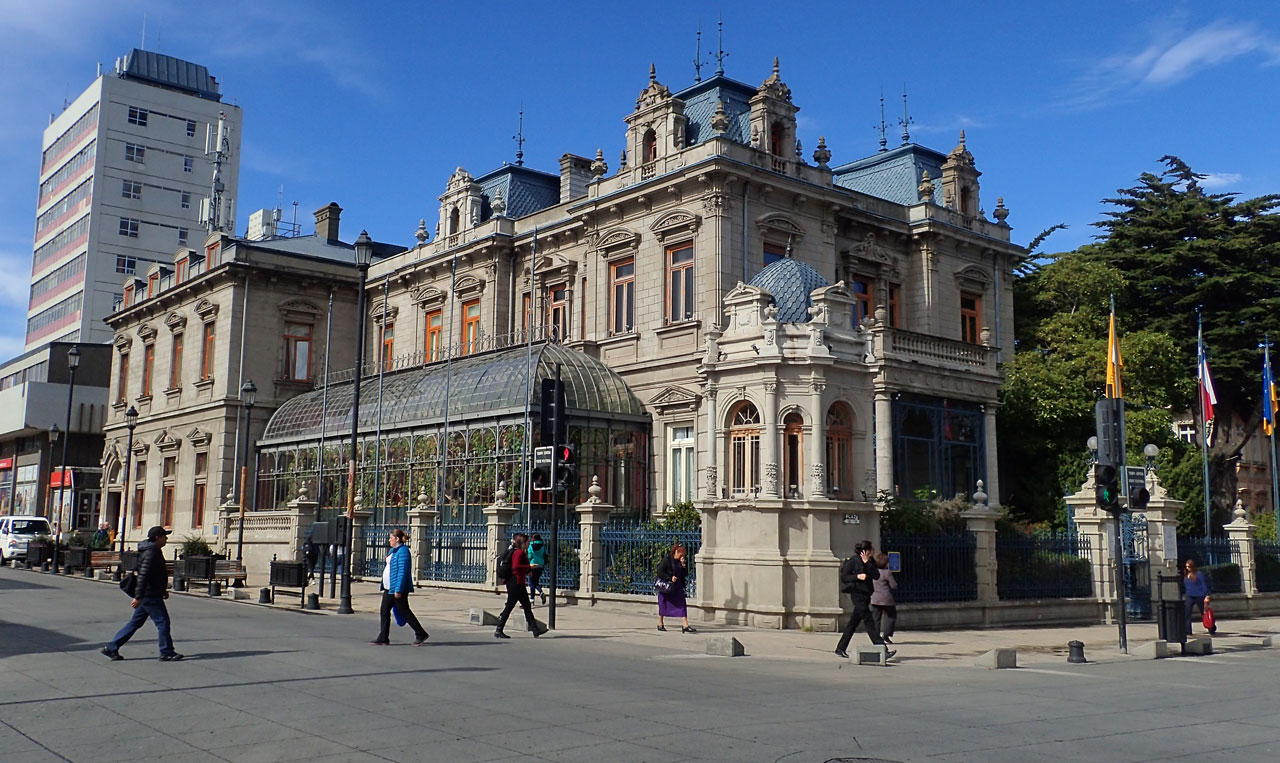 It's important to touch the foot at the Magellan statue, for good luck and safe travels.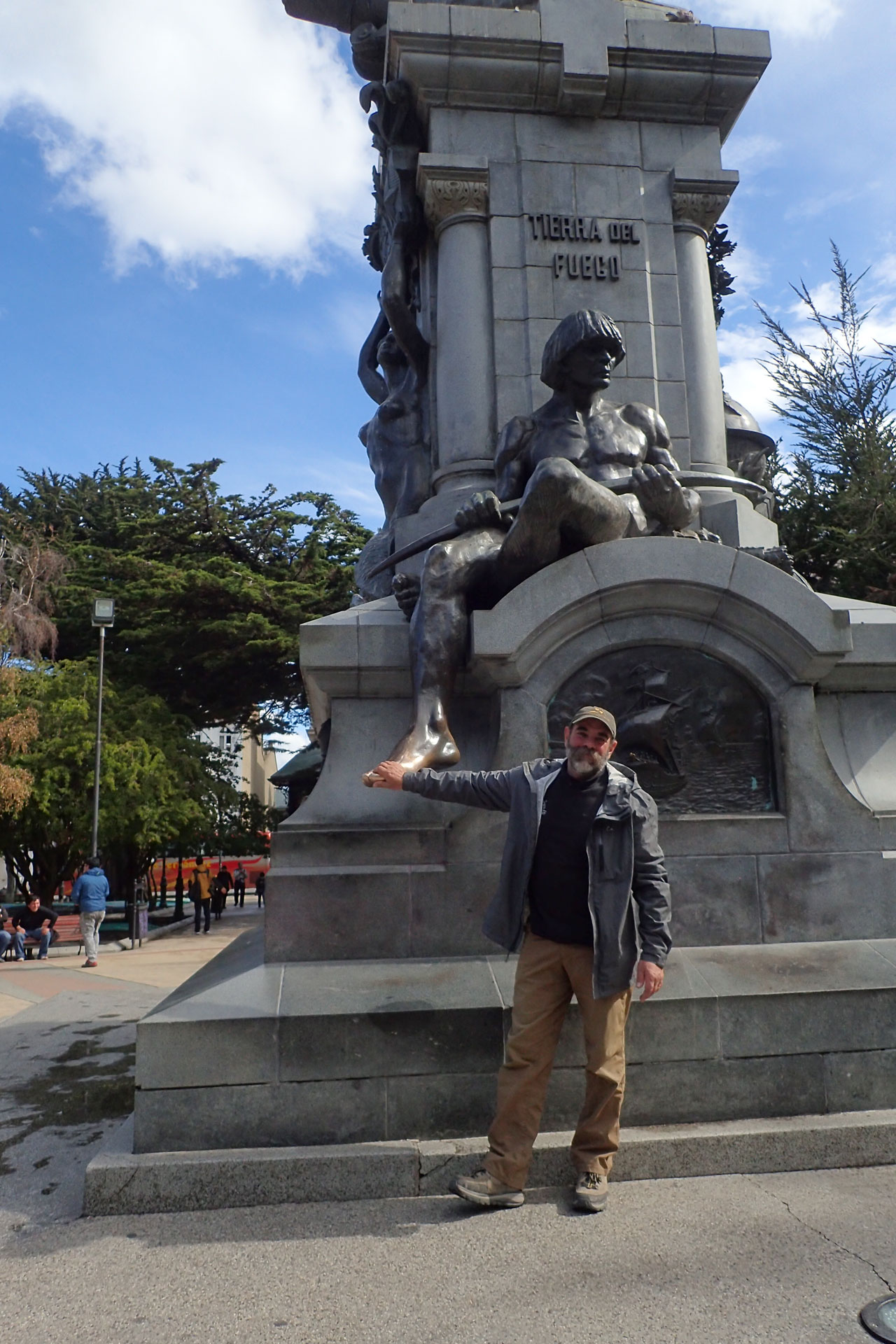 And being a communications guy, I couldn't help but notice the number of phone lines in front of this cool old building.  This is NOT how we would hang phone lines in Alaska!!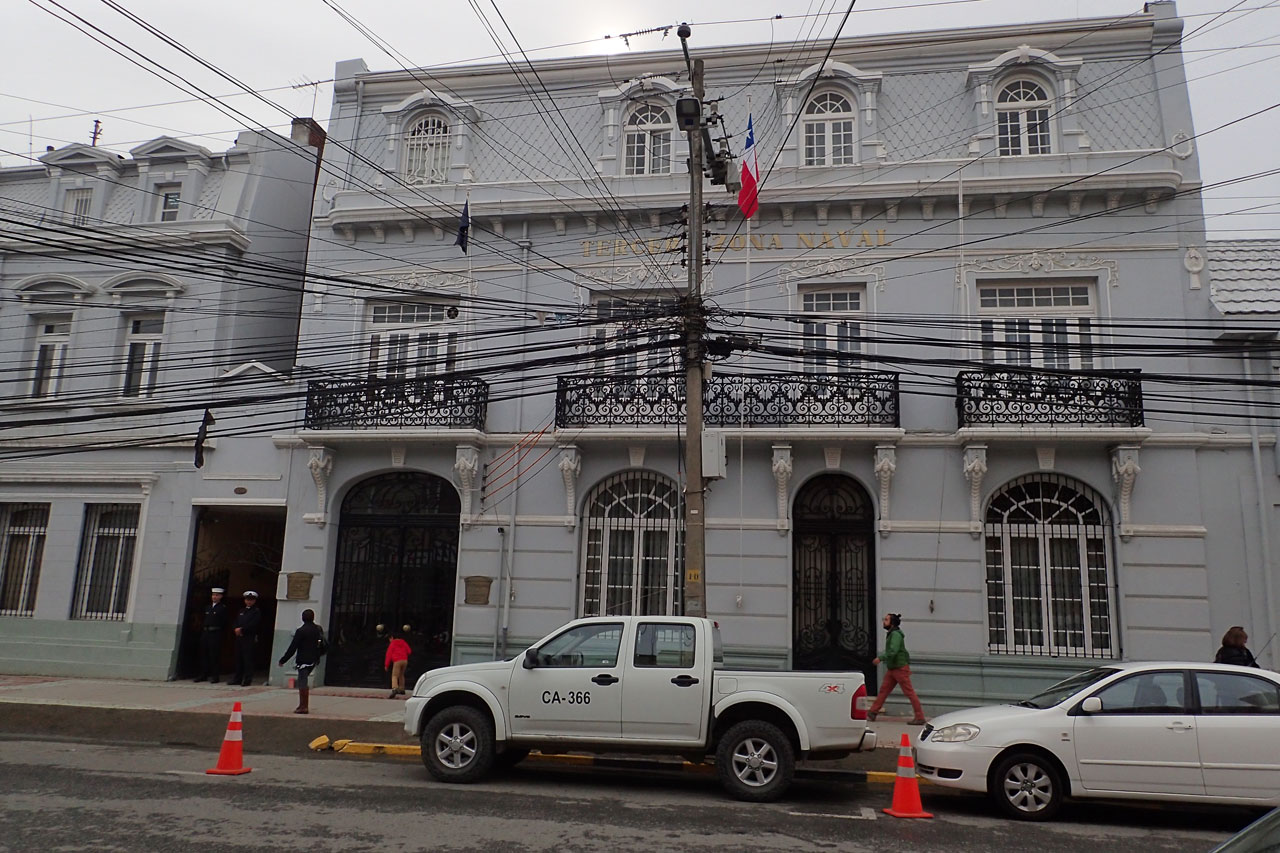 We thought it would be best if we were going to try to sell the motorcycles, we'd better get them cleaned up.  We found a little family run business that did an excellent job for 3000 pesos….$4.63.  When they were done they nearly looked brand new.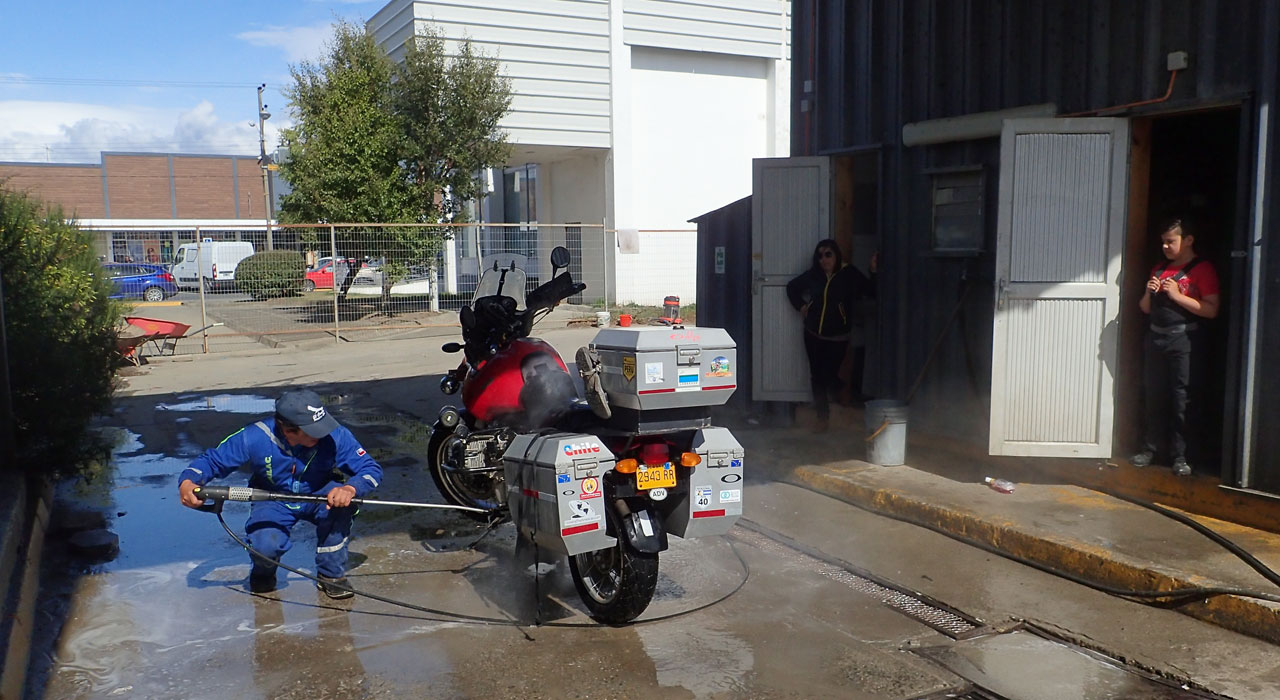 We then stopped at a shop we'd heard about and met Alejandro Lago.  We asked if he could help us get the bikes sold.  He said no way, but told us about another place that was a hangout of sorts for motorcycle riders, called La Guarida Motos.  He said it's part mechanic shop, coffee shop, retail store, and the place to be if you had anything to do with motorcycles.  The next thing we knew he was on the phone with the owner and told us to be there at 11:30, and ask for Salvador.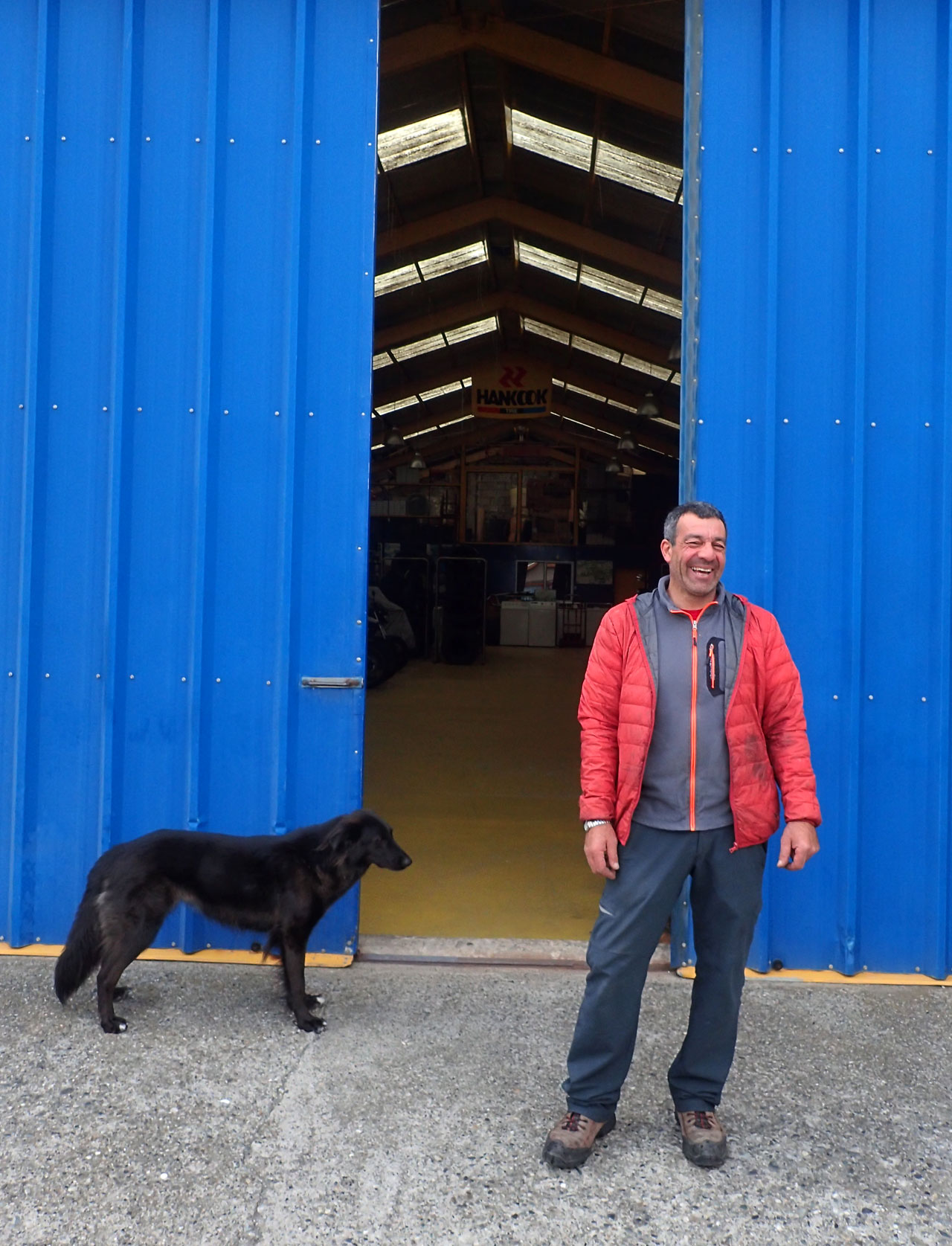 At 11:30 we showed up at La Guarida, and it turned out to be everything we expected, and more.  It is a motorcycle hangout and that is what the name means in Spanish, The Hangout.  It is part mechanic shop, coffee shop, tools to work on your bike, TV, foosball(Takataka), and more.  We talked for awhile and then Salvador said, let's go look at the bikes.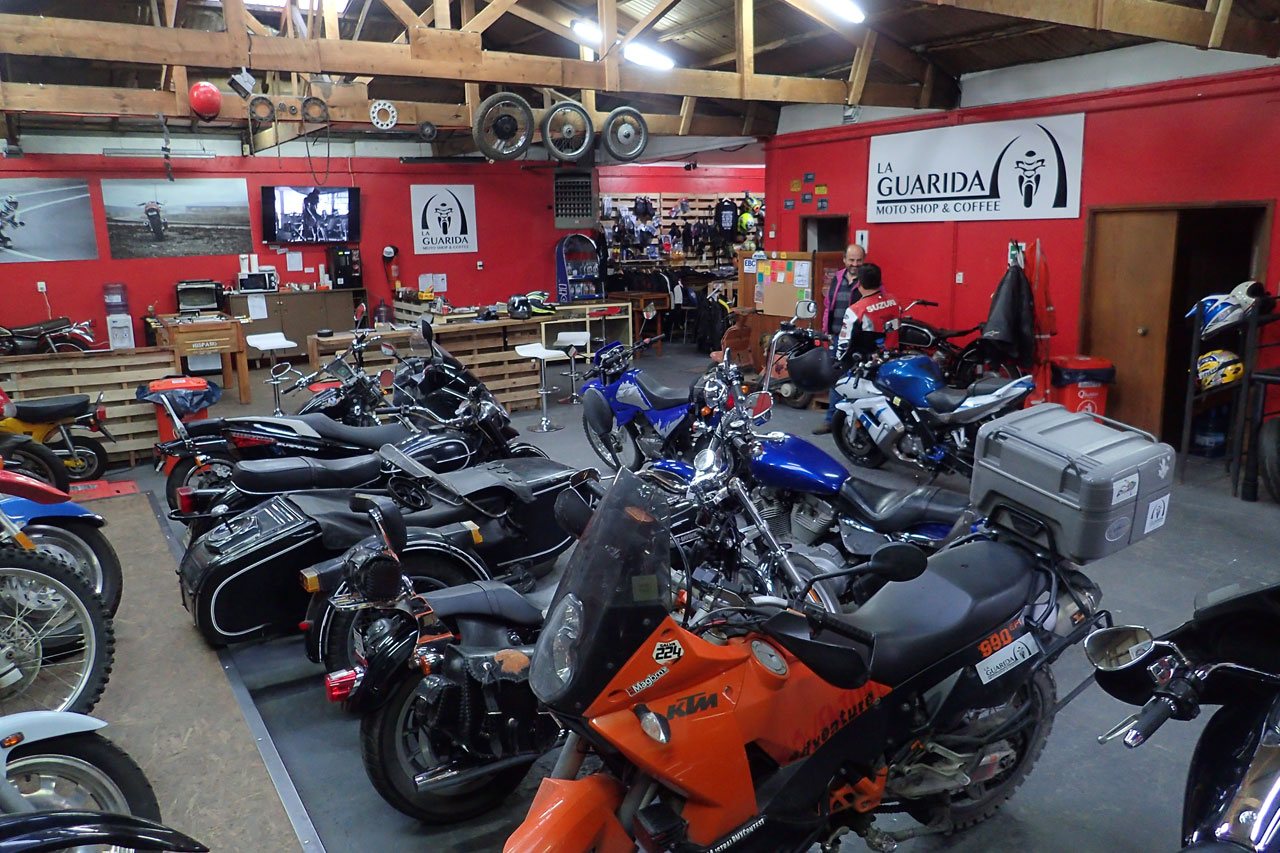 We went out front and talked over both bikes and what we'd been through with them.  Mechanical issues, broken frame, everything.  Salvador turned out to be the nicest guy in the world.  Very honest and up front.  He thoroughly explained what had to be done to sell and buy a bike in Chile.  Punta Arenas is a Zona Franca and so special rules apply.  Although they are not that complex, he told us exactly what he had to go through for him to buy our bikes and what his expenses would be.  I don't think I've ever dealt with a more honest, trustworthy, and upfront guy.  He asked our price for the bikes.  We told him, and he said, okay, I'll buy both of them.  Tracy and I looked at each other with a look of, WHAT have we just done?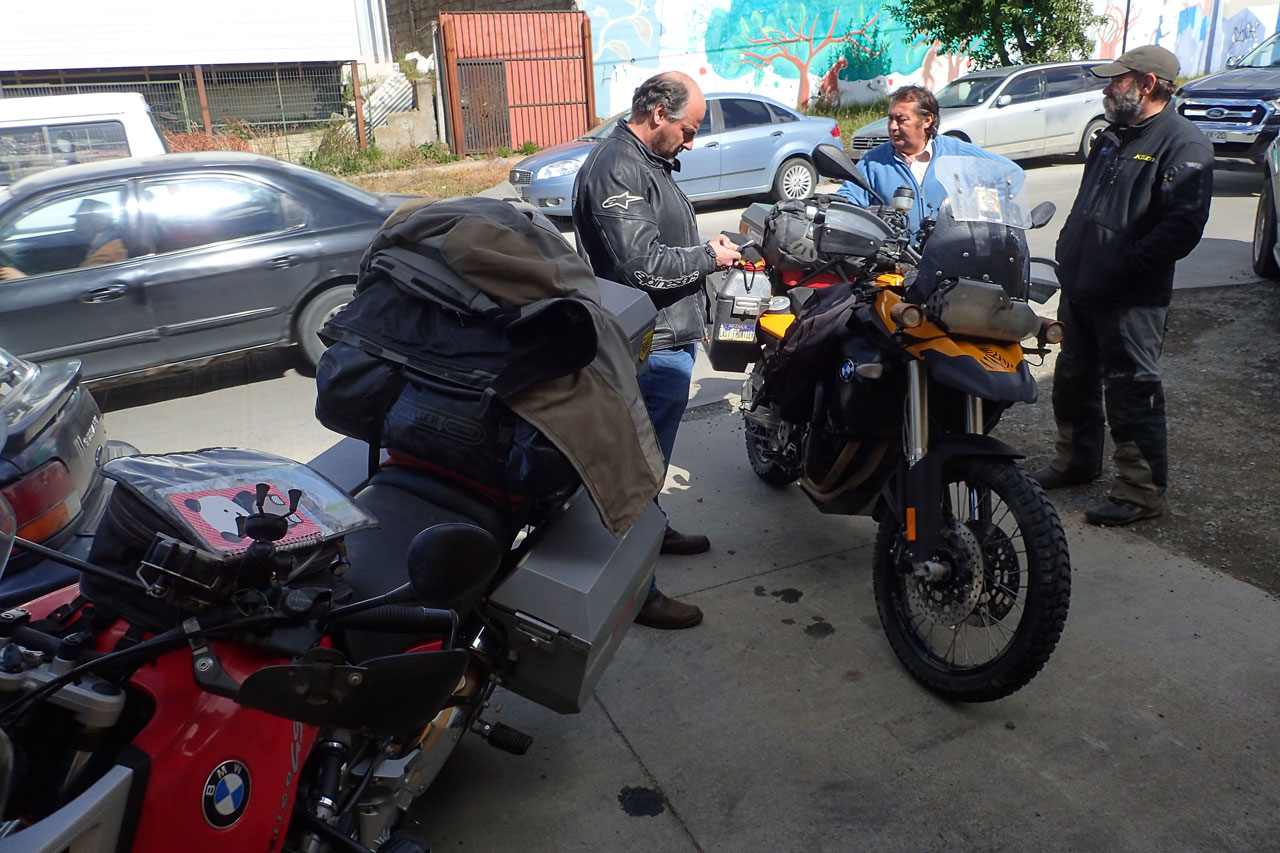 Our plan all along was to sell the bikes.  But we hadn't really thought much about it and didn't really think we'd actually make it this far in one piece.  And now we were actually here and things were falling into place way better than we ever imagined.  Fortunately, Salvador has quite a few neat bikes around his shop and Tracy and I think maybe we'll tackle Africa next, two up, on a scooter.
Um, yeah, it's just a joke!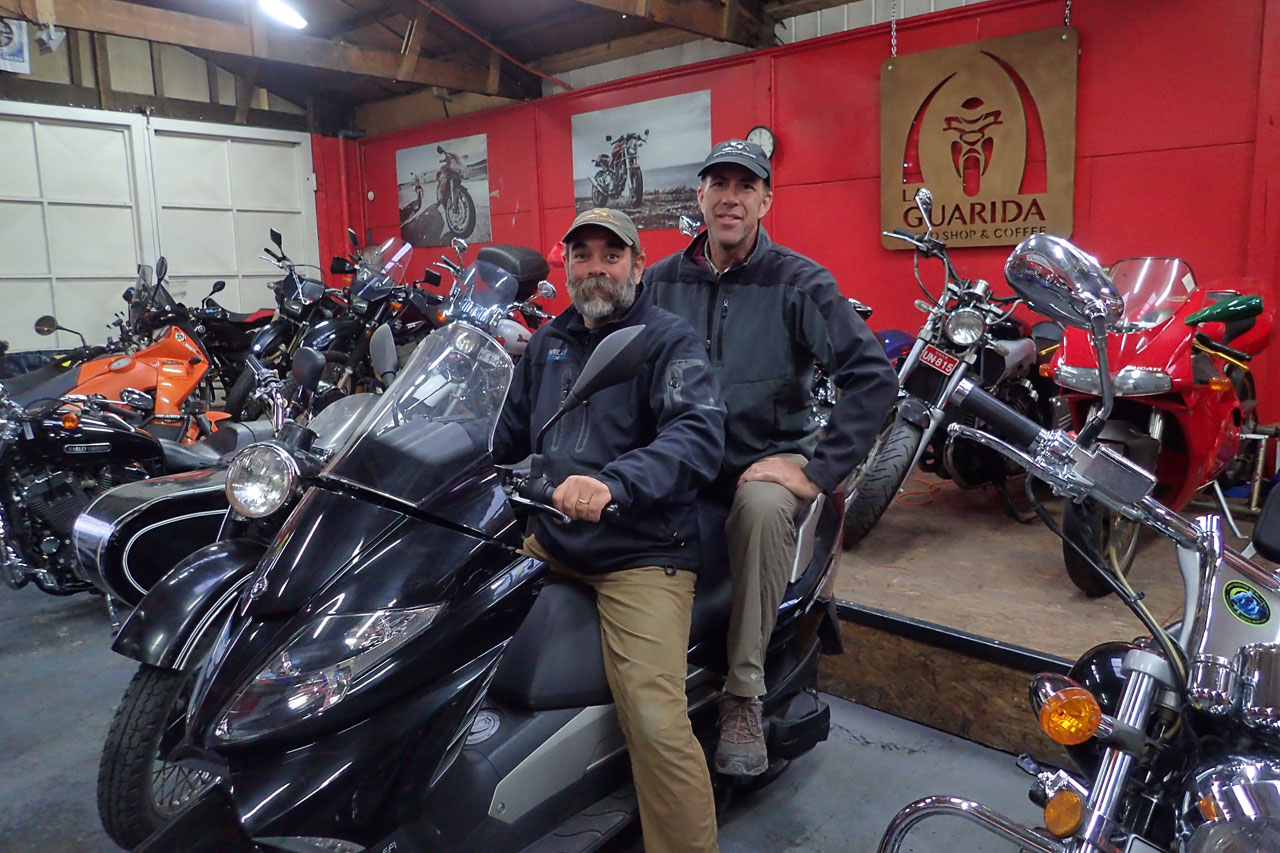 It was a toss up whether we'd take the Honda(above) or the Yamaha(below)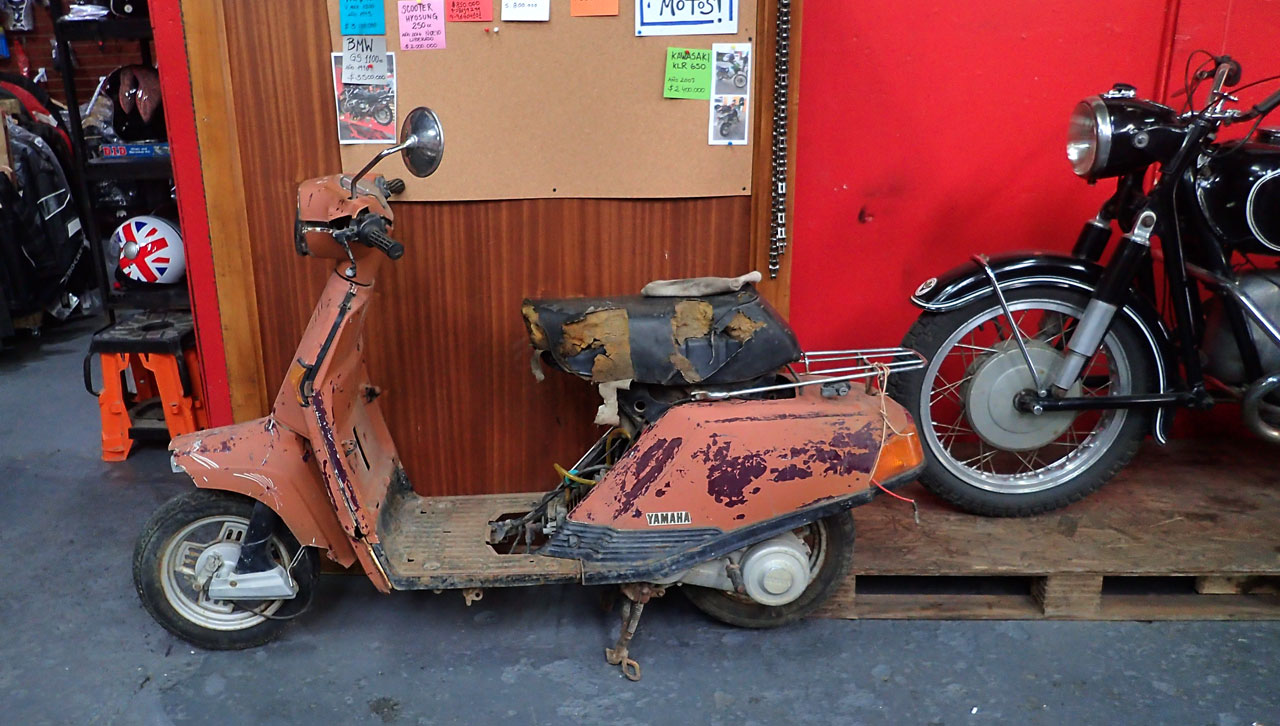 Salvador did have a 1954 BMW in the shop, which was really neat for me to see.  My Dad had a similar bike when he was young.  He had a 1965 BMW R60 in his younger years and rode it all over the place.  It's probably why I ended up with a BMW.  As the saying goes, "The apple doesn't fall too far from the tree".  I think my Dad's bike was much cooler than mine.  You can read about his bike, and mine here.
So in less than 24 hours of arriving in Punta Arenas, we had the bikes sold.  We were then confronted with an unexpected crush of bittersweet emotions.  We weren't really sure if we should be happy or cry our eyes out. We'd been through so much with these bikes, it's hard to part ways.  I suppose it's a bit like losing your favorite dog.  But shipping the bikes back to Alaska was going to cost a bit over $2000, and so it only made sense to see if we could sell them.  And so we did.
Later that afternoon, we came back to the shop, for some hangout time.  Quite a few riders showed up and we had a nice time showing off the bikes and swapping stories from the road.  Several of the guys were taking a pretty serious look at our bikes and were considering buying them.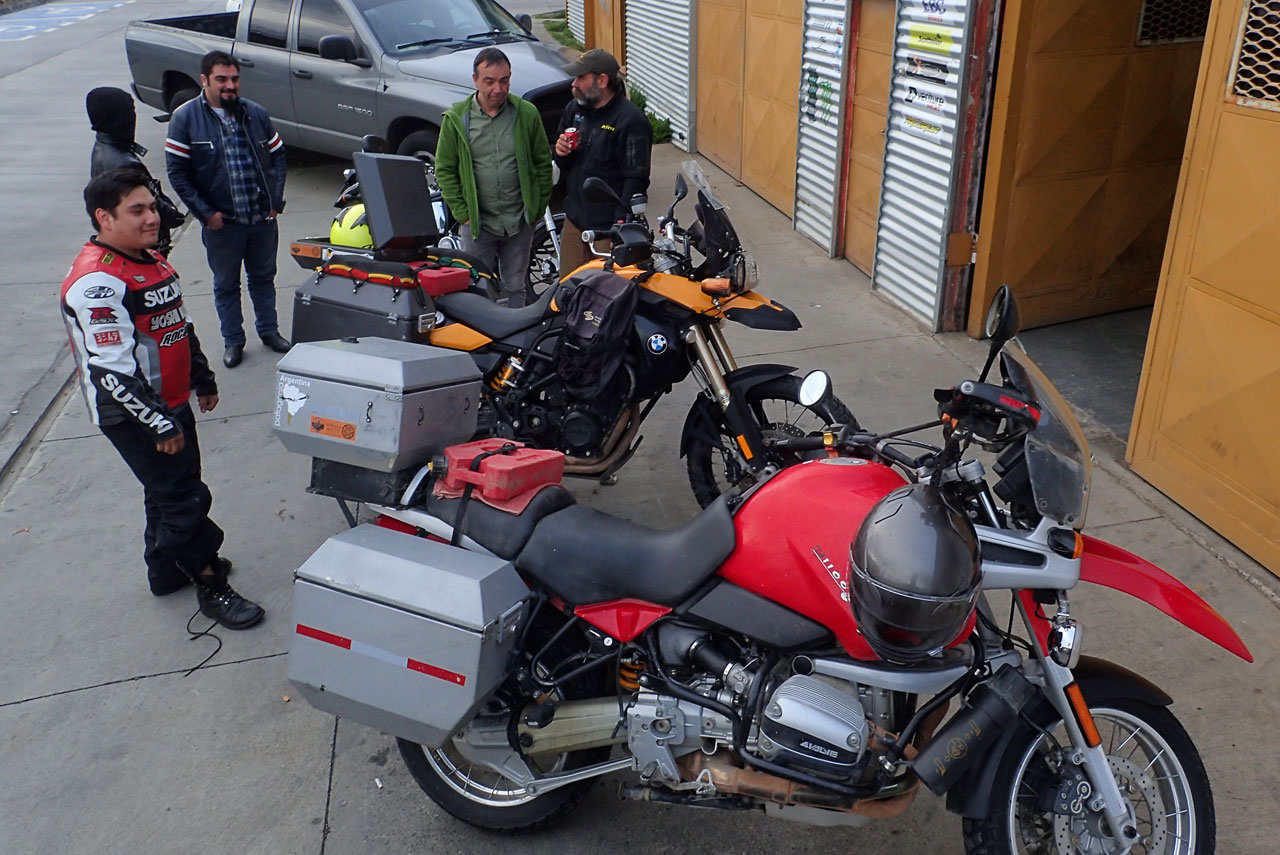 The next day, we had to deliver the bikes.  On the way to the shop we stopped at an Antarctica and Shackleton exhibit at one of the museums.  It was a bit fitting for Tracy and I, as we both have spent a good part of our lives in Antarctica.  We met and became friends in the first place, because of a mutual friend from the ice.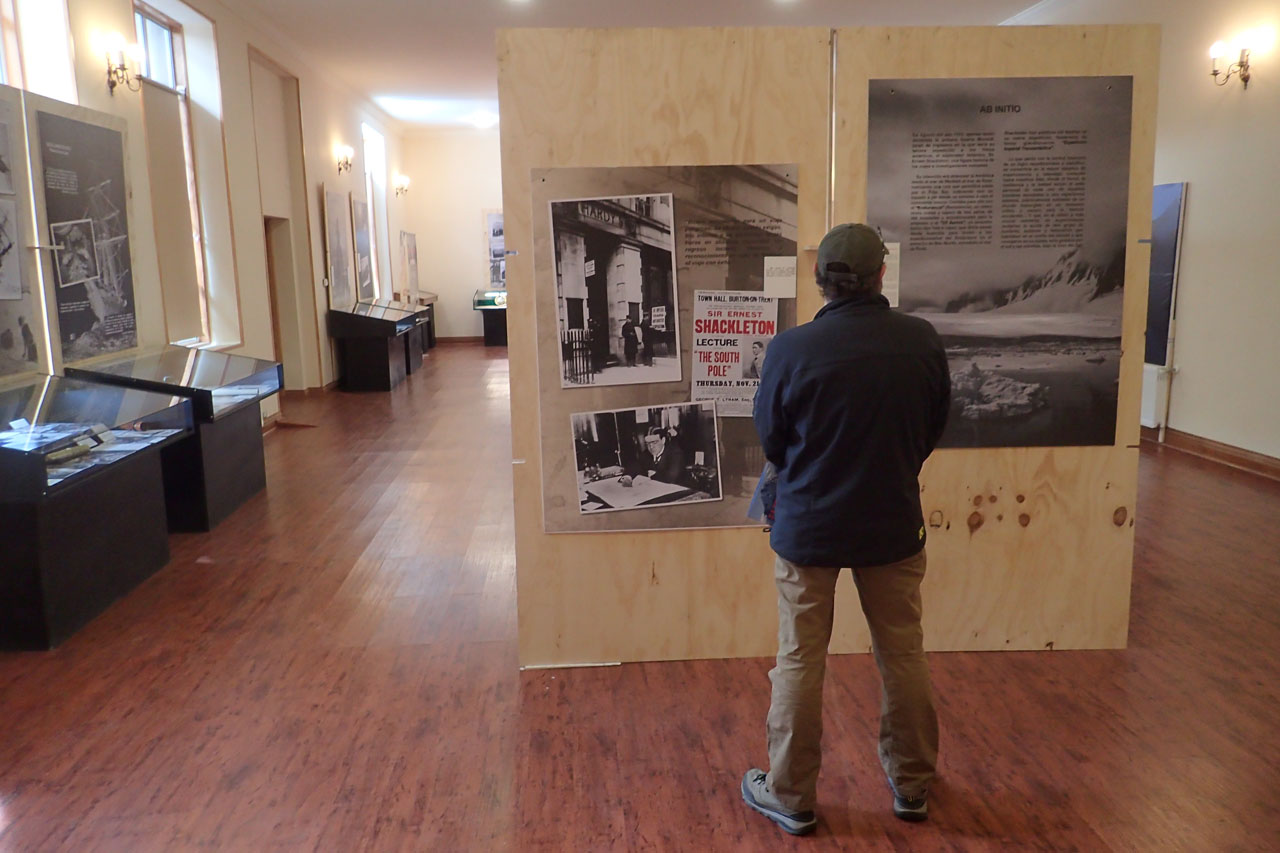 The boys and their bikes.  Of course now that we were selling the bikes, we were nostalgic and couldn't get enough pictures with them.   It's hard to imagine waking up and not riding these bikes everyday.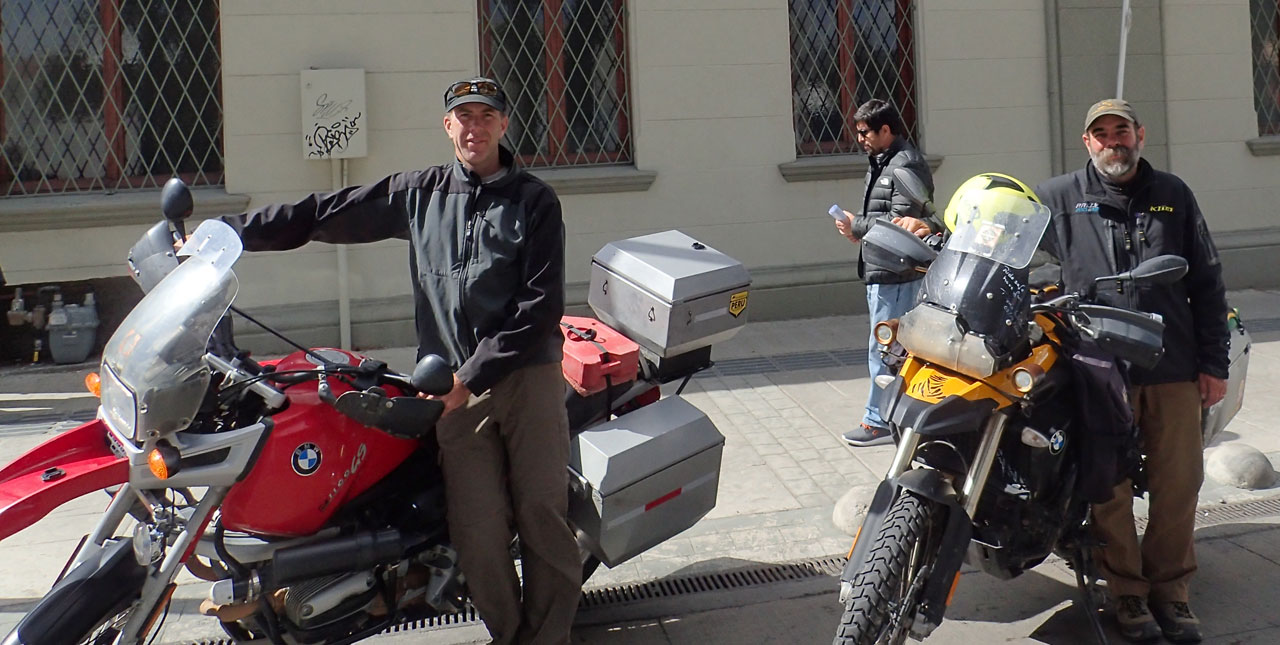 Mission accomplished……..ride from the northern most point in Alaska to the southern most point in South America.  We never imagined this trip would affect us in so many ways.  It truly has been a trip of a lifetime.  Certainly not an experience that either one of us will forget anytime soon. 
On day three in Punta Arenas, we met Salvador and headed to the Notary, where we signed over the bike Titles to him.  Fortunately, his Spanish speaking skills are superior to mine, or we would have been there much longer.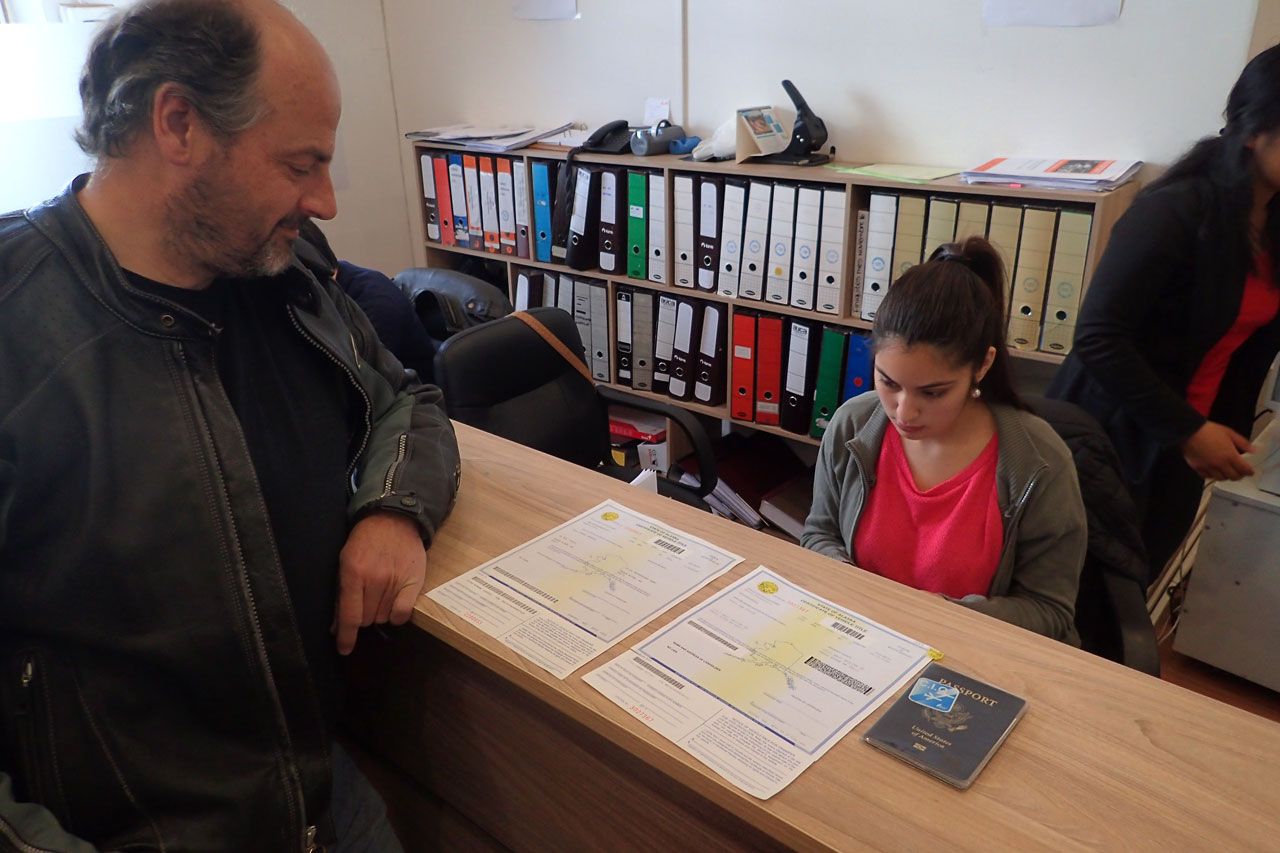 Then off to the bank where Salvador handed us a stack of $100 bills. Done deal.   In a few days we'll get to ride the bikes one last time, when we deliver them to Customs.  They will stay in Customs for a few days and then Salvador will have permanent possession of them.  In the meantime, Tracy and I will be exploring the local area, and trying to grasp the idea that we don't own BMW's and aren't on a motorcycle trip any longer.  After all we've been through, it's a difficult concept to get our heads around.
We got to go for our final ride on our BMW's today.  Oddly enough, yesterday, the crew in Punta Arenas went out for a ride and Tracy and I saw them pass on the highway.  When we saw Tracy's bike go by with the new owner on it, was certainly an odd feeling.  We both have been saying a lot the past few days….."I can't believe we sold the bikes!"  This morning we met up with Salvador and rode to the Customs office.  It turned out to be another beautiful day in Punta Arenas….perfect for riding.  But unfortunately it was only a short distance to the Customs office.
The Customs agent effectively had to cancel our temporary import paperwork for the motorcycles.  Otherwise when we leave the country in a few weeks we'd have problems getting out of the country  .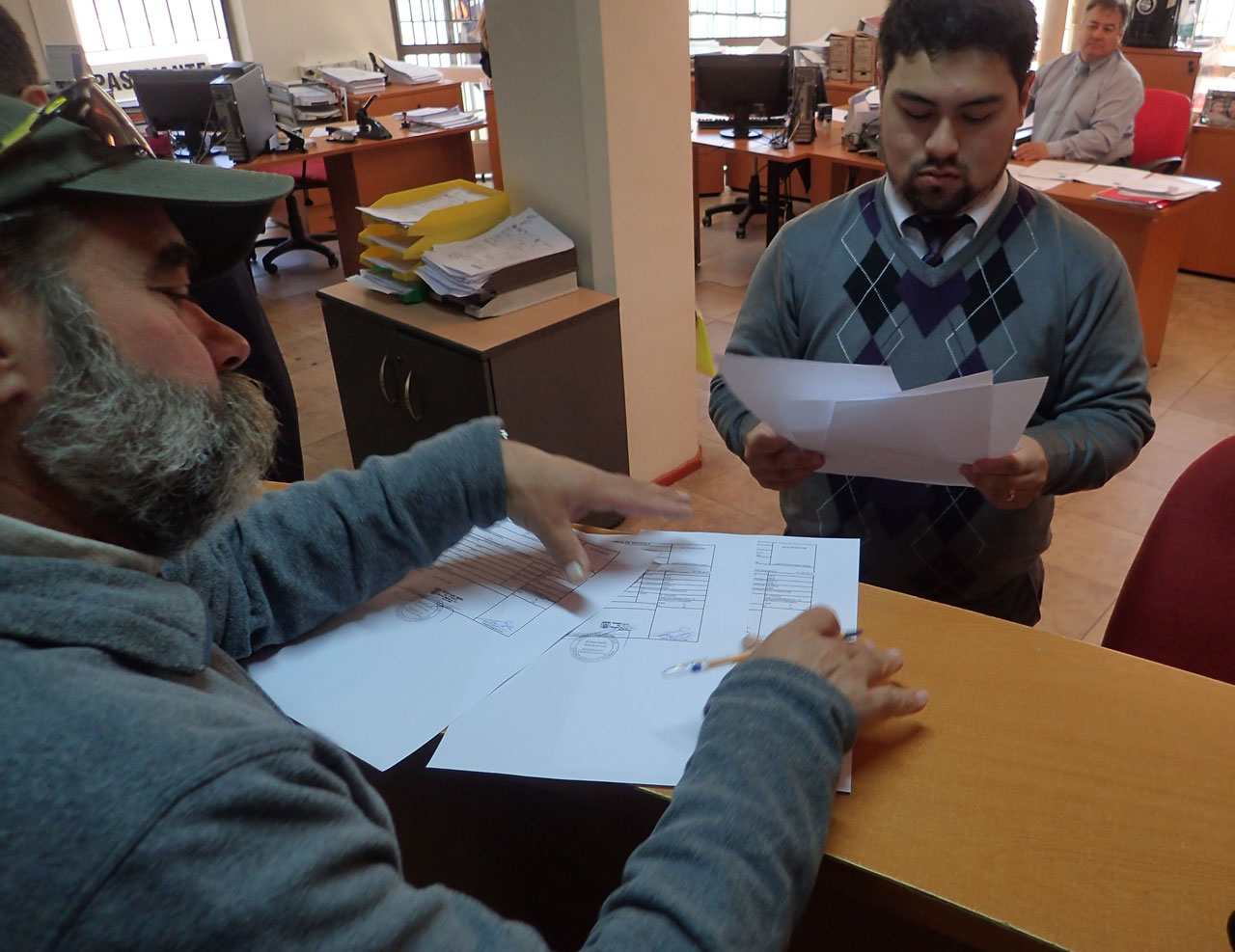 And then the real final ride, across the street where the bikes get put in the Customs warehouse until all the paperwork is cleared, which takes about a week.  And then they are officially imported into Chile and belong to Salvador 
The Customs warehouse is at the Port, where all the boats come and go from Antarctica.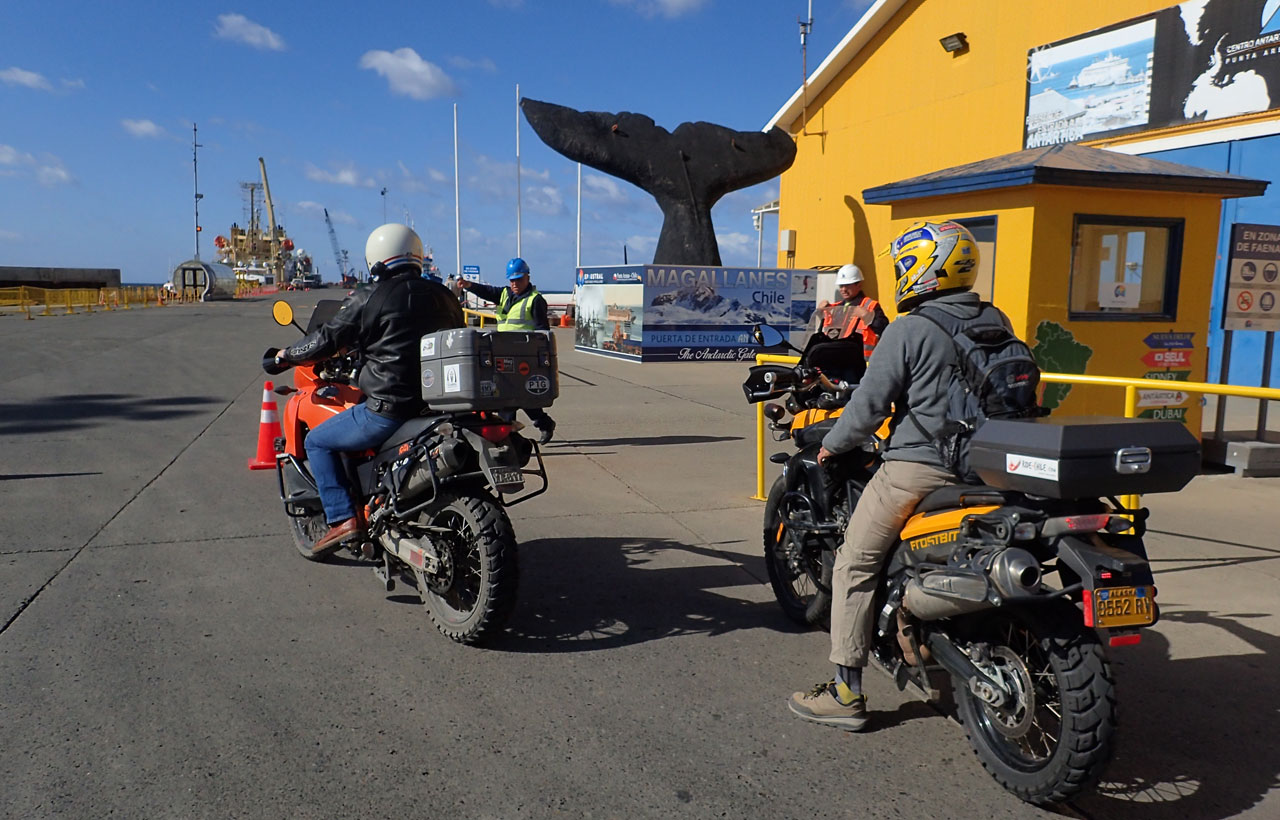 We parked them in a warehouse with a few other bikes, cars, and lots of boxes.  The Customs agent kept saying "No pictures"  And I just said….but they're our motorcycles!  And kept taking pictures.  He didn't really care, he was just doing his job.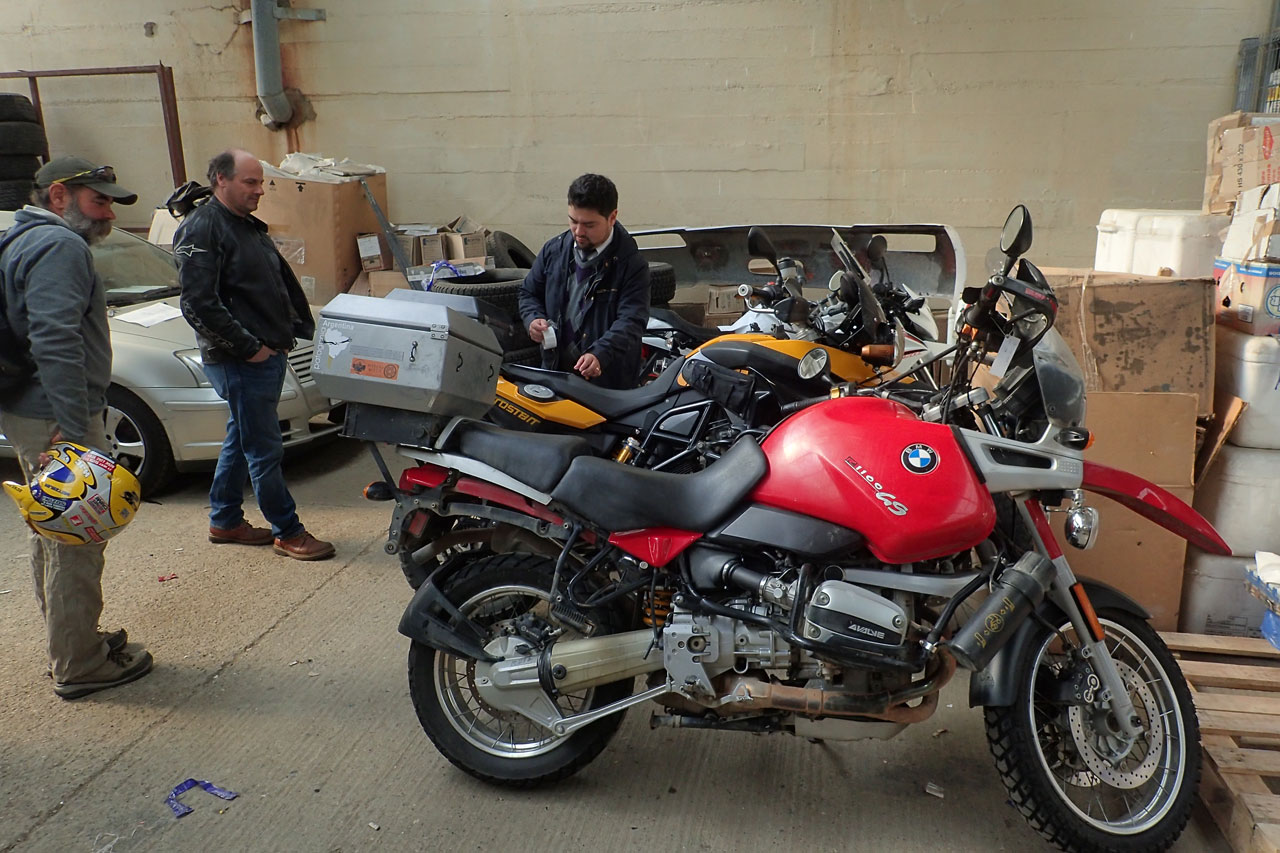 Oddly enough, the customs warehouse was right next to the warehouse that Tracy worked in 20 years ago when he was here working for science groups in the US Antarctic Research program.  Much has changed in Punta Arenas, but some things will never change.  The warehouse Tracy spent so much time in, was pretty much the same.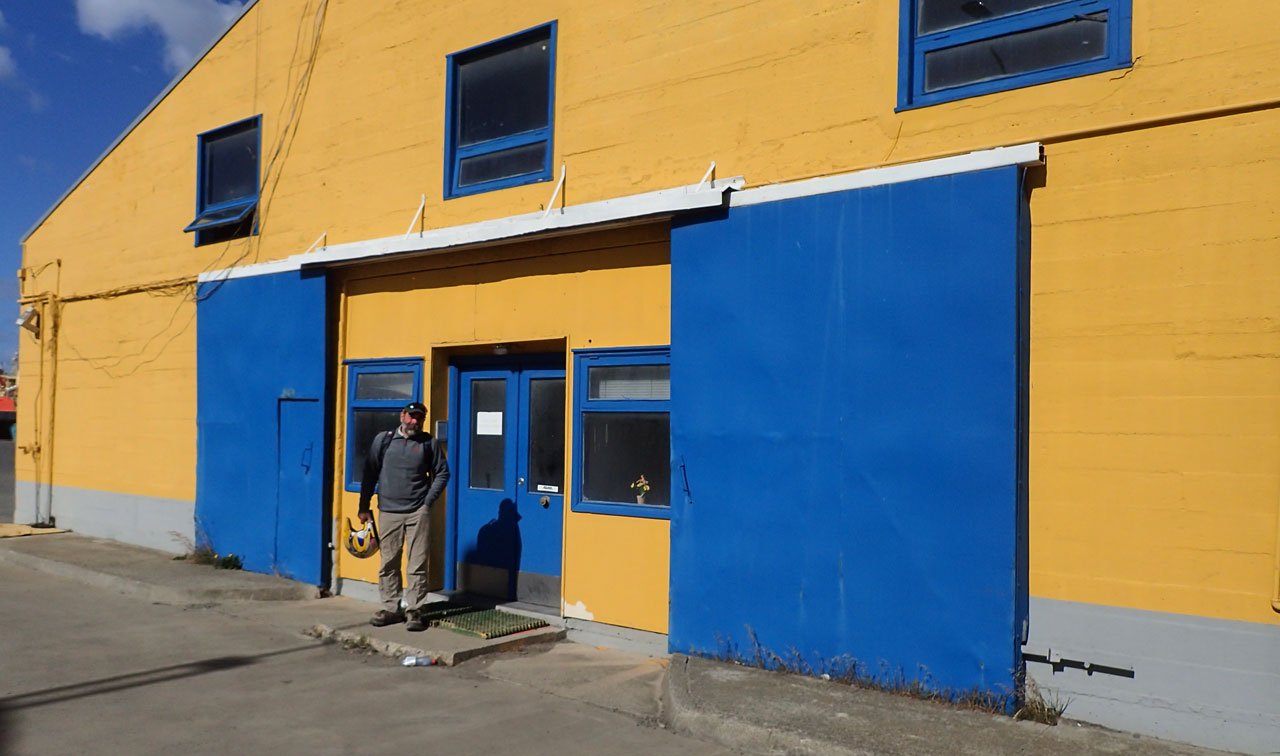 And, so, that was it.  Motorcycle expedition from Alaska to Ushuaia complete.  Fittingly we parked the bikes and had a picture taken next to the logo for the US Antarctic Program.  A place where we both have spent so much time and had so many memories.  And ultimately, it's how we met.  And like our time spent on the ice, this motorcycle trip is another chapter in our lives that we will never forget.  We both walked away with a smile on our face and a tear in our eye.