And so it began.  Two guys, two bikes, and a long ride from Alaska to Ushuaia.  With winter fast approaching in the north country, we needed to get the bikes most of the way across North America and into warmer climates.  We headed out of our home in Eagle River, Alaska and started the drive south to my brothers in Arizona.
But, since Tracy and I live in Alaska, we knew we had to ride from the northern most tip in Alaska to the southern most tip of South America.  So, with Prudhoe Bay just up the road, we have ridden as far North as we can.  I thought it was only appropriate to post  few pictures from that portion of the ride that we did a few years ago.
F600 and the Trans-Alaska pipeline.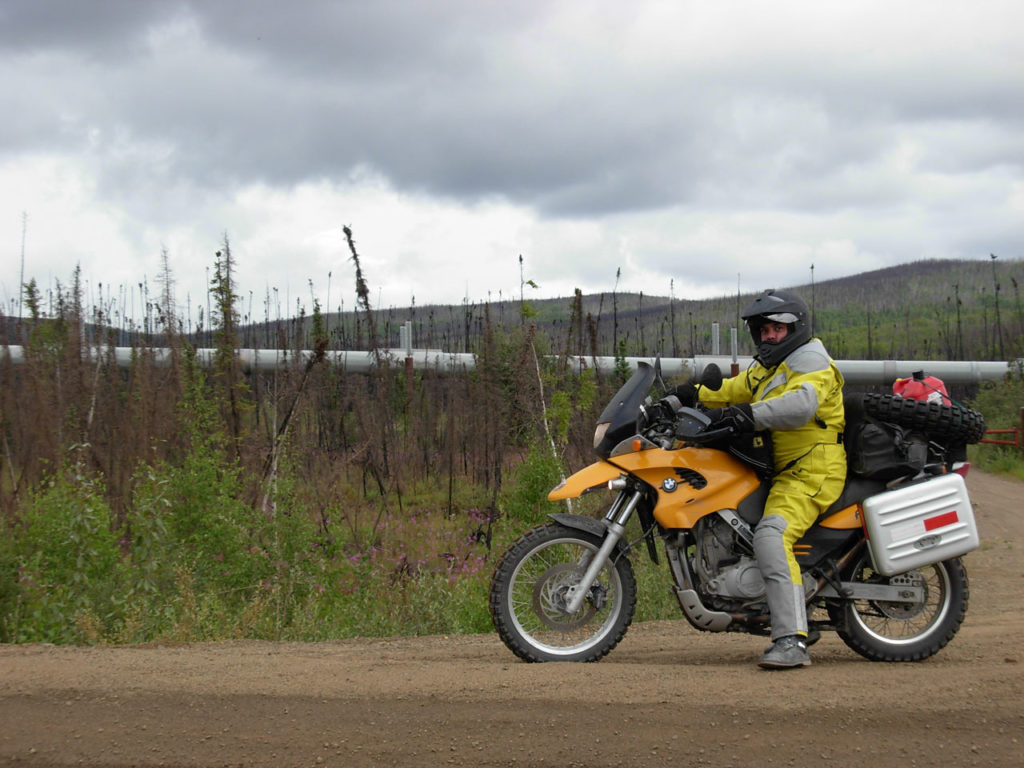 Only 360 more miles to go!!
All dressed up and ready to ride.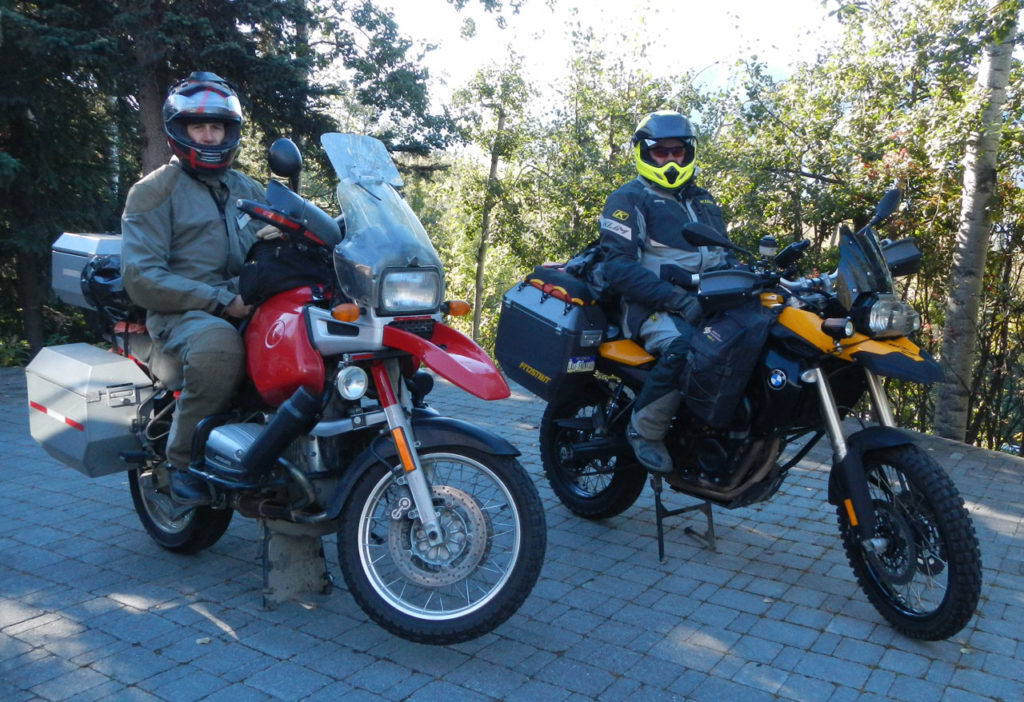 The drive out of Alaska was spectacular.  The further south and east we traveled in Alaska the further into fall it  became.
Riding past the Wrangell-St. Elias mountains is always a treat.
The pot of gold....an F800GS!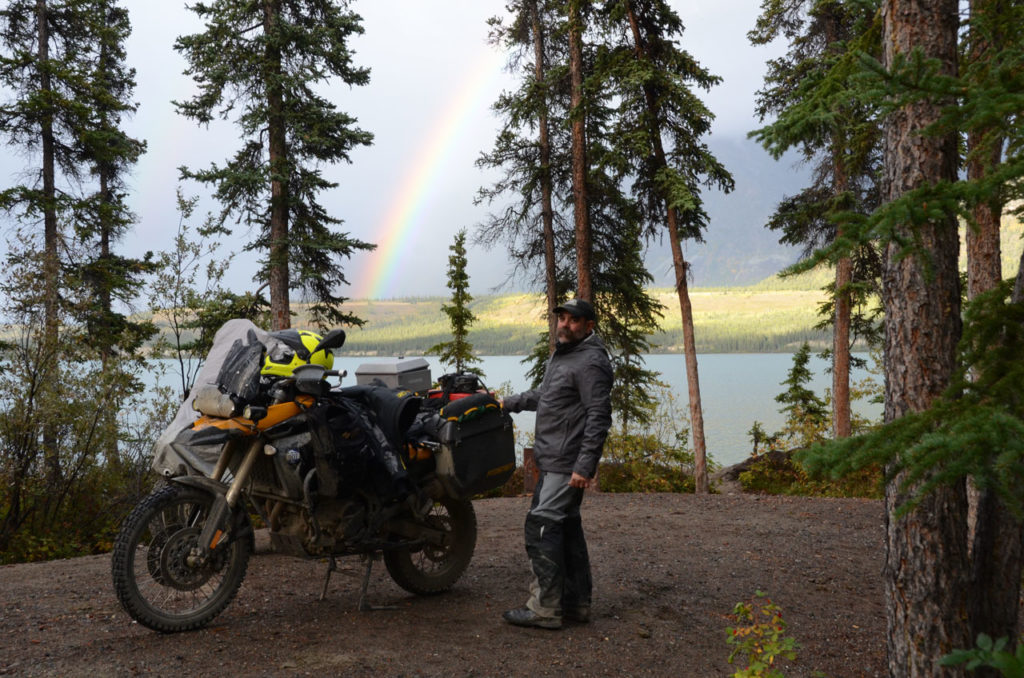 Opting for the less popular route south, the Cassiar highway, we were rewarded with some fine riding and great roads.  Like the Alaska Highway, this route is mostly paved, interspersed with gravel sections that keep the riding interesting.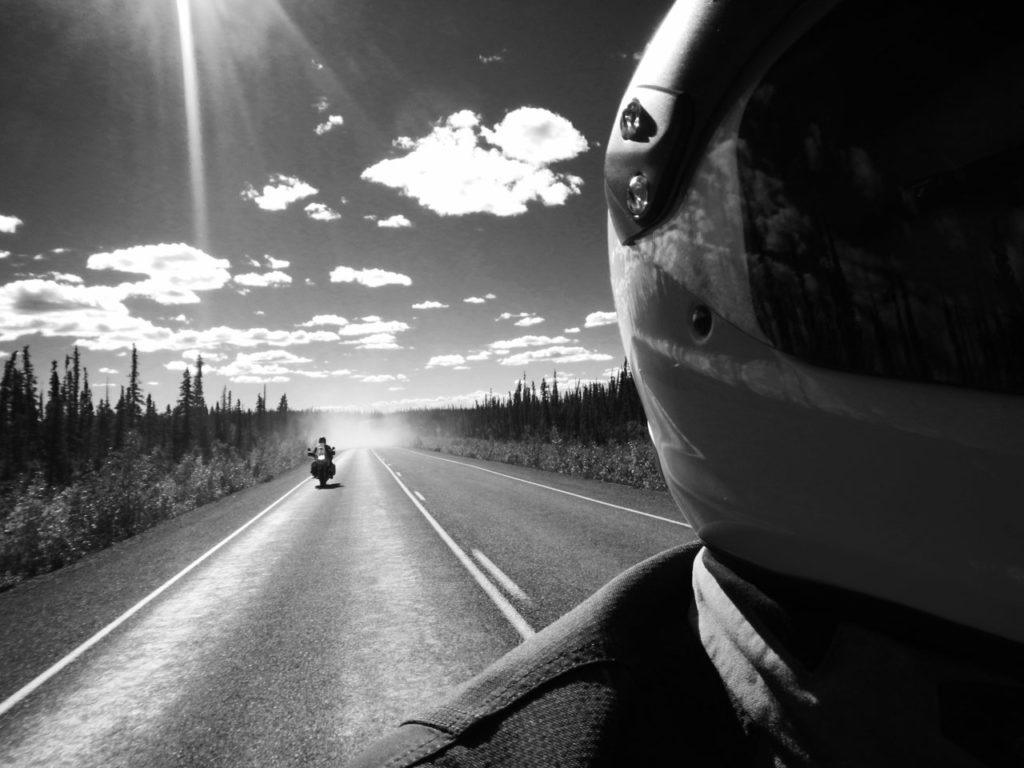 This far north there are plenty of black bears.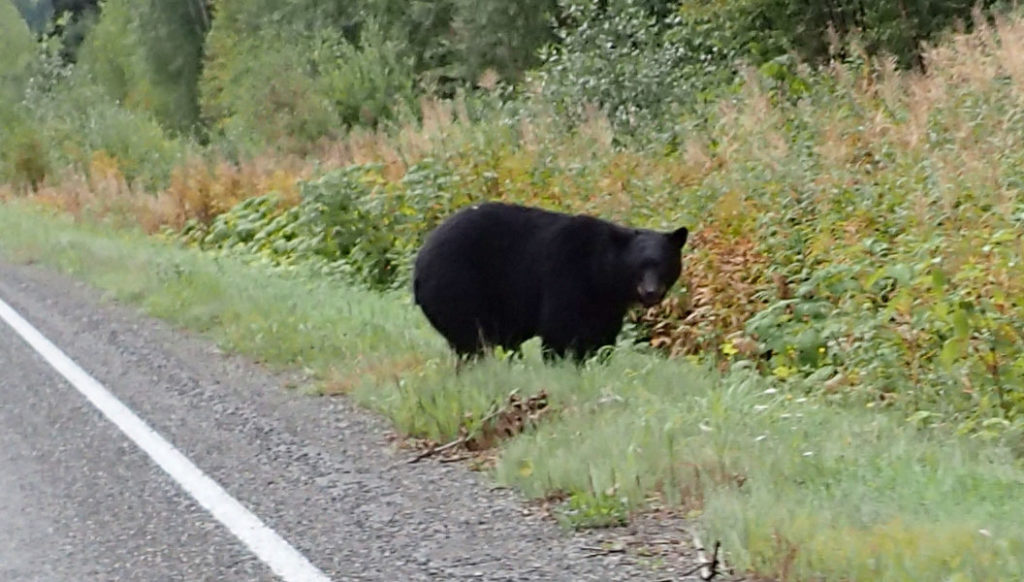 The Cassiar Highway, a motorcyclists paradise.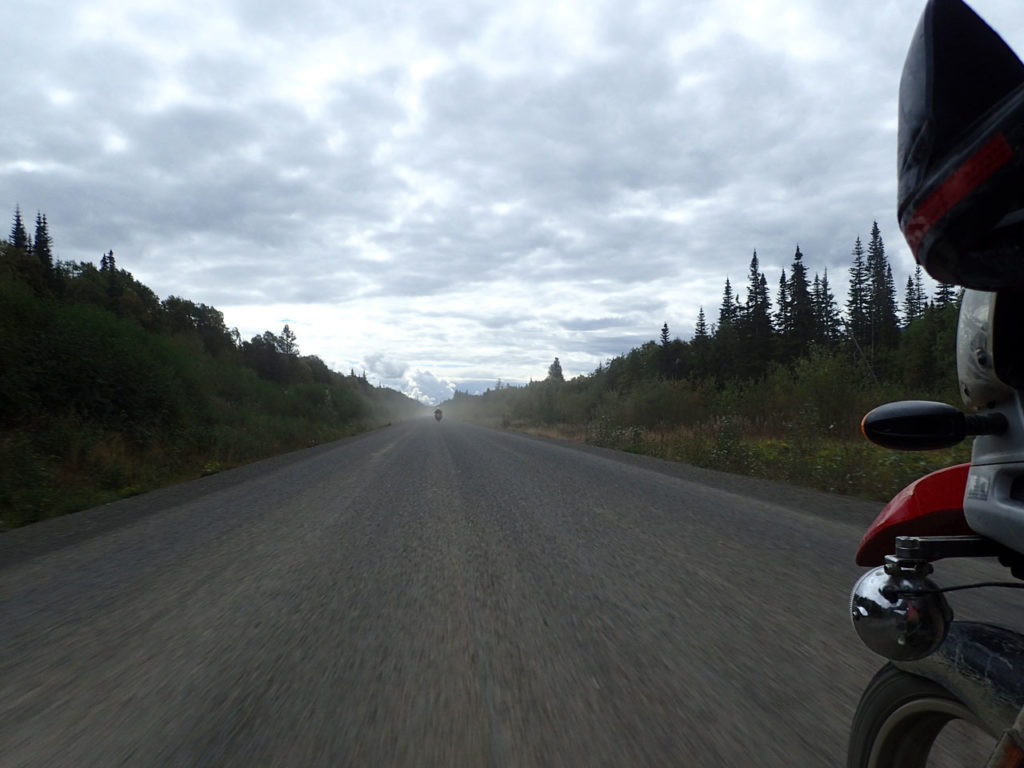 Bear Glacier on the way to Hyder, Alaska.
Out of British Columbia and back into Alaska.  Well worth the extra miles to drive back into the quaint little town of Hyder.
We have arrived at Mile 0.
Driftwood on the shores of Portland Canal.
Logging is big business in this part of British Columbia and Alaska.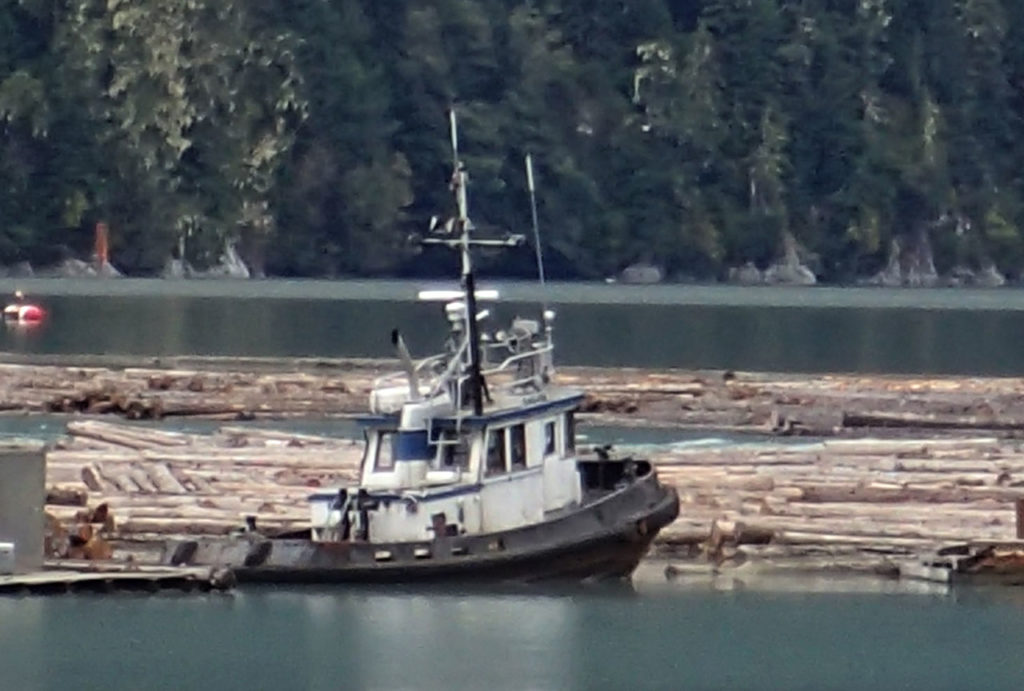 We have both been to Hyder before, but what we really came for this time was the ride up the gravel road to Salmon glacier.  This is possibly the most spectacular place that you can drive to in Alaska.  The views are off the charts.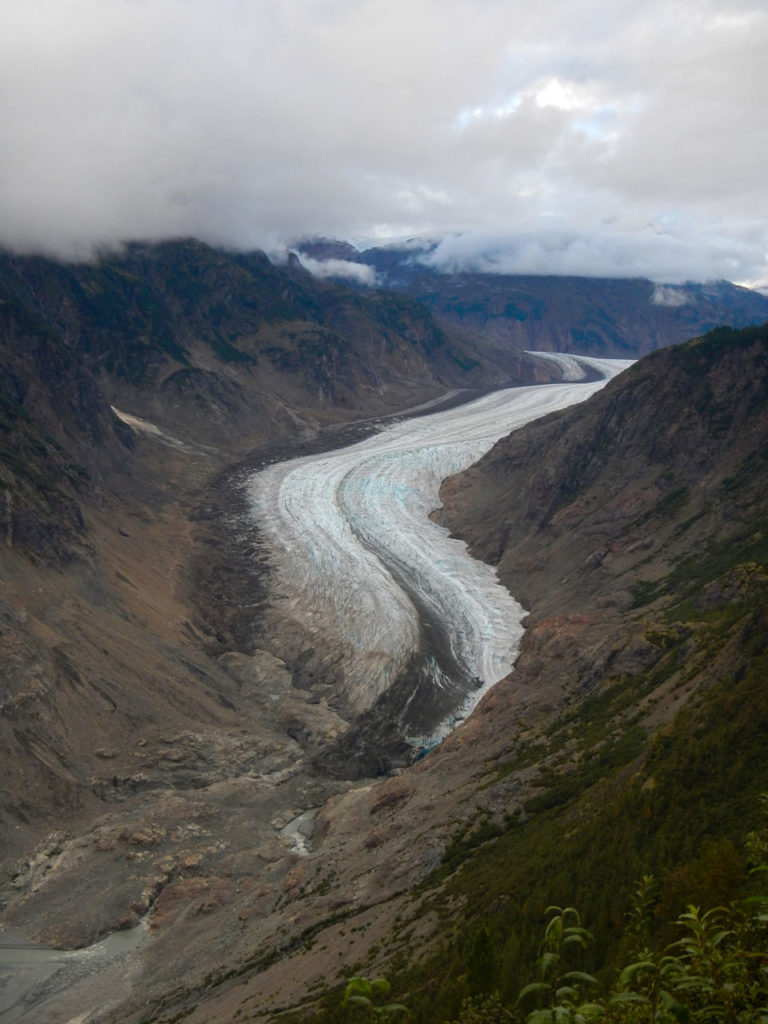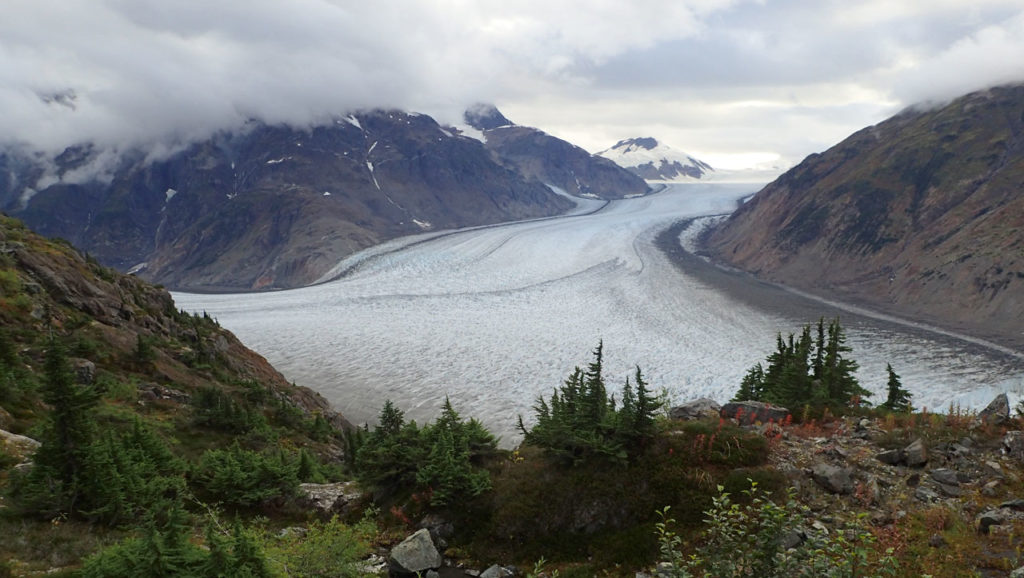 We weren't the only ones visiting this place.  We met another traveler heading from Patagonia to Alaska and back.  Perhaps we'll meet again as we travel further South.  
We were lucky to have perfect evening light on the Salmon glacier.

The riding certainly doesn't get much better than this.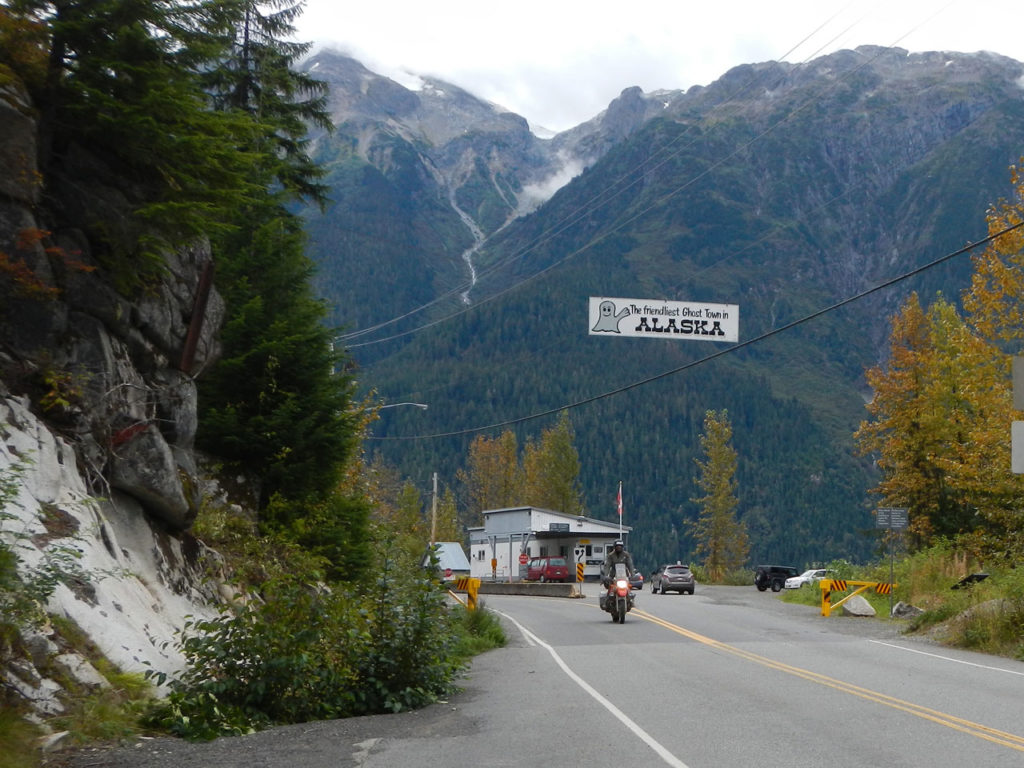 Back into BC and a Customs check again
. 
Rain and fog and headed south.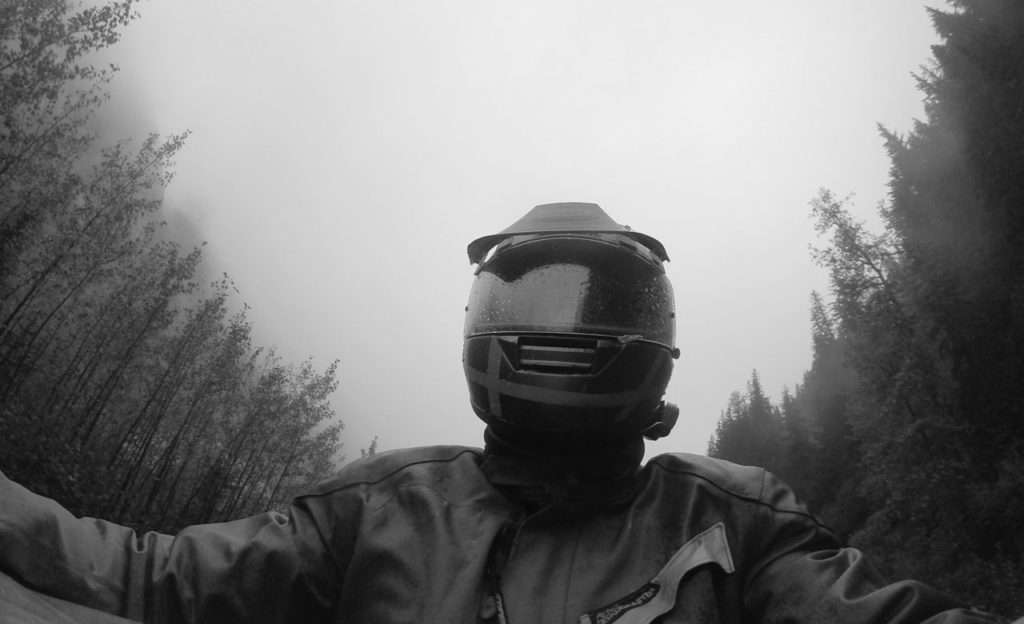 With a lot of miles to go and not much time to do it we passed through Jasper and Banff, which are beyond words.  The scenery just kept getting better and better.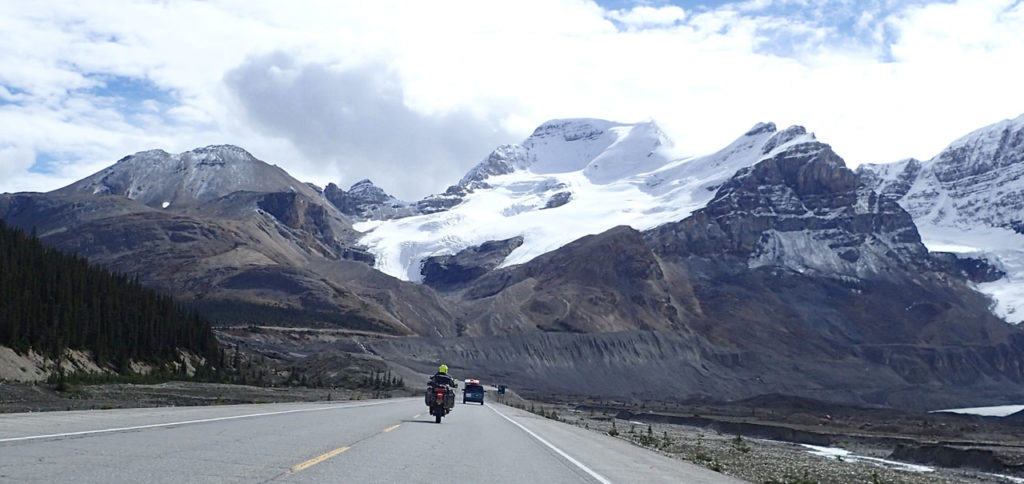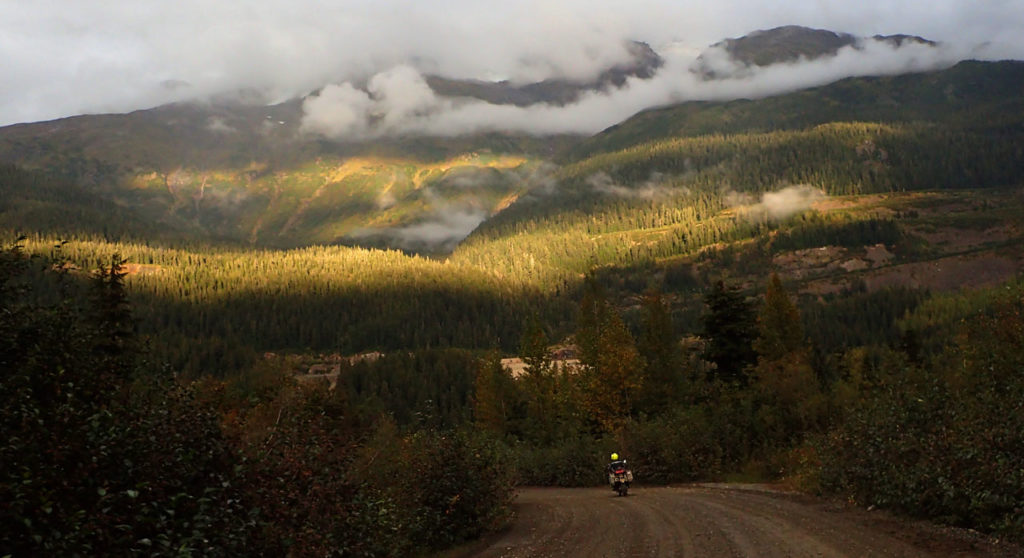 Finally into the States we started logging long miles and long days headed for Arizona.  It was harvest time in Montana.

By the time we made it to Utah the temperatures were soaring and we were enjoying wide open spaces. 
Arizona was not much different.  Hot, sunny, and beautiful.  Curvy roads and great pavement kept the riding exciting. 
When we finally made it to Arizona, my brother had the garage waiting and we had several days of work to do on the bikes.  Although no major breakdowns, my front shock seals were shot and we had endless work to do to ready the bikes for the long ride south.  We'll take several months off, go back to work in Alaska and come back to the bikes at the end of October and point them South.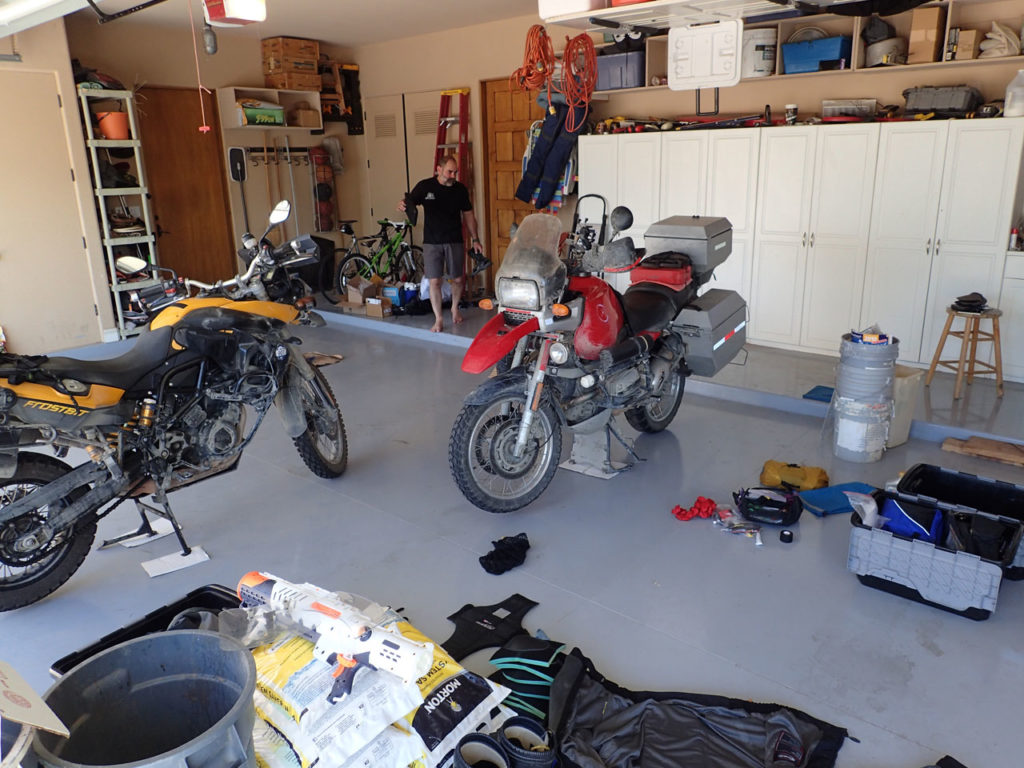 The first order of business was a thorough washing.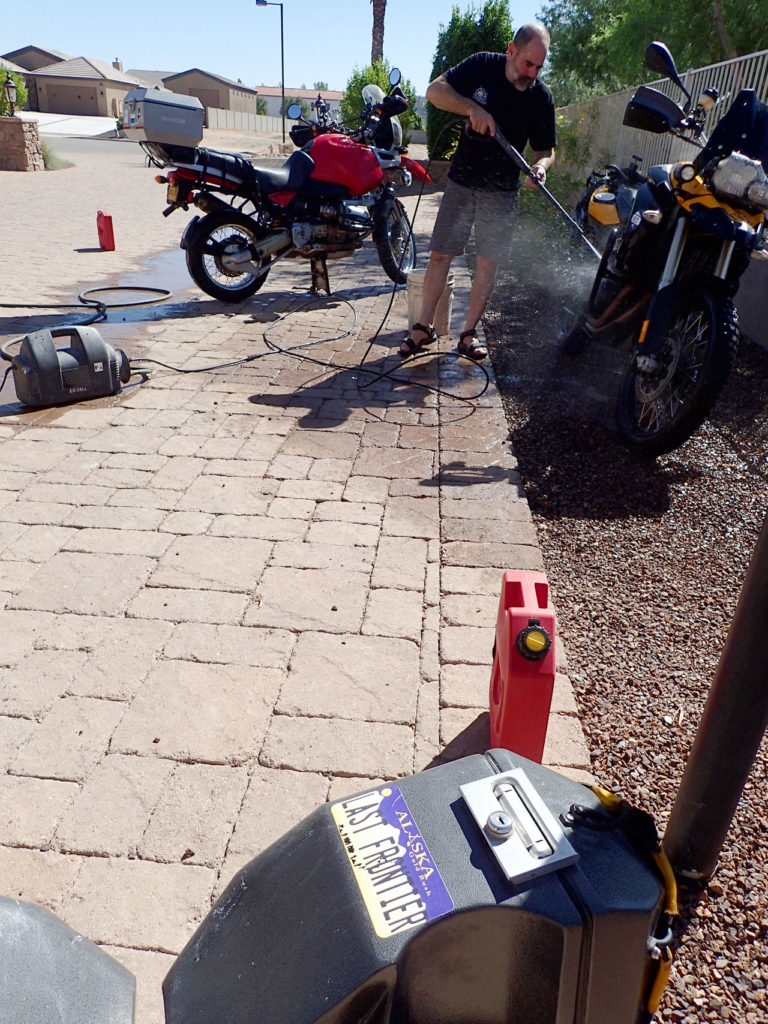 And then the wrenching began.
When the bikes finally went into the shop for tires, tune ups, and other random fixes, we had time to play.  My nephews took us out to Lake Pleasant for a bit of Flyboarding.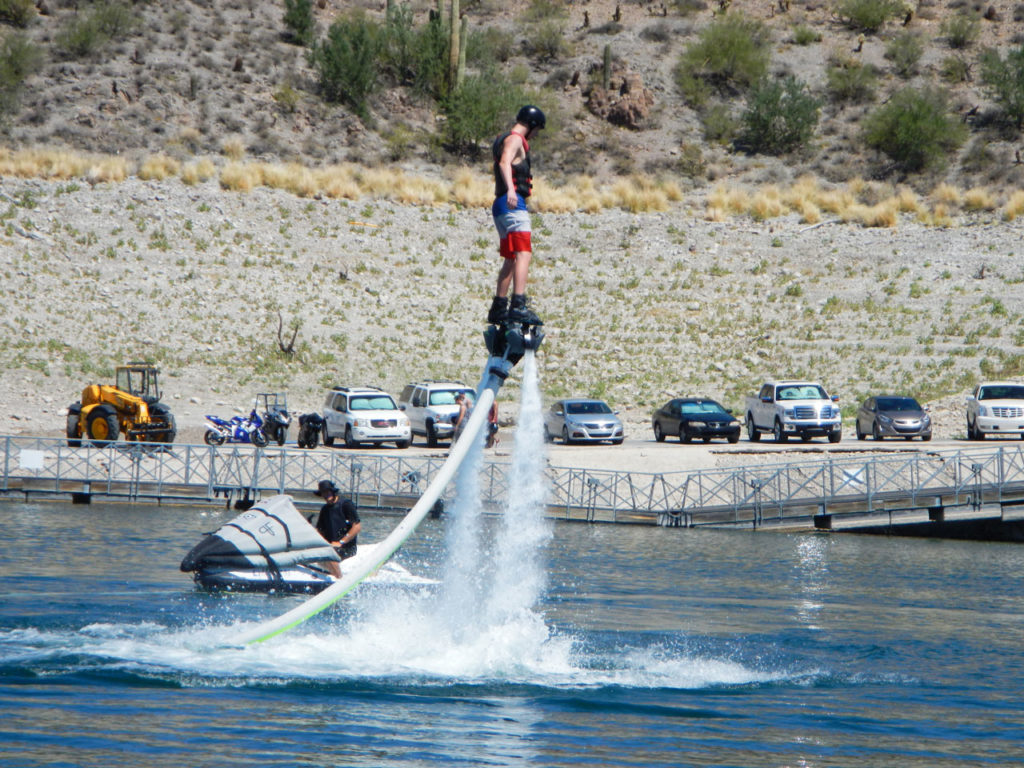 Nothing makes me happier than having family support and help with getting this adventure off the ground.  My brother Todd fixing my helmet while his wife Ginnie sews my riding pants.  A HUGE thanks from us both for all the hospitality and help.   
After flying the red-eye from Alaska we arrived in Phoenix and picked up the bikes from Motoghost.  We set right to work on making final modifications and checking over every last detail.
The work continues into the late hours of the night.
The bikes are tuned and loaded.  We are more than ready to hit the road  Today we did a shakedown ride on the Great Western Trail.  This trail goes from Mexico to Canada and we rode 60 miles of it.  It's definitely on the list to come back and ride some more of it.  Headed South to the border in the morning.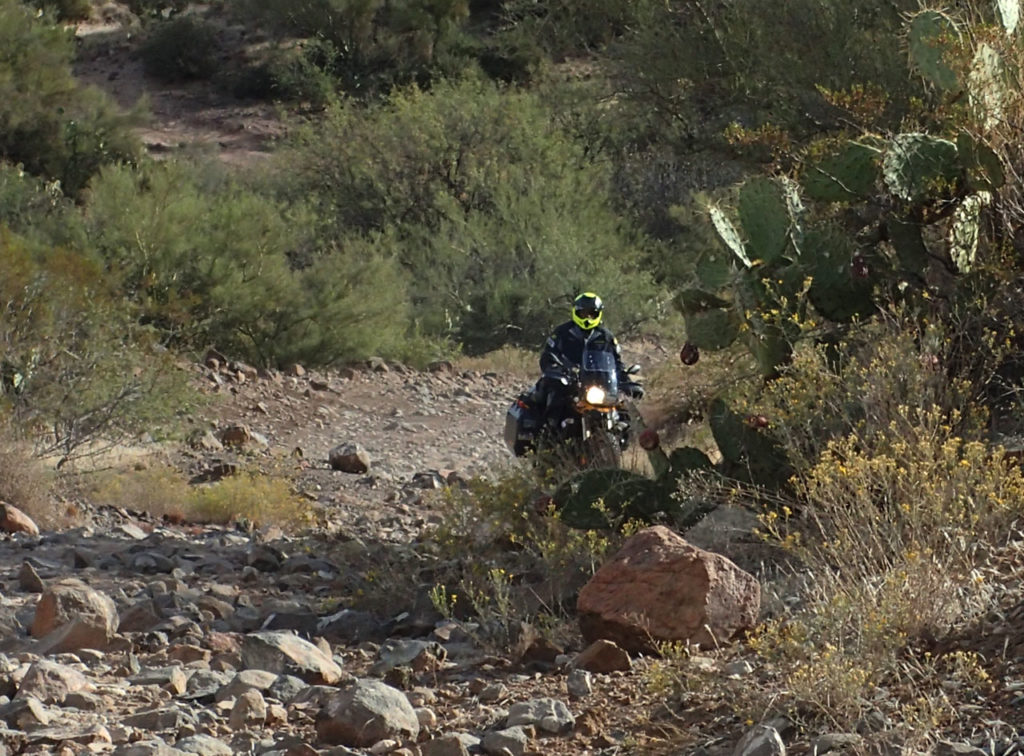 The Great Western trail offers up some astounding views of Arizona.  Mexico here we come.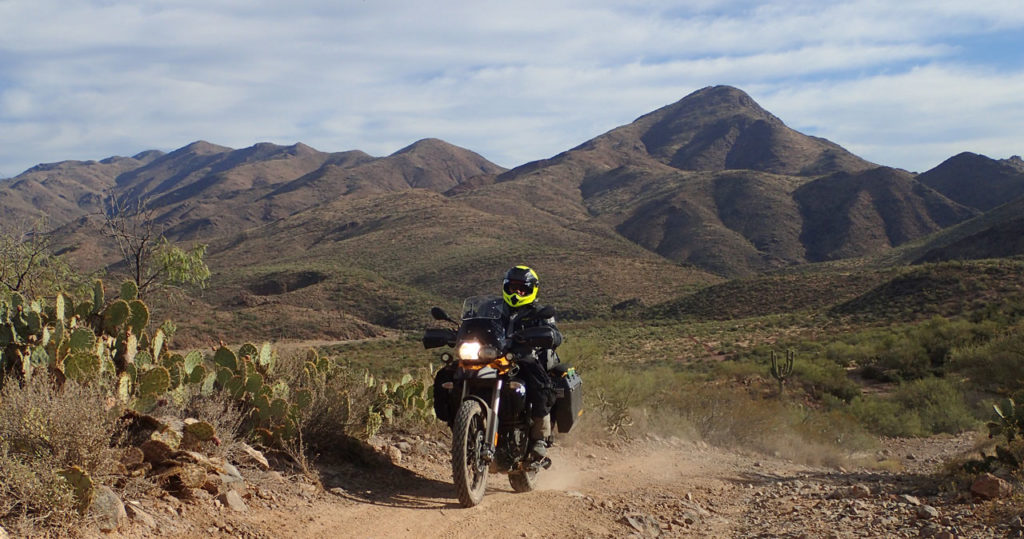 The bikes are loaded and we are headed South from Phoenix, headed to Mexico.  First stop, Copper Canyon.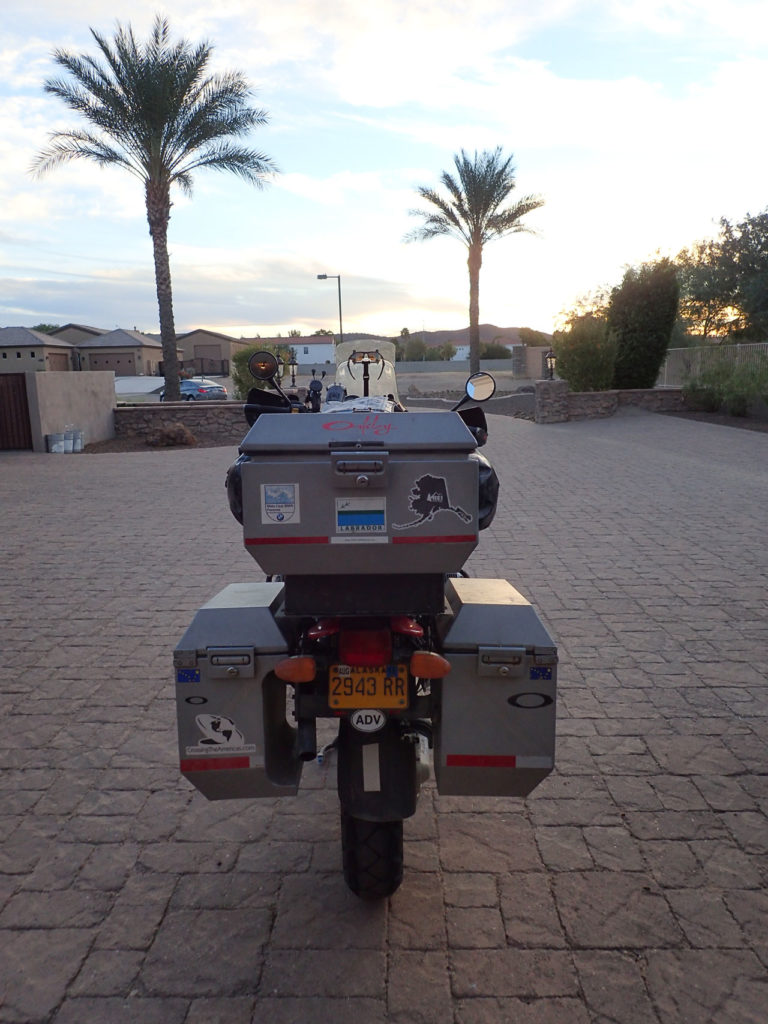 Dos Amigos...........
.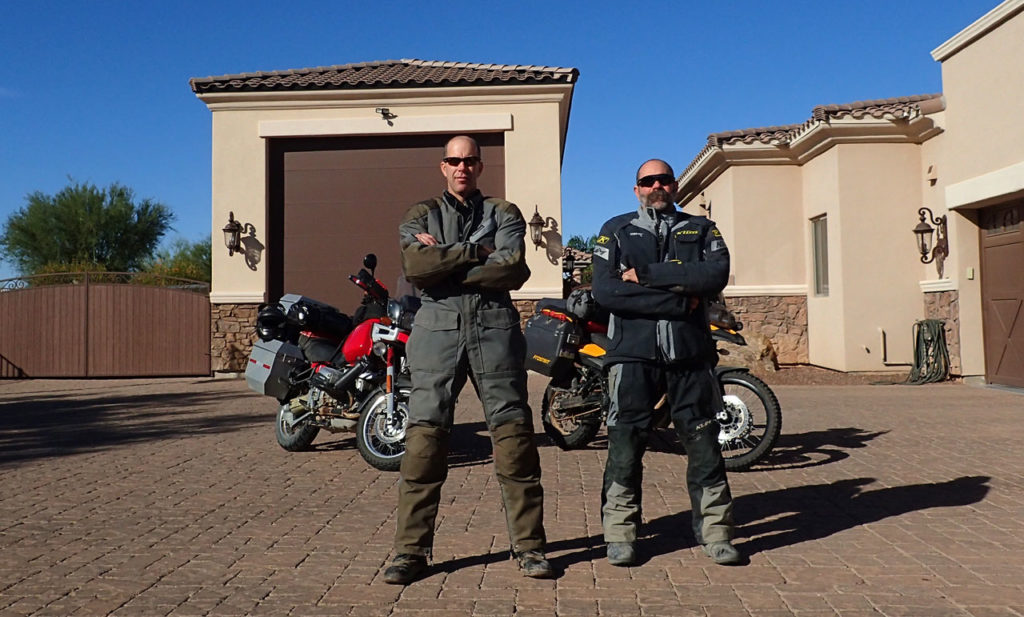 With a late start out of Phoenix we made to Bisby, Arizona and spent the night.  By first light we were on the road headed South into Mexico.  With a lot of construction and backed up traffic we only made 160 miles.  It feels really good to finally be on the road.  Just over the border we rode along, a long fence along border.
A serious cut in the hillside for the road,  as we leave Sonora.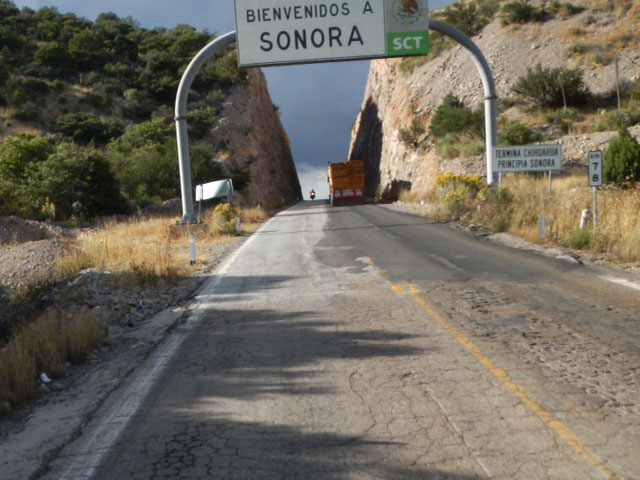 We came across two sporks in the road and we took the one less traveled.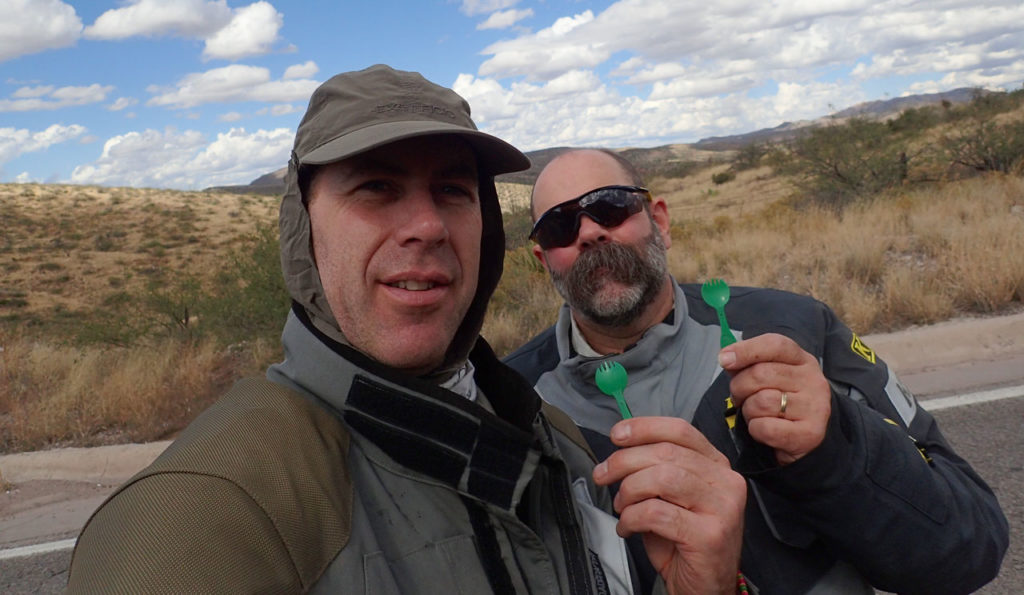 The landscapes in northern Mexico are off the charts.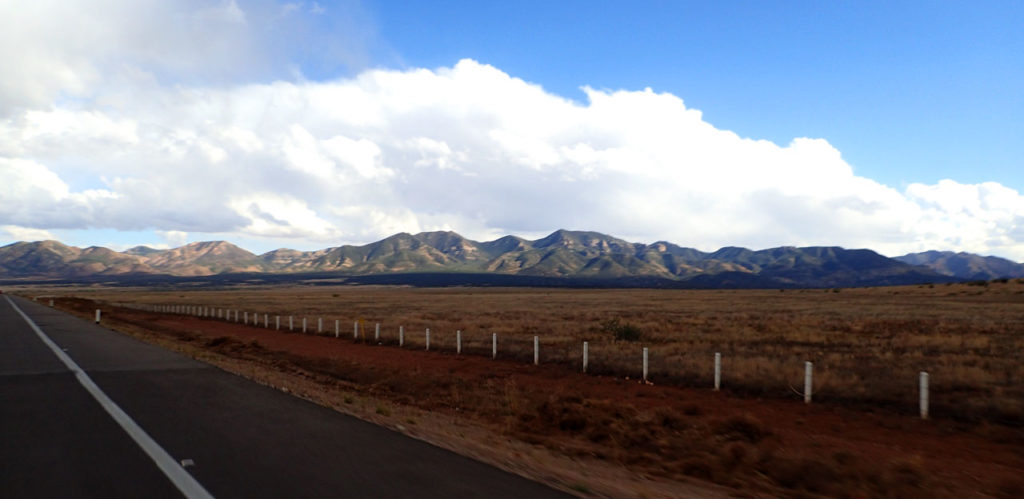 Road construction and backed up truck for hours and hours.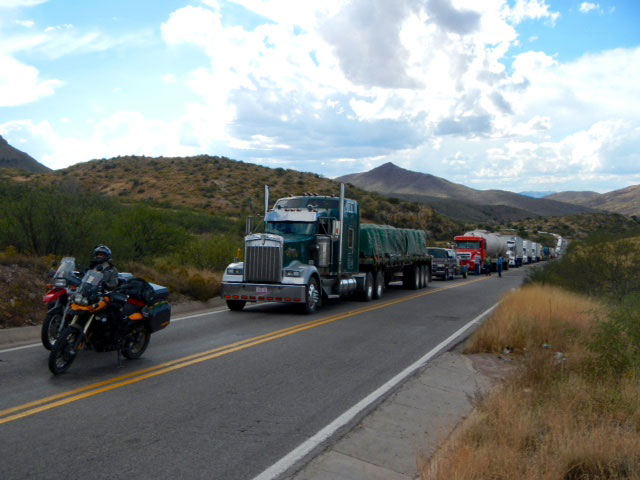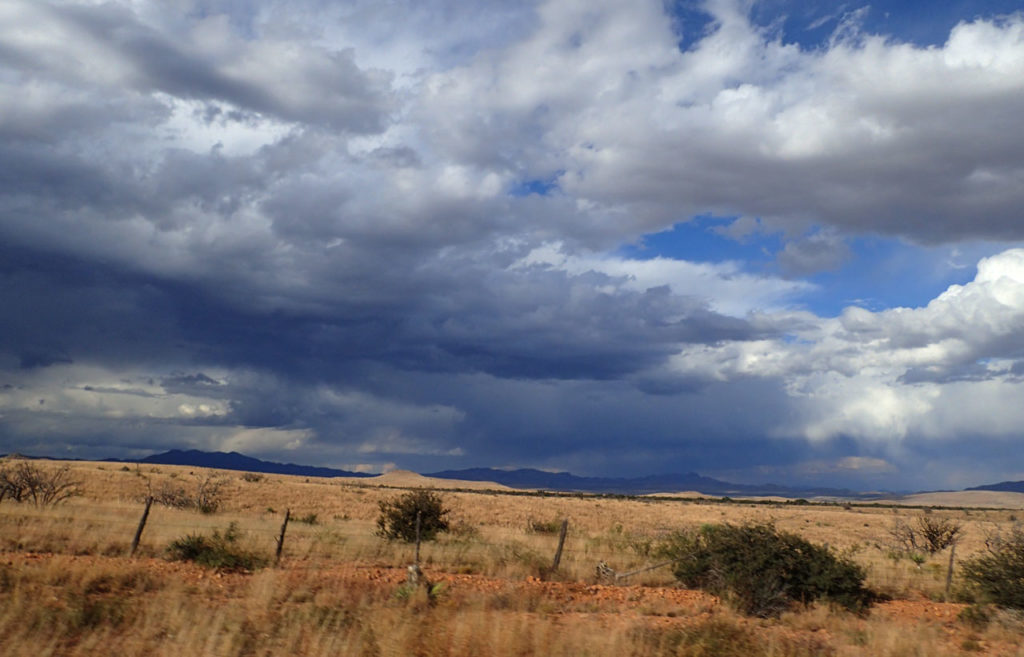 Fantastic ride from Nuevo Casas Grande to Creel today.  The landscapes and twisty roads were amazing, but the real highlights were the people along the way.
Lots of cowboys in these parts.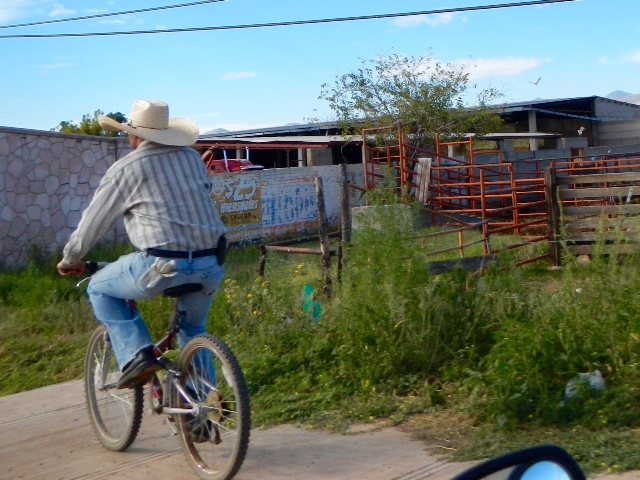 Tracy and I have been wanting to visit Copper Canyon for quite some time.  We finally made it here and it did not disappoint.  There are three canyons total and each one is bigger than the Grand Canyon.  The roads are a motorcyclists dream!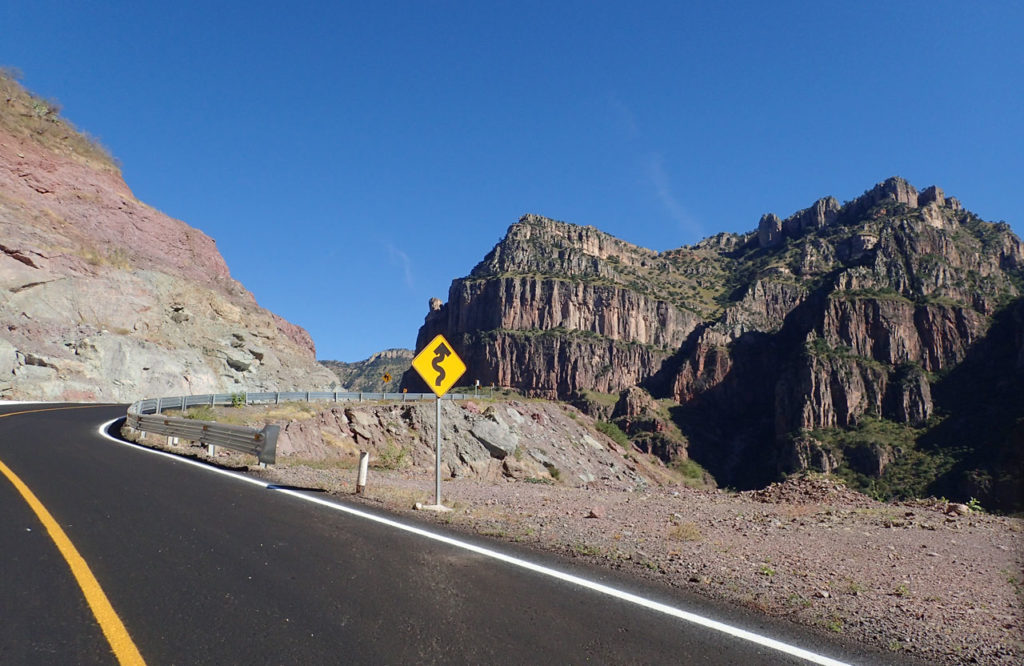 Hair pin turns are the norm here.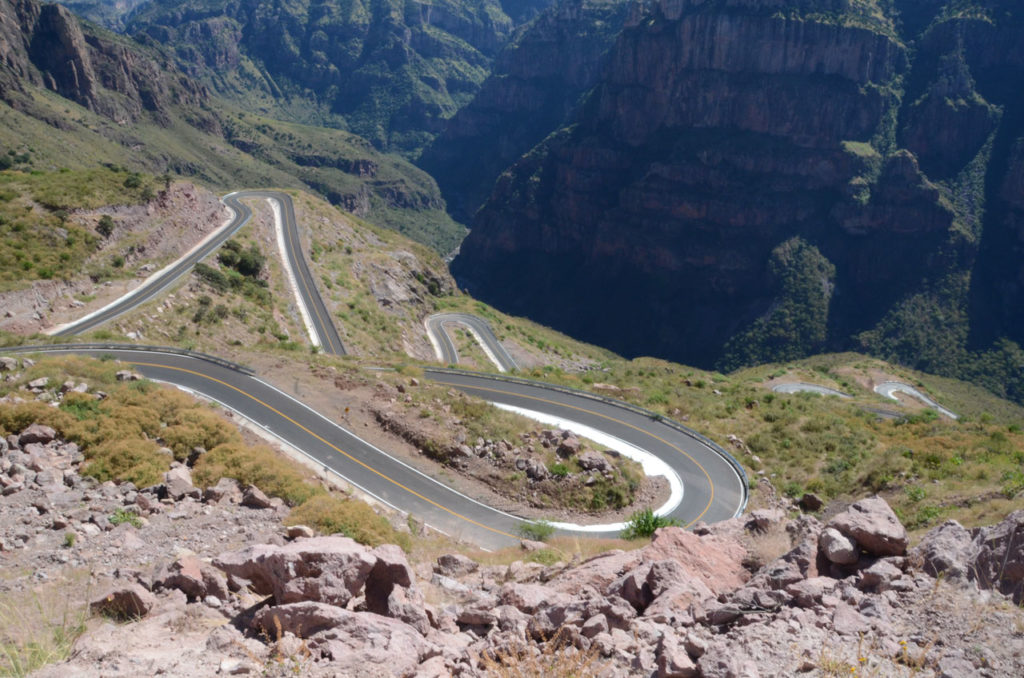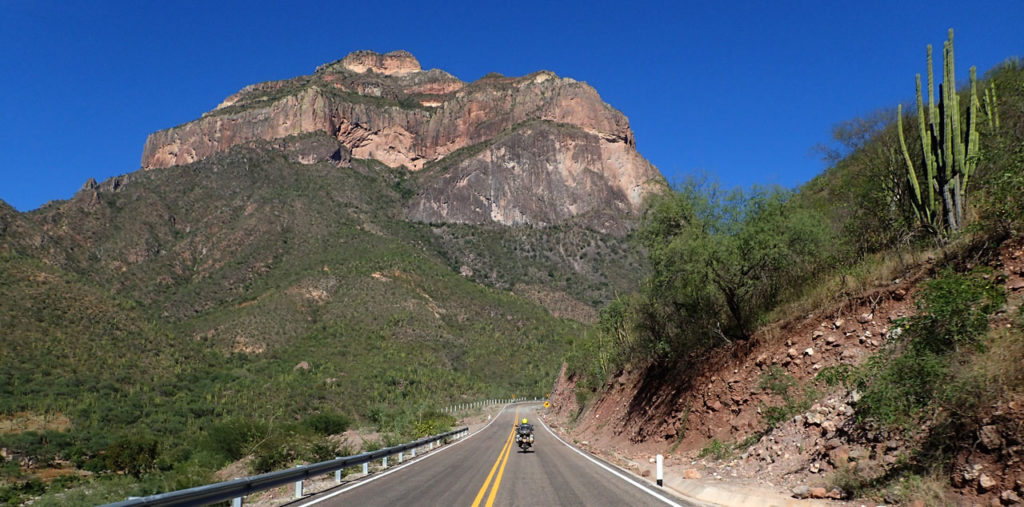 With such steep terrain, there tends to be a lot of rockfall on the roadway.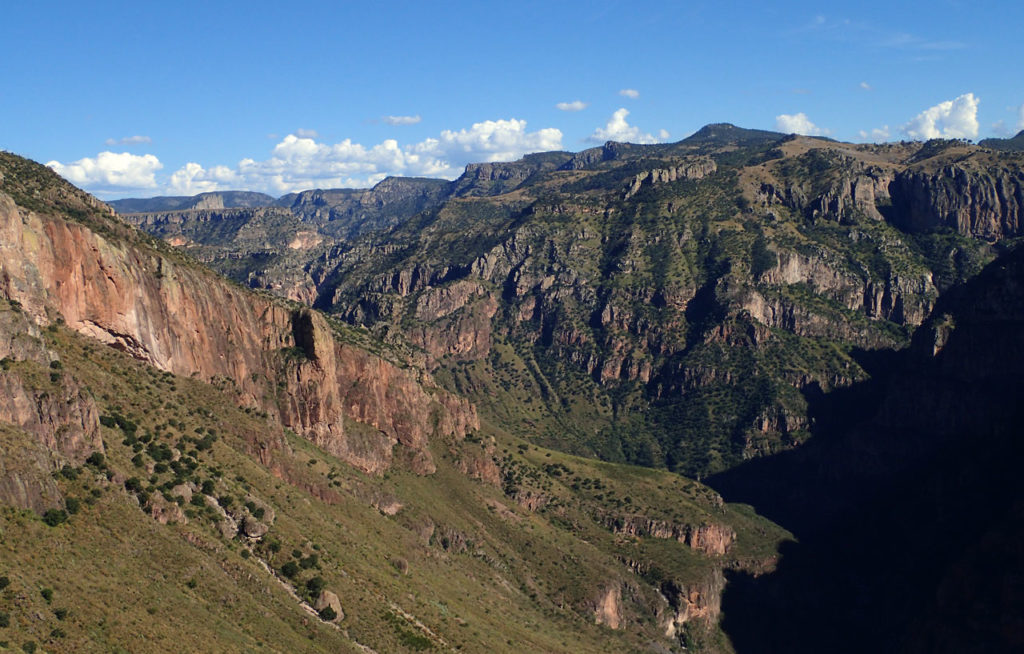 Tracy in Batopilas chatting it up with a local.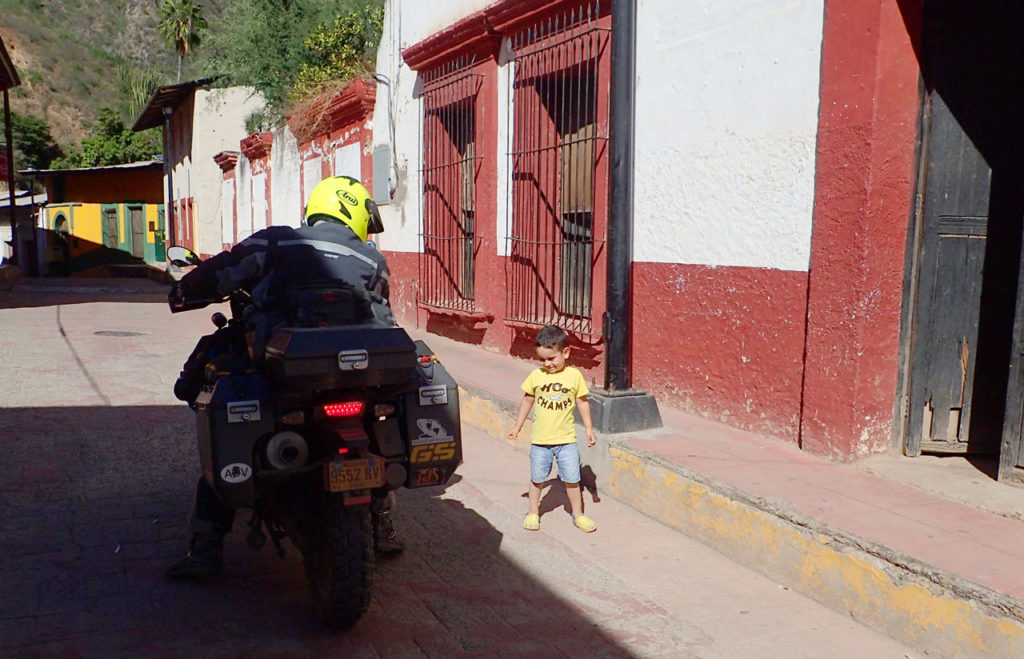 Some of the rocks on the road are bigger than others.  We were just glad these didn't come down when we were driving by.
The off road riding is endless here.    But I quickly learned the perils of riding a loaded bike off road.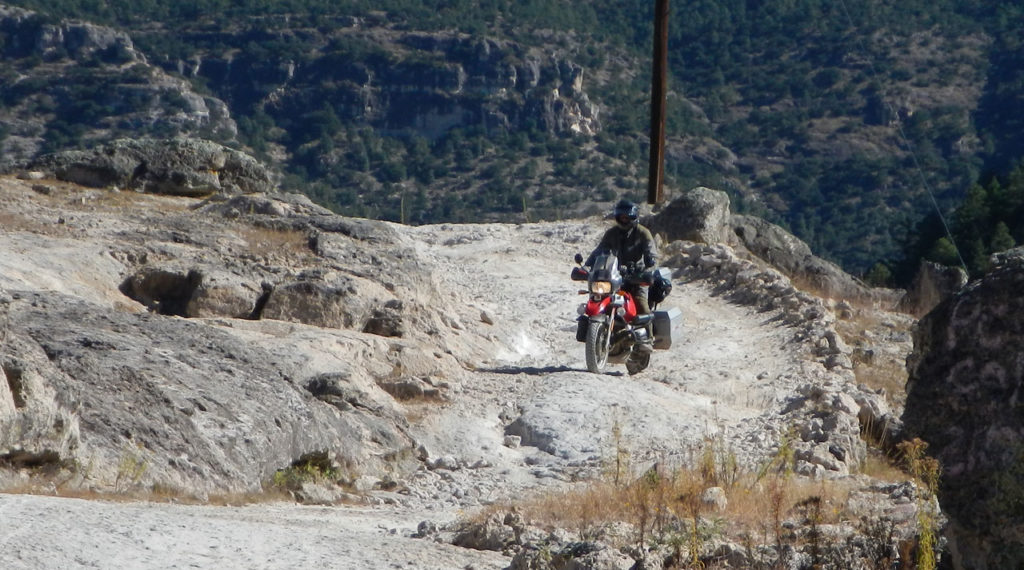 Fortunately there was no real damage to rider or bike.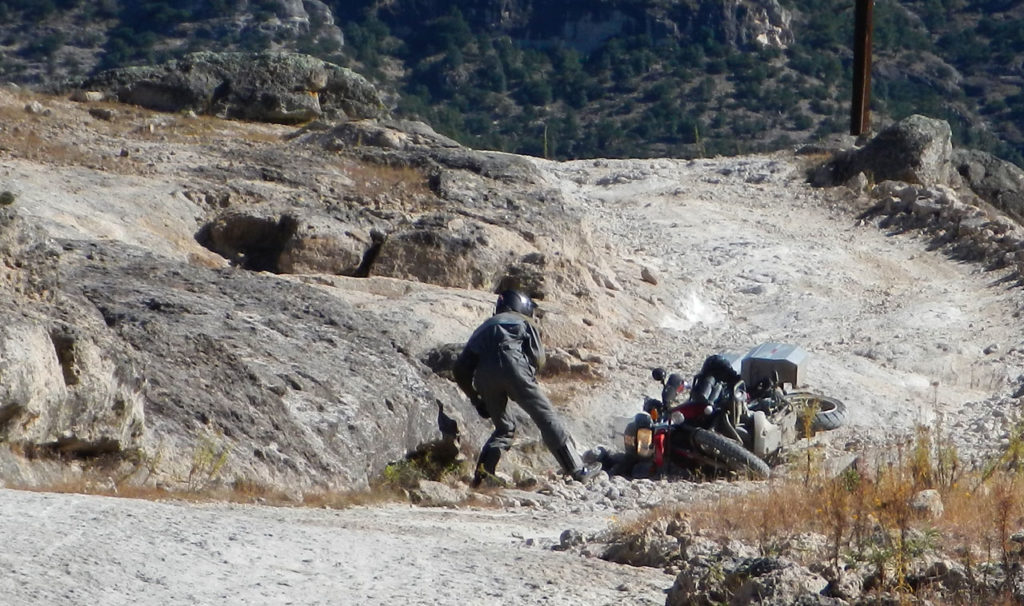 A lot of long straight roads heading South towards Durango.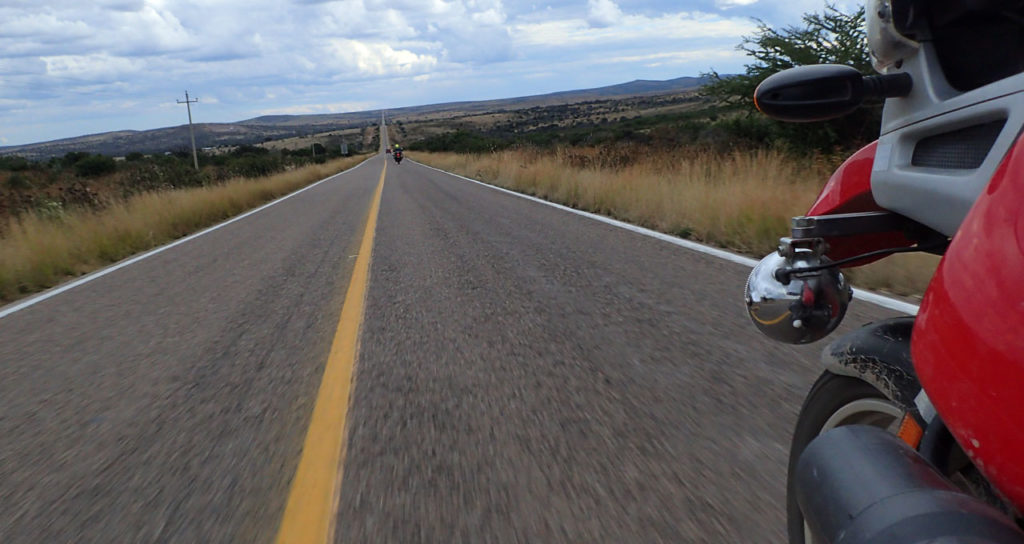 And we thought we were heavily loaded!
A beautiful afternoon of riding as we head towards the south end of the Sierra Madre's and into Rodeo, Mexico.
The cathedral in Rodeo.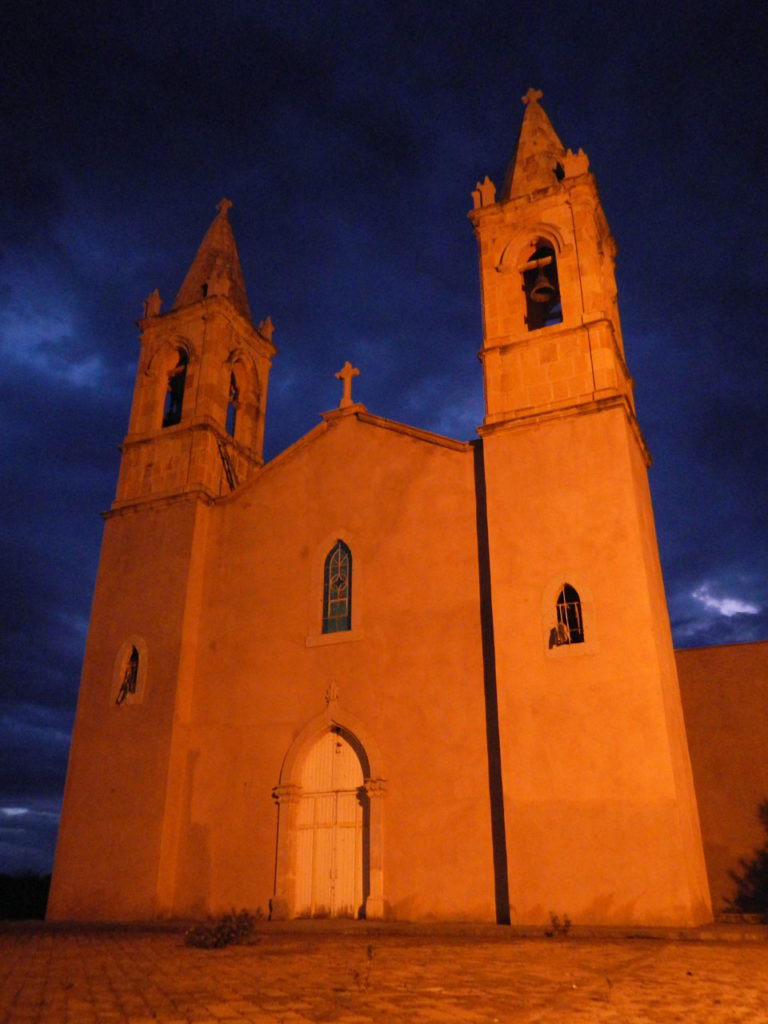 Headed out of Rodeo, pointed generally South and East, towards the Gulf coast.  We drive miles and miles of farm country with red dirt and endless blue skies.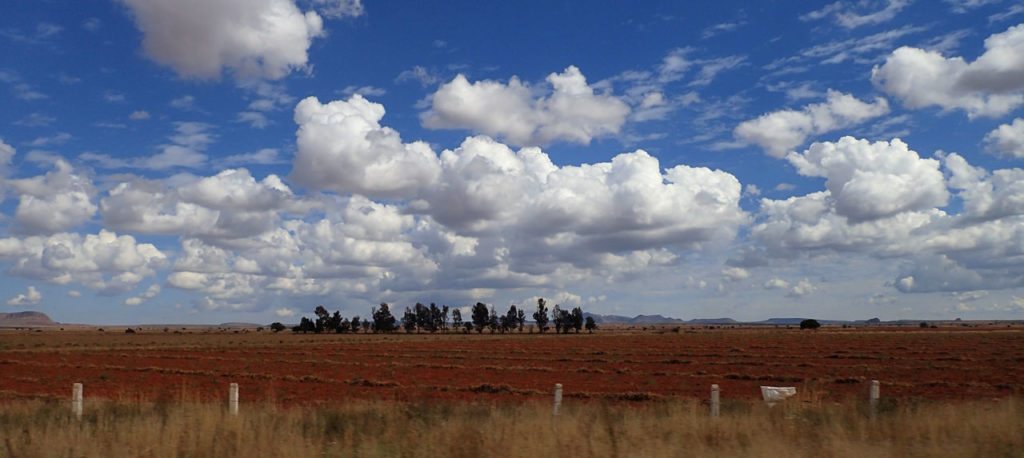 Along the roadway headed South.
Vibrant colors and textures on a back road in Mexico.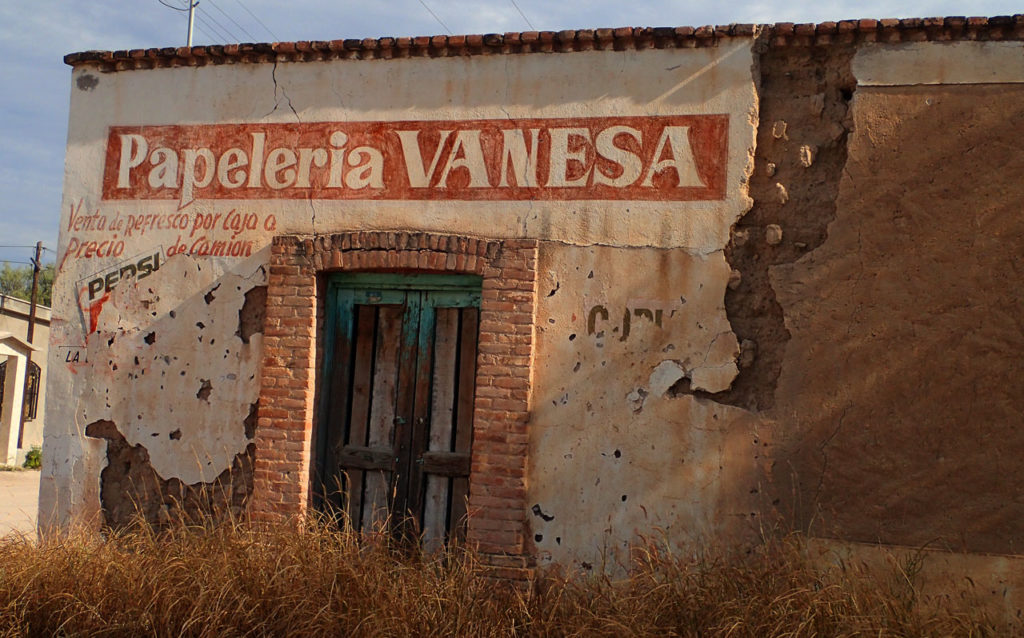 We spent a night in Charcas.  A colorful and vibrant little town in central Mexico.
The gals out looking for a good time on Sunday night.
Blue # 7 in Charcas.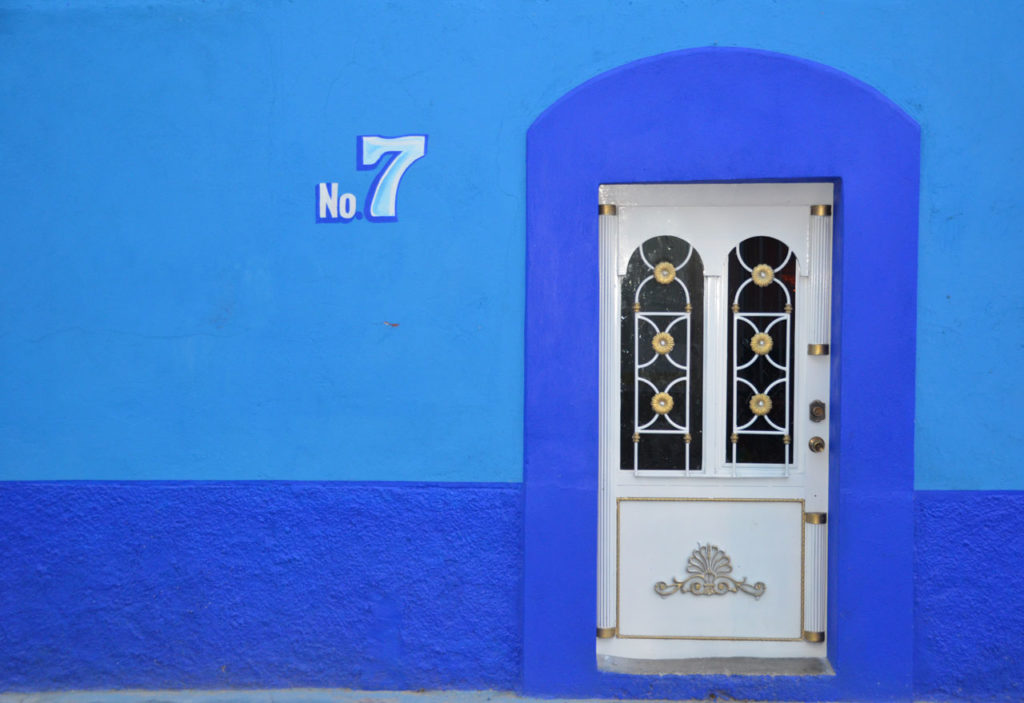 Cowboy in Charcas
.
Taking a break from wrenching
.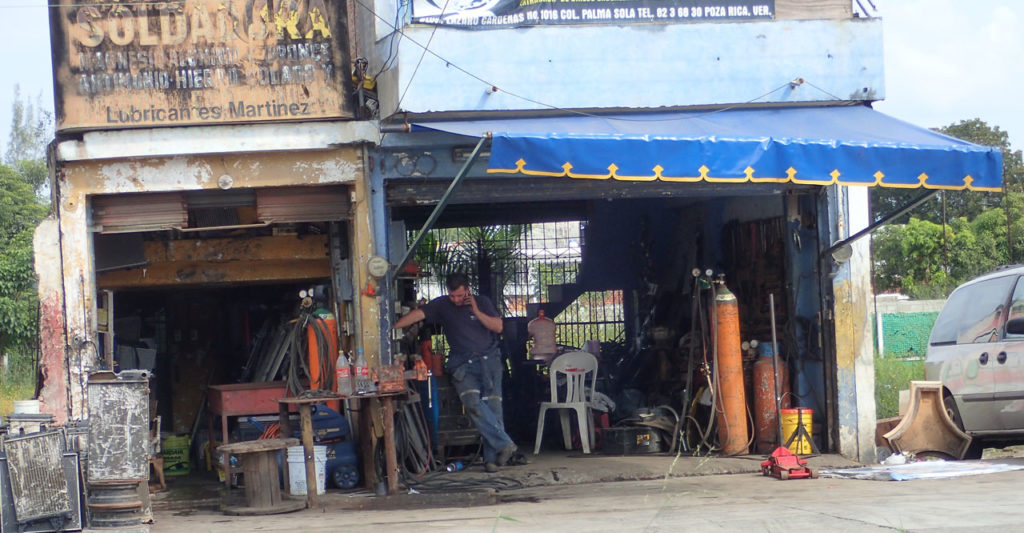 Torrential rain on our way to Veracruz, and I mean torrential.  Several places or standing water in the roadway and the rivers nearly flooding.  We made it through without incident.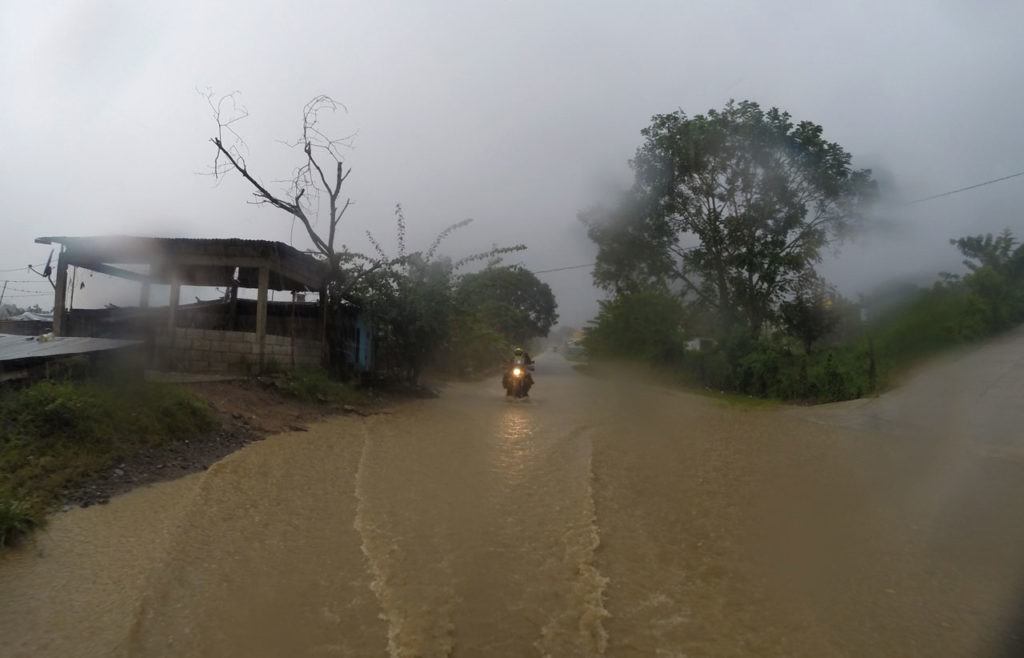 With more rain falling we head south through Veracruz along the Gulf Coast.  The landscape did not disappoint.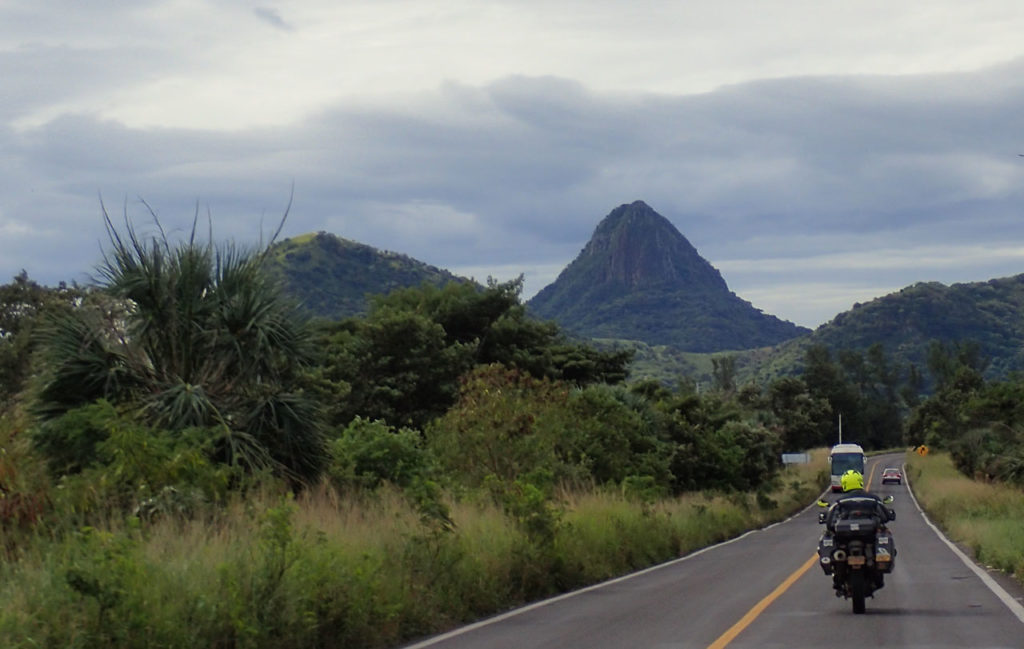 It turns out that those that are lost may have no interest in being found.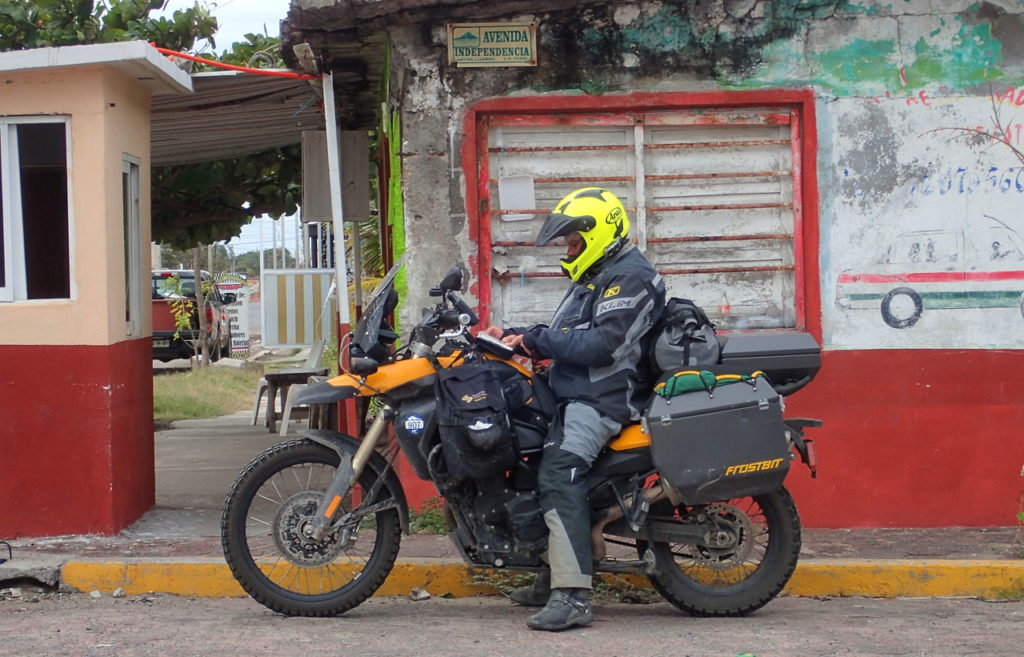 With the rain we've had several spectacular rainbows. 
Unlike us, some know how to wait out the rain.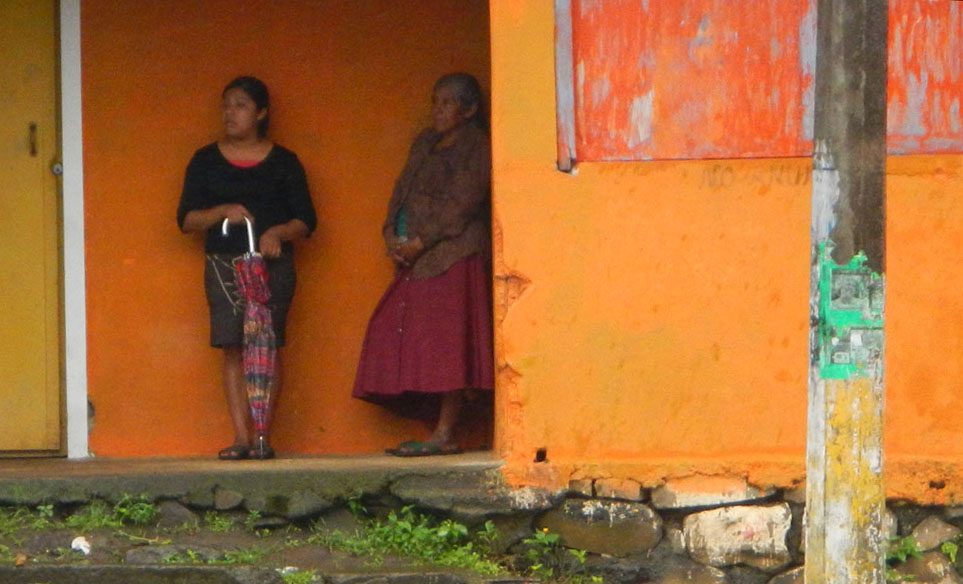 Of course on a trip like this, we experience fantastic riding, but the real highlight is experiencing the culture and the interactions with the people along the way.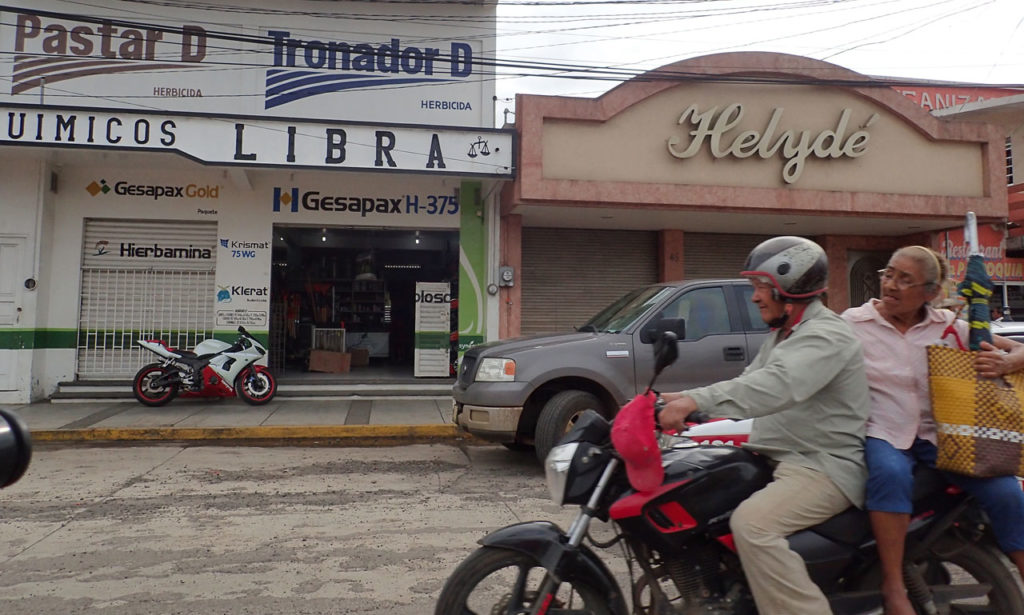 HOLA!  ¿Como esta usted?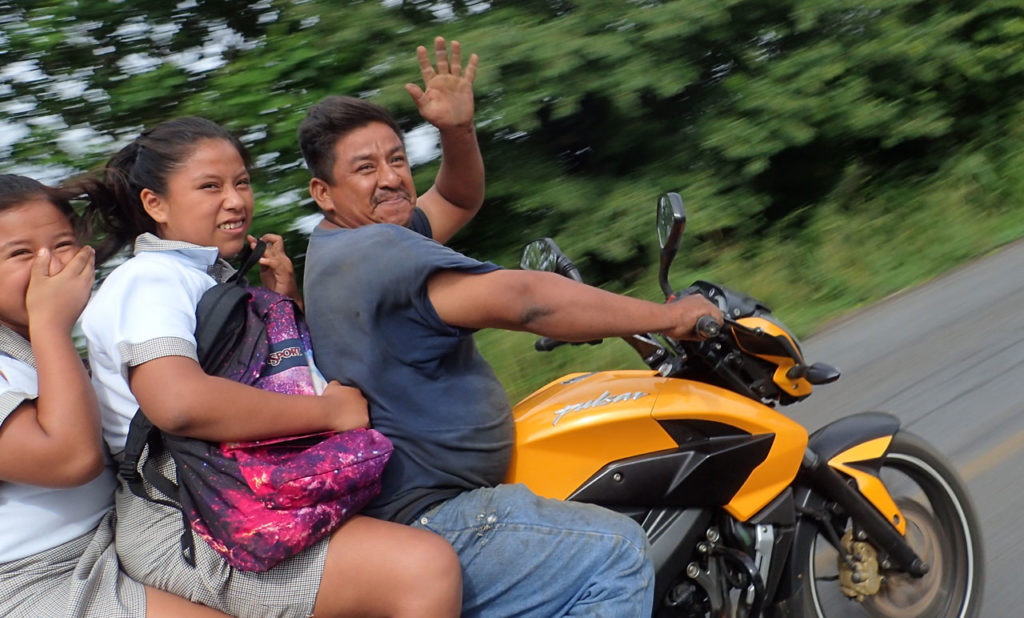 Mom, Dad, and daughters fed us like they were our best friends  Superb family.  
Hello Kitty is everywhere, even in Mexico.
.
Bread delivery service and a custom sound system for those early morning deliveries.
We stopped to check out the Balamku ruins on the Yucatan.  With an Archaeologist hard at work, it was impressive to say the least.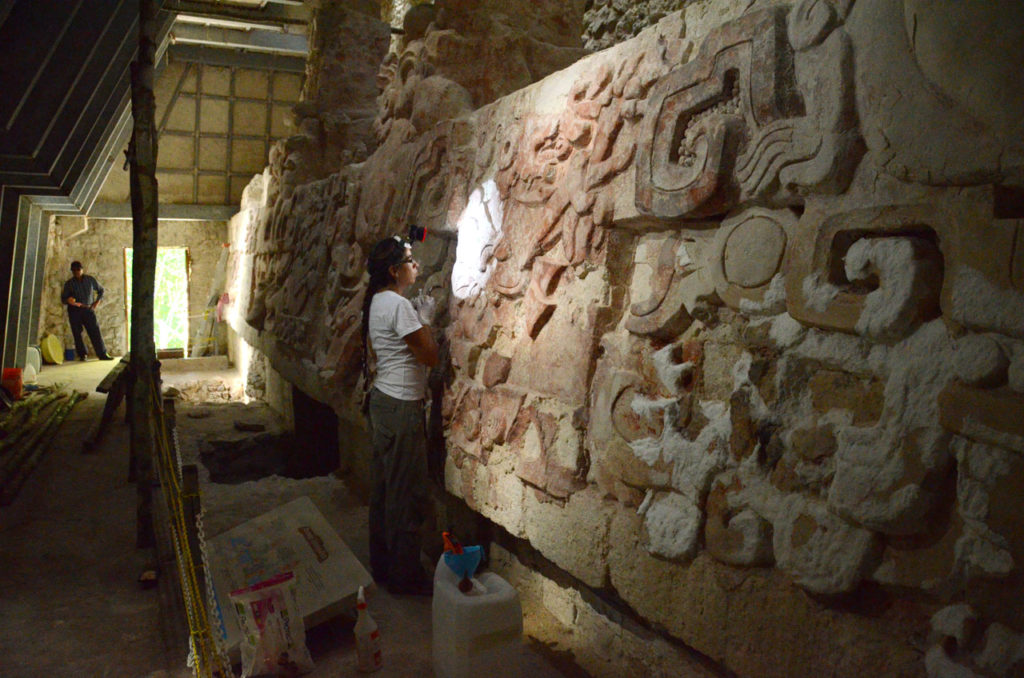 One of the fancier hotels we stayed in, yet still inexpensive, had an indoor tiled parking garage.  It felt pretty luxurious.
Our last night in Mexico is on the Caribbean, in a town called Chetumal.  Tomorrow we'll head into Guatemala and Central America.