We had a nice drive out of Ecuador and got to the border early on a Saturday.  It wasn't terribly busy, but busy enough with families crossing between the countries for the weekend.  We ended up spending five hours in the blazing sun waiting in line to get ourselves and the bikes checked out of Ecuador and checked into Peru.  It was actually quite easy and everyone very friendly, but the wait was the challenging part.  So far the border crossings in South America are very easy and civilized compared to Central America.
About 20 miles from the border we had our first military checkpoint.  A stern officer asking to check passport, motorcycle papers, and insurance.  It was short lived when the big Boss found out there were motorcycles out front.  He came racing out with his phone so he could have a picture with us.  He was quite animated and excited to see us.  Meanwhile, the six guys with guns watching were in stitches laughing at him.  We were happy to oblige the normal questions: Where are you from, where are you going, how big is the bike, how many cylinders, and how much does it cost.  I've gotten in the habit when people ask what country we are from, I say Alaska.  Then they don't what to think.  Most people don't know that Alaska is part of the United States.
The driving in Peru has been a bit of surprise and disappointment.  Gone are the friendly faces and clean roadways of Ecuador.  Northern Peru has proven to be a hot desert landscape with a lot of trash along the roadways.  The roads run straight and long as far as the eye can see. 
And the temperatures are sweltering for us Alaska boys.  It's been up to 95F, and even moving down the highway on the bikes, it's hot!
As always there is a lot to see along the road.  Peru roadways are full of goats, cows, and chickens not to mention tuk tuks, families, and the odd truckload of Papaya bursting at the seams.
We rolled into Piura and started searching for a hotel for the night.  It's been cheaper and easier to stay in hotels than to camp so far.  We were alarmed by the amount of traffic chaos in Piura.  A two lane road is really a four or five lane road  And we learned everyone abides by their own rules.  We had several close calls navigating traffic.  As you can tell, things are pretty tight in traffic in Piura.
The Tuk Tuks come in all shapes and sizes and they clog the roadways, often driving on the sidewalks if the main road is backed up with traffic.  And Peru seems to have its fair share of smartly dressed female police. 
Several hotels we stopped at were booked up.  At one stoplight a policeman pulled up behind us and I told him, in Spanish, it was necessary we find a hotel for the night with secure parking for the motorcycles.  Without question, he said, follow me, flipped on his light and siren and did a U Turn in the middle of the road across four lanes of traffic, of course, we followed.  From then on, at every intersection he flipped on his siren and we rolled right through….even though I don't think to many drivers were paying attention to him.  We were thankful for the escort as the traffic in this town is absolute chaos! For the second time on this trip we have gotten a police escort!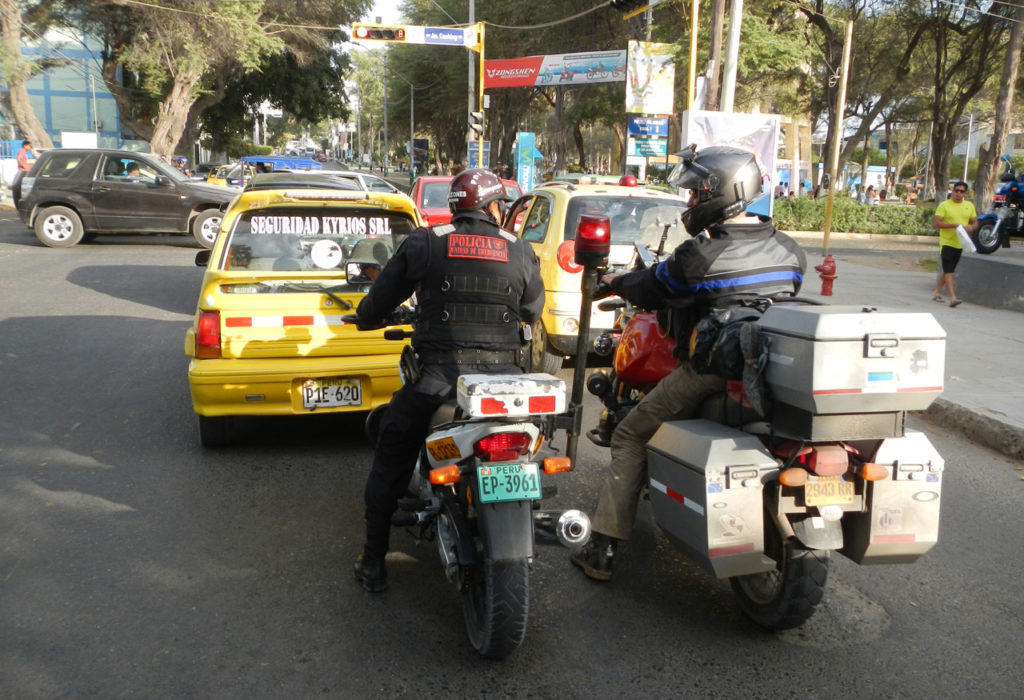 When he arrived at the hotel, the officer jumped off his bike and went inside to make sure they had a room for us and secure parking.  It was pretty unreal and he was a really, really nice guy. 
The following day we headed into the Andes and towards the Amazon.  The riding was spectacular.  It felt like riding through Arizona, then Utah, and finally ending in the mountains of British Colombia, all in the same day.  It was nothing short of spectacular.
It's clear that crops are important in this part of Peru.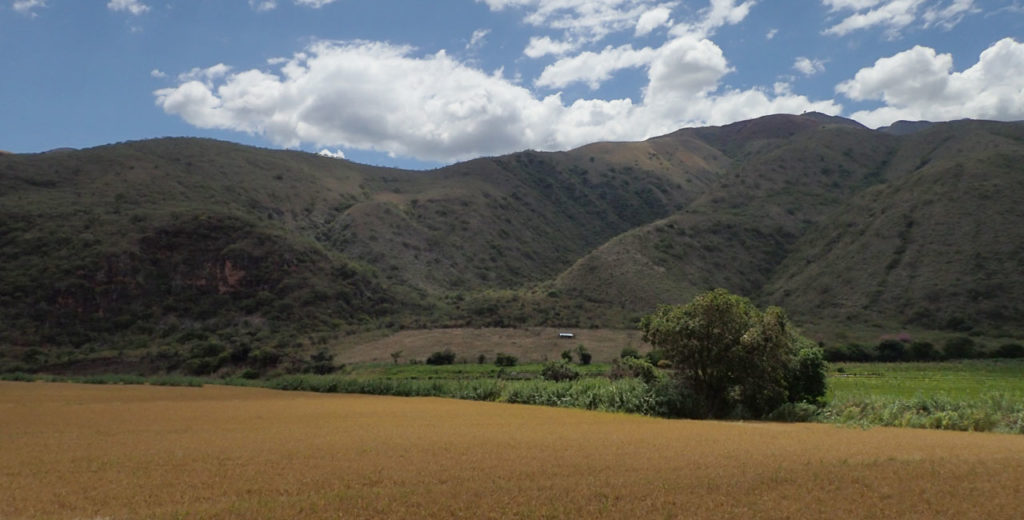 The environment is such that there are abundant crops, right along side palm trees. 
Finally the road turned South headed into the mountains and paralleled the Cocahuayco river.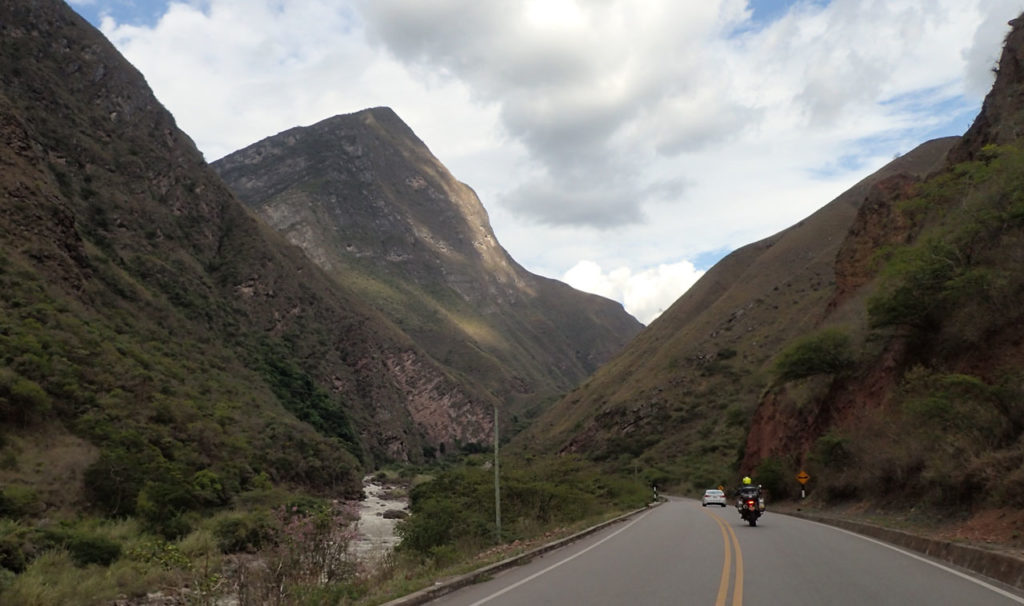 Parts of it a bit sketchy with a fair chance of rock fall.  We managed without incident. 
As we worked our way into the Amazon region things became much more plush and the mountains dramatic.  
We ended up in a small hamlet of a village in the mountains called San Pablo.  It's a very charming town with lots of character and characters.  The one small lodge we found was very reminiscent of places I stayed in Tibet. The proprietor insisted we park the bikes in the dining room for the night.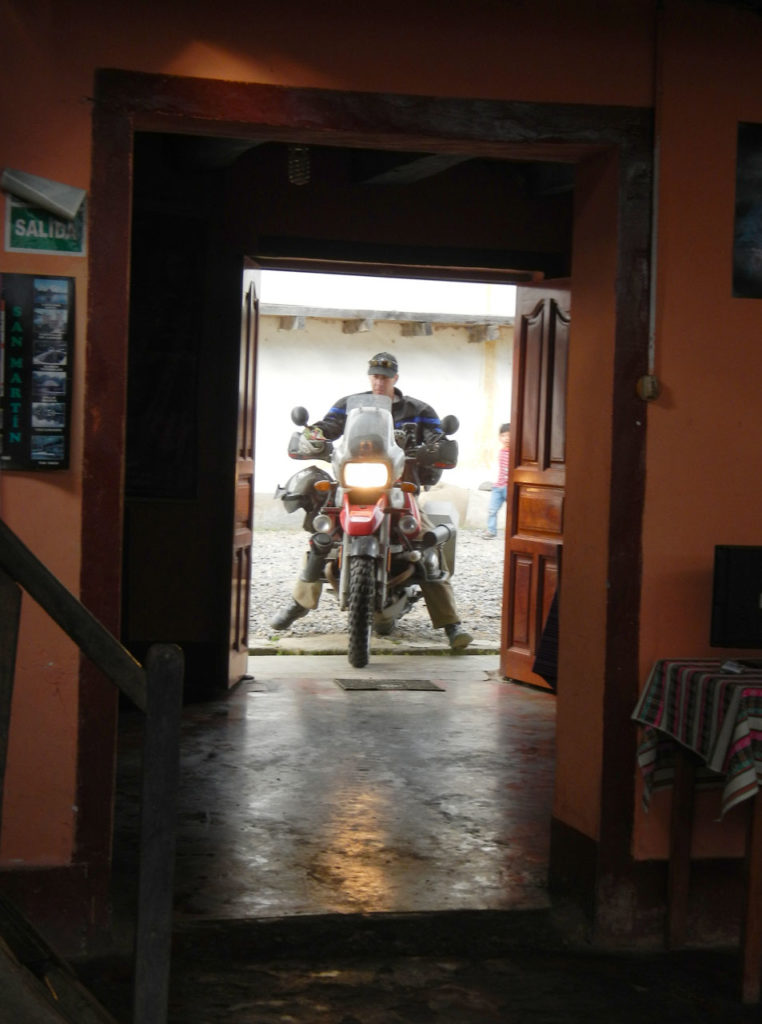 Like most places we've stayed on this trip, we were the only guests. 
Typical architecture in San Pablo.  It is a pretty remote place with no hot water or internet.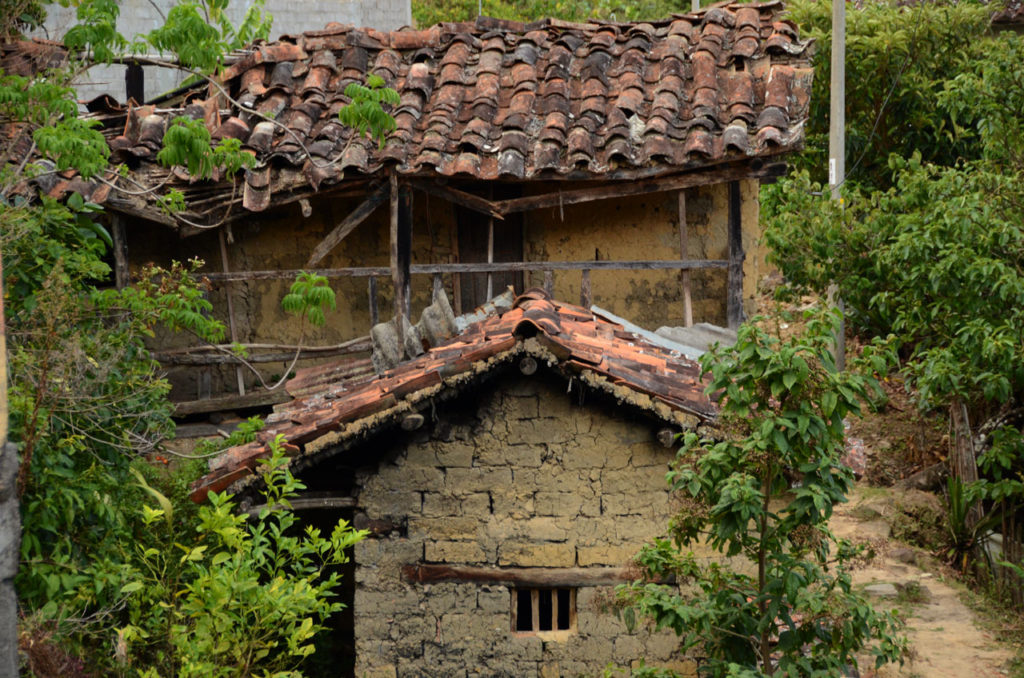 Luis, one of the local characters came out to have a visit as we strolled around town.  In Peru most people's Spanish is very easy for me to understand and I'm happy that I've learned enough to carry on conversations fluently.
The photo opportunities were pretty endless in this town.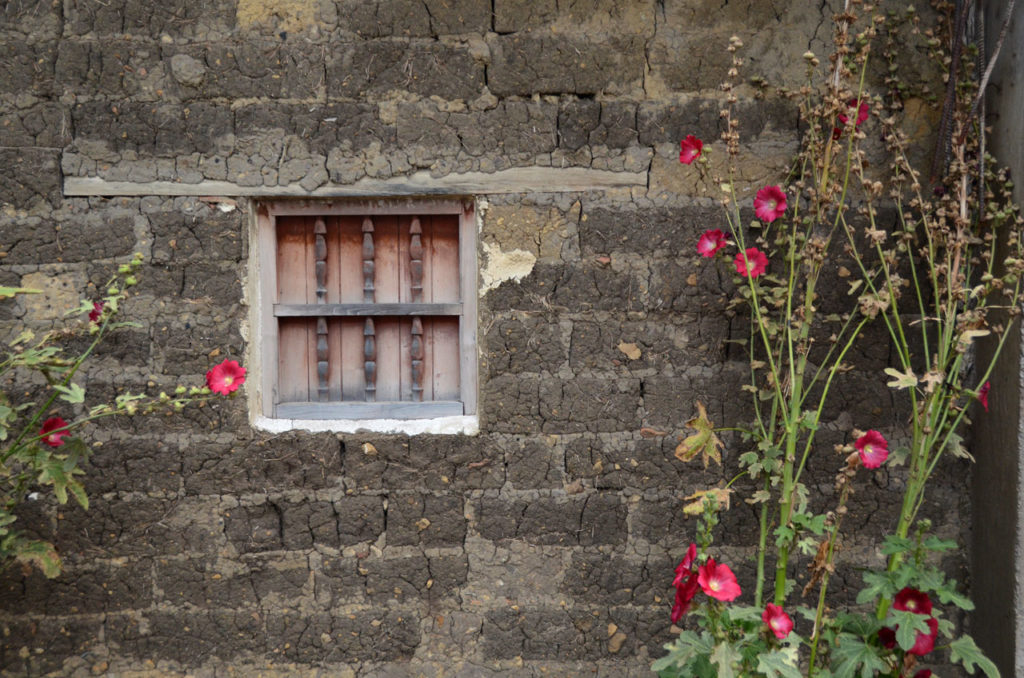 In the morning we were lucky enough to catch the changing of the police patrol and raising of the flag.  For such a small place, these guys were pretty serious with high step marching and all of it quite official.  The three people, not counting us, weren't even paying any attention to them.
They work 24 hour shifts, three guys per shift.  When the Peru flag was finally raised they all sang the national anthem with pride in their voices.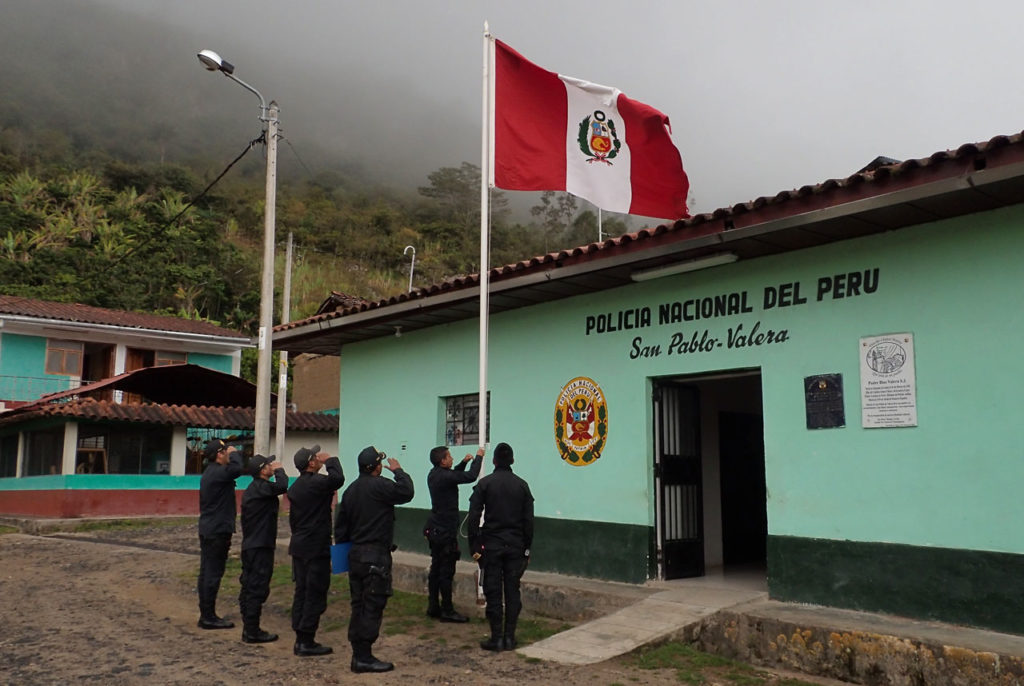 The real reason we came to San Pablo was to hike to the infamous Gocta waterfall about 3 miles away from the village.  The locals knew about this waterfall for years but it was not made known to the world until 2005.  The locals were reluctant to show explorers the site as they were scared of a curse from a beautiful blonde mermaid living in the pool below the falls.  Her blonde hair is said to be seen flowing down the lower falls.  The waterfall cascades in two steps and is 1771 feet high.  The day we were there it was pouring rain and much of the falls was in the clouds, of course obscuring any viewing of the beautiful mermaid.  None the less, it's a stunning falls not yet found by tourism.
.
From Gocta we rode south on curvy mountain roads.  As usual we were treated to the usual interesting sites along the way.  Here a lone biker hitching a ride with a semi up a mountain pass.
.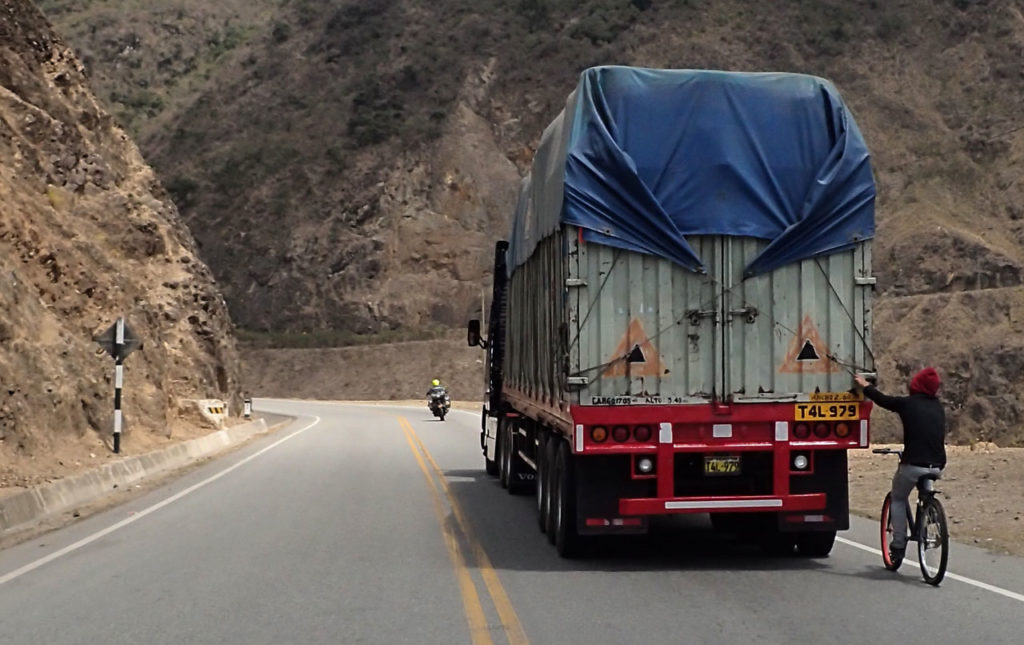 We weren't sure what happened here but best we could figure a semi of bricks got off loaded accidentally when the driver over corrected from running in the ditch on the right side of the road.  There was a bit of traffic backed up, but we rode right through. 

We arrived in the town of Chachapuyas for the night.  Just in time for a funeral procession to walk past the hotel.  Several hundred people filing down the street followed by a small brass band playing a death march, interspersed with a line or two of an upbeat rhythm.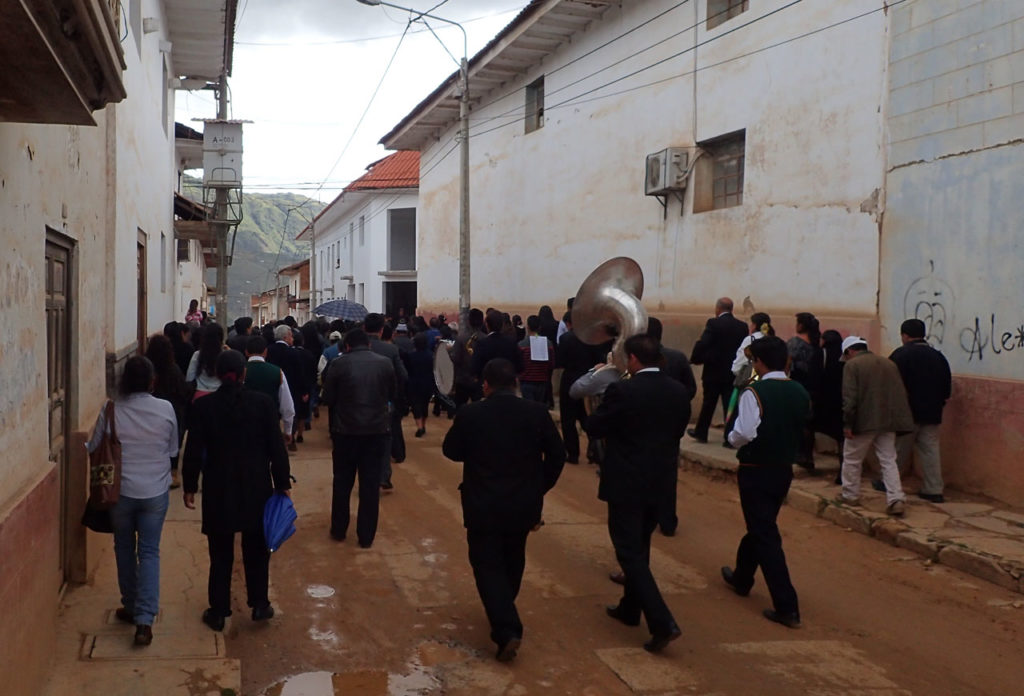 This little girl peeking out a door even seemed sad by the death march.
On the other side of town, Christmas preparations are in full swing. Though, the amount of Christmas marketing is quite subdued compared to the States. 
Later that night, I could hear a brass marching band playing.  When I went to investigate I found the entire town square filled with school children in uniform.  It turned out to be a cross between celebrating the last day of school before Christmas, Christmas break, and a giant outdoor school dance.  Everyone was lined up around the square singing songs.  Before long everyone crowded onto one street and there was a huge circle formed and then a variety of specialized and group dances, in one huge festive street dance.  The band seemed to control the flow of the dance and anyone song would find everyone milling about and all of a sudden the tempo would pick up and work everyone into a frenzy.  It was a quite a sight to say the least. 
The other site we wanted to visit in the Amazonian region was an ancient ruins site called Kuelap. We, of course had never heard of it, but we had enough locals telling us about it, that we decided it was worth having a look.  Off the main highway the sign said it was 22 miles to the site.  Much to our surprise the sign really did read 22 and not 2.2.  So we rode a gravel road through countless small mountain villages across and over three valleys to get to Kuelap.  It was a bit of a journey as you can see part of the road in the center of this picture.
And more of the road below.  It literally traversed several mountains and the valleys in between.  The views were astounding.
Again, we arrived before tourism has set in.  Soon there will be crowds here as the Government is promoting tourism and is funding a huge project and putting in a chair lift from the next valley over, so the road won't have to be driven to visit the site.  Kuelap is a walled city, that was built here on top of a mountain at 9000 feet.  In this picture you can see the walls along the center of the ridge line, as well as the chair lift stations in the center of the picture.
Kuelap is ancient.  It's believed to have once had a population of 3000 people and the entire city is built on top of huge walls with only three access points, only as wide as a person and llama can fit through.  It's thought it was built in this manner to keep invading enemies at bay.  The amount of stone work and time to stack up stones in the place really is a mystery.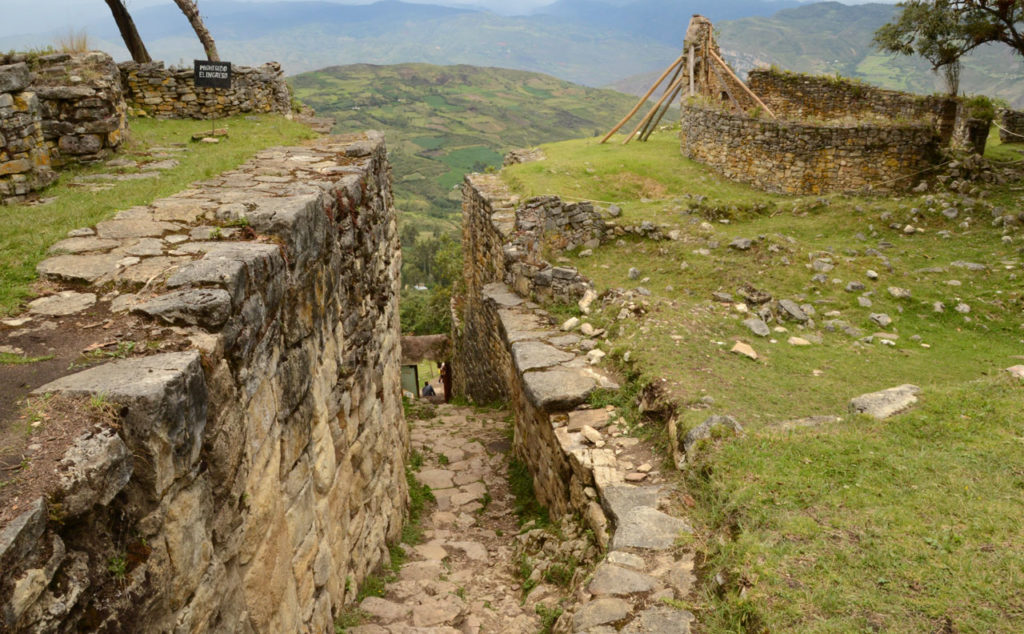 Construction of the site started in the 6th Century AD and it was occupied until 1570.  Although the site was known and had been slightly explored from the mid 1800s through the 1930s, The first real archaeological expedition to this area wasn't until 1997!!  In 2010, the remains of 79 human bodies were discovered at the site.  It remains a very active archaeological site.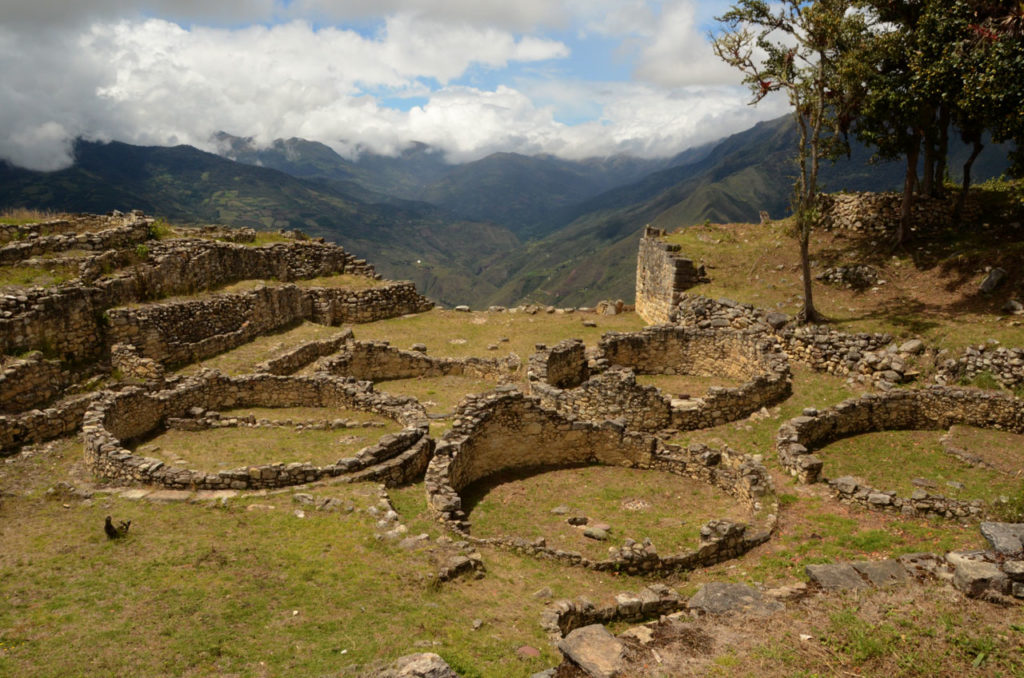 Through the years much has grown up in and around the site.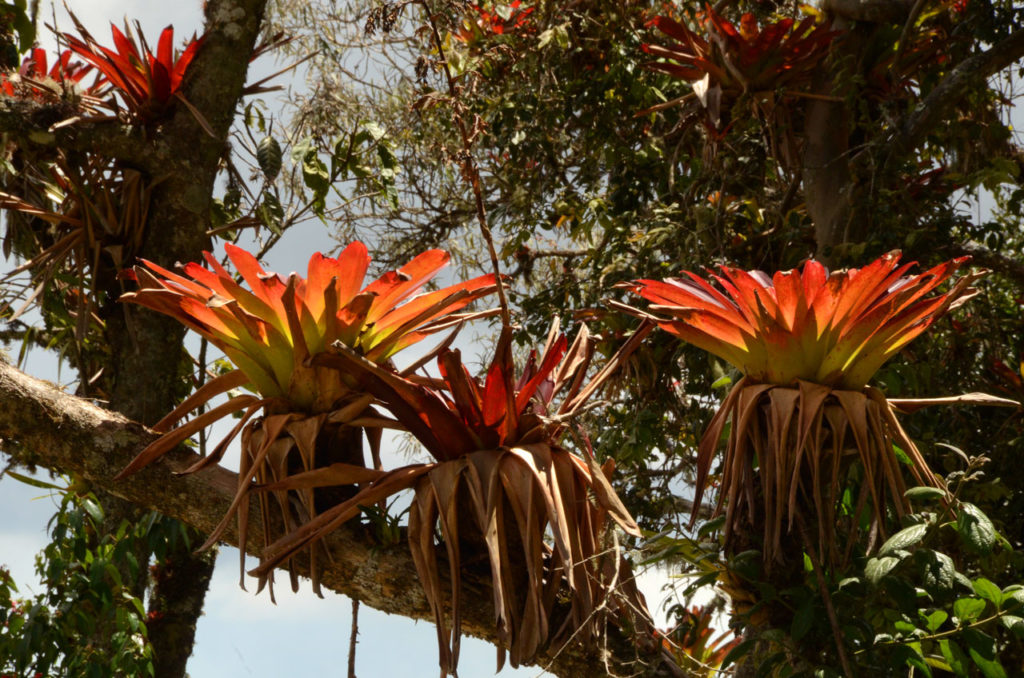 And without a doubt, the places offers views of Peru like no other.  
We left Kuelap late in the day and thought we could make it up and over Calla Calla pass.  We were wrong and underestimated how long it would really take.  It didn't help that it was raining and we had wet roadways for most of it.  Suffice to say this pass climbed to 12,000′ and was some of the most intense riding I have ever experienced.  With single lane and often times less, sheer drop offs of several thousand feet, it was gripping to say the least.  Add in wet pavement and invading darkness it was certainly a white knuckle ride.  Fortunately there was not much traffic and we only spent about an hour riding in the dark, which was an entirely another experience.  Neither of us got much for pictures as the road demanded total focus and concentration.  But I did take a few.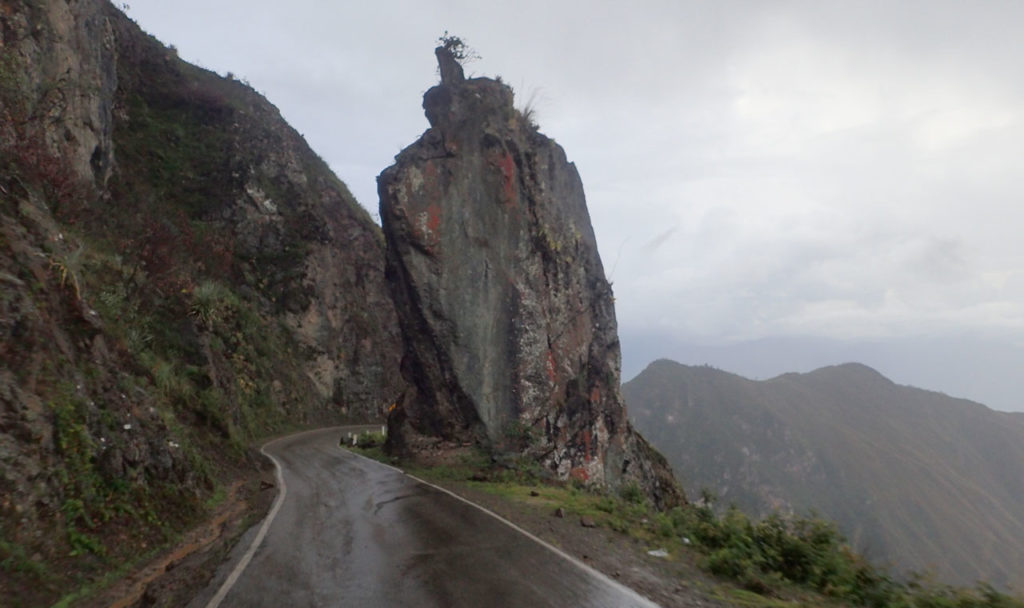 Many sections the road had fallen away or washed away and the white lines just went from one full lane to half a lane.  It had to be questionable for some of the small tour buses and trucks to pass through.
The ride down was a long and winding road.
Stormy weather in the Andes from the top of Calla Calla Pass.  
Under sunny skies we set out on another mountain pass that took us high into the mountains and into the clouds.  More single lane unbelievable roadways, but not quite as tense riding as yesterday.
Lots of twistys is a dream on a motorcycle. 
This road did not disappoint with several areas where it was important to stay focused. 
If the sheer drop offs weren't enough you have to keep your eyes out for the locals grazing the heard in the middle of the road.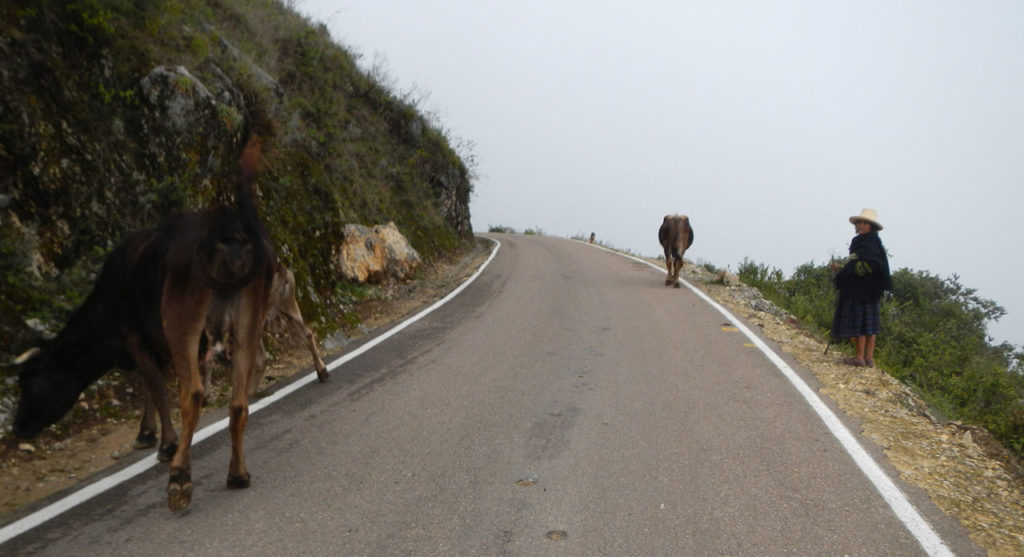 Checking out the edge.  Much easier when it's sunny and dry out!
We came across this guy in the middle of the road.  It was about the size of my hand. 
You just never know what is around the next corner.  
The deeper we get into Peru, the more we like it.  Though the people aren't very animated or cheerful, it certainly is fulfilling what our image of what Peru is.  The people are quite hardy and dress very traditionally and colorfully.
Like always along the roadway, you just never know what you are going to see. 
When we topped out on this pass, we traversed a high plateau at 10,000 feet and the locals were farming the land, by hand.  We have seen more plow and oxen in Peru than tractors.   It requires some pretty hardy people living awfully close to the land to survive here.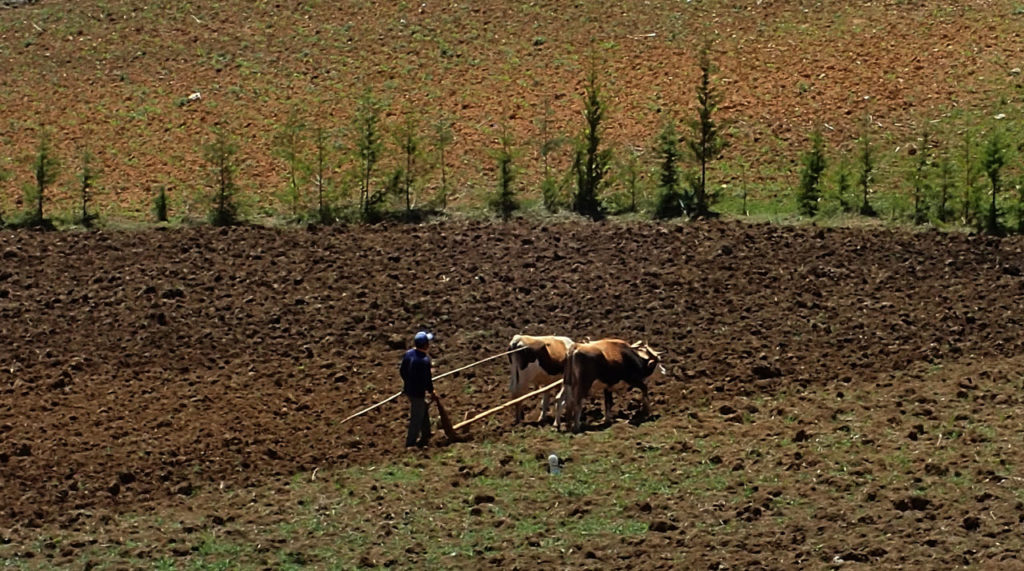 We rode down the back side of the pass and traveled through several towns that offered up great images of life and the people living high in the Peruvian Andes.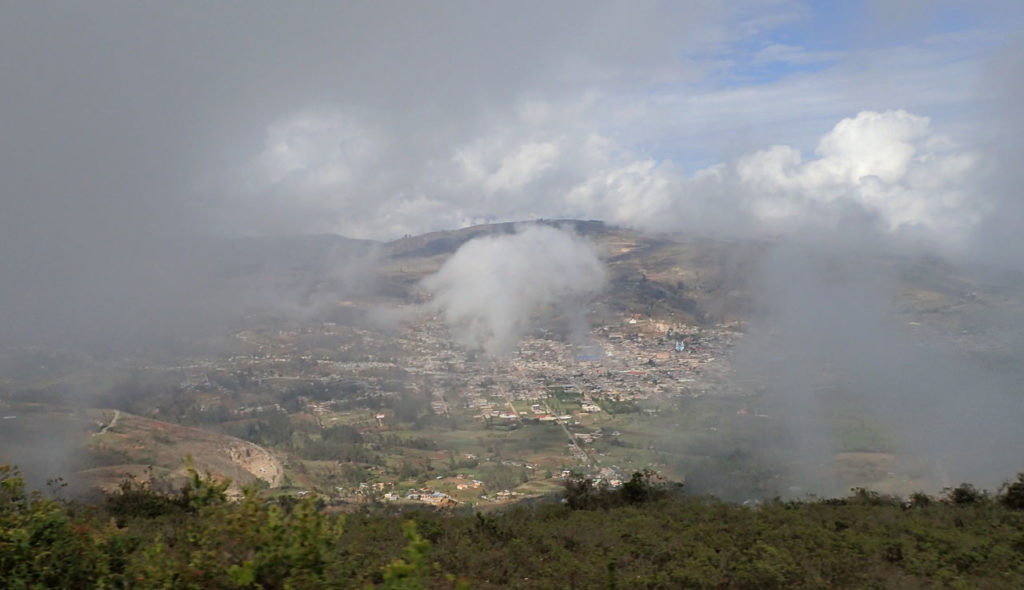 Some of the nicest police motorcycles we've seen.
Cooking on the street for the locals. 
And the locals eating along the street
.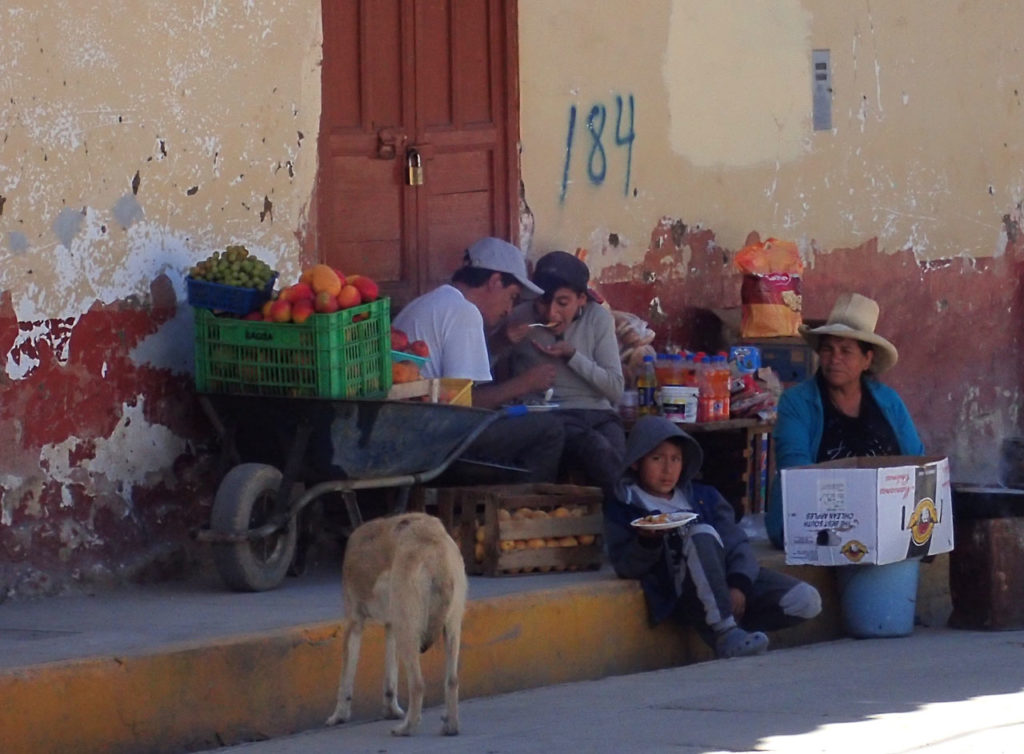 This was one serious load of papaya.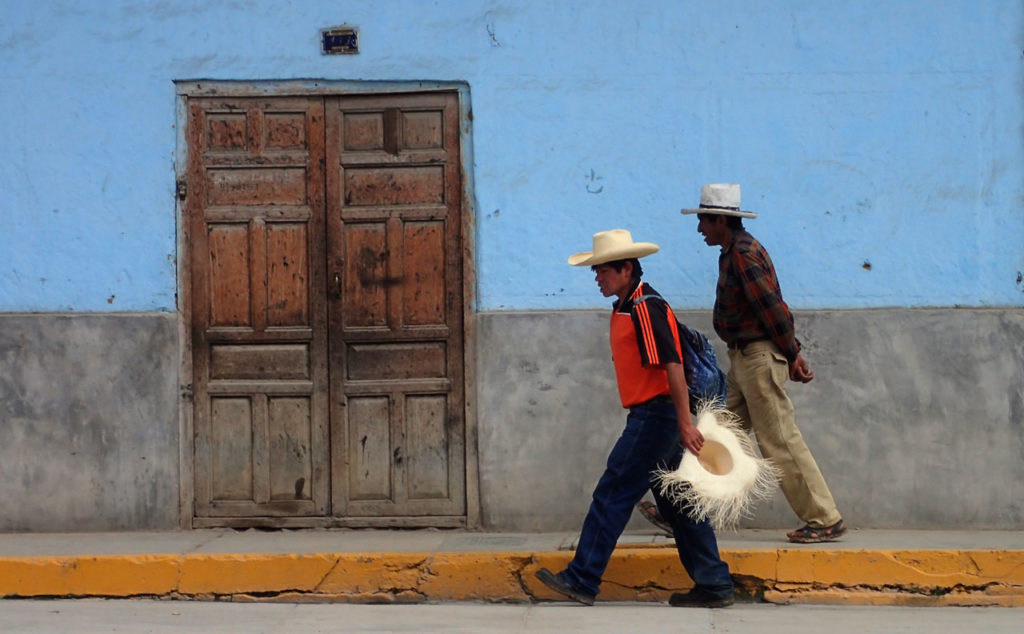 We climbed out of the Amazon region and back across the Andes crossing over to the west side of Peru today.  By the time we climbed into the clouds and above 10,000′ the fog thickened and we rode for several hours with extremely limited visibility.
This sort of riding demands total concentration mostly to avoid the kids, farmers, dogs, chickens, goats, sheep, turkeys, chickens, piglets, trucks, and tour buses that
seem to pop up out of nowhere.
e.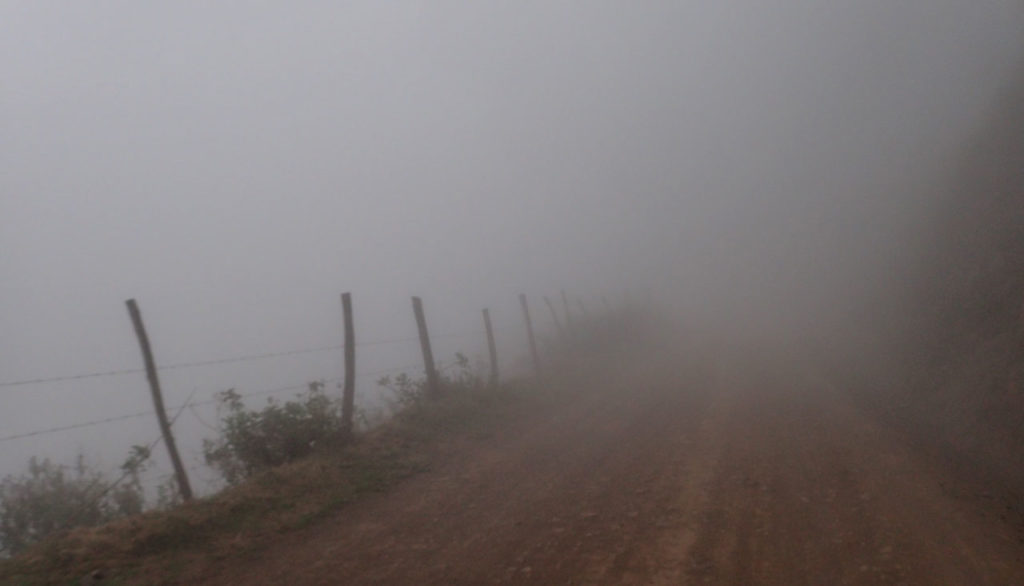 Most of the road ended up being gravel and by the time we dropped below the clouds we could see our switch backed road stretching out in front of us.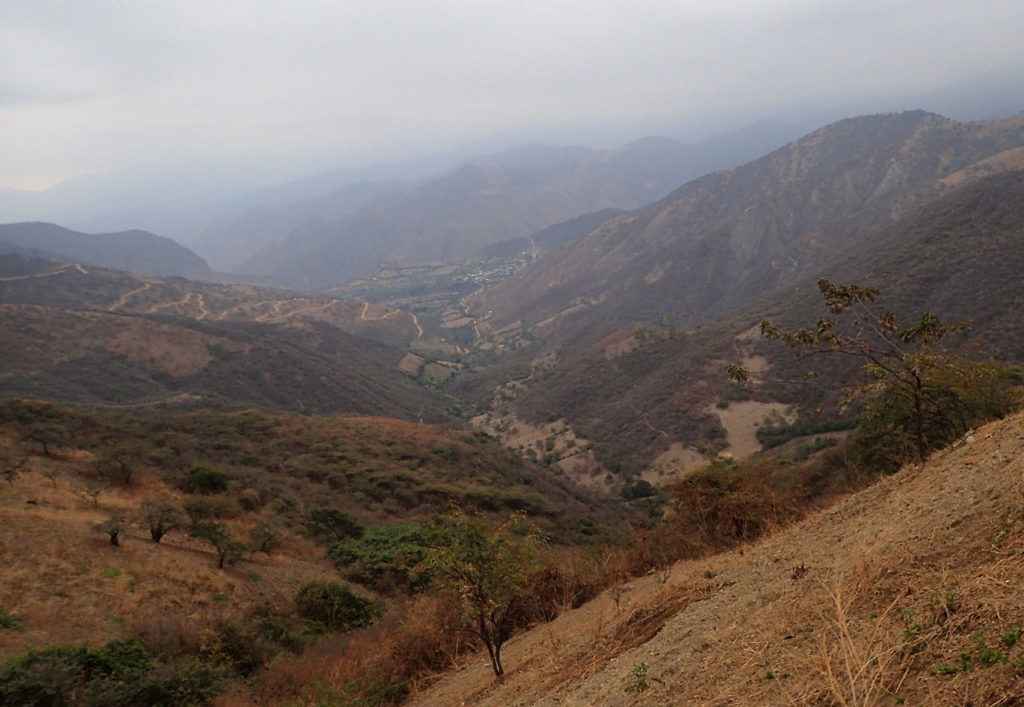 The further west we went the drier and warmer it became.  This side of the Andes is akin to riding in Arizona with huge mountains.
Parts of the west side of the Andes made us feel like we were in Africa.
The locals in this area seem to be living awfully primitively.
Finally the road came out of the mountains and was straight for a long way.  We had gone from over 10,000 feet back to sea level.  It took us 8 hours to do 178 miles. It was a long day out.
  As we approached our stop for the night, Trujillo, we rode through sugar cane fields that stretched on for miles and miles.
Four trailers full of sugar can loaded and ready to roll. 
More sugar cane on the road today.  The amount they pack onto one truck is astounding.
We decided we'd better get some miles in today, as while in the mountains and Amazon we haven't put in many miles going South.  So we made a dash for Lima, some 5 hours from Trujillo.  The landscape in this part of Peru certainly did not disappoint, but there was nothing inspiring about it.  Sandy, hot, and windy.
We did finally get our first glimpse of the Pacific
.
Many of the towns we passed through were nothing more than cinder block shacks. 
The entire day we passed through some of the most impressive industrial farming that we've seen to date.  Everything from miles and miles of sugar cane, rice, papayas, melons, onions, corn, strawberries…you name it.
All of the fields we saw were not only huge but were being worked by hand.  Impressive to say the least.
The closer we got to Lima the more sand dunes there were. For as far as you could see and often times appearing quite surreal.
  At some points there was sand blowing hard across the road.  We were grateful to have big bikes.
As usual, the road offered a cornucopia of things to see along the way.
We have both not been impressed with the west coast of Peru, in contrast with the east side of the Andes.  The east side is green and plush and beautiful.  The west coast is hot and dry and barren.  It often feels like we are driving through Baghdad.    We've noticed there doesn't seem to be many happy people in Peru.  No one smiles and very few even wave.  Now and again some one smiles and is welcoming and it makes all the difference.  Even the gal on the side of the street selling Christmas bags doesn't seem to happy about it.
.
We rolled into Lima to a snarl of traffic.  If there are road rules in Peru, no one pays attention to them.  Everyone just does what they want, including passing on the right, driving on sidewalks, passing into oncoming traffic.  Anything goes.  This took a bit of getting used to, but now, we are able to cope….we pass on the left, right, or center.  Today I jumped up over a curb and onto the sidewalk to get past a traffic jam.  While at one stoplight, a nice Africa Twin rolled up with a flat front tire.  Fernando asked if we had a pump AND we did.  So we got his tire inflated and he showed us to the shop where he was going to get it fixed and where Tracy is getting a new tire.  Everything always works out!
Embroiled in the chaos of traffic that is Lima
.
We came into Lima so Tracy could get a new front tire, as his was getting pretty worn.  The Touratech shop in Lima took us right in on Christmas Eve morning and had us fixed up in no time.
Afterwards they invited us for their employee Christmas gathering, which was very fun. And we learned about some of the local Christmas traditions, which are not too different from our own.  Other than not having dinner until after midnight and fireworks galore.  A big thanks to Ines, Ivan, Scarle, and Ivan for the exceptional service, hospitality, and new friendship.
We decided to make a run out of Lima and head towards Nazca, where our sidecar friends, Paul and Rachel are spending Christmas.  A five hour ride on Christmas Eve, but we figured we could make it there by dark.  Out of Lima the billboards were everywhere along the road and some of them really quite interesting.  This one was the second Alaska reference we've seen on the trip
.
And oh JOY, BMW, we love our BMWs, most days.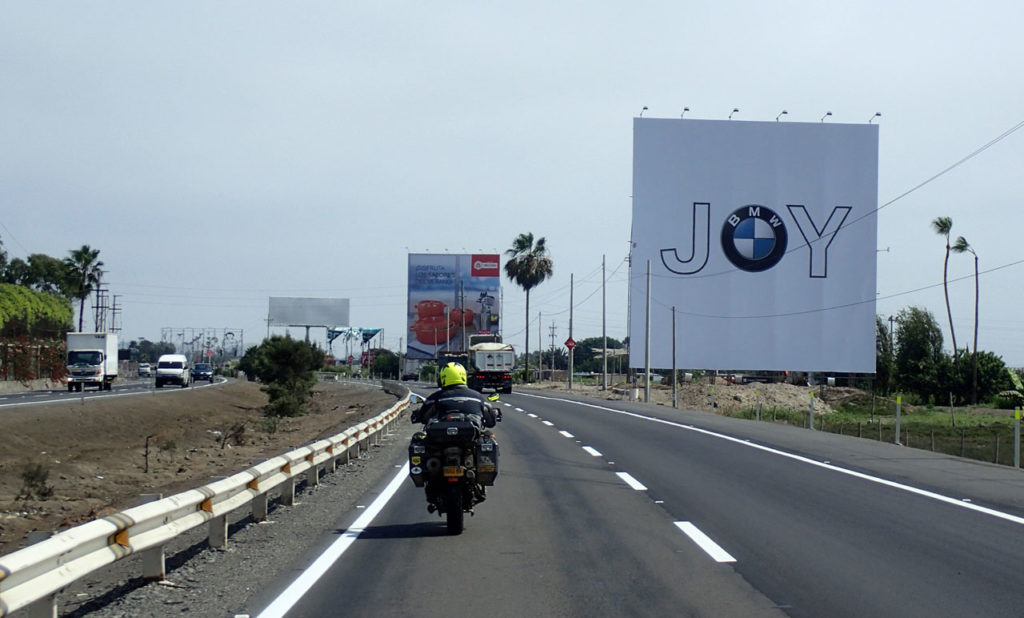 We don't even know what this one is advertising, but it was huge.
Most of the roads in and out of Lima are toll roads, but motorcycles are free.  There is always a motorcycle free lane on the far right as we enter into the toll collection area.
For hundreds of miles in Peru we have been seeing structures all along the roadway, but too far off the road to tell exactly what was being raised in these buildings.  Turns out it's chickens!  Hundreds and thousands and probably millions of them.  We're not sure if they are being raised for eggs or chicken, but clearly there are enough chickens in Peru to supply the world.
.
Once away from Lima the road is long, straight and dry.  Fortunately we had a few hills around and a sun working it's way to the horizon to keep us entertained.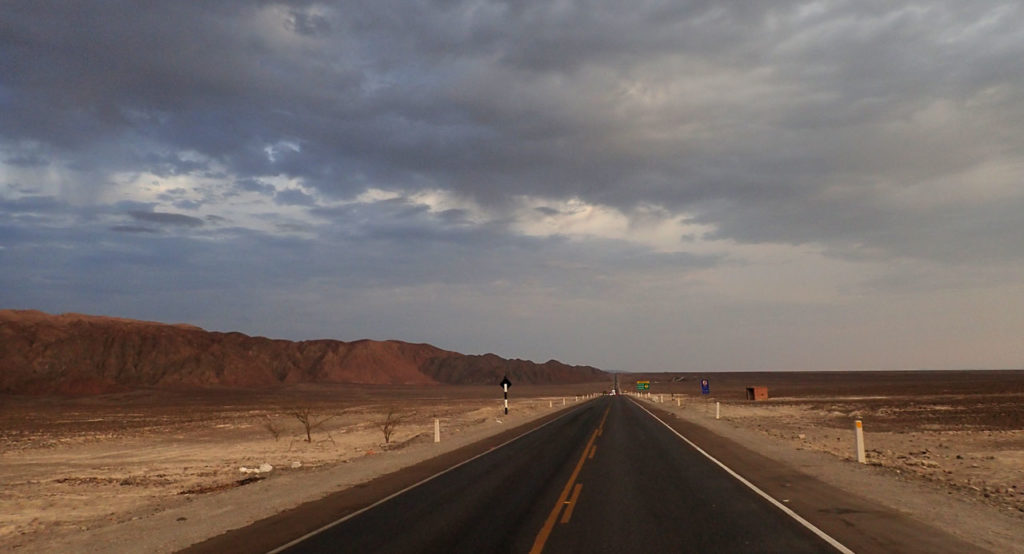 Around one corner we came to this tunnel through the hillside.  In Peru you  never know what to expect.
The Andes were always on the horizon as we worked our way South. 
And constantly changing colors.
With the setting sun the sky was ever changing.  
Just as we arrived in Nazca, the sun was ready to dip below the horizon.
And as is the tradition in Peru, at midnight, the entire town erupted with fireworks from all neighborhoods.  
It lasted for about twenty minutes and was quite spectacular.  
Christmas day found us with Paul and Rachel in a small plane flight seeing over the Nazca lines. 
These lines stretch across a 50 mile high arid plateau near the town of Nazca.  It's believed the Nazca people put these lines in the desert sometime between 500BC and 500 AD.  There are many important designs of animals and people, but there are lines and designs all over the place on this plateau.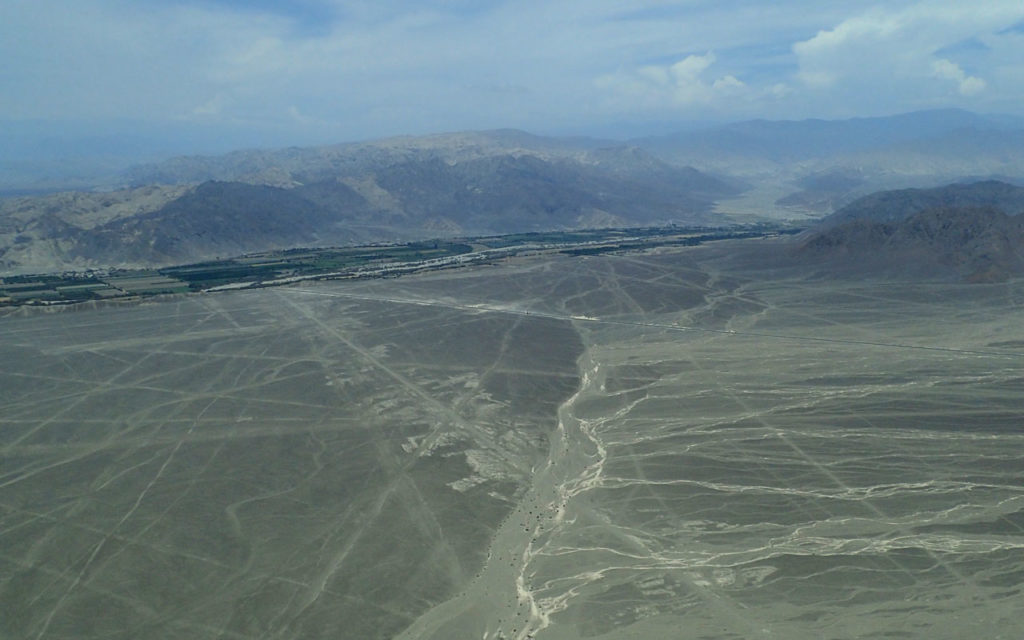 It's pretty surreal to think that these lines were made that long ago and are still around today.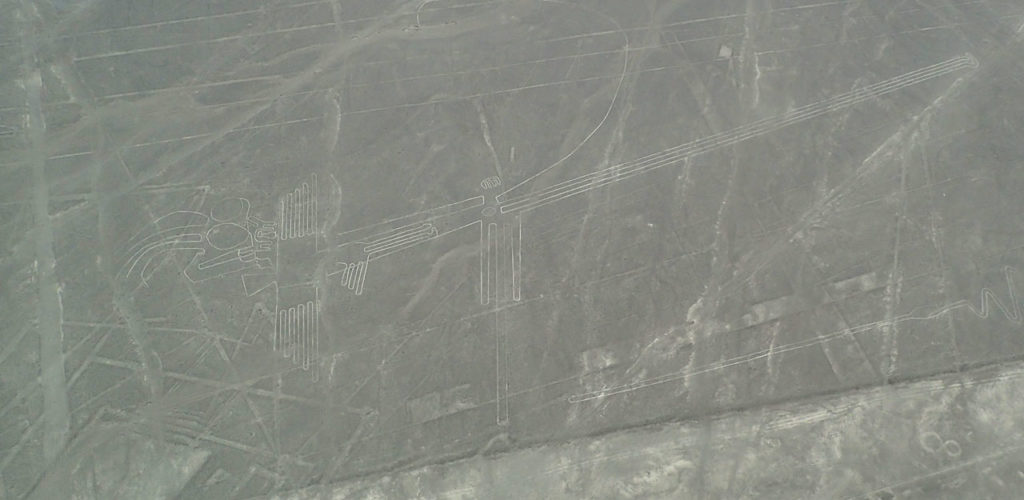 This particular one they built a highway right across it.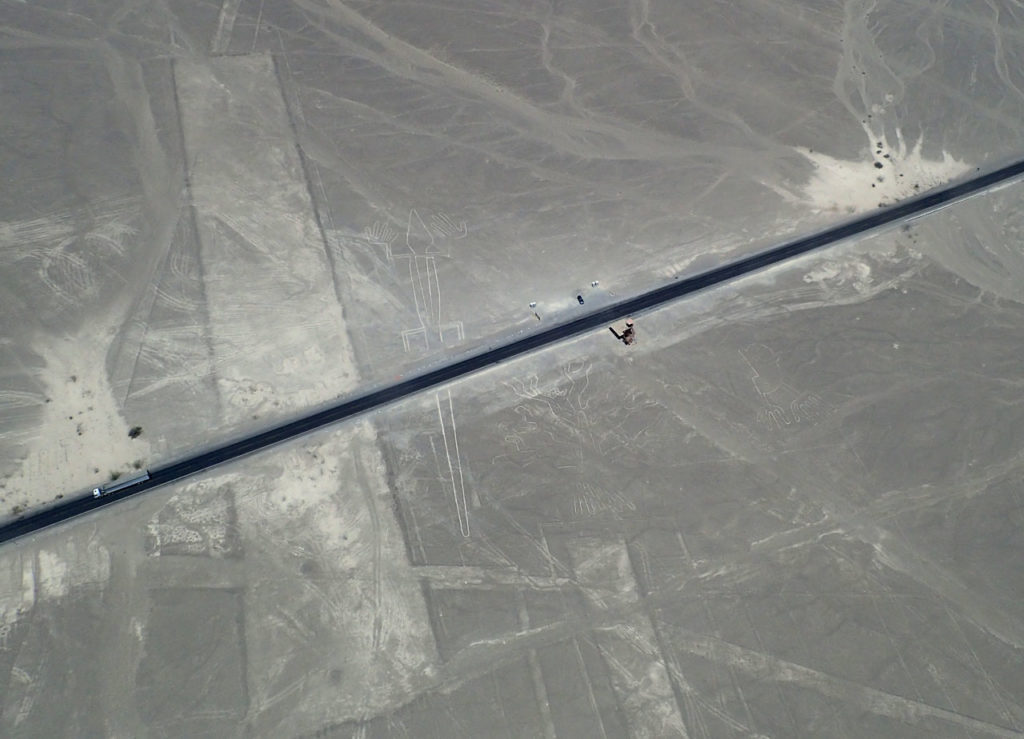 It was amazing to see the surrounding area and landscape which is quite dry and extremely vast.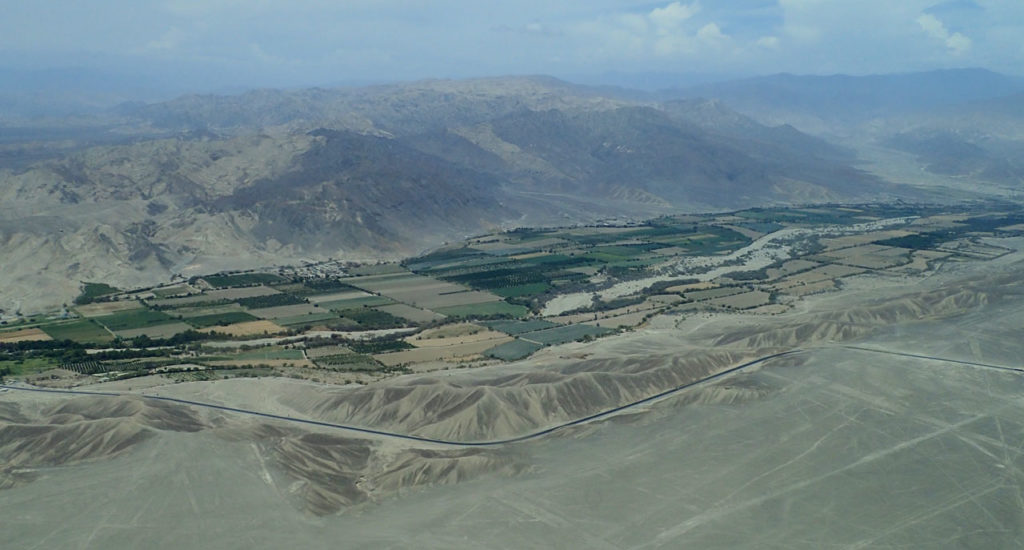 Nazca, Peru from the air.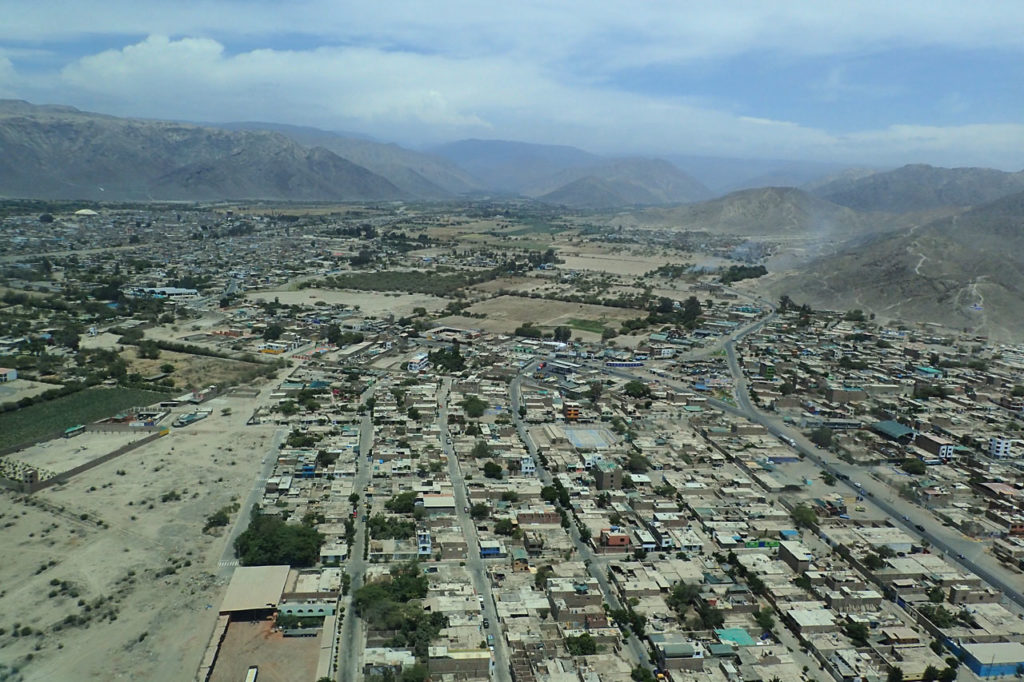 Christmas dinner in Nazca with Rachel, Paul, John, and Wendy.  All four of them from England and all on BMWs with a sidecar.  We've had a very fun few days with this group.
We left Nazca after several great days with fellow Overlander travelers.  It looked like a bit of a BMW convention in front of the hotel we were staying at.
We decided to head South out of Nazca and were back in the desert and an abundance of sand and straight roads.
After several hours the road livened up a bit and the sand dunes became more interesting. 
Several towns along the way had a small fleet of fishing boats. 
The things you see along the way……………
We came around one corner and were surprised to see a green river valley among all the sand.  Clearly the river was used to irrigate the surrounding rice fields.  It was really, really green.
We rode nice, curvy, fun roads for the balance of the day.
Today we passed some guys making cinder building blocks by hand.  I had to stop and take a picture as my old friends in Alaska, Thil and Mike Wallace started a business doing this exact thing back when they were in their 20s.  Thil ended up hitchhiking around the world and wrote an amazing book about it.  You can read about it here:  https://www.amazon.com/Monkeys-Tale-Thillman-Wallace/dp/1930222211
Thil passed away several years ago, but Mike and Thil's wife Ella, still live on the homestead where they started the business.  I can't even imagine the amount of work that goes into making these by hand.
These guys seemed to have a pretty good system down.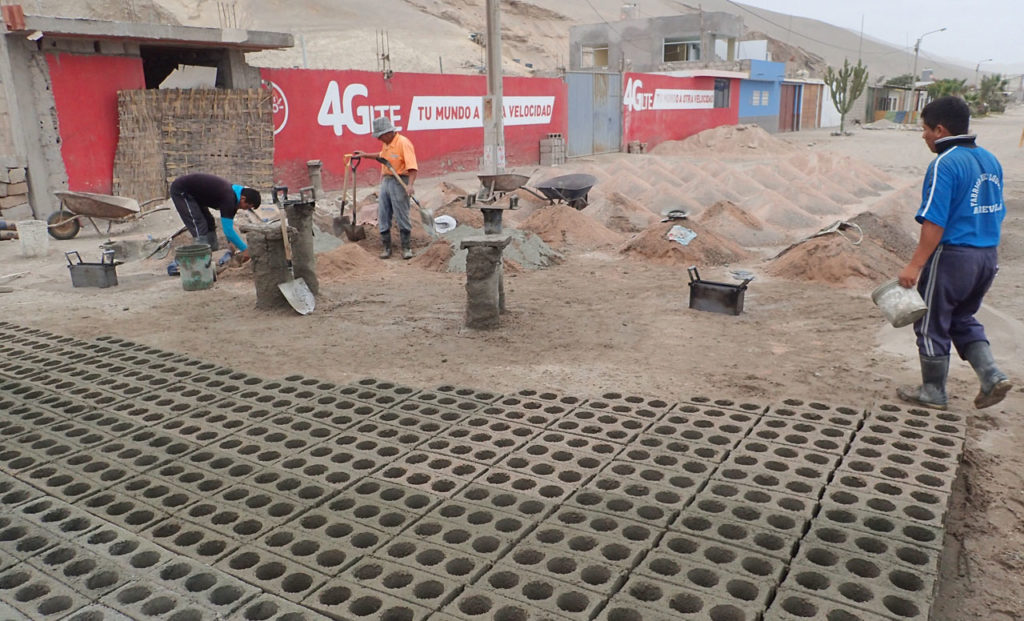 The first half of riding today in Peru was quite uninspiring.  Much of looked like this as did the cities we passed through.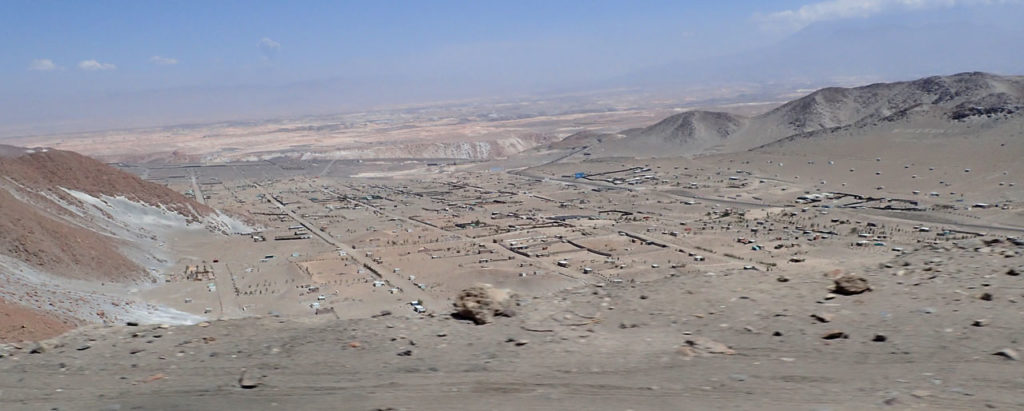 By afternoon the terrain was getting more interesting but my bike was feeling very sluggish and I looked at my altimeter and realized we were at 15,500′!!  Without knowing it we had climbed gradually to a high plateau.  There were Vicunas all over the place.  These are the national animal of Peru and run wild
The wool from these animals is very fine and quite expensive because the animals are wild and have to be caught and can only be shorn every three years.  They are a relative of the Alpaca and Llama.
The plateau went on for 60 or 80 miles and turned out to be some really great riding.  Right through the high Andes farm country with people living very close to the land.
We even had several sections of really nice gravel to keep things spiced up.
Small villages along the way nearly seemed abandoned.
Hauling the girlfriend and a bit of propane around.
We passed very few vehicles other than motorcycles and bikes.  These two gals were having a great time on their motorbike.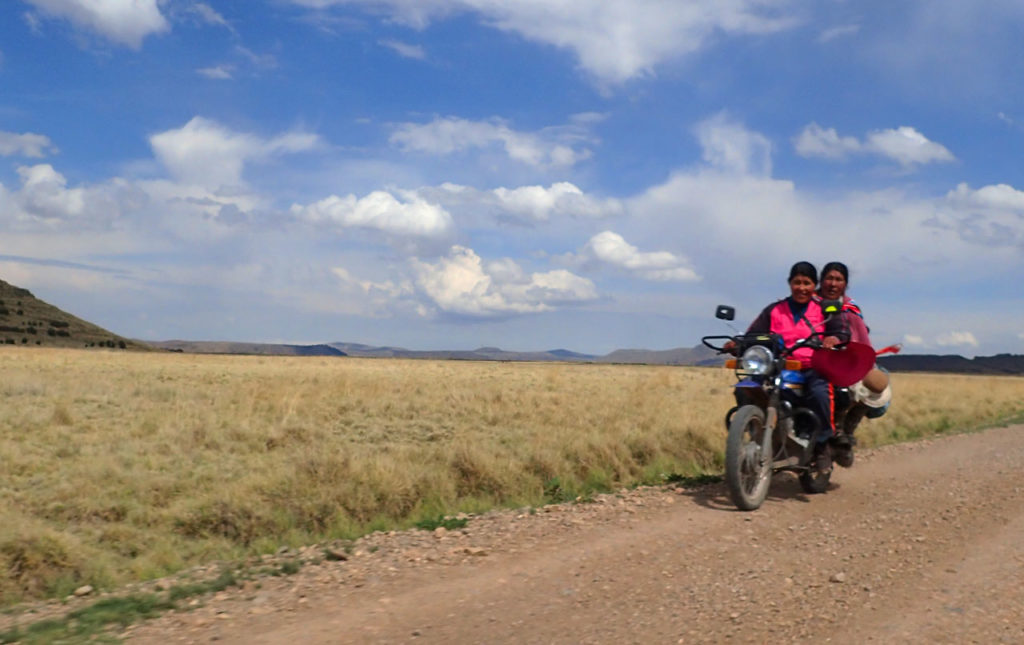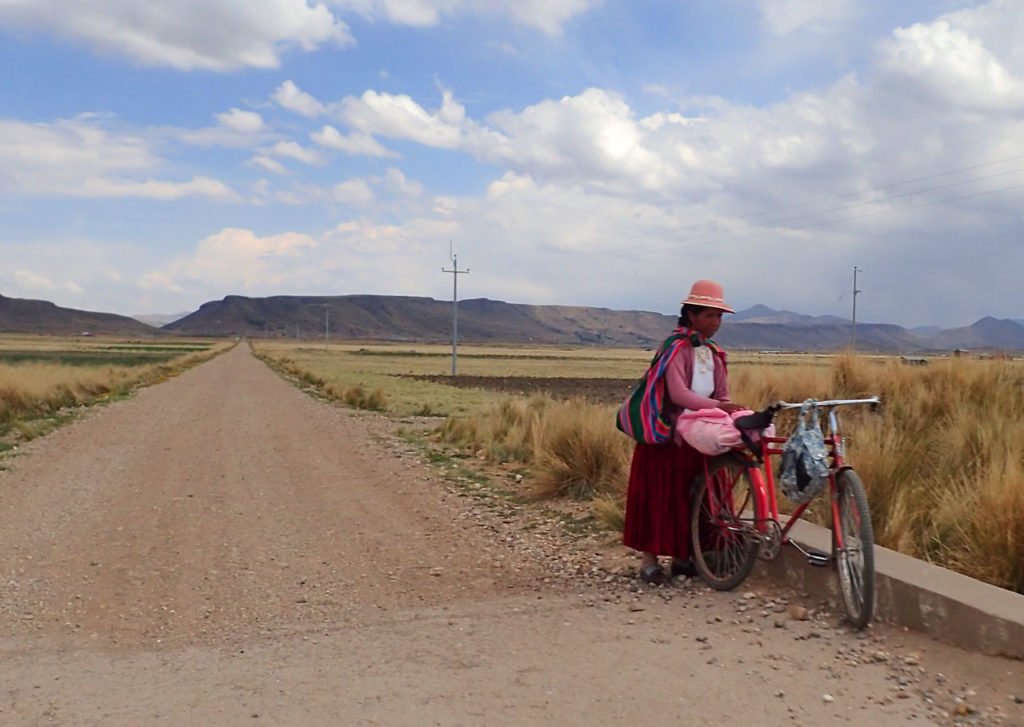 This particular plateau was a joy to ride across and although there were rain clouds around, we never did get wet.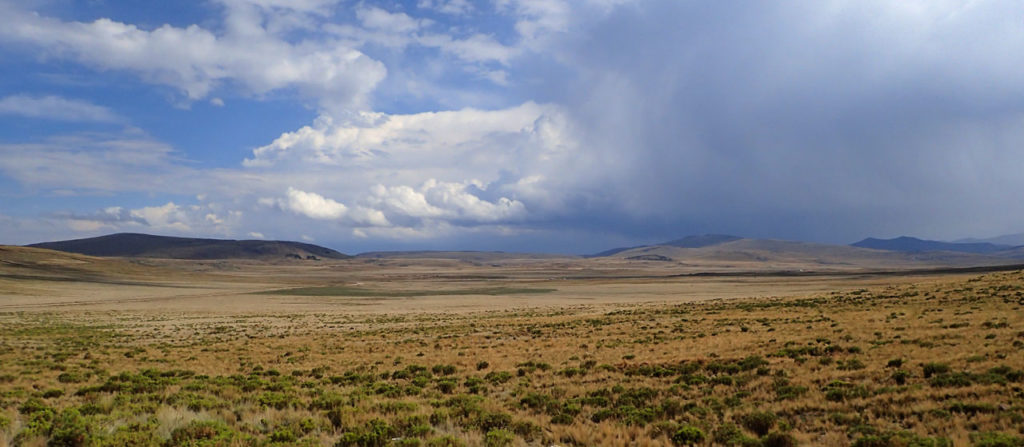 By late afternoon we arrived in Puno.  A nice sized town right on Lake Titicaca and very close to the Bolivian border.
Pizza the way it should be made, Peruvian style.
We decided to have a rest day in Puno.  We both have minor injuries from man handling these big bikes and knew a day off would do us good.  Tracy is nursing a sore leg after his bike went down at slow speed and landed on his leg, nearly breaking it.  I pulled a back muscle picking up my bike after it went down in the middle of the highway.  Fortunately I wasn't moving.  I spent a good portion of the day exploring town.  The people of the high Andes are certainly a colorful bunch and I never tire of what I come across wandering the streets.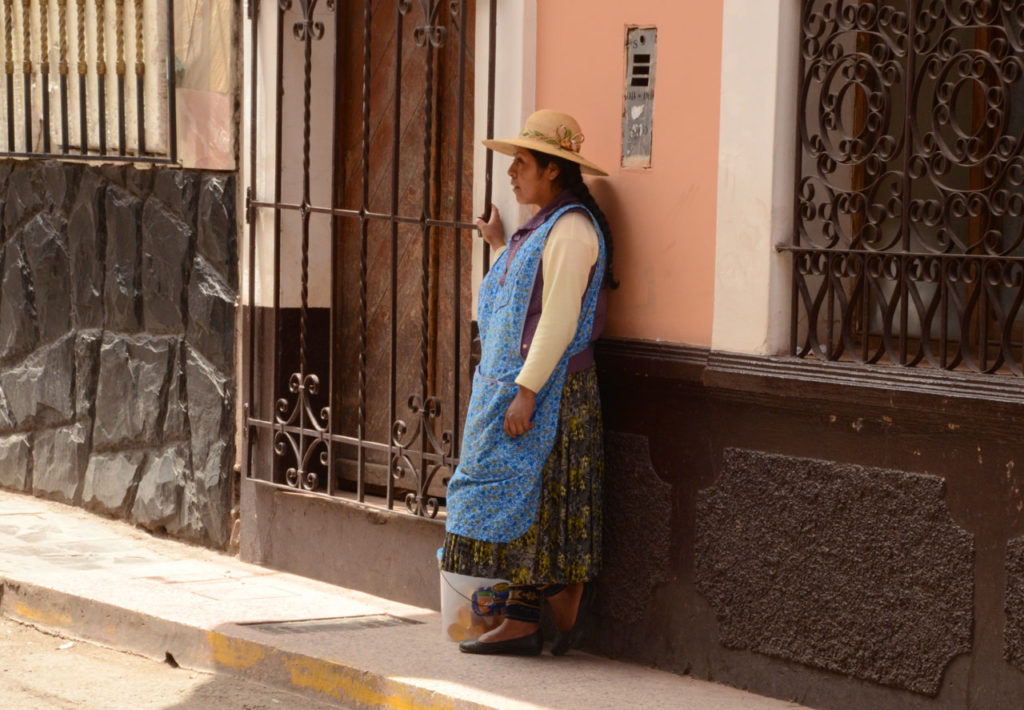 Sharpening knives the old fashioned way…..right on the street.
Typically most of the woman of any age wear their traditional dress.  The men as well, but not nearly as common.  The kids dress like kids anywhere.  Styles, colors, and size of hats vary from region to region. 
Some of the ladies could have been statues.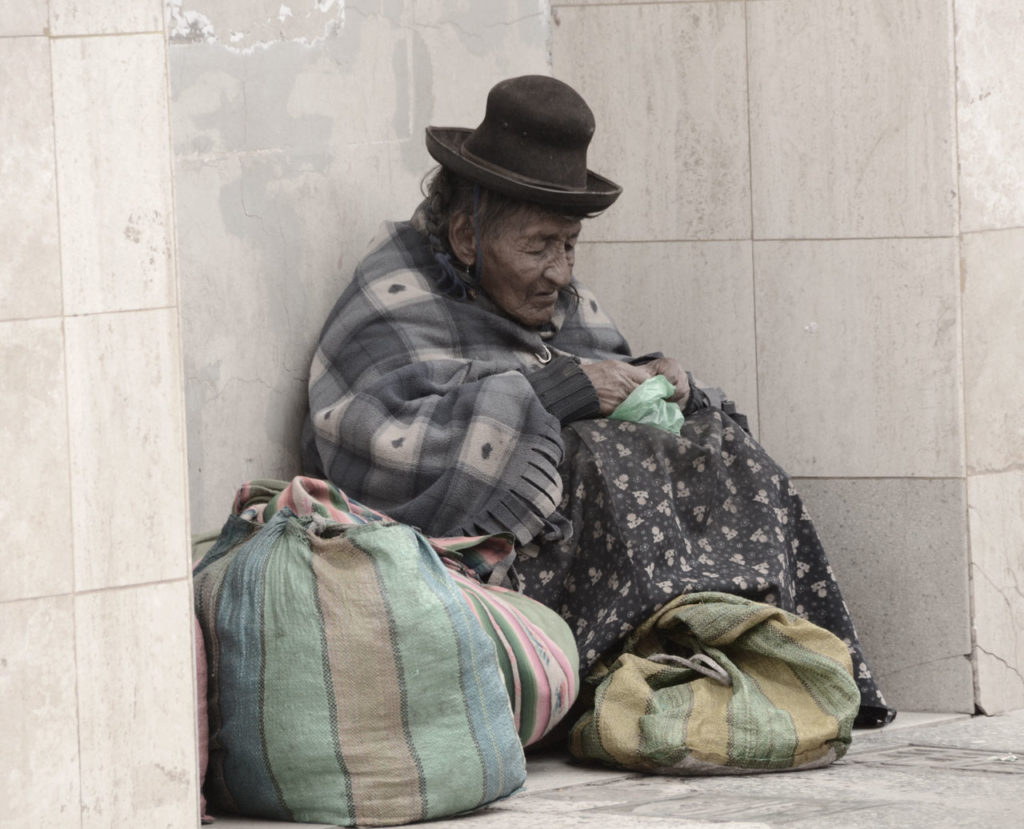 The doors to the cathedral in the main square certainly provide a nice back drop.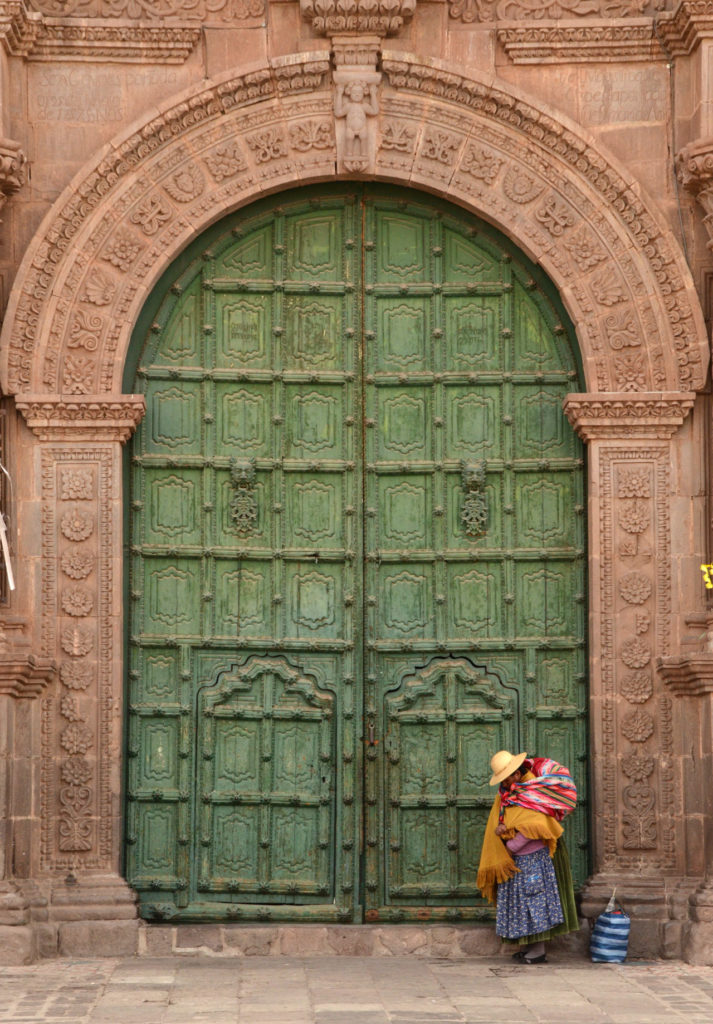 The people living here certainly are hard workers and a hardy bunch.  And they don't smile much.  I suppose I wouldn't smile much either if I had to live as harsh a lifestyle as they do.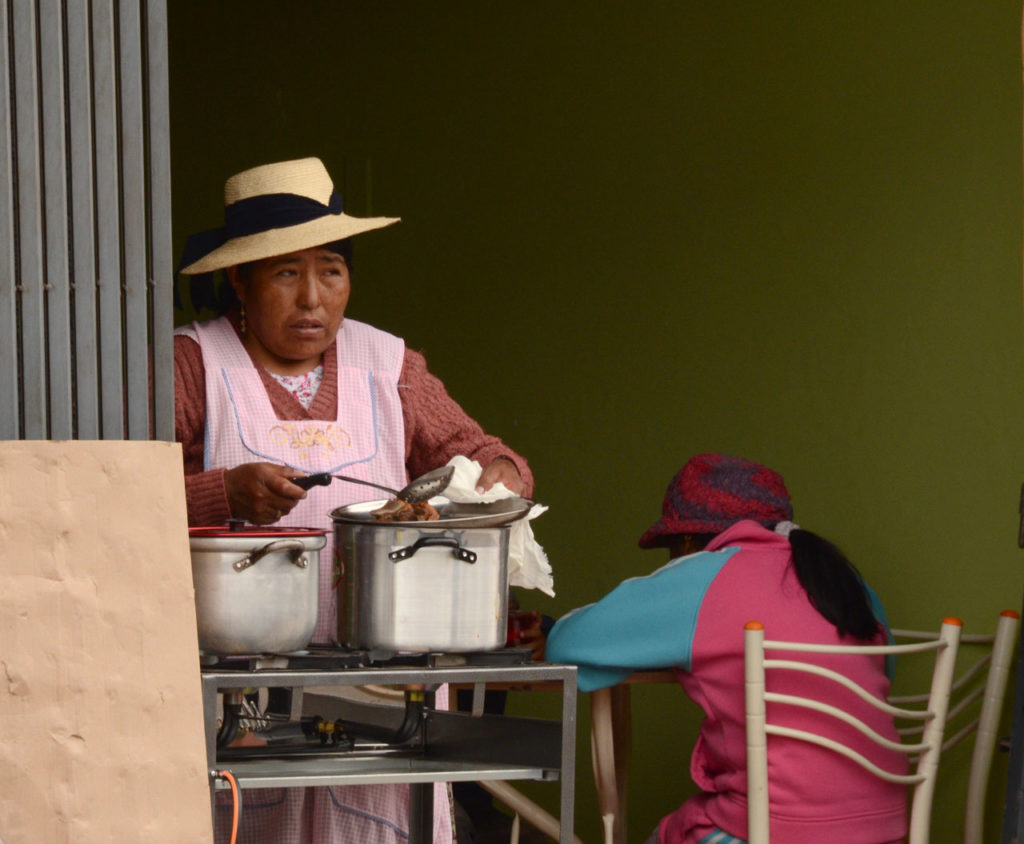 Happy, happy, happy!!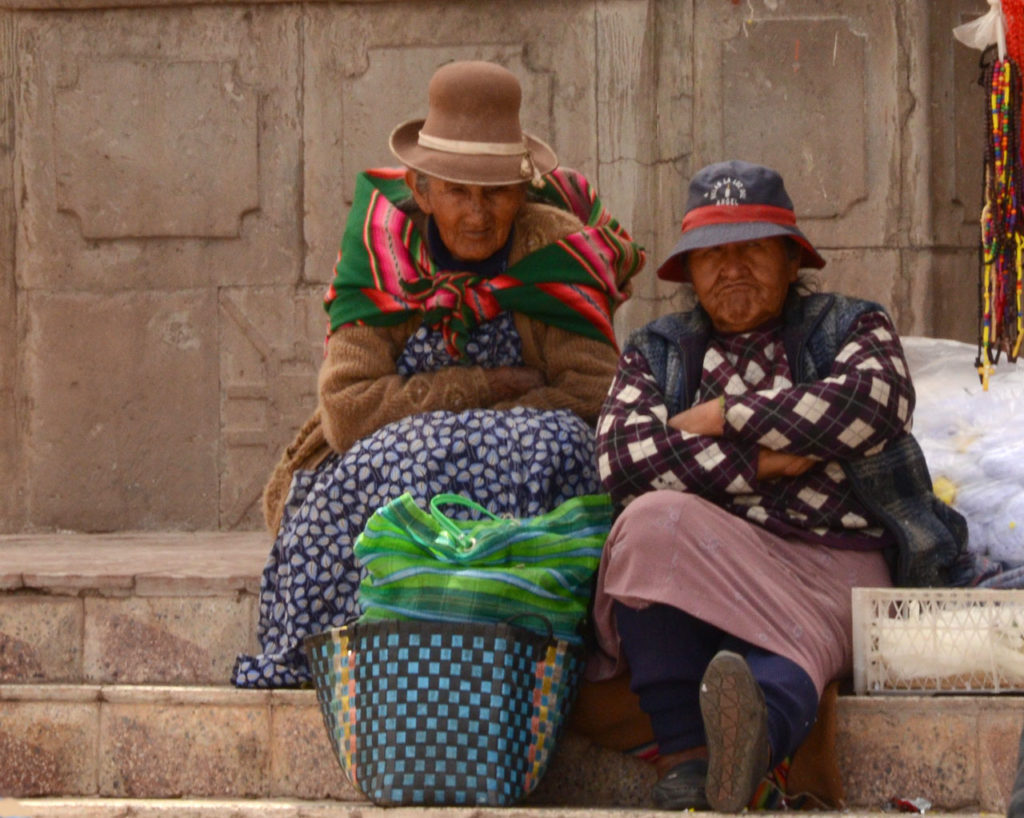 And everywhere we go, there are selfies.  Ten years ago when I rode to Panama, no one was taking selfies.  Now it seems everyone is…except us.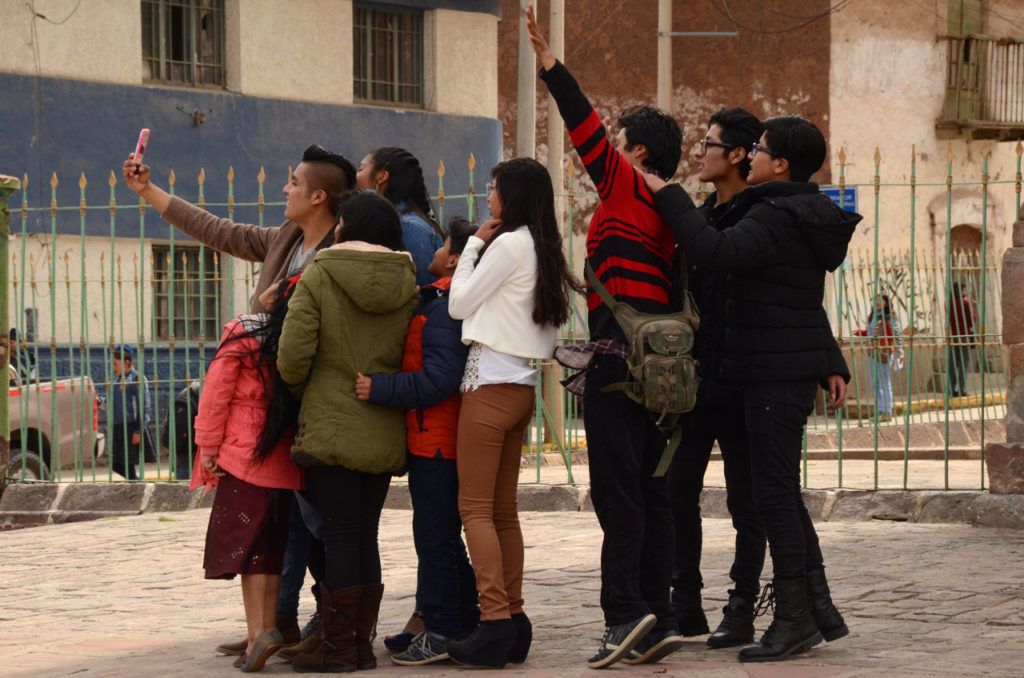 There is generally a little bit of everything going on in the streets.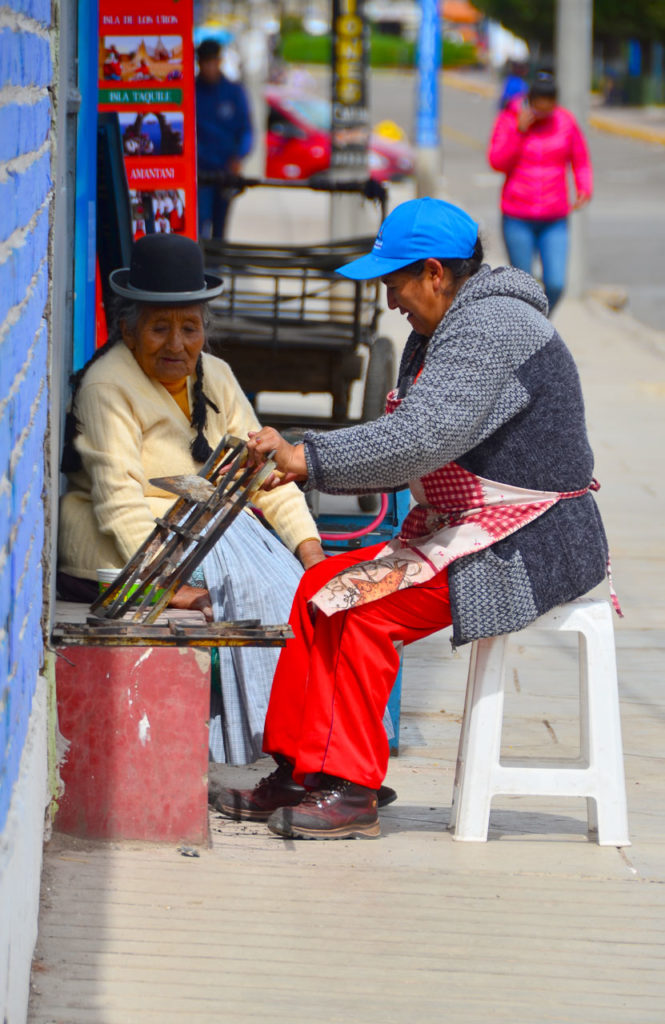 Puno sits on Lake Titicaca, which is the largest lake in South America.  It also has the distinction of being the highest navigable waterway in the world at 12,507 feet.  There is quite a bit of tourism here as is evidenced by the tour boots on moorings in front of town.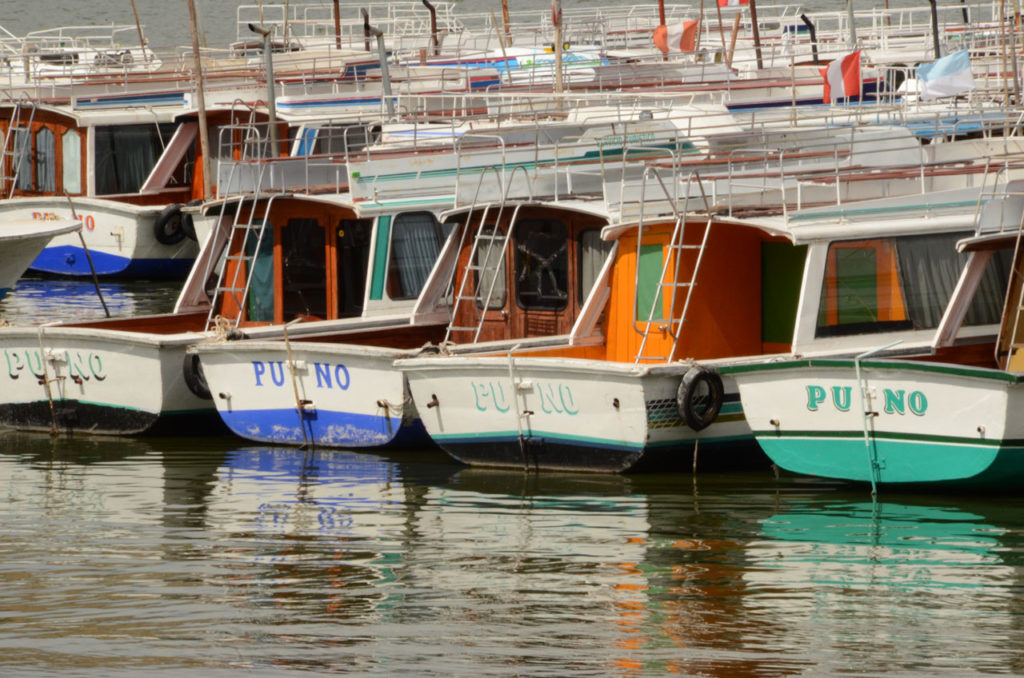 An afternoon stroll on the lake in front of Puno.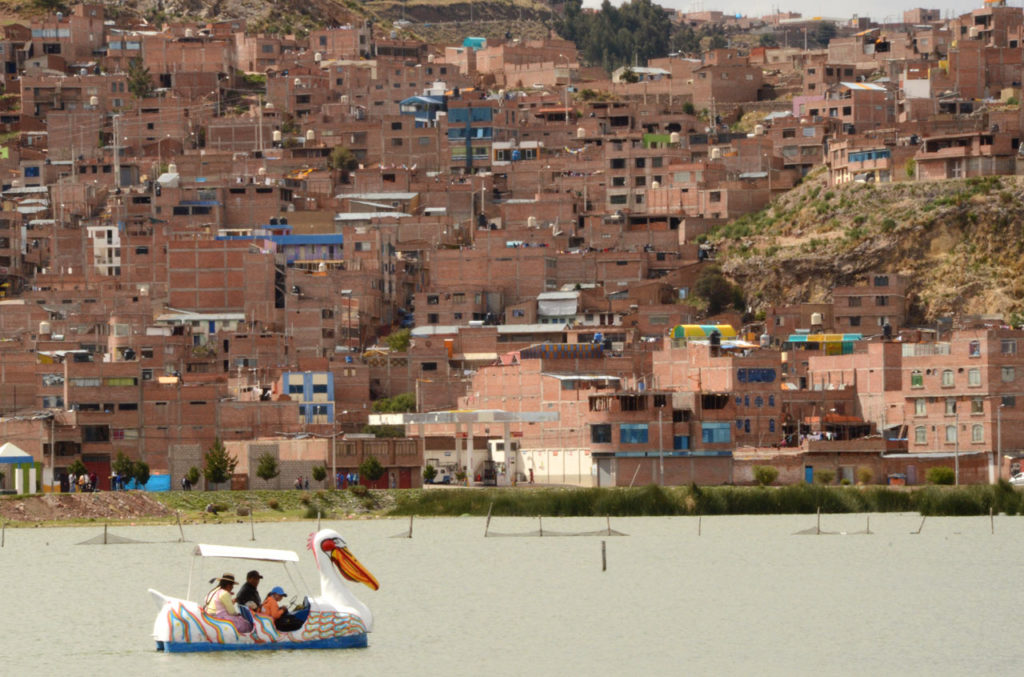 After our rest day we decided to head south for the border and cross into Bolivia.
Here's looking back at Puno.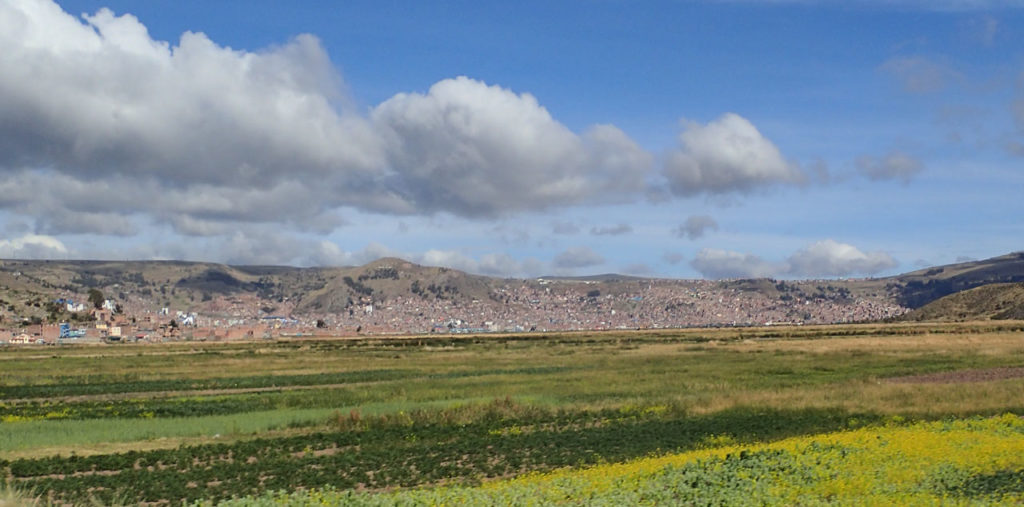 At our last gas stop before the border we met the nicest family that we've met in quite some time.  Even the kids were out by the pumps being curious. 
The things you see along the way.  Riding side saddle and happy about it.
As we got close to the border things became very busy.  It was obvious that there were a lot of people and produce crossing between Peru and Bolivia.  There was a truckload of potatoes being unloaded.  With bags that size I don't even know how they were lifting them.
As we approached the border, it became quite chaotic.  Like always we roll through the chaos and begin to figure out the process to get checked out of one country and into the next.
There were large loads of garlic being hand carted across the border into Bolivia. 
And equally large loads of onions as well.  
And a quite a few loads of people as well.  
After a few long lines and about an hour, we were out of Peru and crossed the bridge into Bolivia.  We were greeted by a line about 4 blocks long of people waiting to get their passports stamped.  We were a bit surprised to find out that the necessary entry visa was not available at this border, and could only be attained online.  Despite all the research we did that told us the visa could be acquired at Customs AT this border crossing(for $160!), it wasn't that way.  It seems this policy has just changed recently.  We tracked down internet to learn that getting the visa online takes 2-7 days.  After three hours of trying to get into Bolivia we realized it was in vain, and rode the bikes back across the bridge into Peru.  On to Plan B.
Back in the Customs line to get checked back into the country we just checked out of.   This time the lines were longer, but went fairly quickly. 
One of the challenges of traveling in this part of the world, and having fun on a trip like this, is staying flexible enough to change your course of action at any given time.  If you can keep it all in the proper perspective, not get frustrated, and know that things will always work out, it all turns out okay in the end.  Like any great adventure it's the unknown that keeps life interesting.  So we hit the road headed west on one of the more amazing roadways we've been on.  We'll now plan on crossing the border into Chile tomorrow.
This turned out to be a great afternoon of riding as we climbed up and traversed a high plateau at 15,500 feet before descending down to the town of Moquegua at 5,500′.  In the end we were both glad to not have missed this part of Peru.   Across the high plateau of the Andes felt like the real Peru with people living close to the land and off the land.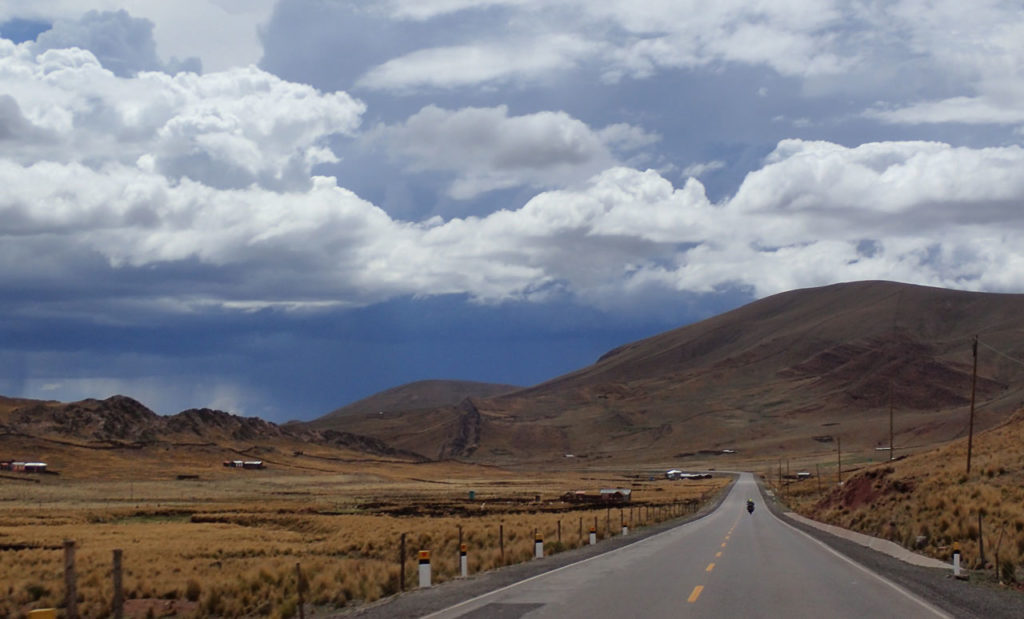 As we neared the top of the pass the temperatures dropped into the 30s which found us stopping to put on another layer.  With snow on the ground and slush on the road, we just kept riding.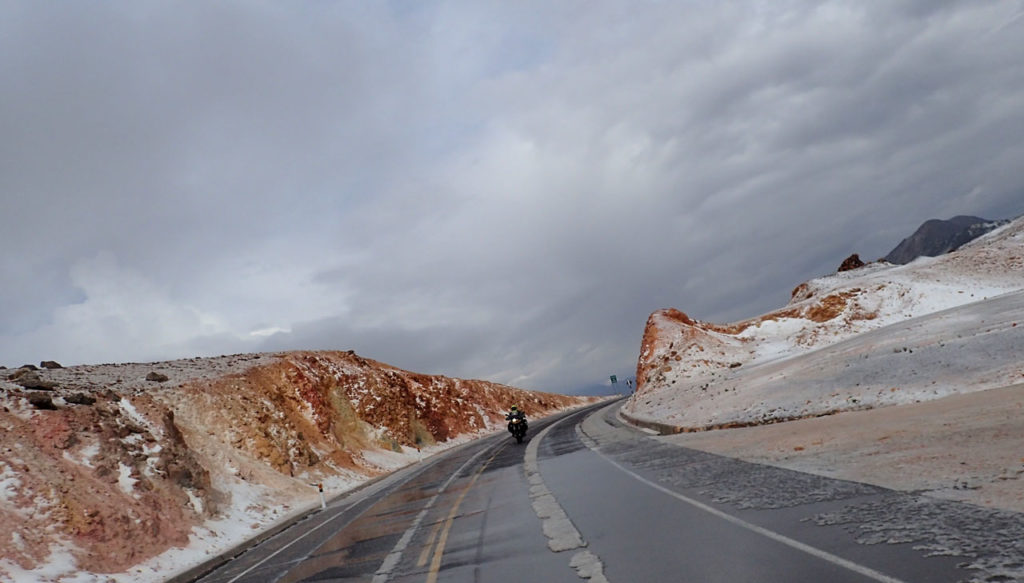 We proceeded in awe and with caution as we wound our way down the pass to spend the night at a much lower elevation and much warmer temperature.
We had plans to ride to the border today and cross into Chile.  Well, nothing ever goes as planned.  At 3:30am I woke up with the most excruciating pain I have ever felt.  A strong, sharp, internal pain in my lower back/kidney area.  It was bad enough I was to the point of nausea and nearly passing out.  Without any explanation what may be the cause, I really didn't know what to do, but didn't see to many options as the pain I was in was so severe.  Tracy rounded up an ambulance, which is no small task in a foreign country, and off I went to the hospital.  All the staff were great and despite the language barrier gave me a pain killer and after several hours, sent me on my way.  After sleeping for quite some time, it was clear we wouldn't be going anywhere today, so we had another rest day.  And for the moment I actually feel pretty good, but still don't have an explanation of what was causing the pain.  I just hope it doesn't come back.  Thanks to Tracy for taking such good care of me.  Not sure what I would have done if he hadn't been here.
After spending a day resting I felt fine, so we decided to get on the road and head for Chile.  But not before i noticed a pool of oil below my bike and discovered the lid on the spare quart I'm carrying had worked itself loose.  So, that was a relief.  In the process. I also noticed the lower main bolt that holds my rear shock to the frame is bent.  So hopefully it doesn't break and I can get it replaced in Santiago.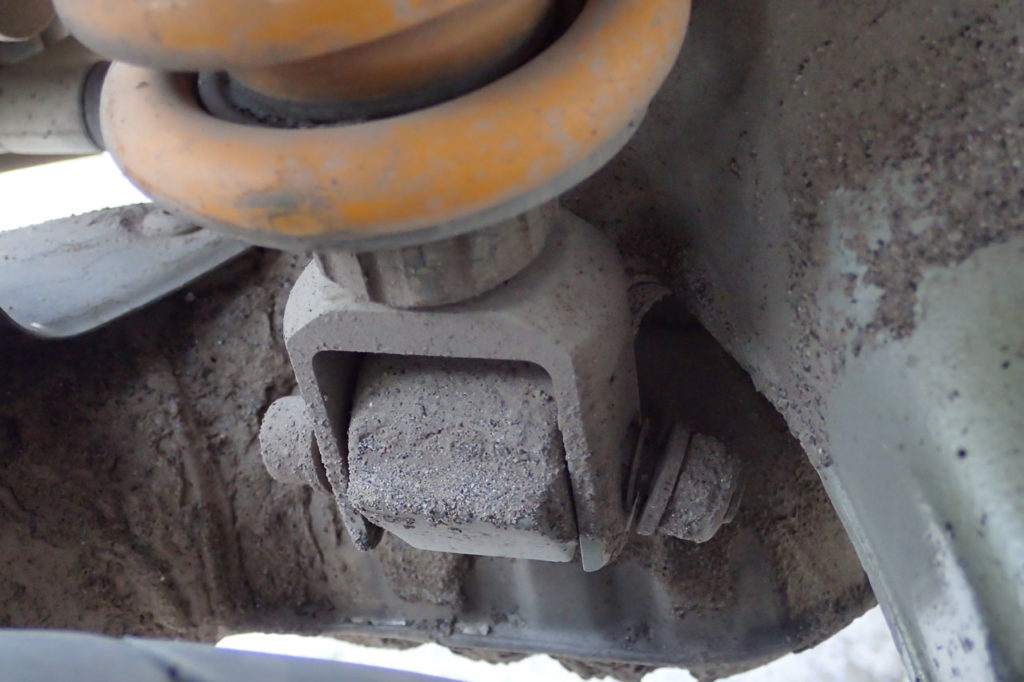 The day was filled with long, straight roads to the horizon.  Less than spectacular riding, but still interesting country to  pass through.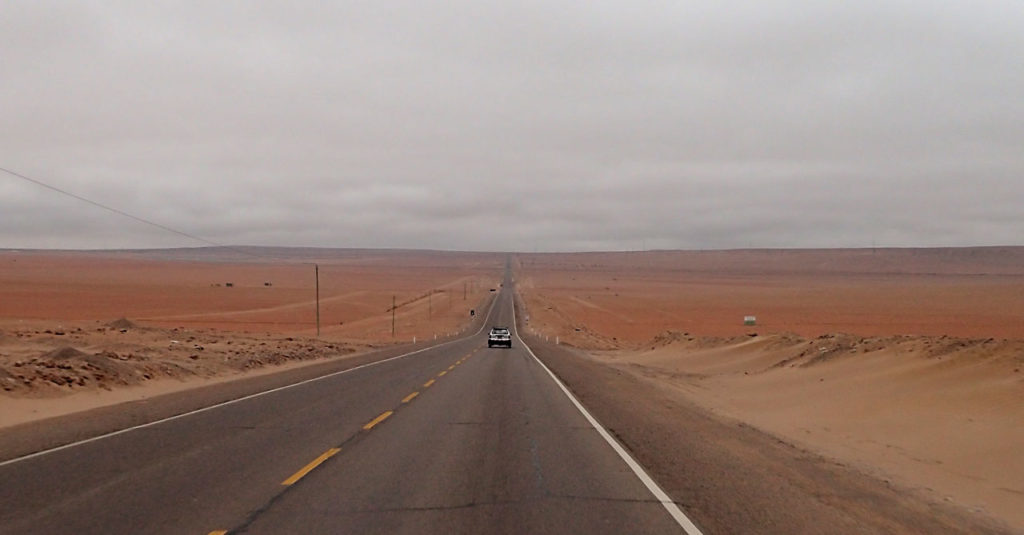 We made it to the border and left Chile without incident.  It's possibly the nicest border crossing we've been to.