My first day out riding solo was a good one.  South of Santiago I passed through literally hundreds of miles of orchards, vineyards, and agricultural fields of every type.  It nearly felt like I was back in Iowa, except for the ever present mountains on the horizon.

They even use John Deere tractors in these parts.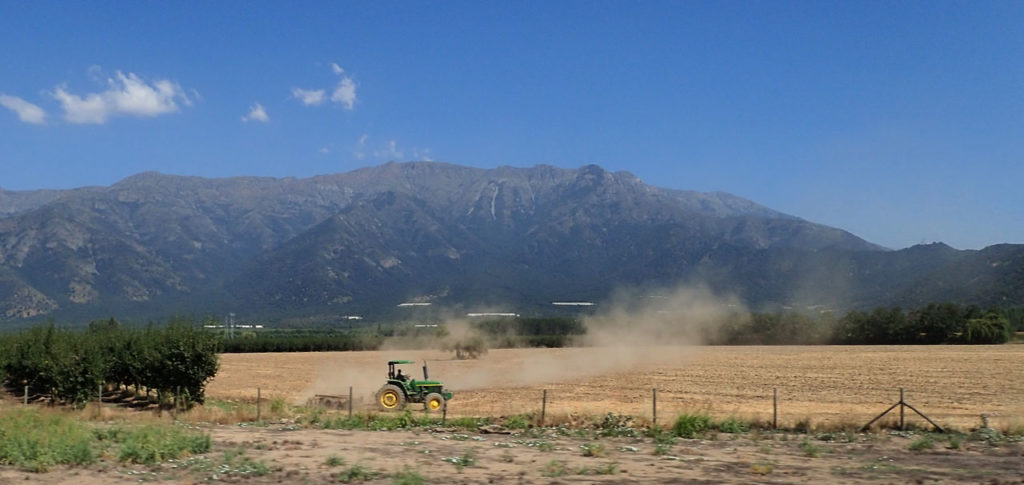 Though it was evident that much of the planting and harvesting is done by hand.  I saw entire neighborhoods of Company constructed houses to house the workers during the harvesting season.  There were many huge warehouses I passed with known brand names, like Del Monte.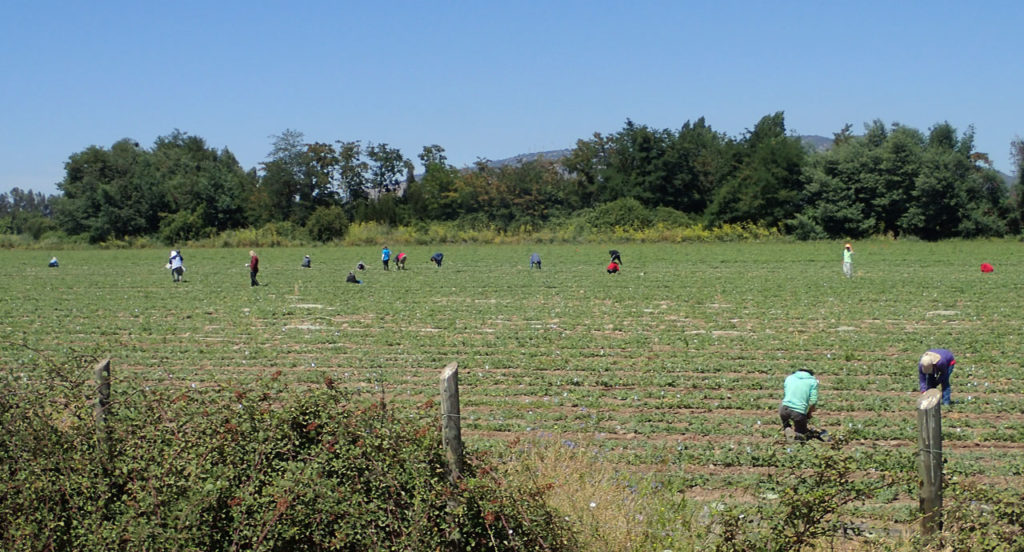 I've never seen corn so carefully packed into a trailer in my life.  This was impressive!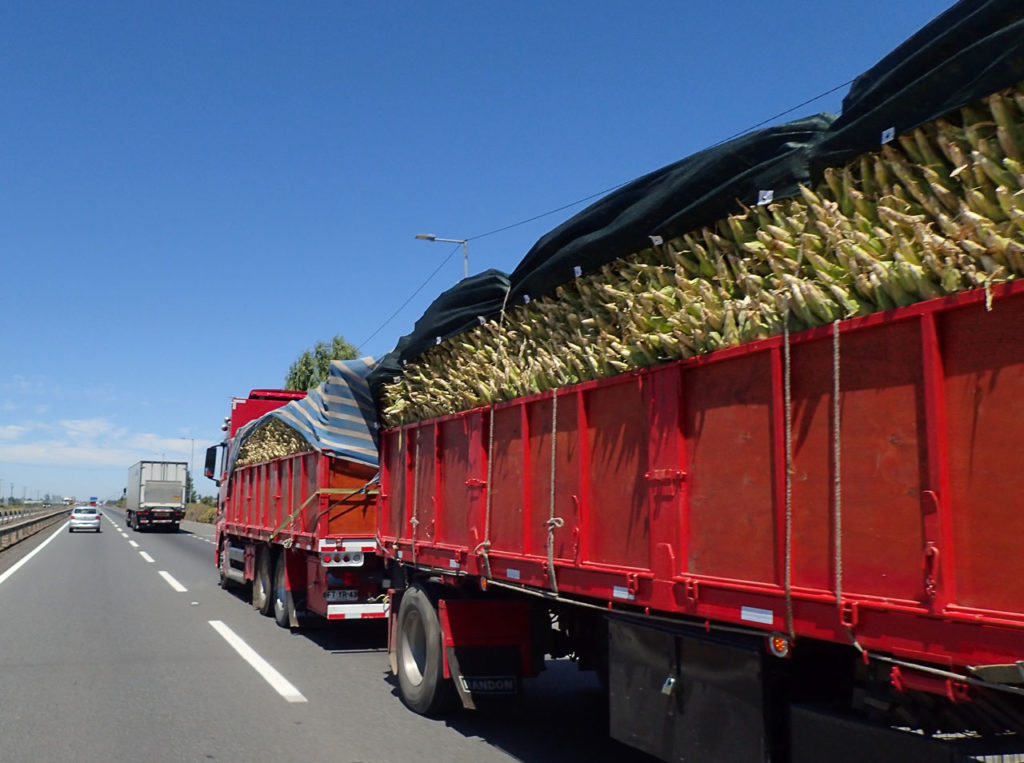 The further South I drove the more vineyards I saw and it eventually turned into wine country with quite a few wineries in the area.  I ended the day in a small town called Angol.
.

While still passing through farm country, I'm amazed the amount of labor out in the fields working.
The further South I go I find myself getting into what is called the Lake District.  Lots of lakes and ferry's that go between small islands and towns.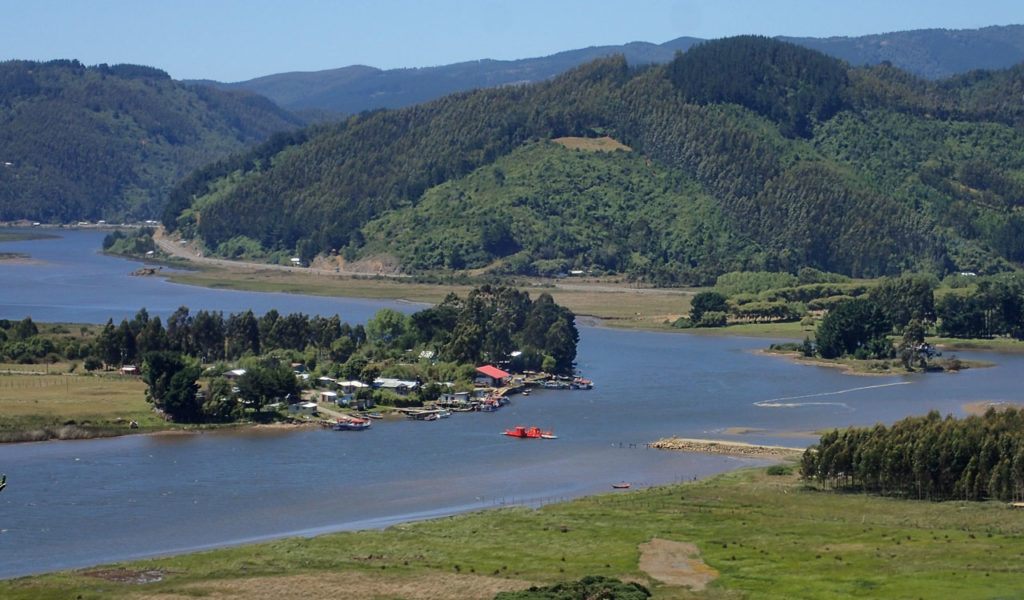 Before I head inland, I had one last night camping on the beach right on the Pacific.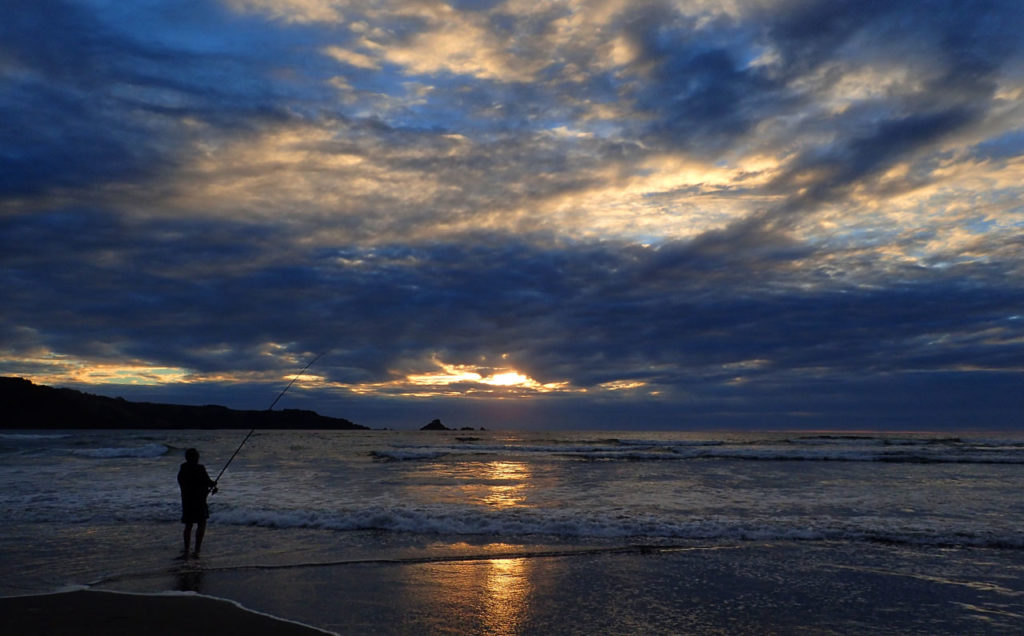 As a storm front rolled in, it turned out to be quite a dramatic sky just after sunset.
By morning it was raining and I haven't seen rain in awhile.  I drove into Puerto Montt, where the locals tell me it's been raining quite a lot lately.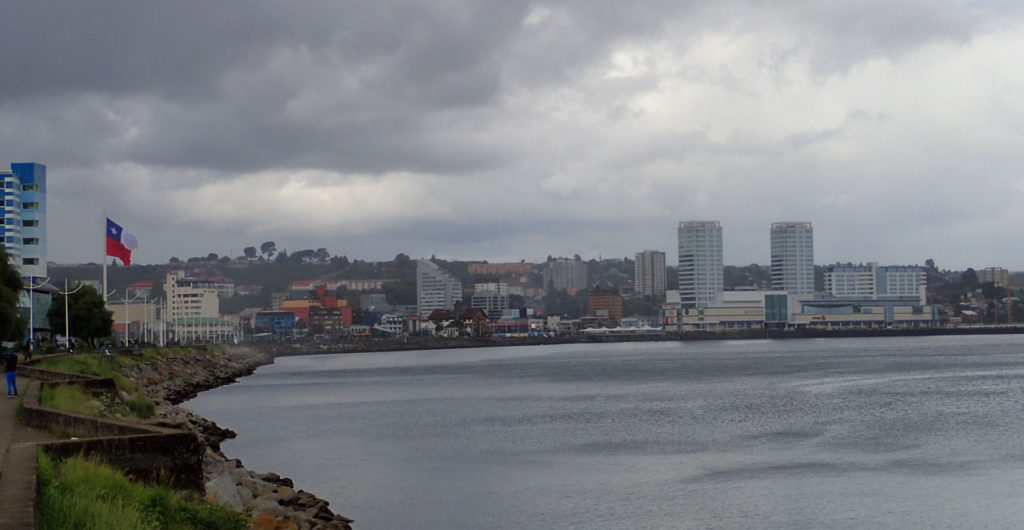 I spent the afternoon exploring the city.  Chile has been quite civilized and very modern in all respects.  The roads are nice, the driving sane, and everyone very friendly.  All the highways have tolls, gas is a bit more expensive, as is everything, when compared with other countries.  This guy was selling big blocks of cheese and some disgusting looking seaweed.  Business seemed to be at a snails pace.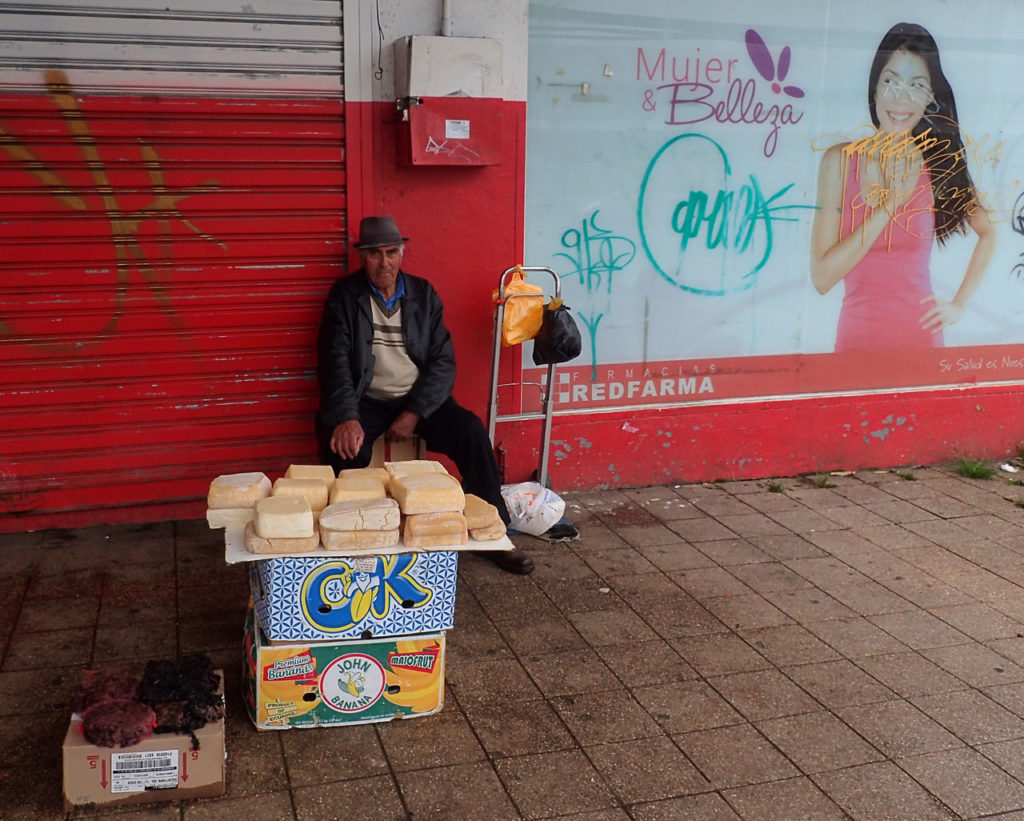 These guys had a bit more to offer, but their marketing had a bit to be desired.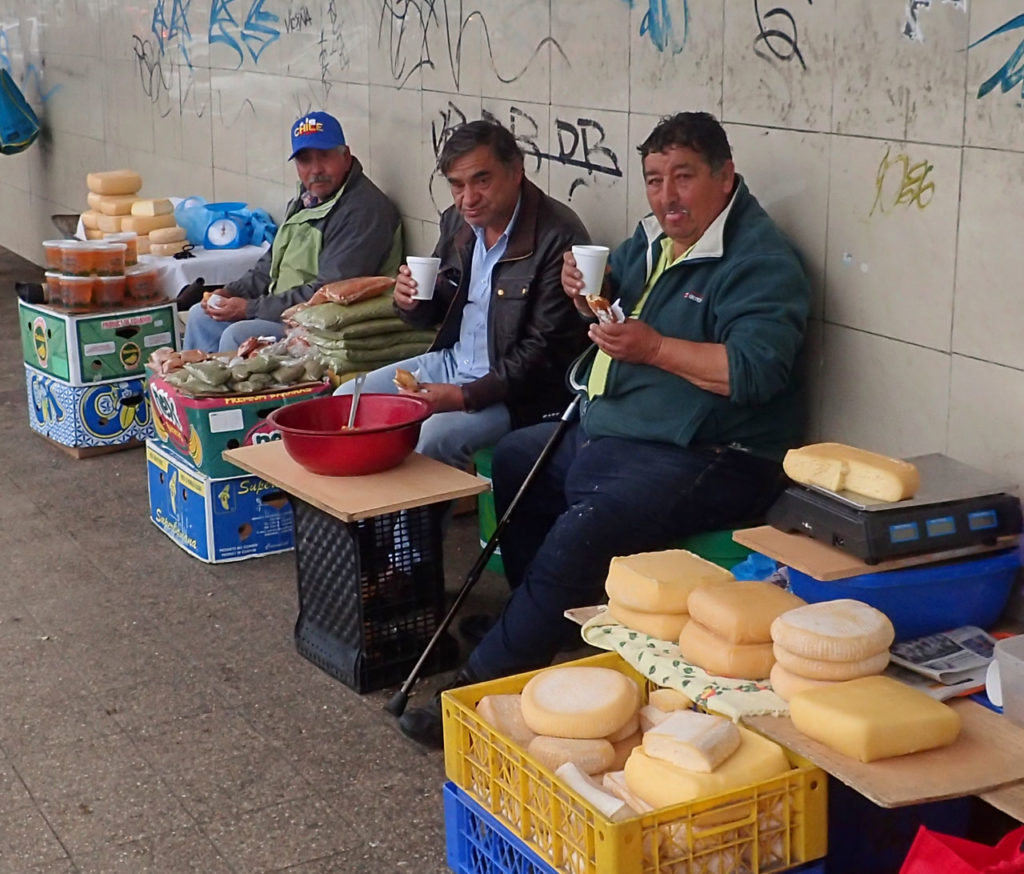 After leaving Puerto Montt I decided to head to Isla Grande de Chiloe and do some exploring.   To get there I had to catch a short ferry to the island.  There were quite a few people on board that noticed my Alaska plates on the motorbike.  The usual questions go something like, "Where are you from? Where are you headed?  How long is your trip?  What kind of motorcycle is it?  What size is it? and How many cylinders?"  However, when I found myself surrounded by a gaggle of Chilean school teachers, the first question was, "Are you REALLY from Alaska?"  The second question was, "Are you single?"  And the third question was, "Do they need school teachers in Alaska?"  They were a fun and lively group, but unfortunately I wasn't able to convince any of them to climb onto the back of the bike 
Much of Chiloe reminded me of Iowa, with a lot of rolling farmland and grazing cows  The stark difference is, it's surrounded by water and the biggest industry is farmed fish.  The indicators on the water are everywhere..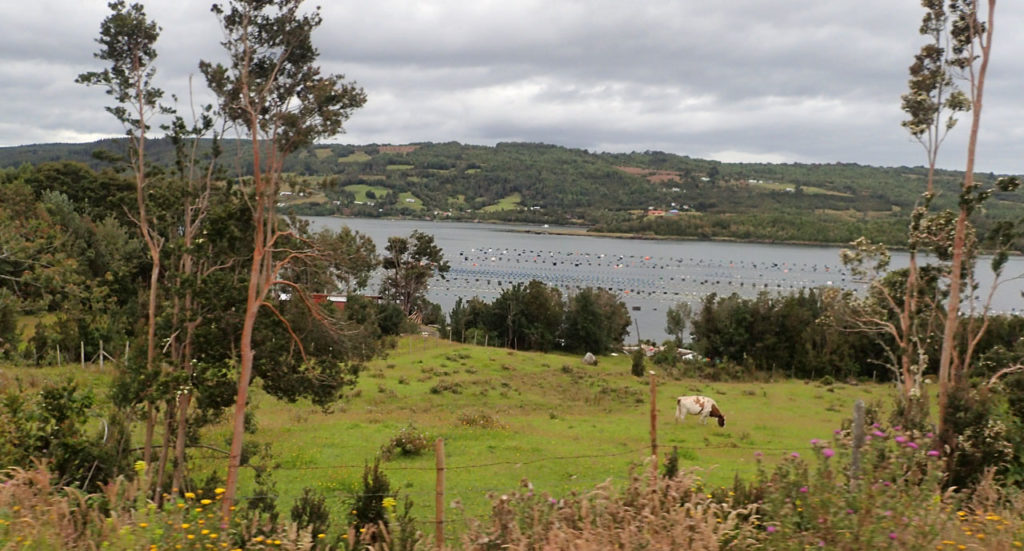 Most of the small towns along the coast are quite colorful and thriving with fishing commerce, farmers markets, and tourism.
I drove to the southern most point on the island and a town called Quellon.  The sign there said it was the end of the Pan American highway and I was 21,000km from Alaska!!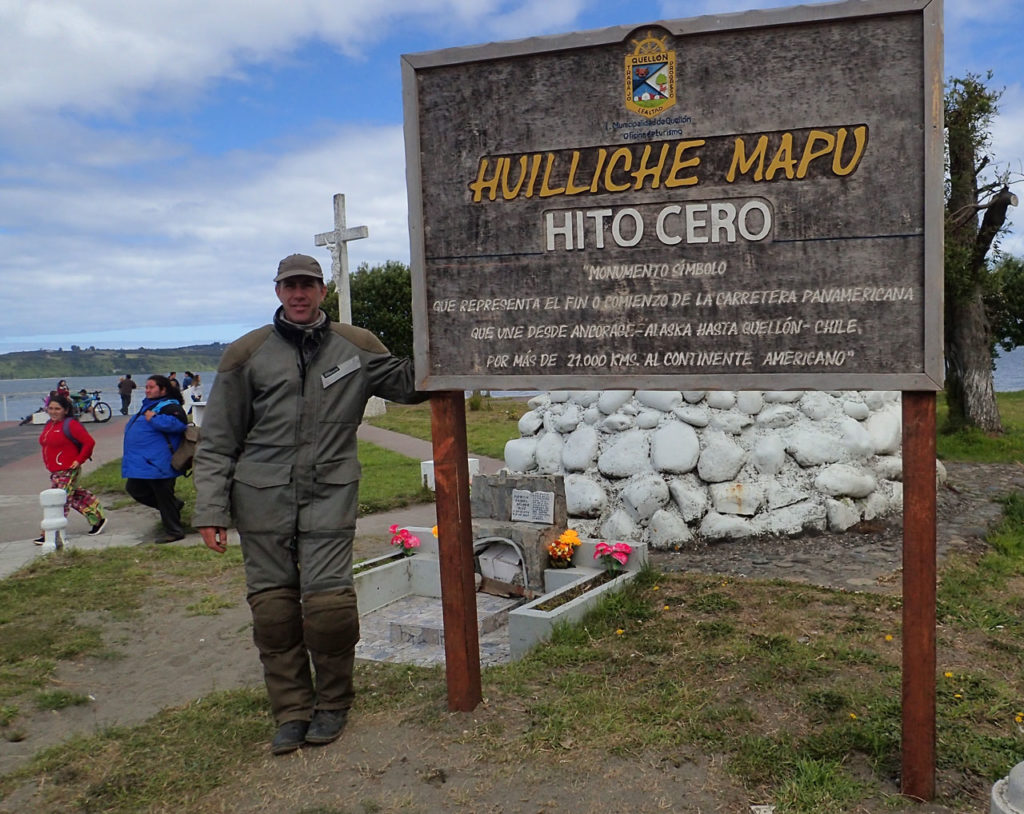 A couple had seen me drive by and turned around to see where I was from.  Turns out Jamie and Javier are brother and sister.  Their Dad drives a BMW similar to mine  They were exceptionally nice and had lots of questions  I even ended up back at their house for a cold drink and a snack before I hit the road again.  Javier will be heading to Ushuaia on his motorbike in a few weeks, so it's possible I'll see him there.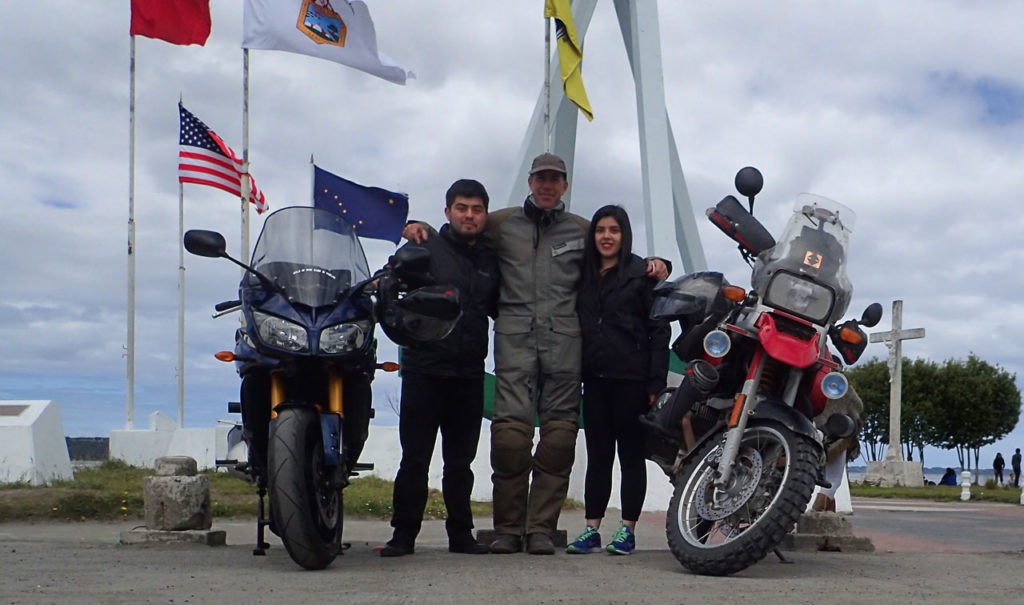 They even showed me the way out of town and waved me off when we split and I headed North.  Really great to meet these two!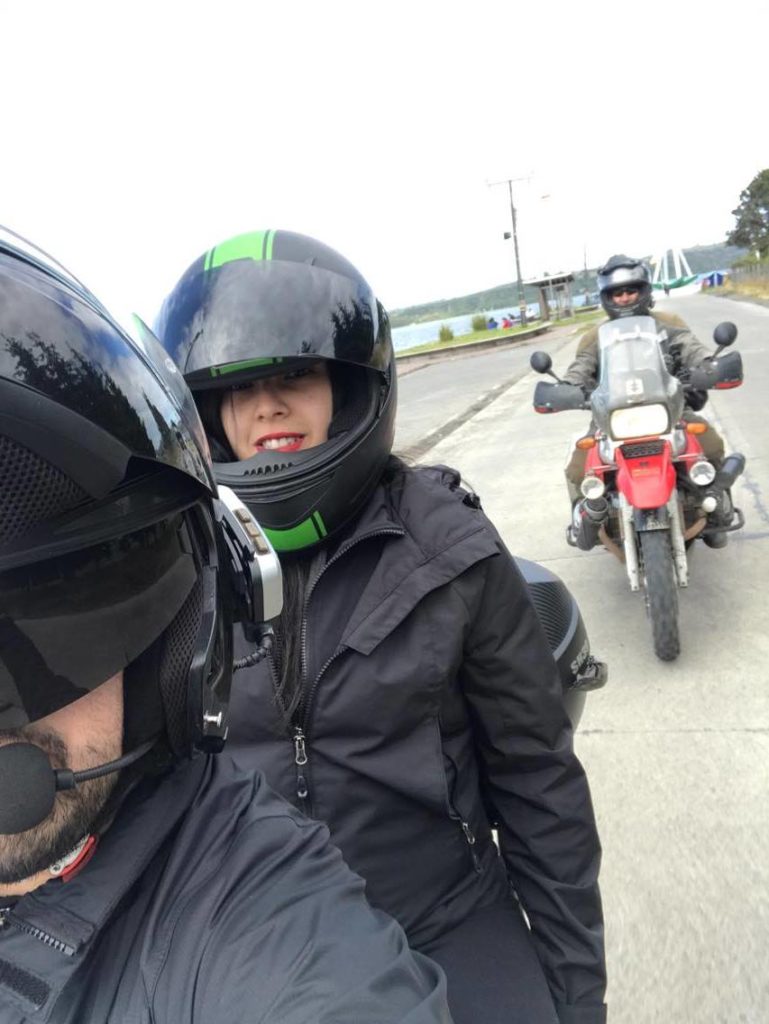 I headed for Volcan Osorno today, right on the shores of Lago(lake) Llanquihue.  A local told me there was a National Park around this volcano and a road that went part way up it.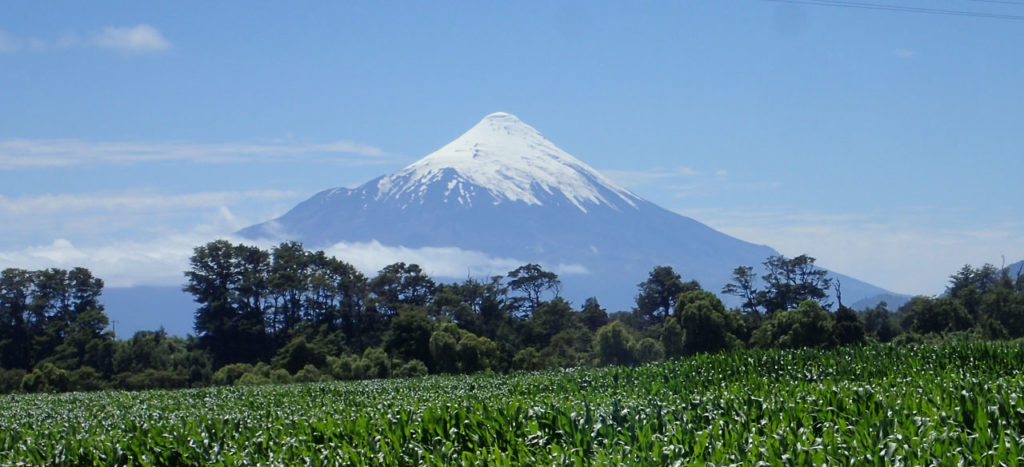 There road ends at the base of a ski resort and I could not resist but to hike up to snowline.  I could probably make it to the top in my hiking shoes and an ice axe, but the Rangers require a bit more gear, which I don't have along on this trip.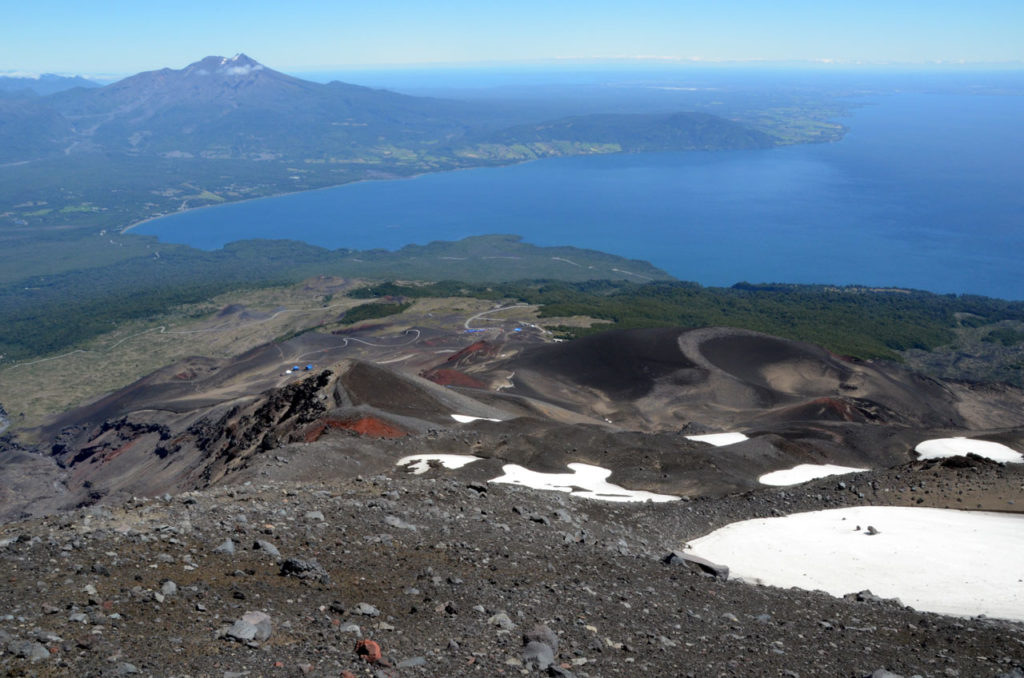 It was quite windy on the hike up but the weather was perfect and the view over the lake stunning.
  After hiking I drove up another valley nearby and was treated to more astounding views and another volcano peeking over the horizon.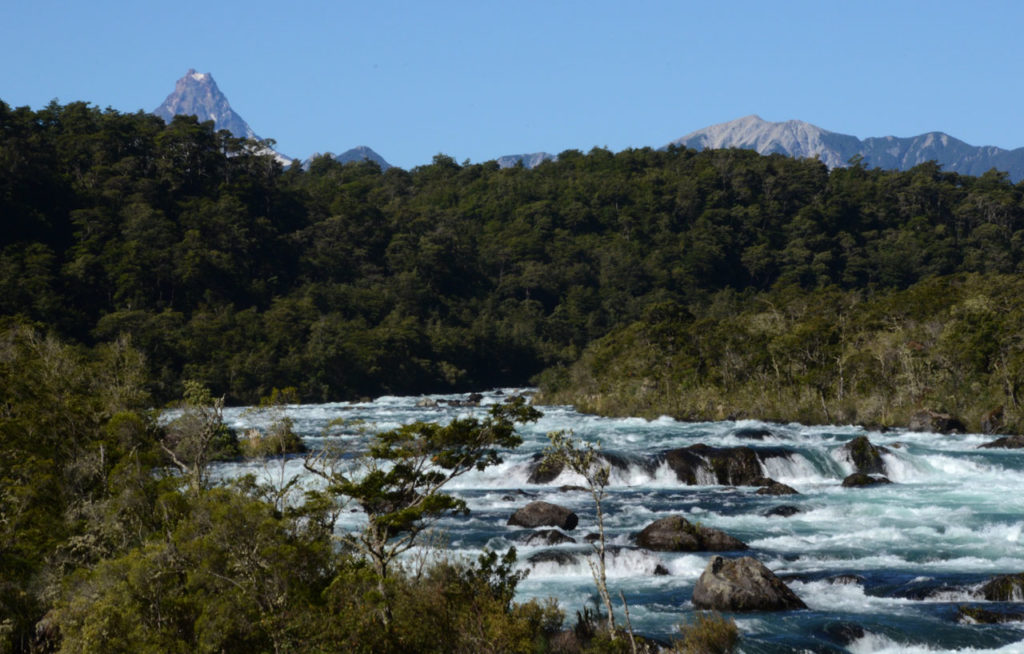 I ended up back at the lake at a nice campground right on the lake, where a swim was in order.  Even for this Alaska boy, it was a bit chilly.  The local kids sure didn't seem to mind though.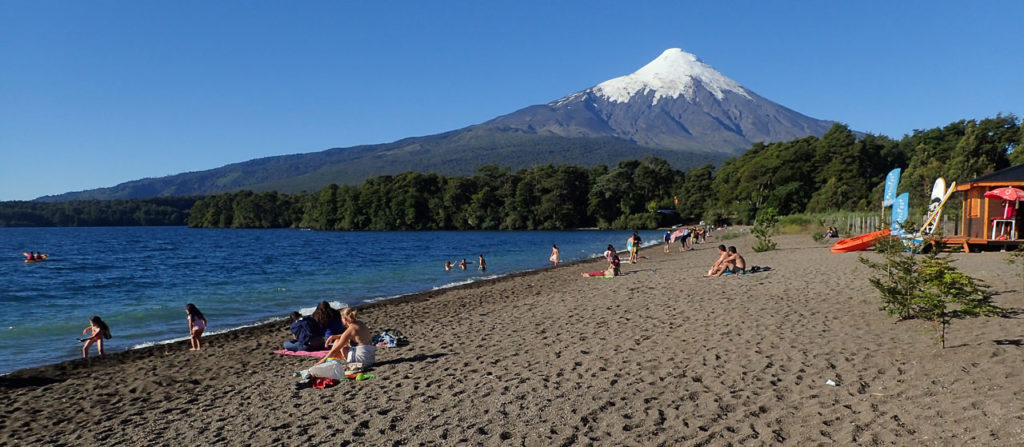 The sunset on this night was spectacular.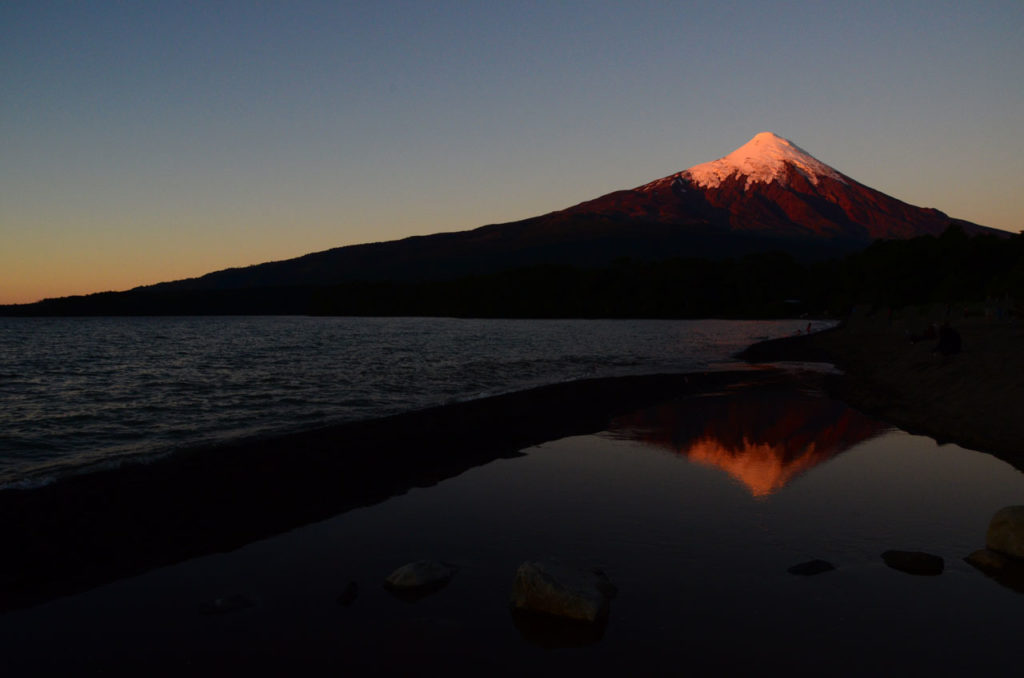 On the way hiking down Volcan Osorno, I met a local woman named Constanza.  She's has traveled all over Chile, so I had a lot questions for her about places I should visit on the motorbike as I travel south.  She had a long list of her favorite spots as I kept busy marking up the map
The next day we met up to hike another volcano, one that she hadn't climbed yet.  The hike to the top of Volcan Puyehue took much longer(6 hours) than both of us expected, but it was well worth the effort.  We started down in the valley where the grassy fields are.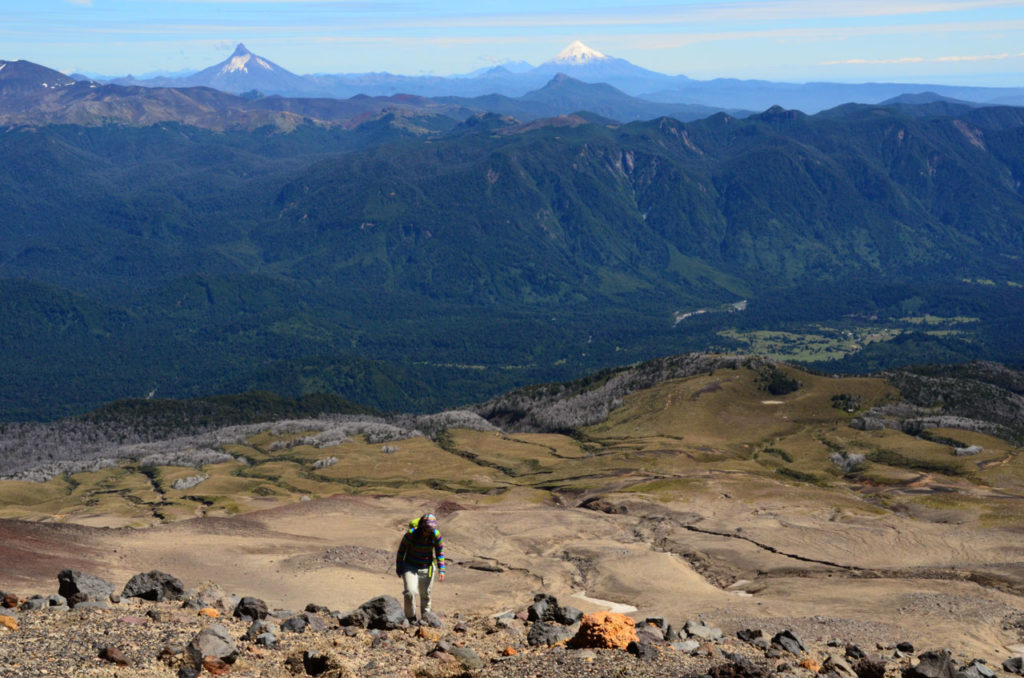 The views from the top across Chile and into Argentina and the other volcanoes in the area was nothing short of stunning.   
At the top we looked into a giant, and I mean GIANT snow filled crater.  This volcano is randomly active.  The hike around the rim of the crater looked very inviting, but will have to wait for another day.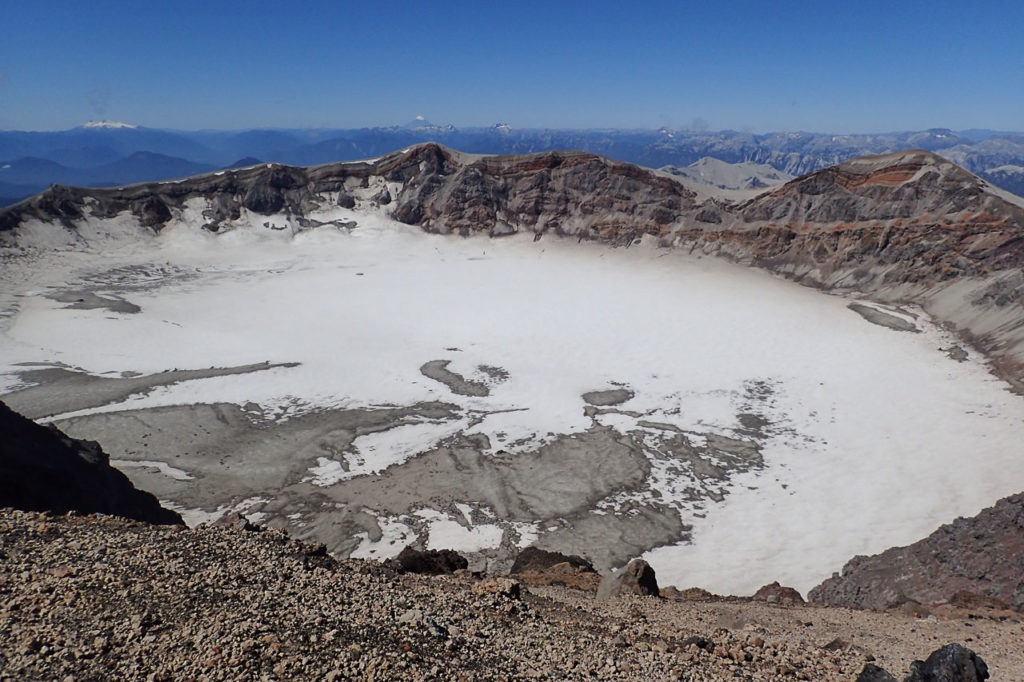 I was asking about this volcano and climbing it, but was told it is really only feasible to reach the top during the winter months.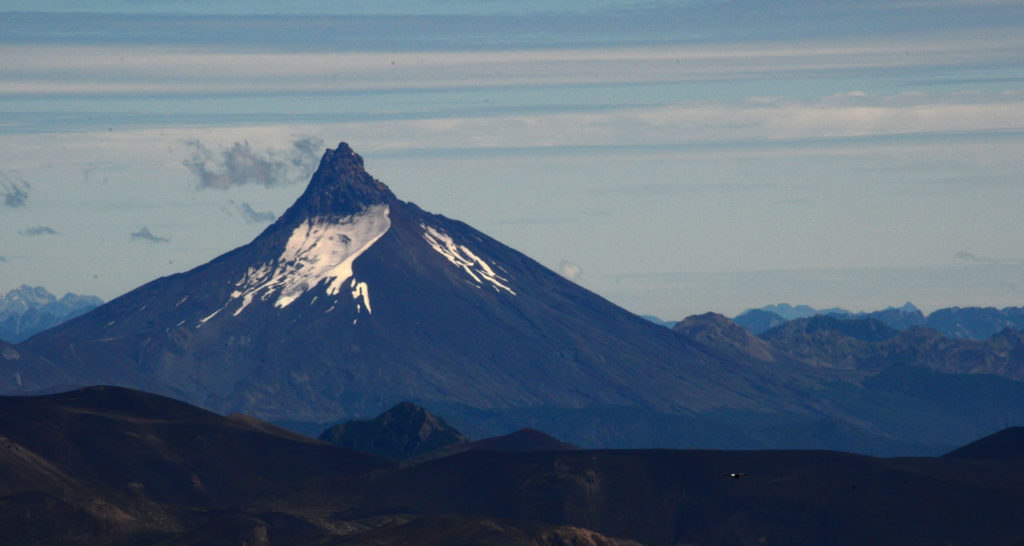 After Puyehue I traveled south to explore the coastline.  Under overcast skies the road wound along endless inlets filled with fish farms.  Farmed salmon is a big industry in this part of Chile.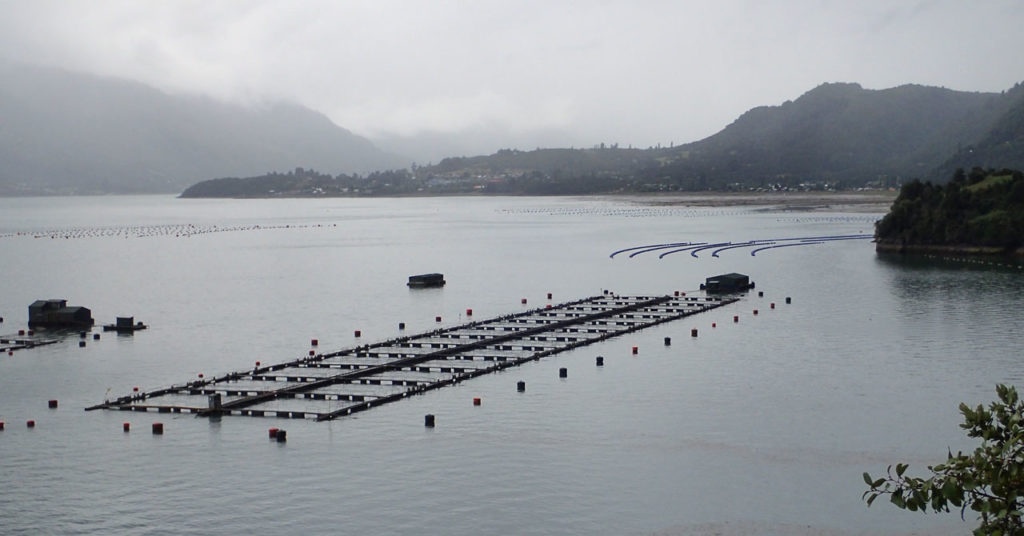 I made it to Hualaihue to catch a three hour ferry ride further south.  Of course, the ferry didn't leave until late in the day so in the pouring rain, several of us motorcycle travelers waited patiently.  I met Sess from Singapore.  He was heading south to meet up with his group of 9, after being in an accident and getting his bike repaired in Santiago.  Erik, from Brazil was a motorcycle tour guide, but out on his own trip.  He knows Chile very well, but hadn't explored this area much as of yet.  We became fast friends and spent several days traveling together.   I learned that Singapore is a VERY small country…..30 square miles and 5.69 million people!  I also learned that in Brazil ANYTHING that imported has a 110% import tax. Both of these things seems astounding to me and made me grateful for being from the US.
We were glad to be on the ferry to dry out a bit and it was a beautiful crossing….very reminiscent of Alaska.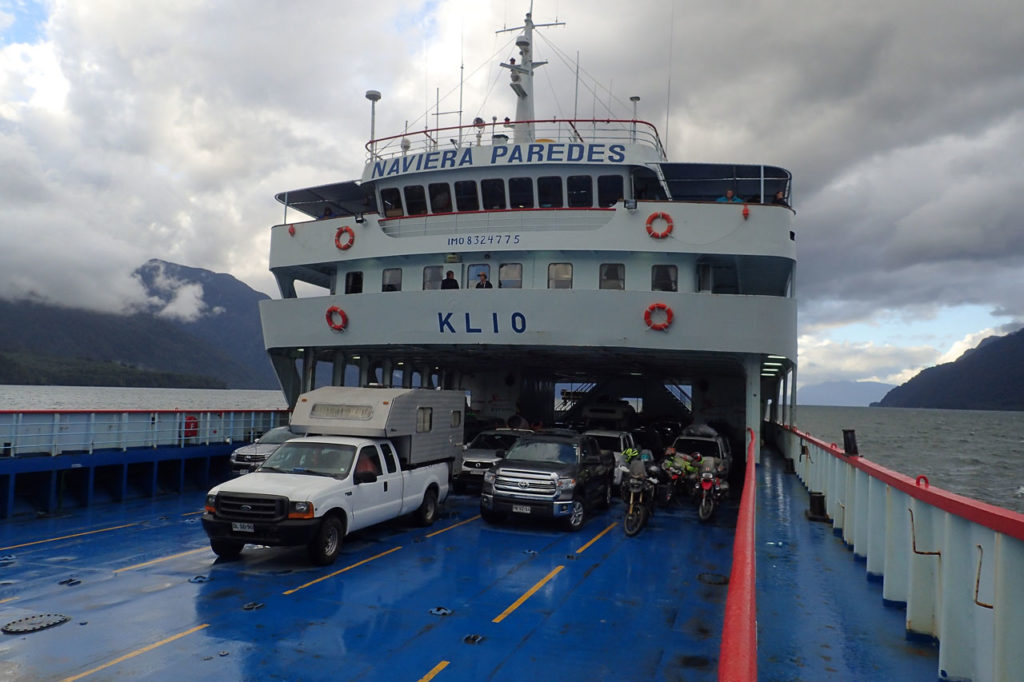 Just like Alaska, tall peaks, lots of clouds and waterfalls.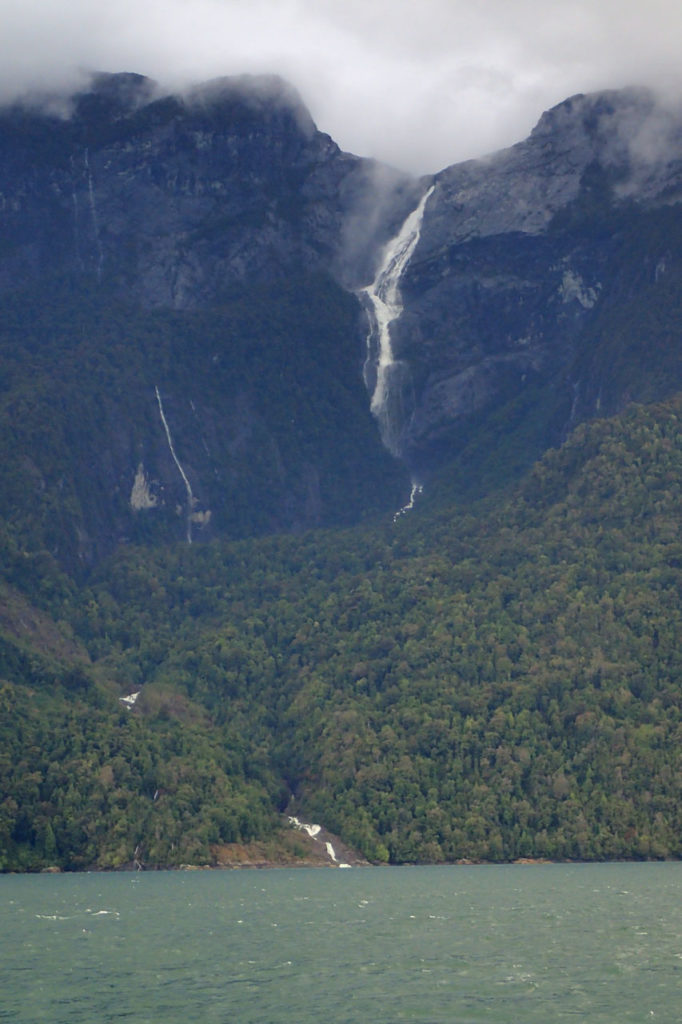 As it was getting quite late, we were treated to a fantastic sunset.  The downside was we had to ride on wet dirt roads in the dark to get to the next town where we'd spend the night.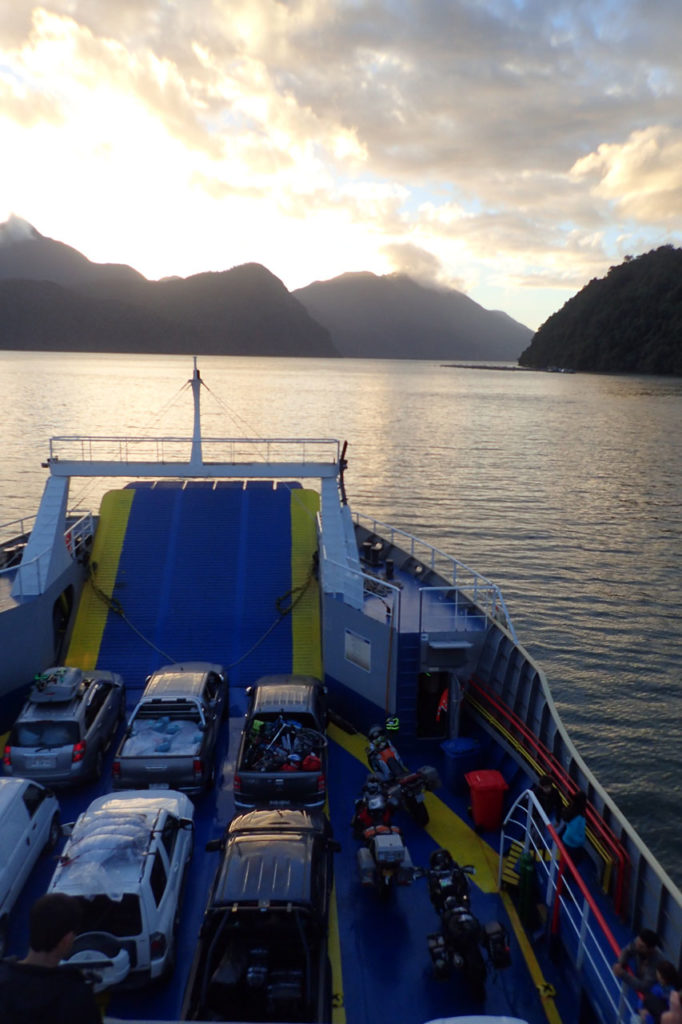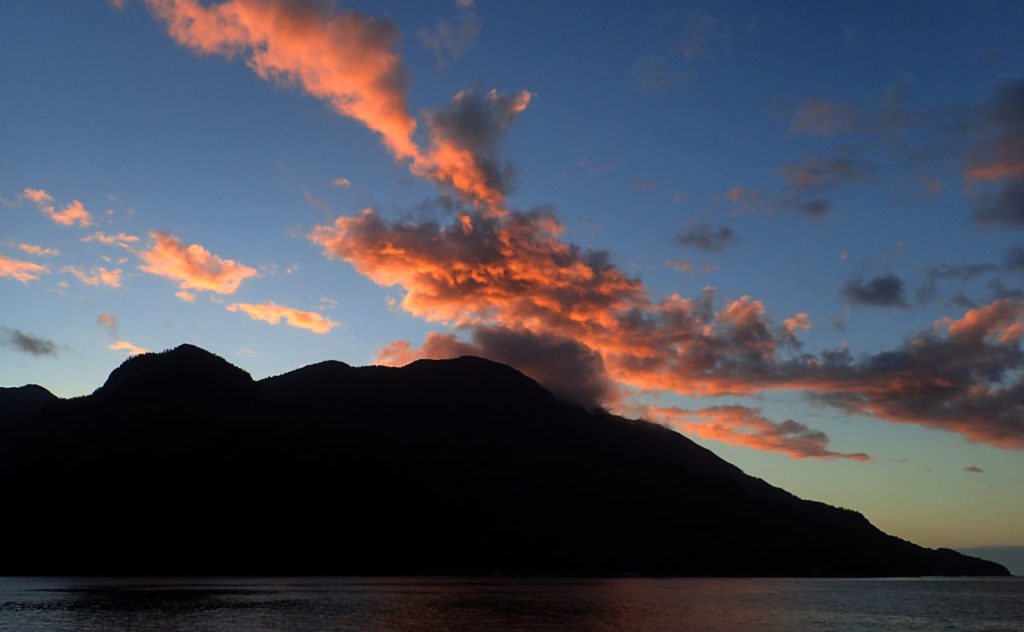 Being on motorcycles we were able to stay ahead of the other traffic off the ferry.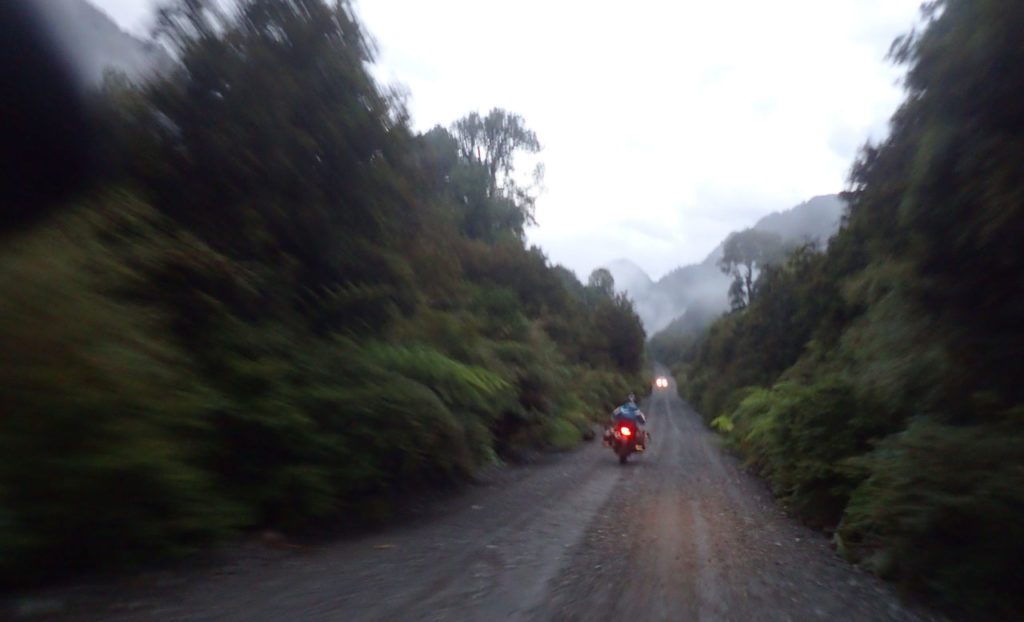 The next day, Sess headed east for Argentina to meet his group.  Erik and I continued south and were dumbstruck by how remote and beautiful this part of Chile is.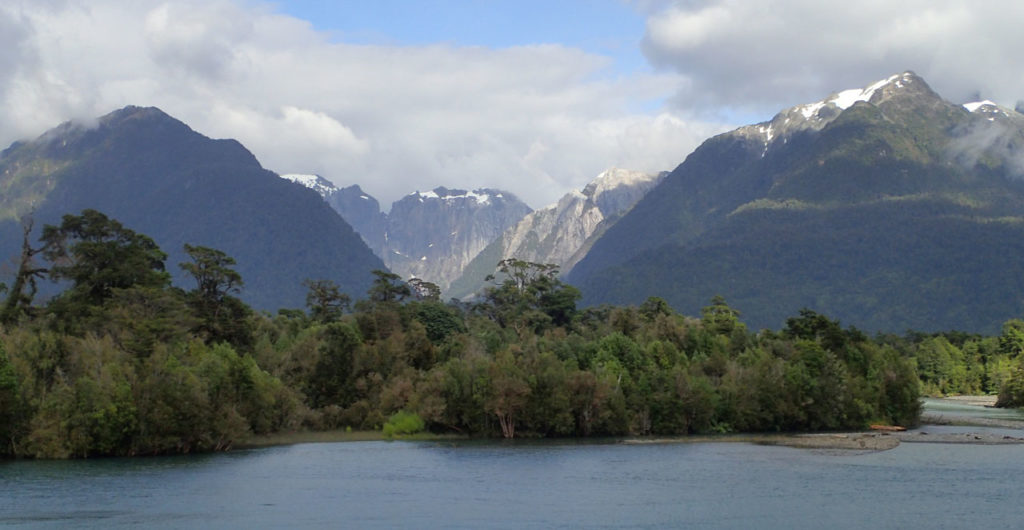 It was also quite surprising how many people we passed on bicycles.  Erik and I both couldn't imagine traveling that slowly.  On top of that, the roads were mostly all gravel AND it was pouring rain.  It didn't seem like much fun.
At some point during the day, I felt one side of my seat drop out from under me.  I knew something was wrong. I thought maybe my rear shock went out.  No such luck, instead I found a broken frame.  Not only one clean break, but two, and another hairline fracture.  I had an indeterminate amount of gravel left to go and was more than three hours from the nearest town of any size. The thought crossed my mind that the trip might be over.  I was on a remote gravel road with a bike that was threatening to fall apart.  I started going REALLY slowly.  As it turned, there was only about 5 miles of gravel and then back to pavement.  And, much to my surprise, just around the corner was a small town and there happen to be one guy in town that had a welder.  Here's one of the cracks, which is a big problem on a trip like this riding a loaded bike on rough roads.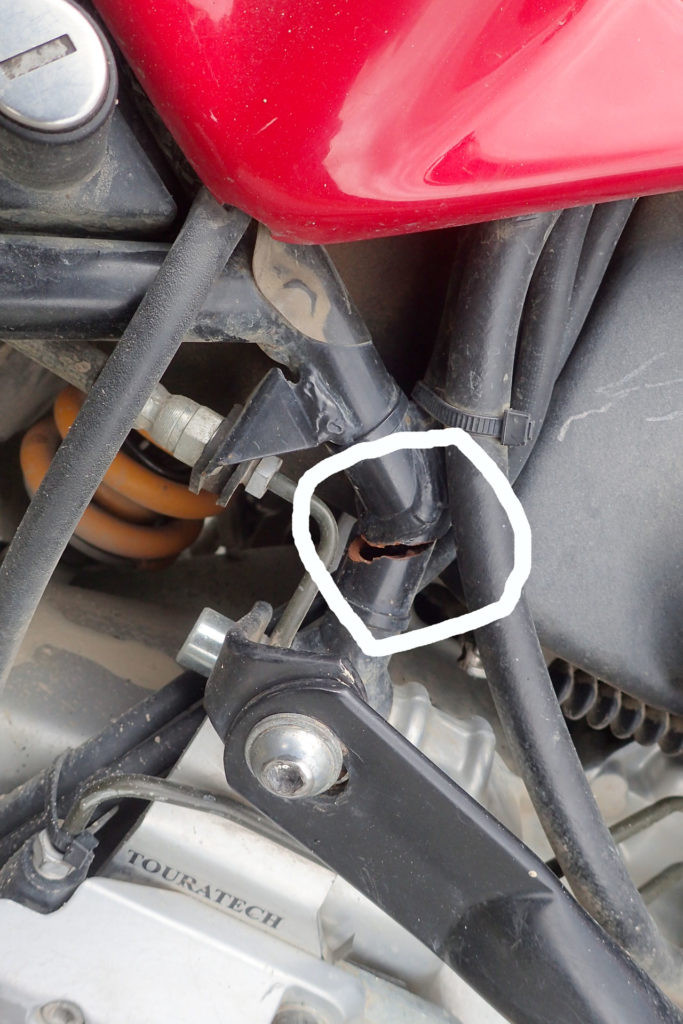 Erik and I pull into the shop and meet Daniel.  He spends about 15 minutes looking over the bike and asking questions.  After gathering a collection of tools…most of them home made, he goes right to work.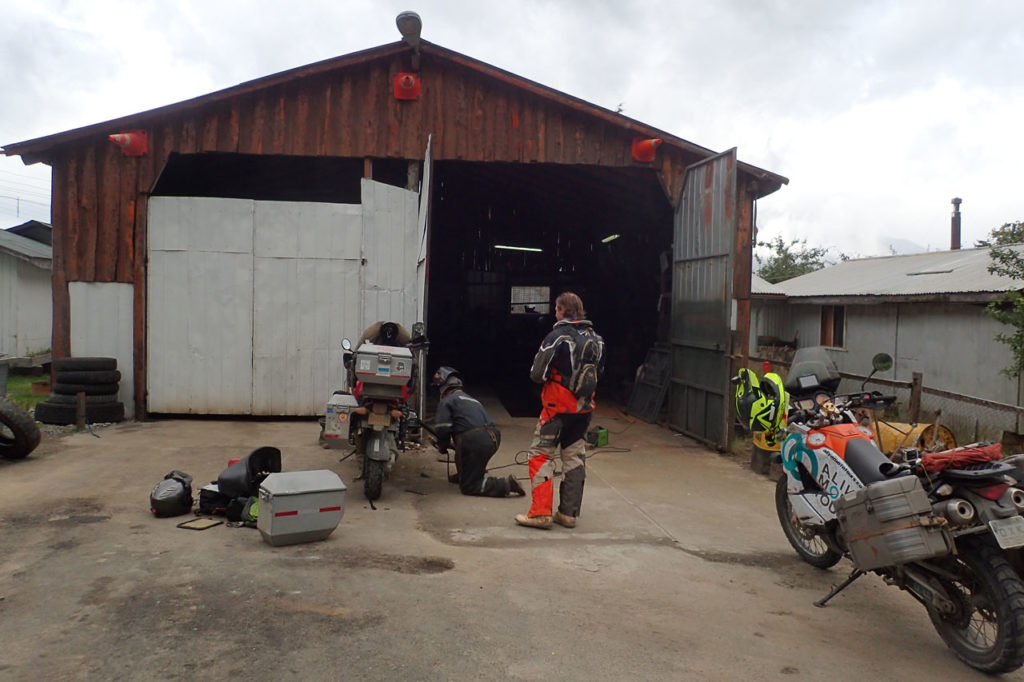 He actually did a perfect job. It's not pretty but it will hold, hopefully for the rest of the trip.  We were back on the road in a little over an hour.  I remain consistently amazed on this trip how things always seem to have a way of working out.  He made some welds and added some pieces of rebar for extra support.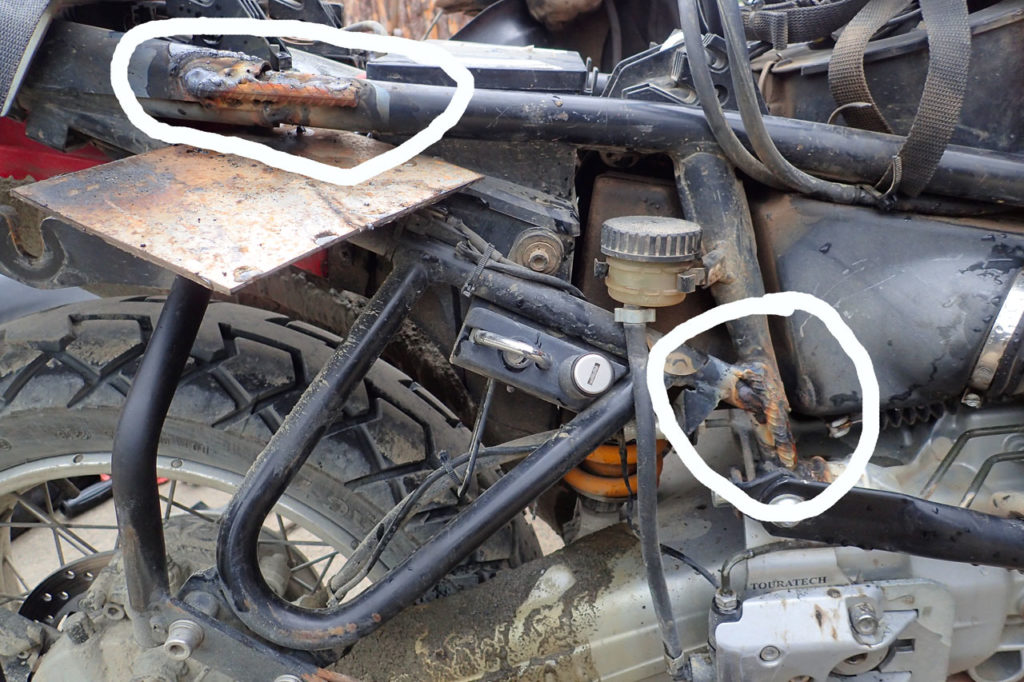 Daniel the Master and motorcycle saver.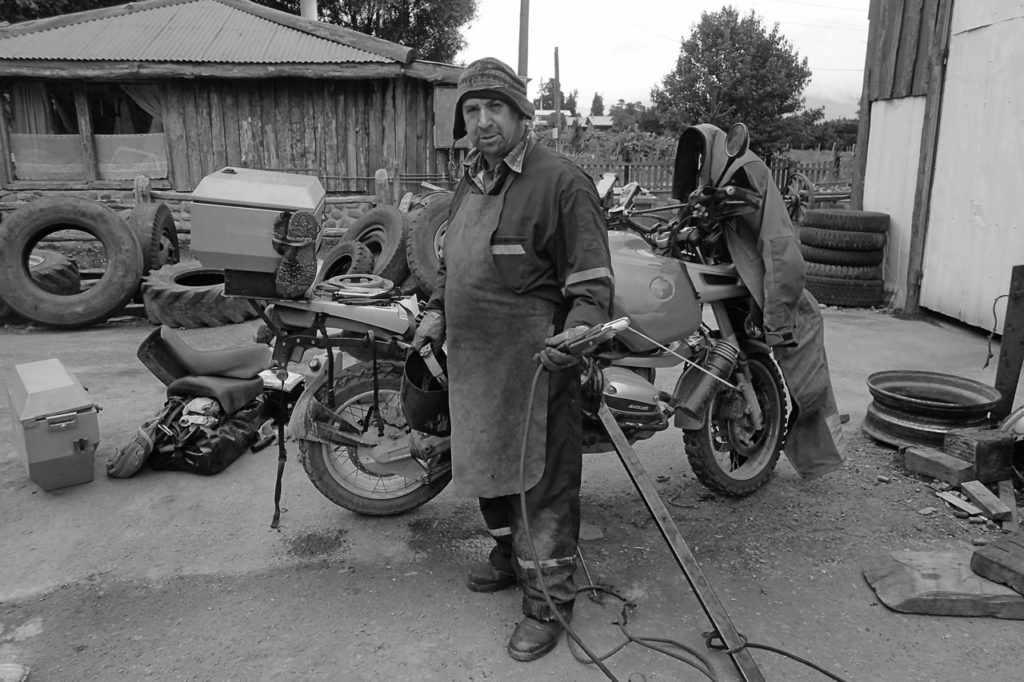 Back on the road, and more gravel and road construction.  This time we were told it will be a three hour delay, which will put us into our destination, again, after dark.  We don't believe that we can't get through with these so called adventure motorbikes.  After a long discussion we decide to ride past the flagger and go have a look to see if we can get through.  I think in the States this would get you arrested, we weren't real sure in Chile what would happen. 
Sure enough, we can't get through.  A huge trench and a new culvert going in. The construction guys tell us, no problem.  They will put the culvert in and add a layer of gravel and we can then pass.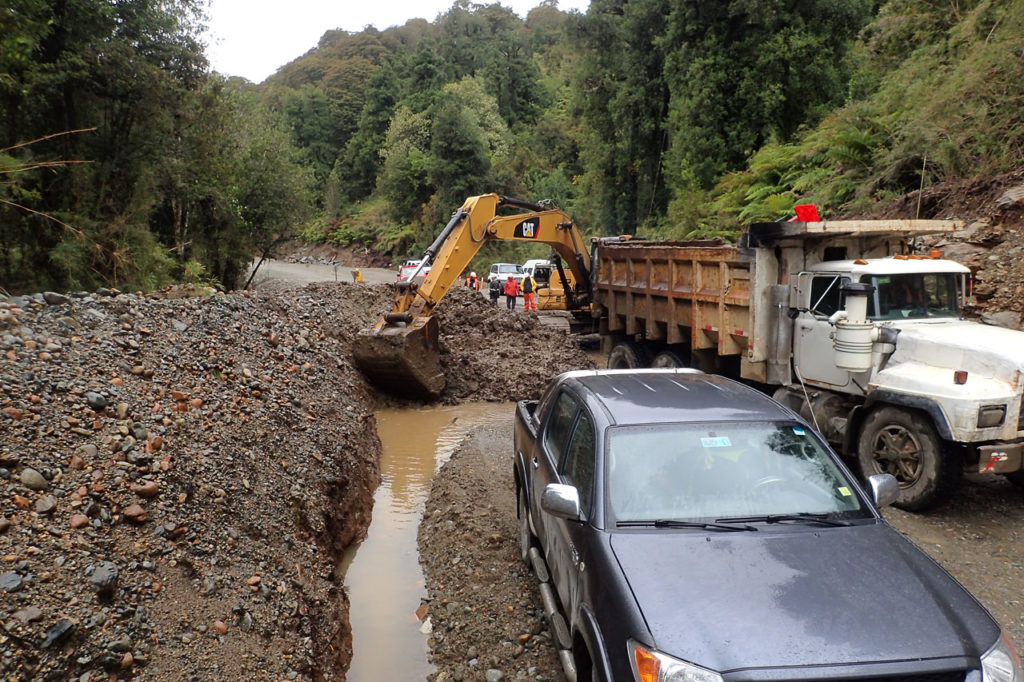 We were super glad that we rode past the flagger!  Little did we realize at the time…..that it was going to take three hours to do this.  We should have known it wouldn't be so easy.
The good part was we used the workers break shack to get out of the rain while we waited.  We actually had a great time swapping stories from the road and other adventures from around the world
.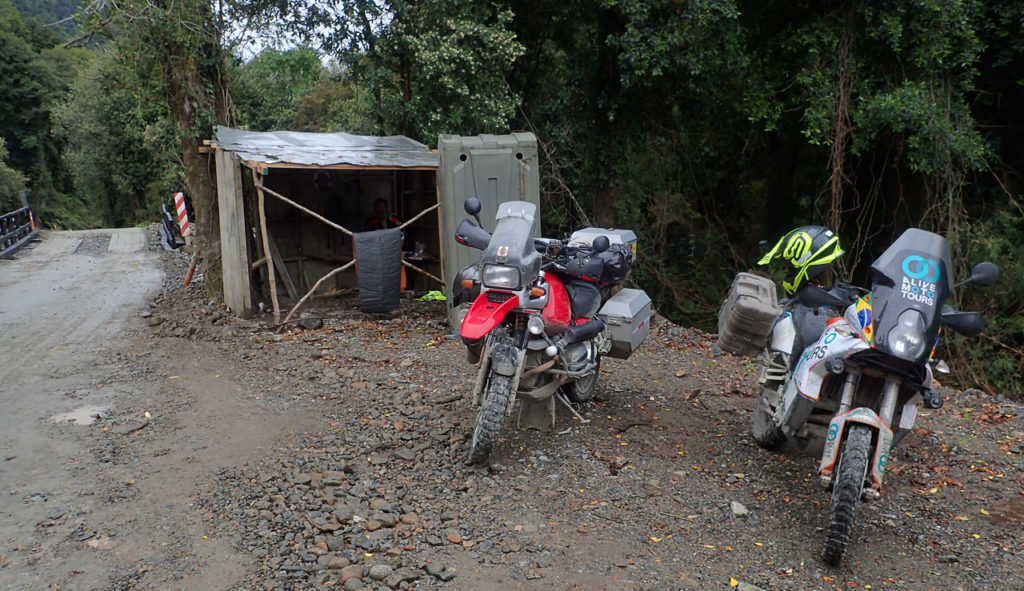 We finally got back on the road and the last few hours of the day the sun came out as we rode through some stunning landscapes.
We ended the day in a fairly large city called Coyhaique after driving through this spectacular valley.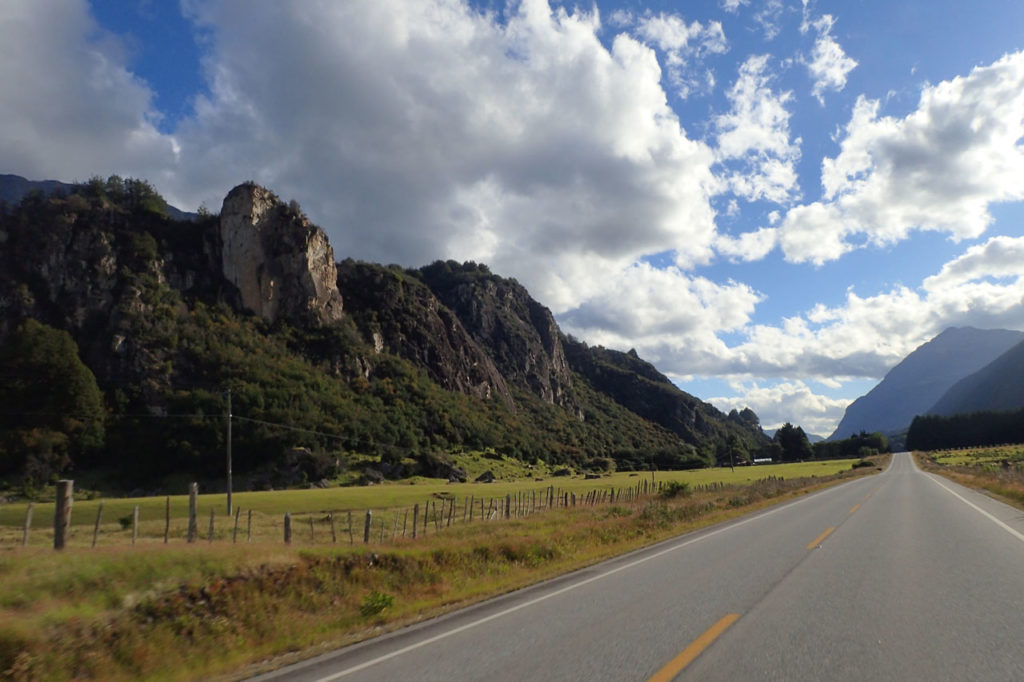 The next day, Erik headed south and I decided to head east into Argentina and not press my luck with getting more remote on my repaired bike frame.  As I left the mountains and rolled towards Argentina, the landscape changed and was equally beautiful, just in a different way.
Much to my surprise I was in for 250 miles of some of the roughest gravel I've been on this entire trip.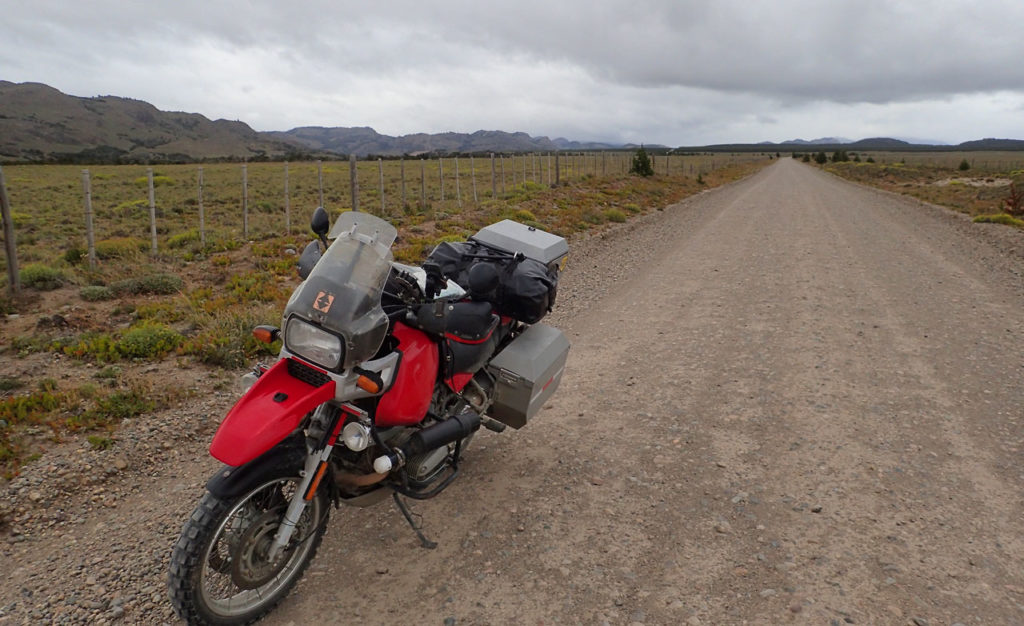 And this part of Chile was even more remote than where we had been.  The landscapes rolled east into full on Pampas.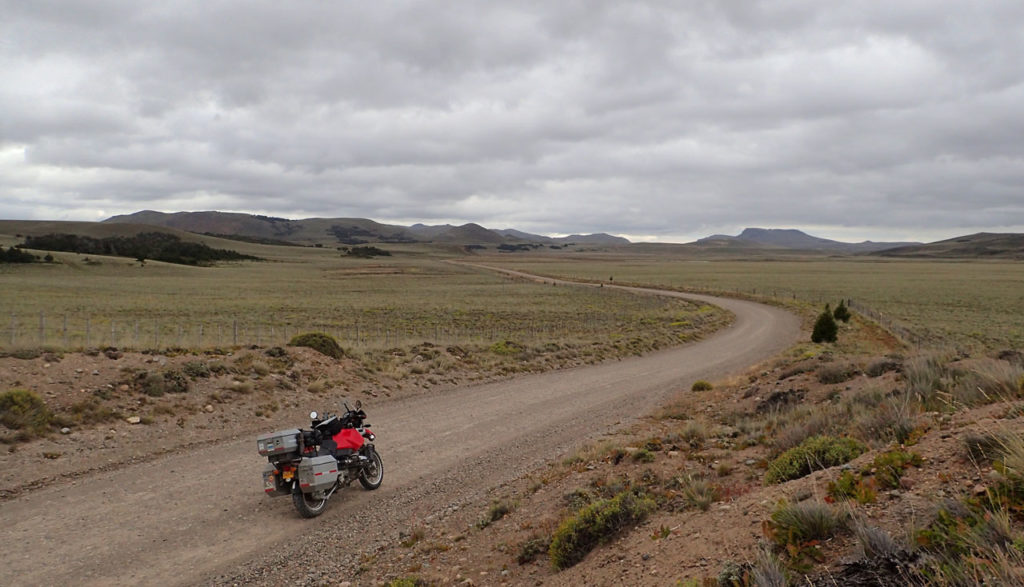 With no traffic, it seemed like the best time to practice a new trick.  Turns out, in Patagonia you CAN teach an old dog new tricks!  About 45 seconds at 30mph was the best I could do.
And of course, land speed time trials were in order.  It's not the salt flats, so the best I could do on the rough gravel was 145mph.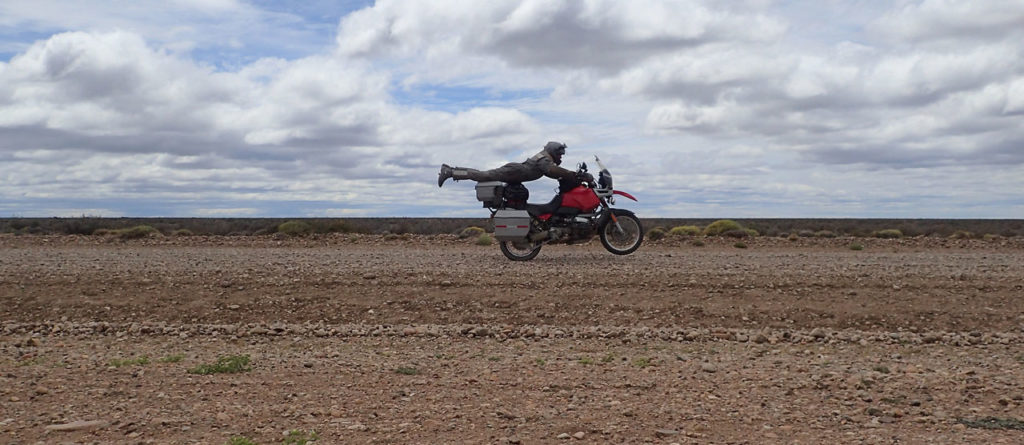 After a no frills and no hassle border crossing, I was into Argentina and hours upon hours of roads that looked like this.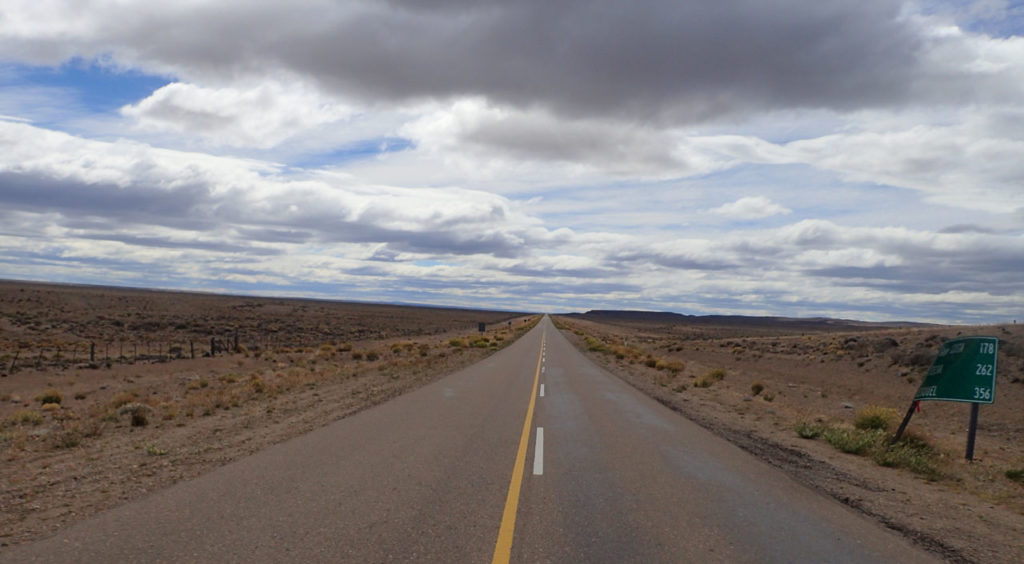 Looks like Argentina might have some characters to capture with my lens.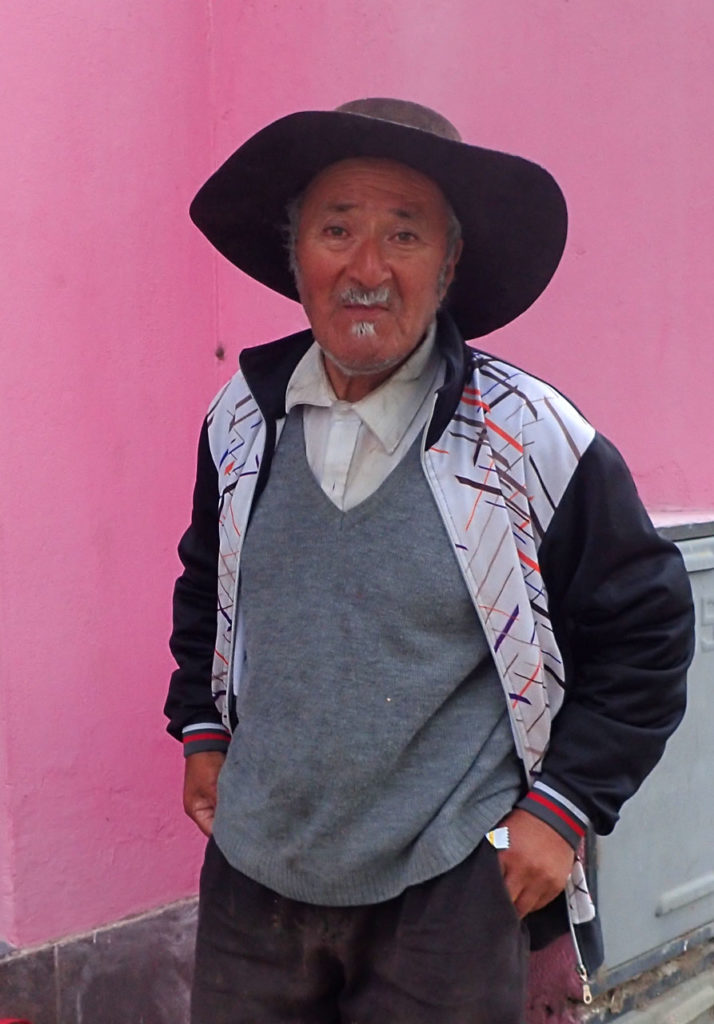 As I headed back in a northerly direction in Argentina I was confronted with more wide open space of Pampas.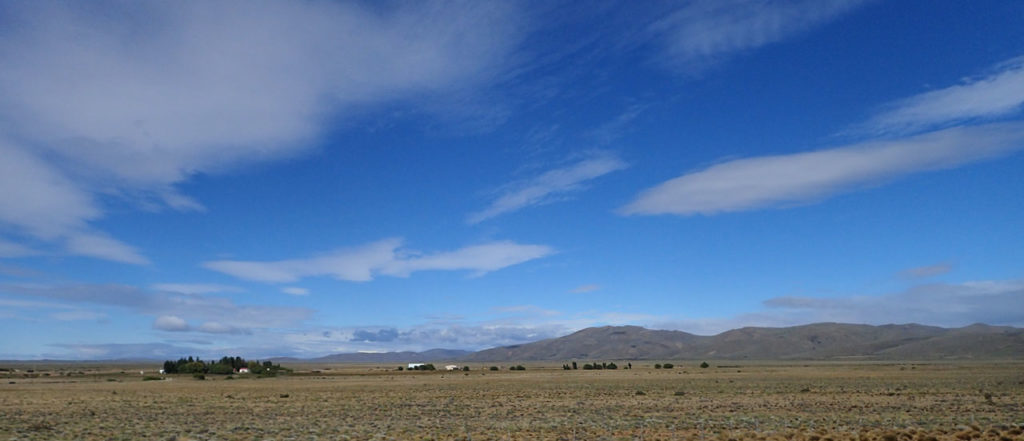 After several hours I started to get back into the mountains.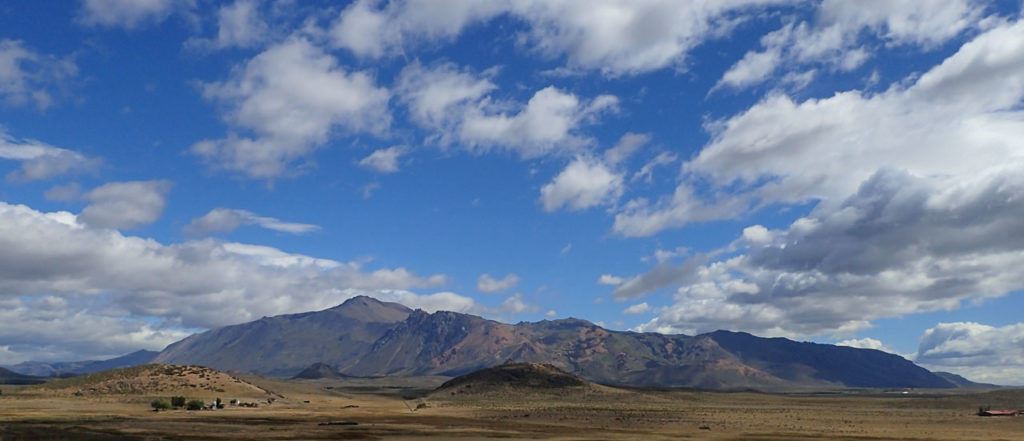 For the last several hours of the day as I headed into Bariloche, I felt like I was driving through Alaska, British Columbia, and Montana all in a day.  Fantastic scenery this day.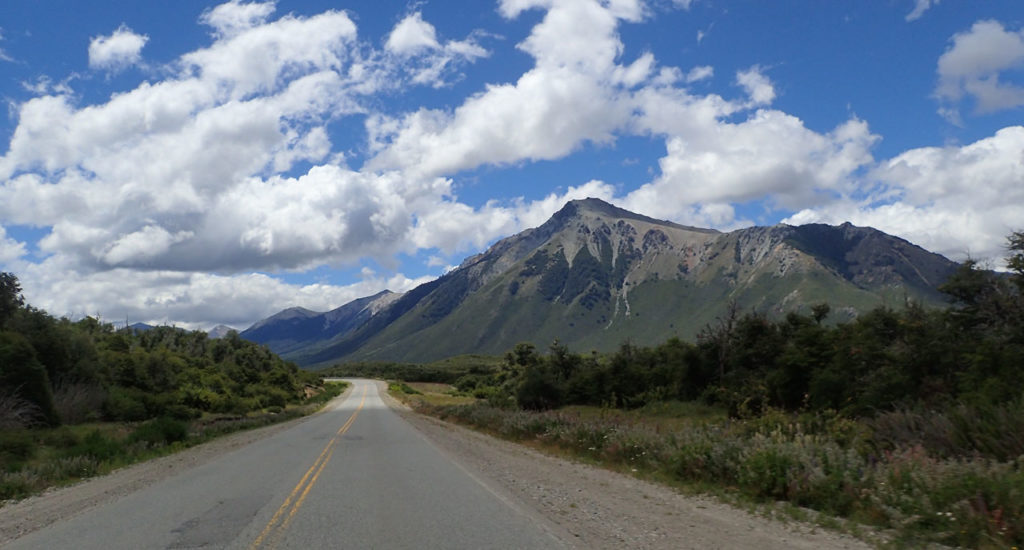 I spent several days exploring around Bariloche.  It is a bit touristy here, but the town sits right on a beautiful lake and has mountains all around.  There is even a small beach.  There were quite a few people hanging around the beach, but notice no one is in the water.  It was chilly, to say the least.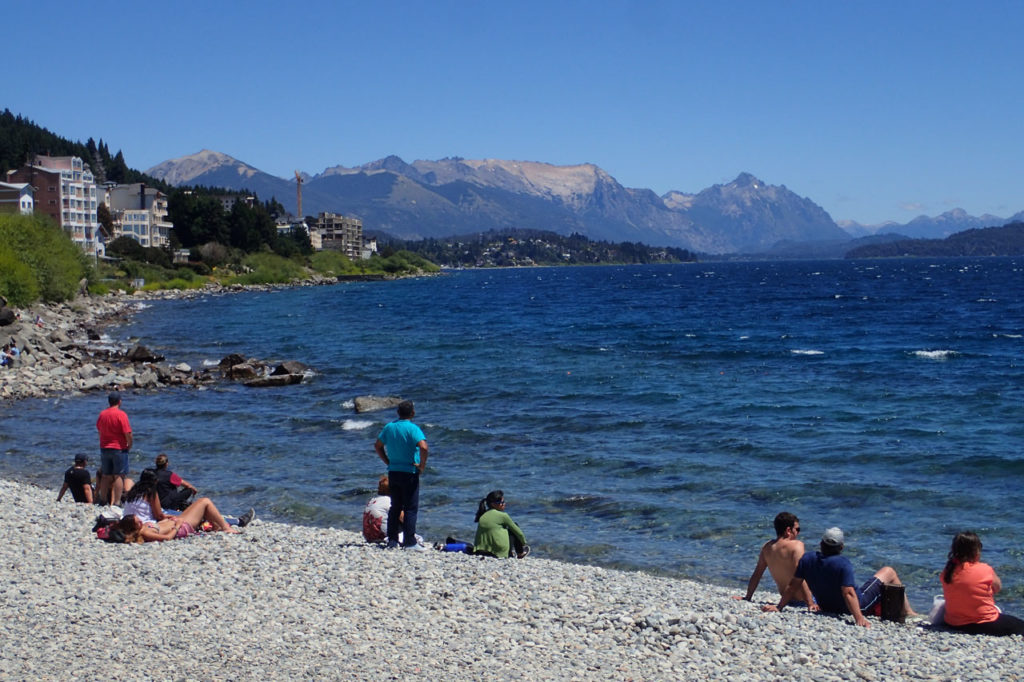 I did get to meet up with,  and spend the afternoon and evening with Paul and Rachel, whom we met at a border crossing in Central America.  We spent Christmas with them at Nazca and they have become great friends.  Their sidecar is doing great, as are they.  They are about a week away from the end of the road, Ushuaia.  They'll then travel up to Buenos Aires to ship their bike back to England.  They have a fantastic blog at:  http://www.sidecartravels.co.uk/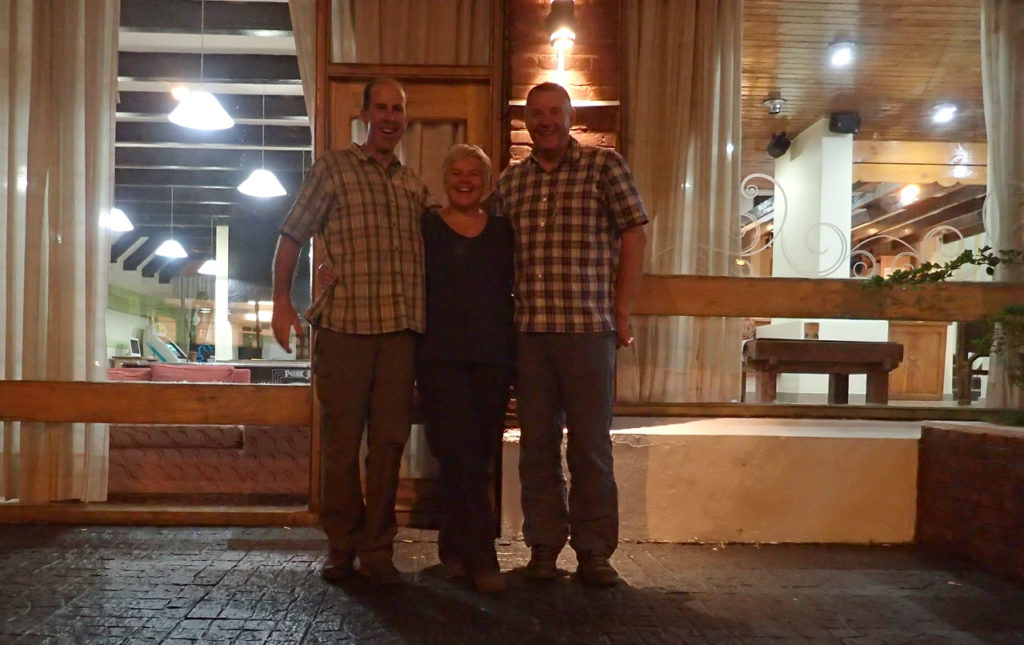 On Friday night, Connie, who I met on Volcan Osorno, drove over from Chile so we could head into the mountains for a few days.  Needless to say she is quite a mountain woman and took me to an absolutely amazing section of mountains in Argentina.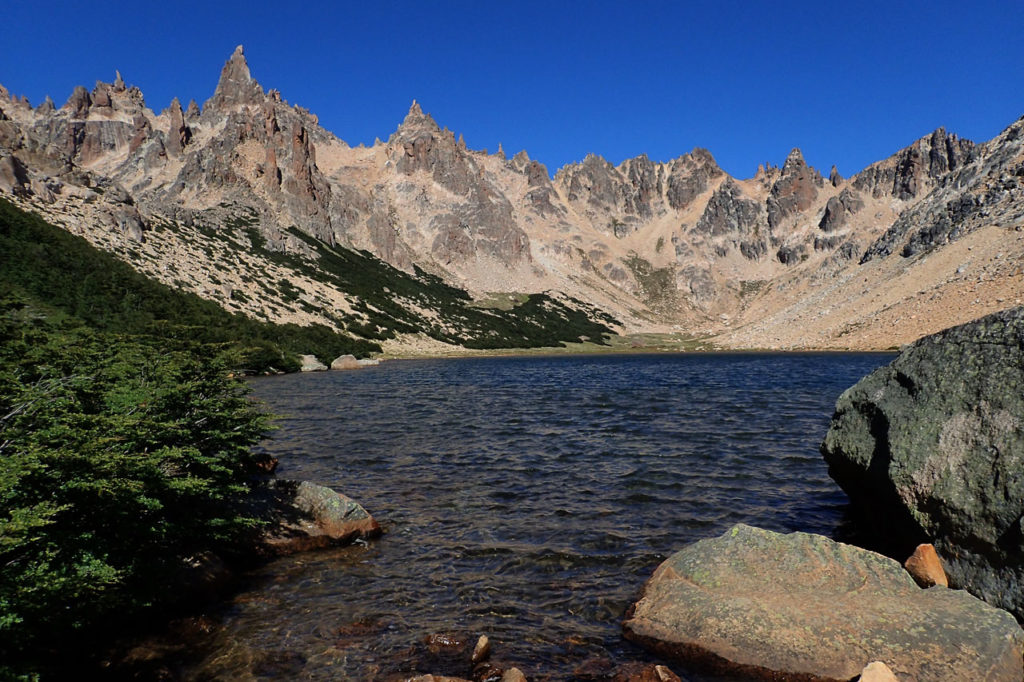 With an eight hour hike ahead of us we got an early start as we wanted to cross over several steep passes and get fairly deep into this range.  It had me wishing I had proper climbing gear with me so we could tackle some technical routes.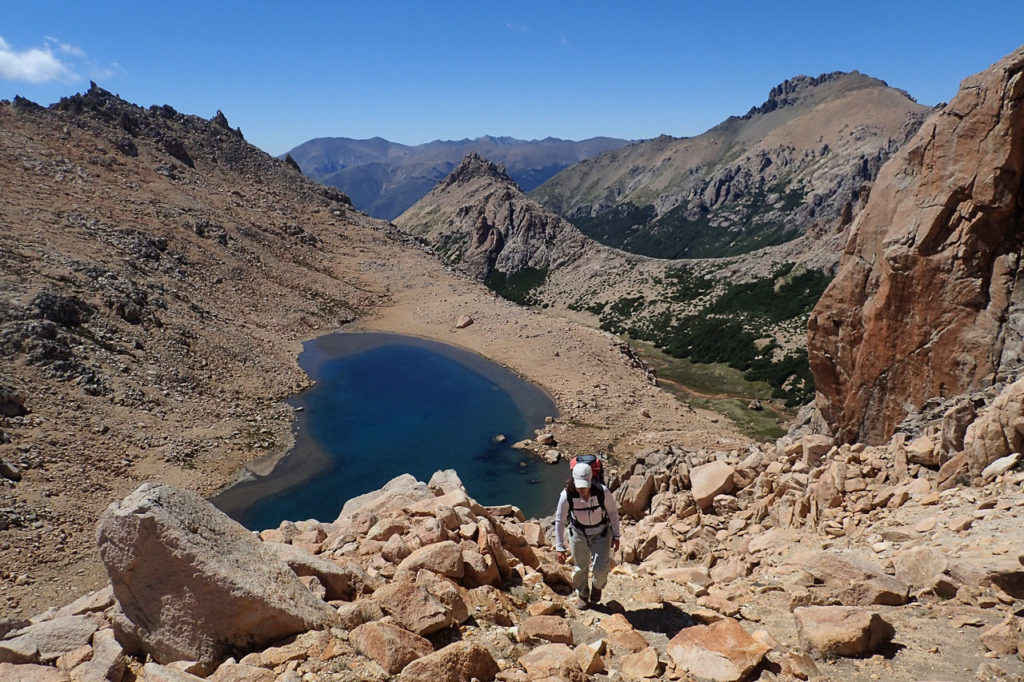 The great thing about this part of Argentina is there are fantastic trails throughout the mountains, with mountain huts all along the way.  We didn't linger to long at these as they were quite busy with weekend climbers.  They were in spectacular spots with astounding views.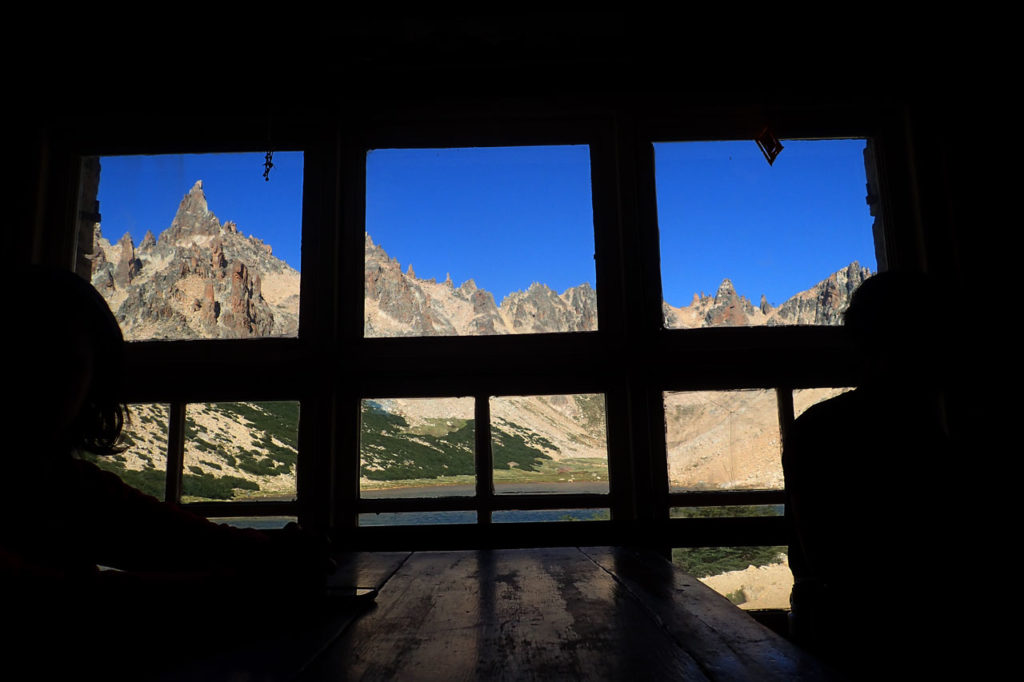 Our final pass and descent to camp for the night.  Down on this lake is one of the huts with another astounding view and endless access to spectacular climbing routes.
We contemplated hiking another 8 or 10 miles before calling it a day, but the going only got tougher from here and Connie had to be on the road by Sunday afternoon to be back for work on Monday, across the border in Chile.  Plus, this rock and this view were hard to pull ourselves away from.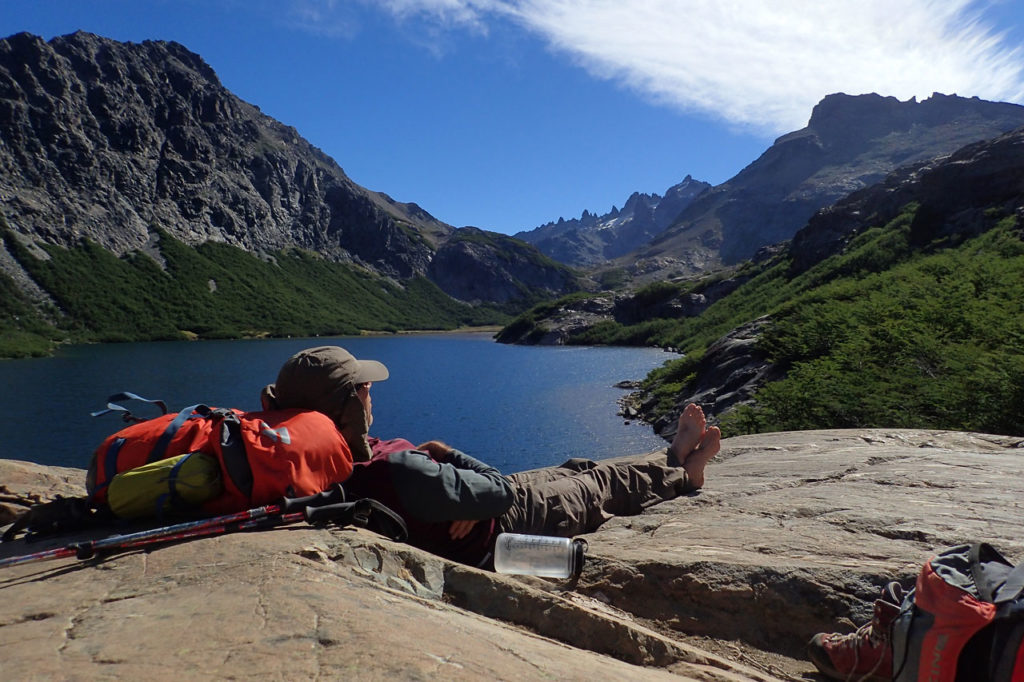 By first light we were on the trail headed down valley for the 12 mile hike out.  Needless to say it was great to be off the motorcycle and in the mountains for a change.  Not a weekend I'll soon forget.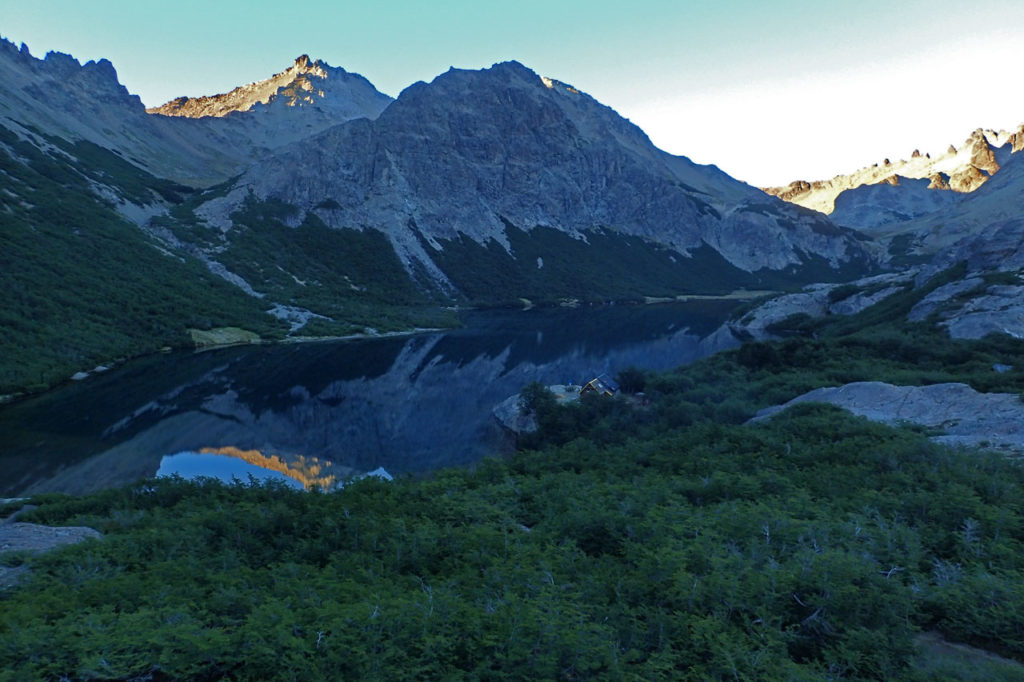 I left San Carlos de Bariloche and decided to explore the surrounding area.   It is stunning to say the least. Beautiful lakes and mountains all about.  This area is known for it's Alpine styled architecture and as a result draws a lot of tourists, but it is also the center for skiers, trekkers, and climbers.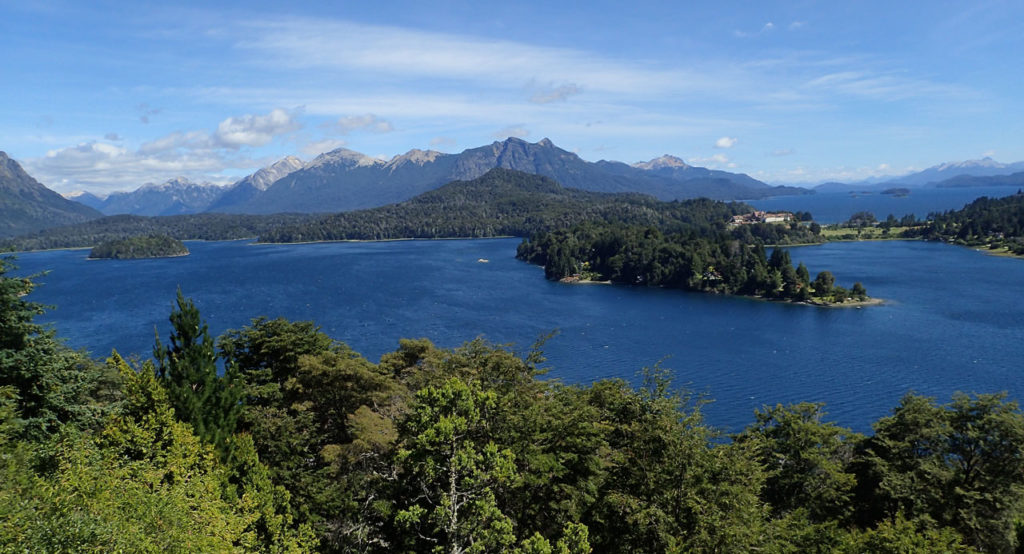 All of the water I've seen in Argentina and Chile has been extremely clean, clear, and very cold.  I still see people out swimming now and again, despite the frigid water temperatures.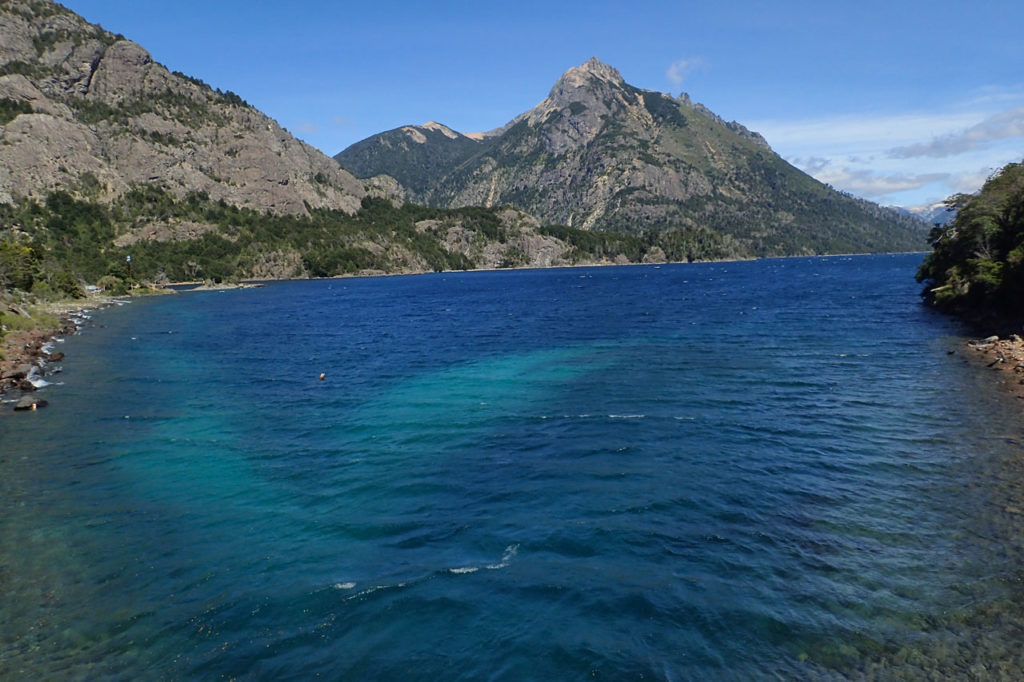 Many of the big lodges in the area are built in Alpine style and have a strong Swiss and German influence to their architecture.  The entire area is quite busy in the summer with tourists and in the winter with skiers.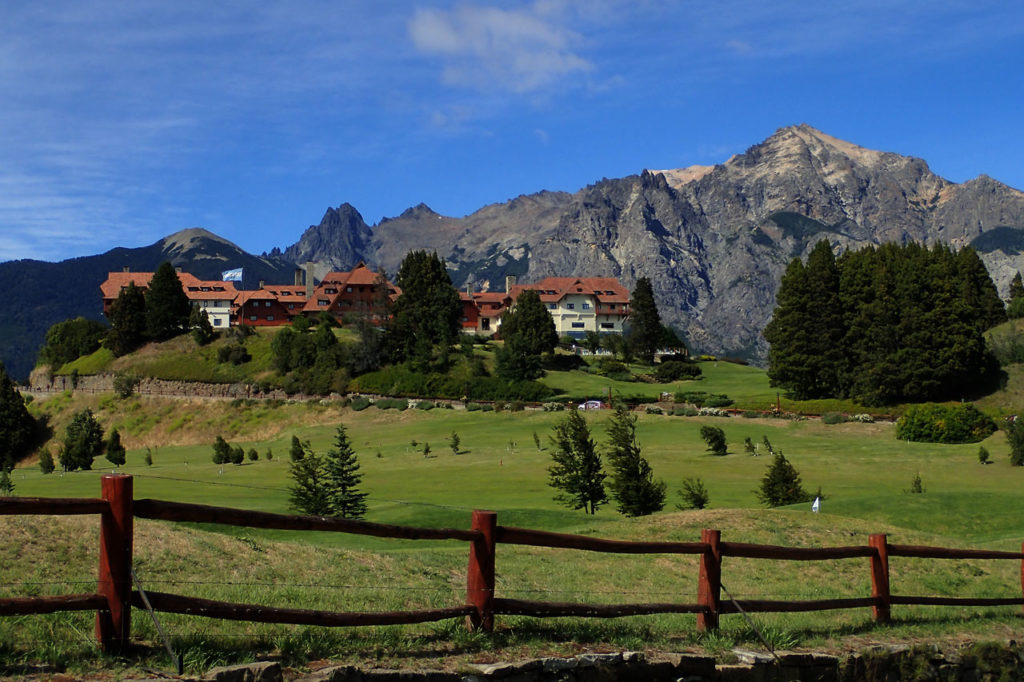 As I headed north, away from Bariloche, I caught this great view of the city across Lake Nahuel Huapi.  The spires on the mountains to the right of the city is where I spent the weekend hiking.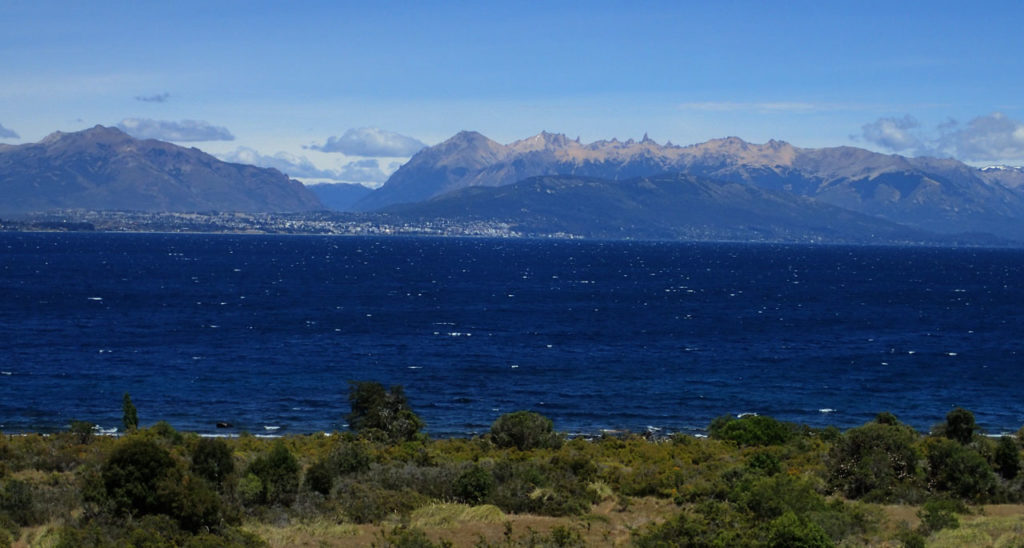 I continued north and drove some amazing roads that took me through Nahuel Huapi National Park.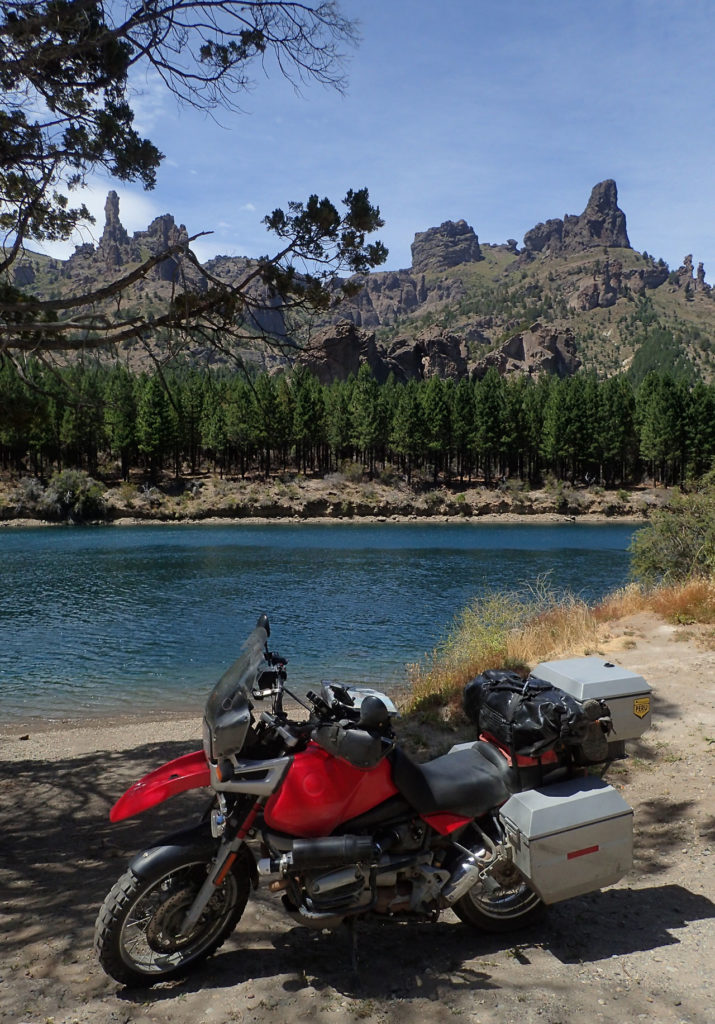 I had plans to cross back over to Chile on this day and when I arrived at the border the line of cars waiting to get through was about a mile long.  As is customary throughout Latin America, motorcycles are allowed to drive past all the cars to the front of the line, which I did and saved hours of time waiting in line.  It was in stark contrast to the last border between Chile and Argentina that I crossed, where I was the only one there.  It was a bit remote and required several hundred miles of gravel to even get to it.  That seems to keep the crowds away.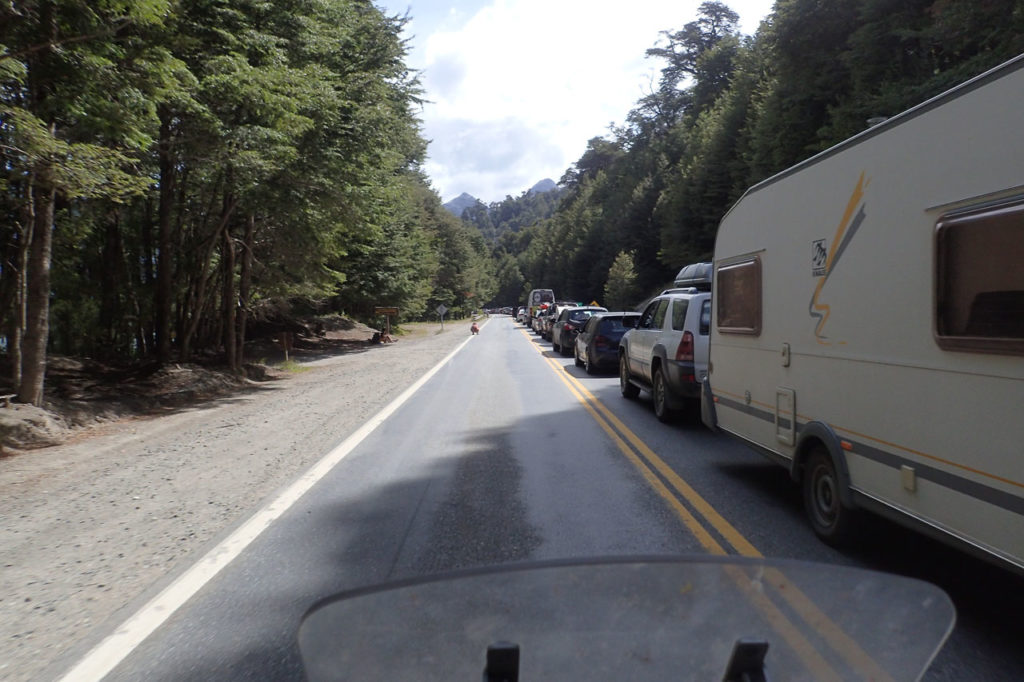 There were still lines at Customs and Aduana(vehicle customs), but it all moved along fairly well.  The border crossings in South America have been much easier than those in Central America.  I spent about 2 hours total getting through the Argentina and then Chile border.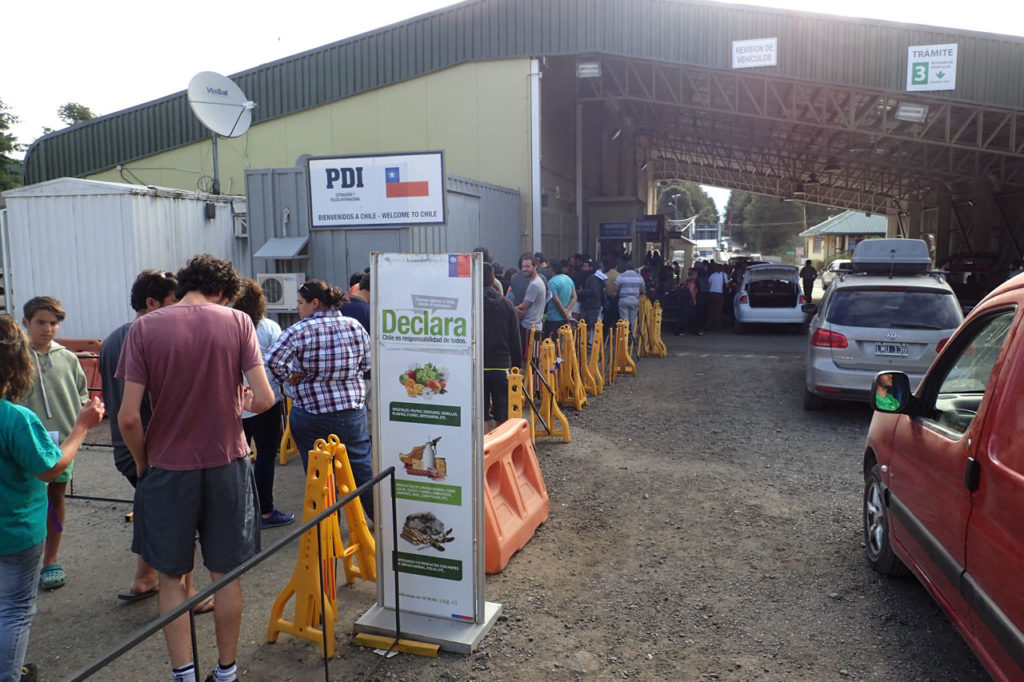 There is a 20 mile section of 'no mans land' between borders, and the drive and views were surprisingly diverse compared to the landscapes I had been seeing.  This mountain was an old volcano cone that had been eroded away.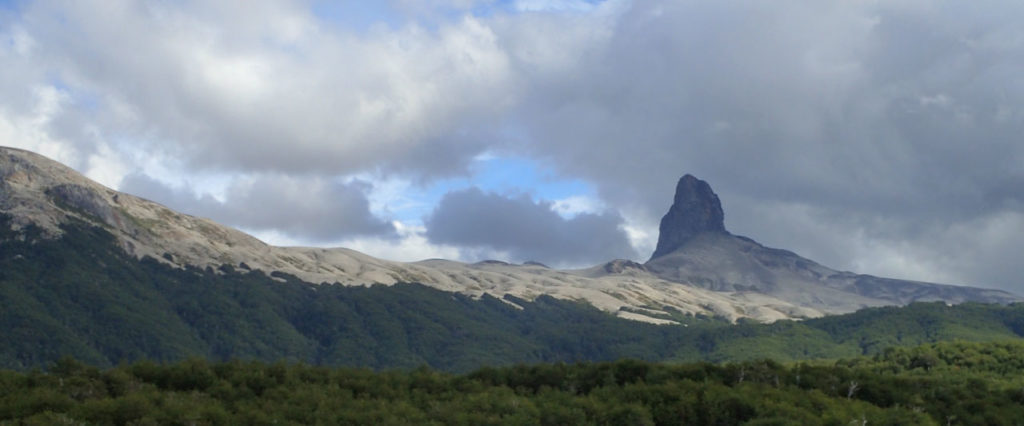 When going back into Chile, Customs agents search all baggage. They are very particular about food coming into the country, particularly fruits, vegetables, and nuts.  There were several other motorcycles being searched ahead of me. The two other riders are Sean and Jody from Canada.  We camped at the same spot and shared some nice stories from the road.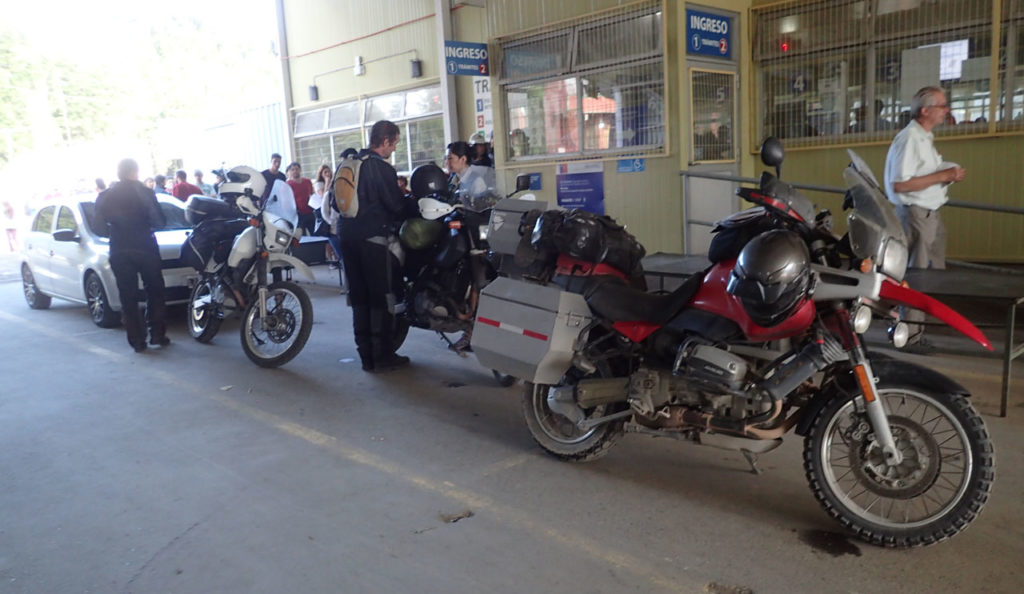 When I pulled into a campground for the night, I put the kickstand down and didn't realize it was soft ground.  I hopped off the bike and it promptly fell over.  An older guy and another guy were close by and helped me get it upright again.  No damage done.  But once the bike was upright I found myself, for the second time in Chile surrounded by a gaggle of Chilean women.  They were quite interested that I had come all the way from Alaska and peppered me with questions for about 15 minutes.  And for the second time on this trip, I could not convince any of them to climb on the back of the bike.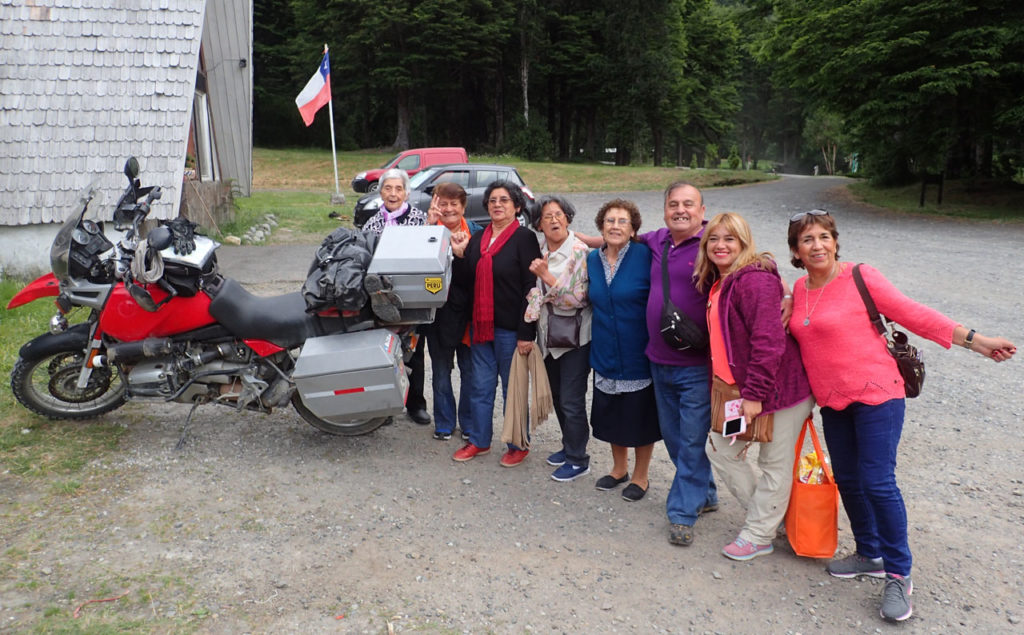 I headed into Osorno to a really great shop, MotoAventura for a new front tire.  Mine was getting a bit low on tread and considering the issues I've had with tires I didn't want to take any chances.  From here south, there is really no place that carries tires for a big bike like mine.  So I had a new tire put on and new brake pads.  The shop had a lot of bikes they were working on.
When the work was done a guy came out and said he noticed my Alaska plates and thought he'd say hi.  He spoke perfect English and when I asked where he was from he said, Alaska.  Turns out Jeff is working at this shop for the winter.    He guides for a tour group out of Anchorage, that Tracy has done several tours with.  It's a funny small world.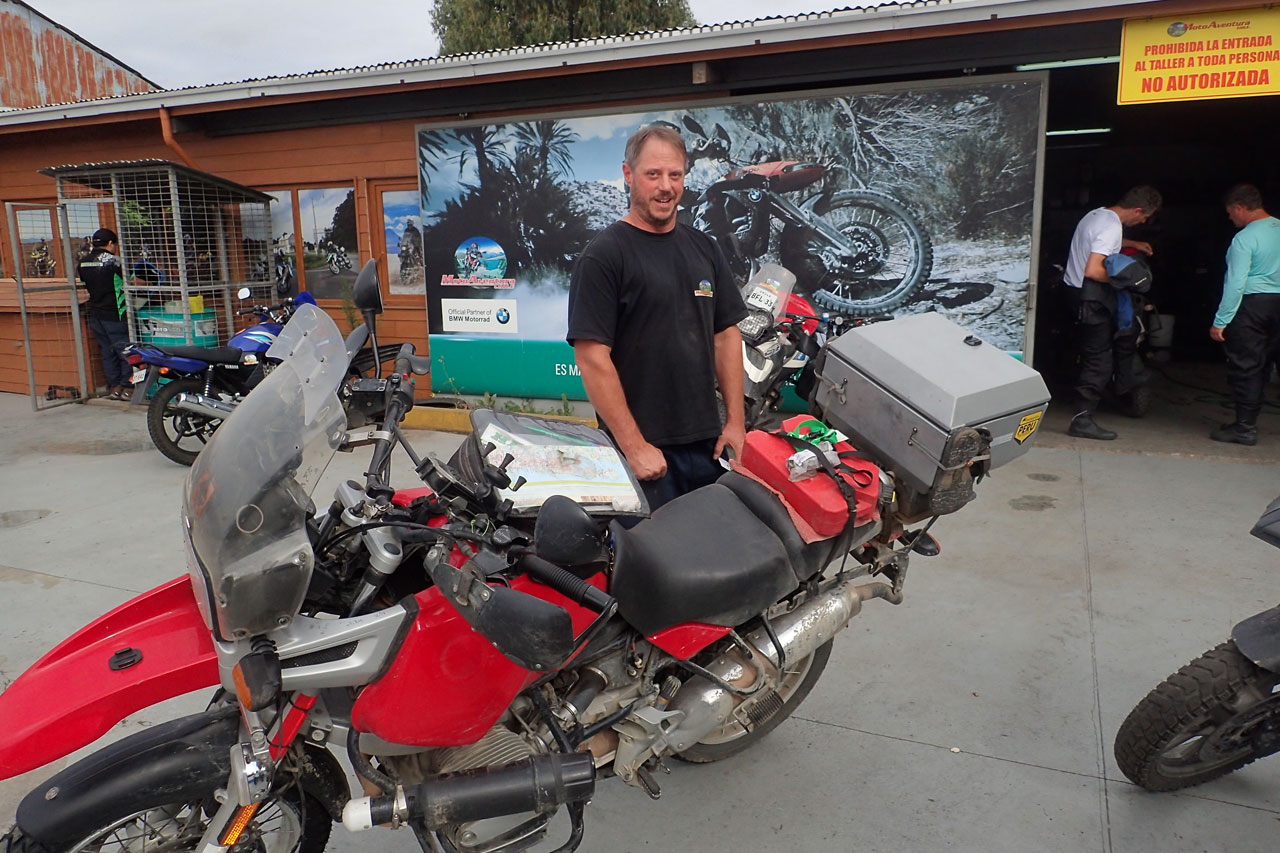 Then a nice guy from Brazil started talking with me, just as I was getting ready to leave.  This guy really made me appreciate the magnitude of this journey I am on and how fortunate I am to have the time and experiences.  He had a couple of weeks off work and said going to Alaska was his big dream but hadn't been able to afford the time away or money to do it yet.  He had to have a picture with a "real rider".  I didn't have the heart to tell him that I'm just an average kid from Iowa.  He was a very kind fella. 
Then after I filled up with gas, Ameliano and I had a nice visit.  He's from Argentina and touring around for the only five days he can get off work.  Seems like a lot of people the past few days are curious about the bike and Alaska.  He was another one that really wants to do a trip to Alaska. 
From Osorno I headed south.  I wanted to see a small town called Fresia and the surrounding area.  It was hard to believe I was in Chile, as it felt like I was back in Iowa.  The entire area is exactly like where I grew up in the midwest.  I had a great time having a look around the countryside. 
I think this was a huge field of potatoes.  My Dad would probably know for sure. 
Since I got back into Chile it's turned overcast and rainy.  That's what it's often like on the east side of the Andes.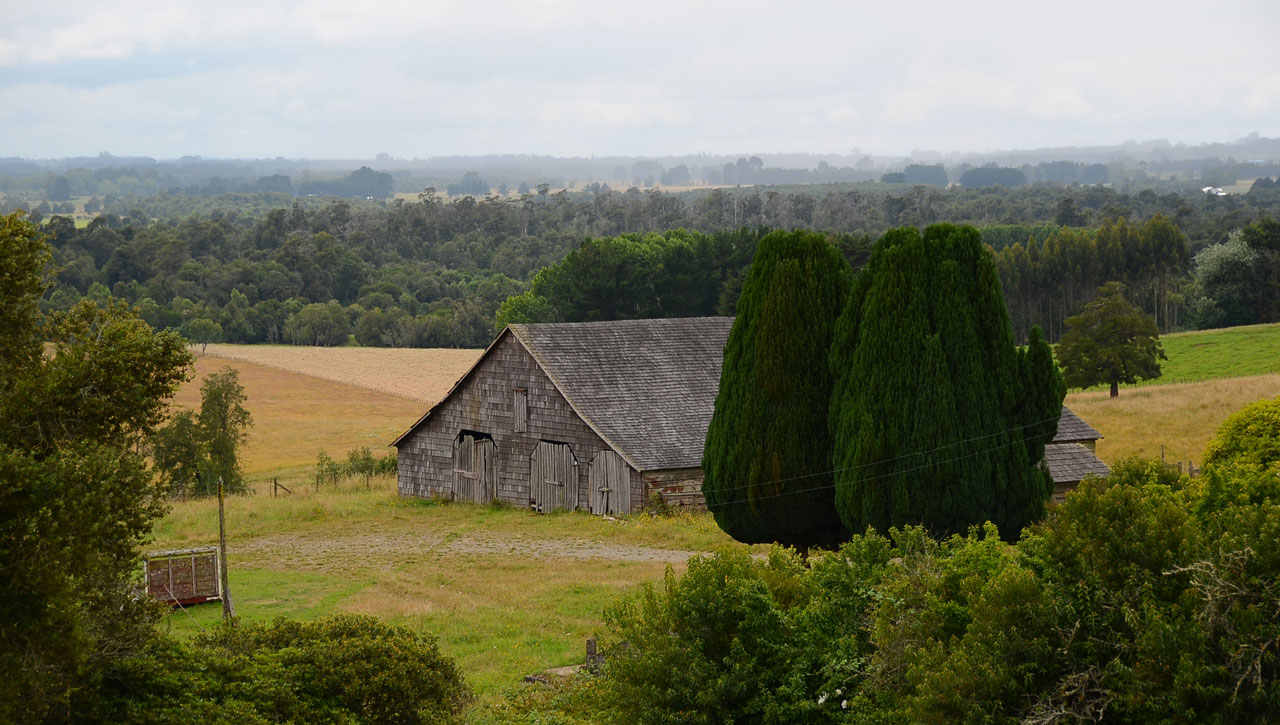 Even the guy at the local grocery store, who flags people in and out of parking spots, was all smiles when he saw my Alaska plates.  Thumbs up and I was down the road.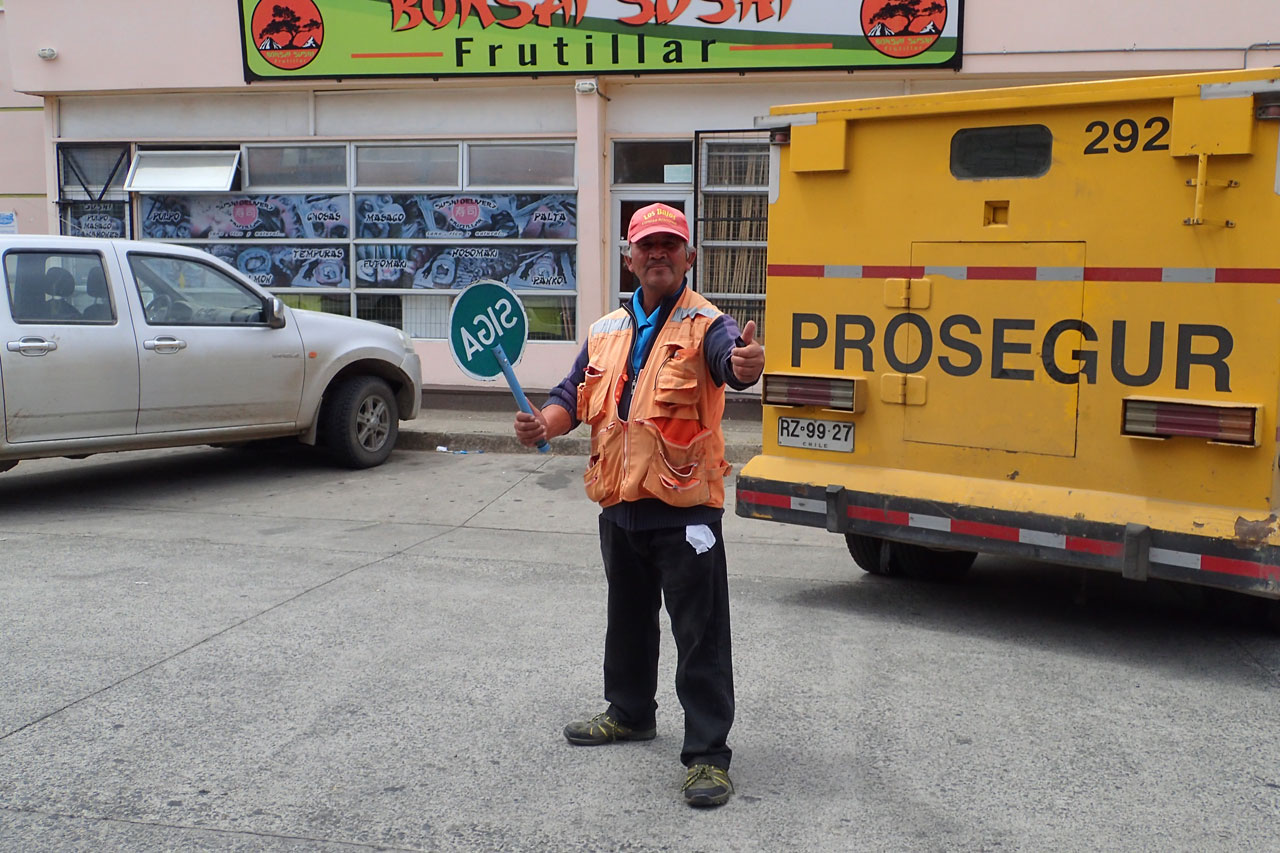 The last thing I thought I'd be doing on a motorcycle trip is planning a trip to the Southern Patagonia Ice Field.  Like all great adventures, it starts with an idea and a map.  New friends in Chile offer new ideas for the future.  I love it when that happens.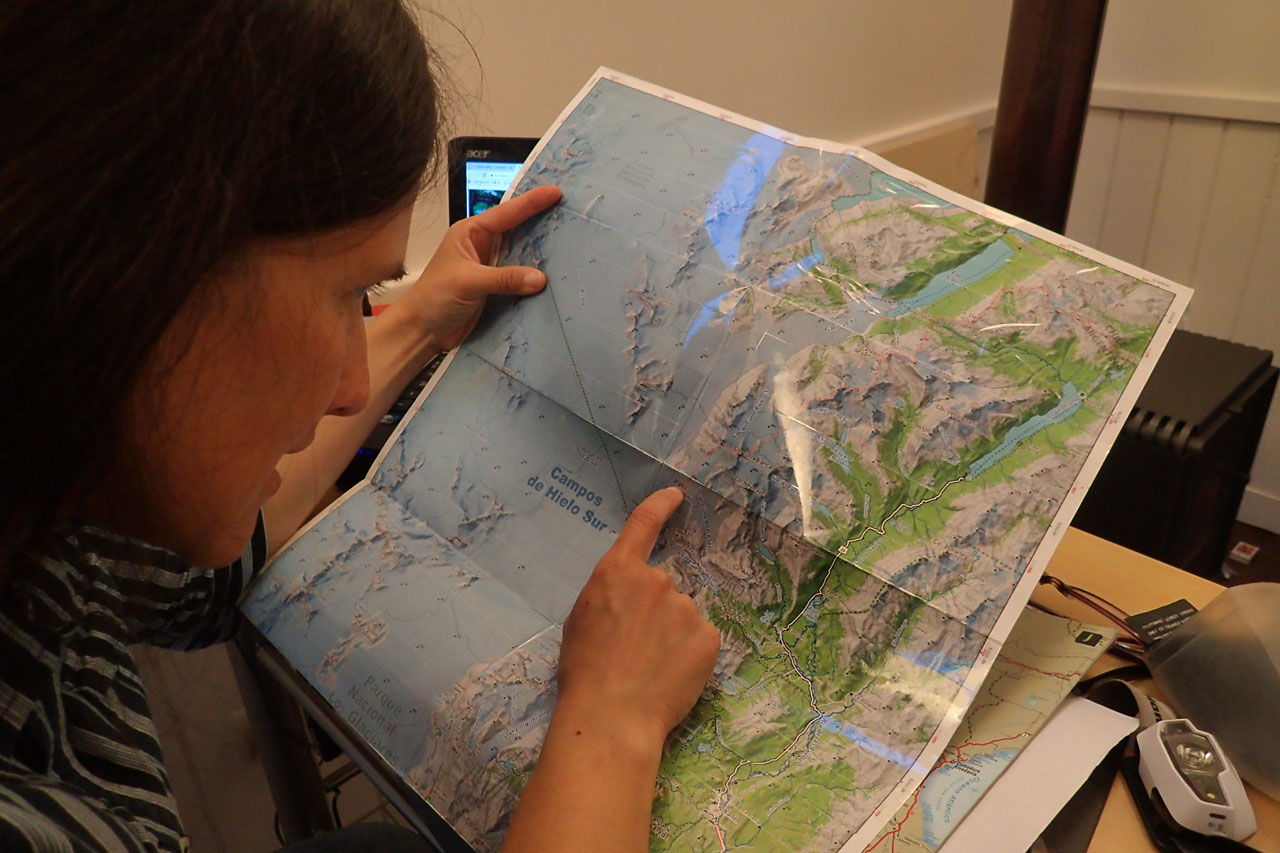 With a few days of exploring around Lake Llanquihe, the views of the local volcanoes have been stunning. 
The sunrises here do not disappoint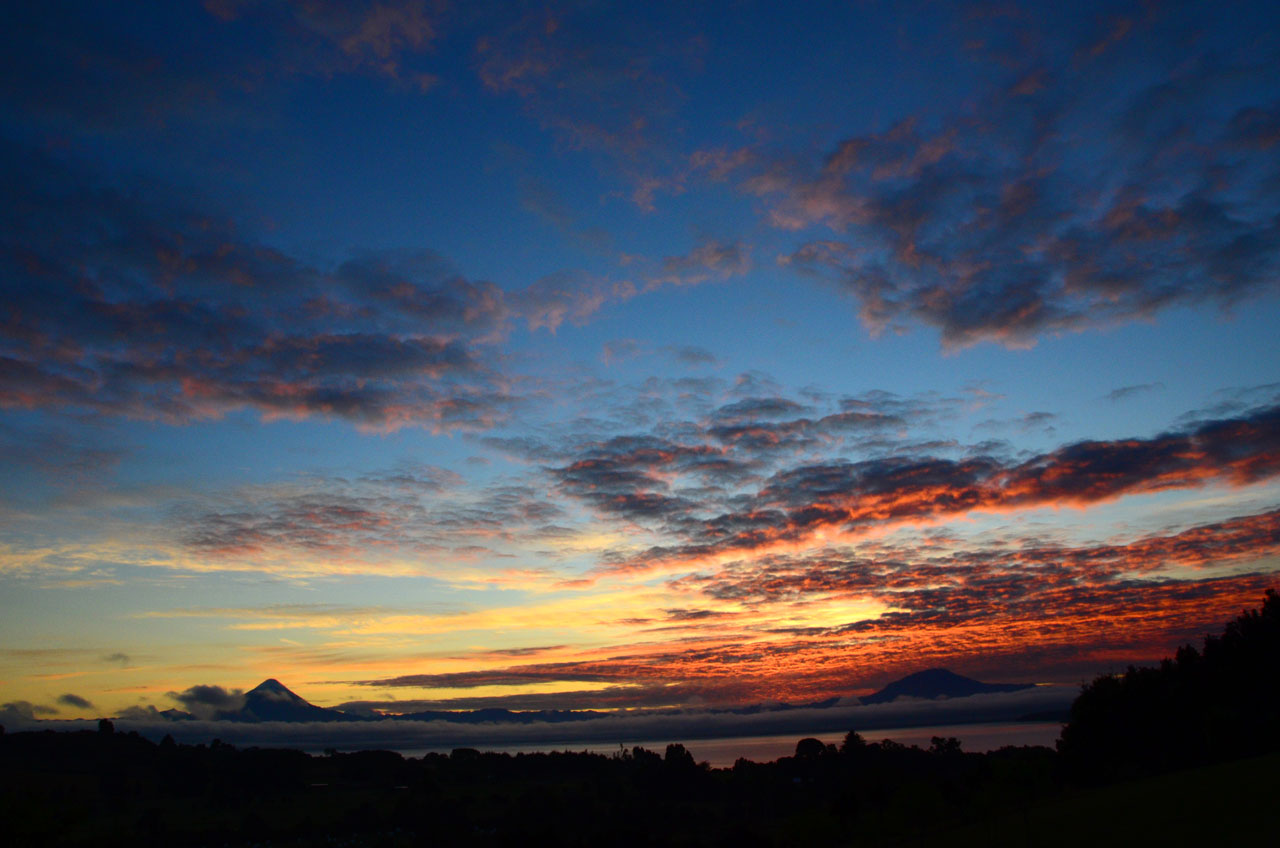 .
Volcan Osorno just before sunrise, the same volcano I climbed part way up a few weeks ago. 
First rays of sunlight on Volcan Calbuco. This volcano erupted in 2015 with a massive eruption.  It's previous eruption was 40 years earlier.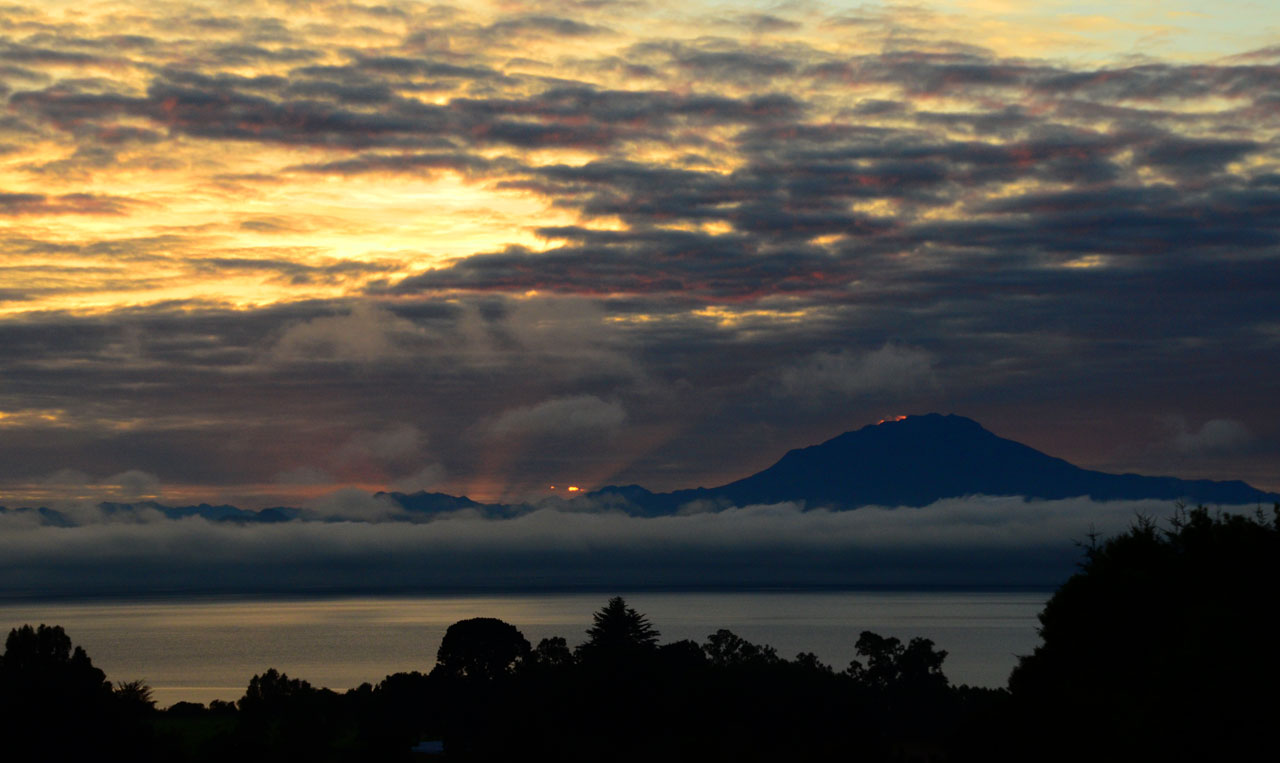 I decided to spend several days off the bike and recharge my batteries a bit.  With so much time on the bike and on the move, Tracy and I were both getting a bit burned out.  So I had planned on some days relaxing leading up to Tracy's return and our final push to Ushuaia.  This part of Chile turned out to be the perfect spot to take it easy for a few days.   The weather has been hot and sunny and so I've spent a bit of time making some minor repairs on the bike and exploring around Lake Llanquihue, which is a really beautiful area.  It's tourist season so the beaches along the lake have been quite busy.  And as always, the volcanoes around the lake are ever present.  The water is refreshingly chilly and it's easy to get used to it, particularly on the hot days.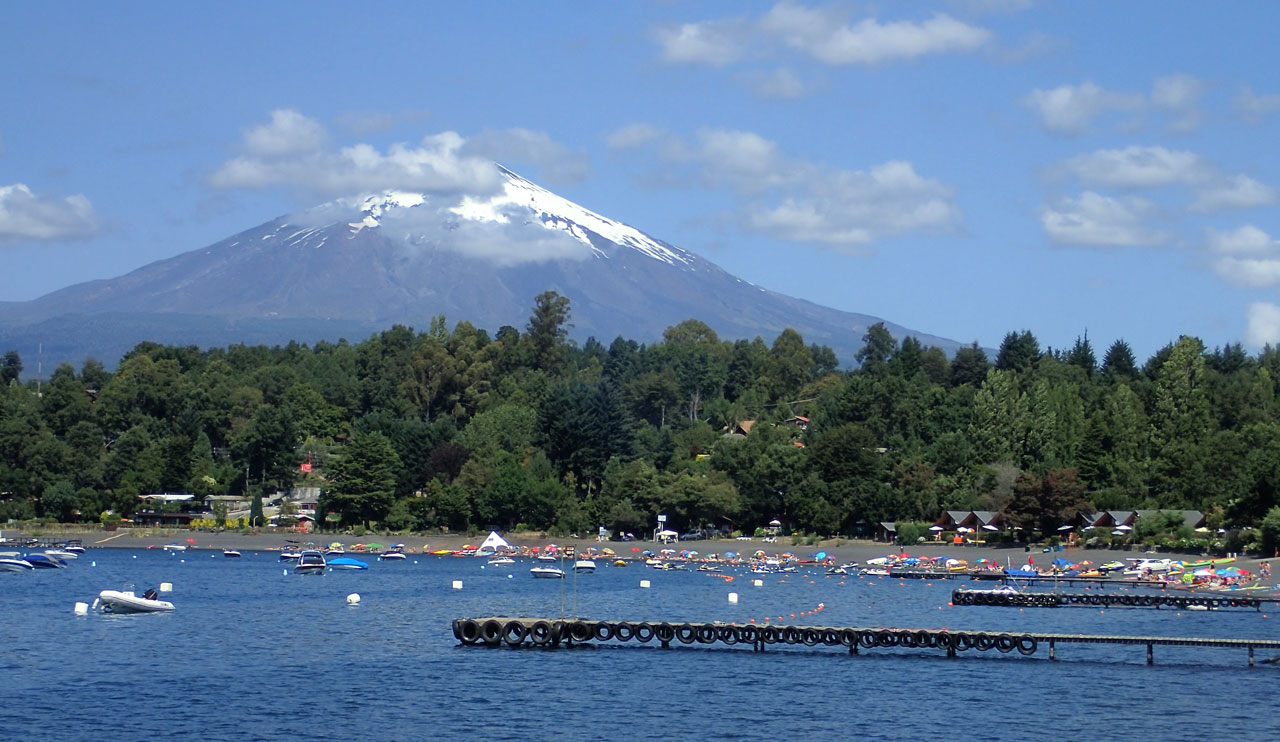 I'm consistently amazed how crystal clear the waters are everywhere in Chile.  I rode most of the shoreline of this entire lake and unlike many other countries there is no garbage and the water is very, very clean. 
One thing I didn't think I'd be doing on this trip was spending any time out on the water.  But some time in a kayak was a nice reprieve from sitting on the motorbike. It's really great paddling all over the Patagonia Region, and this lake, with snow capped volcanoes scattered about, really was great place to explore by kayak.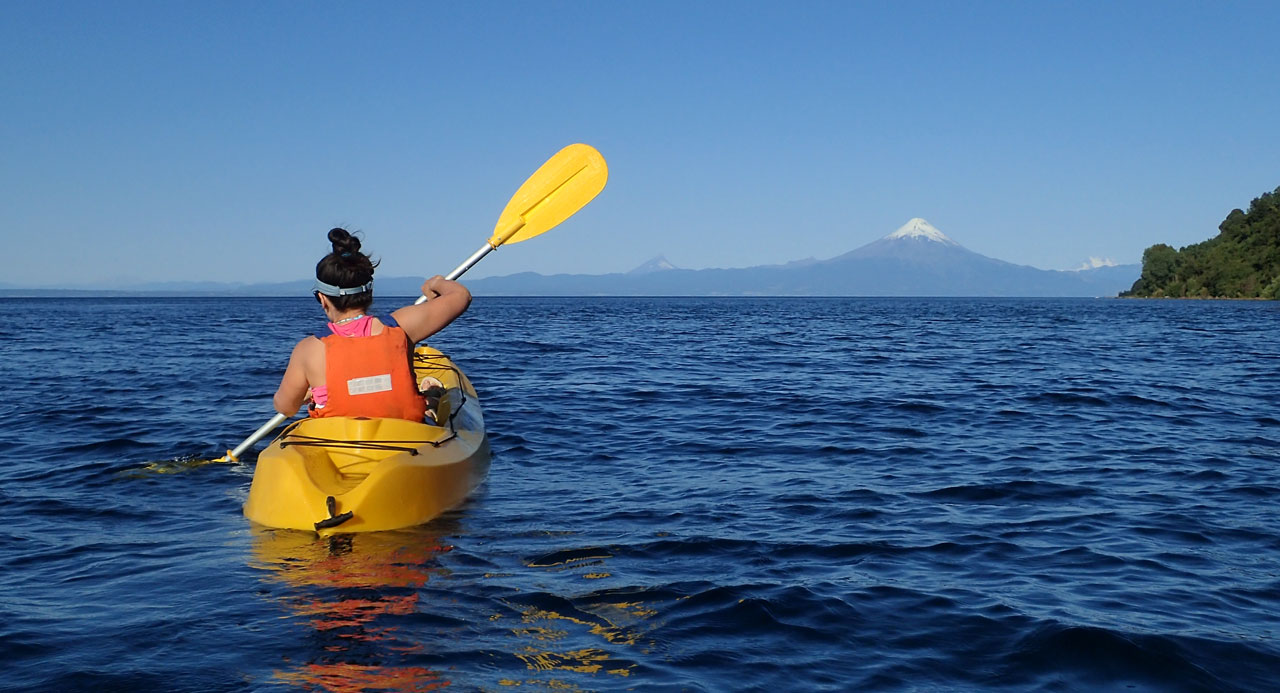 I was surprised that most of this area of Chile is serious farm country.   Corn fields and volcanoes seem to be in stark contrast to one another.  It's summer here now, so the corn is only about 3 feet tall at the moment.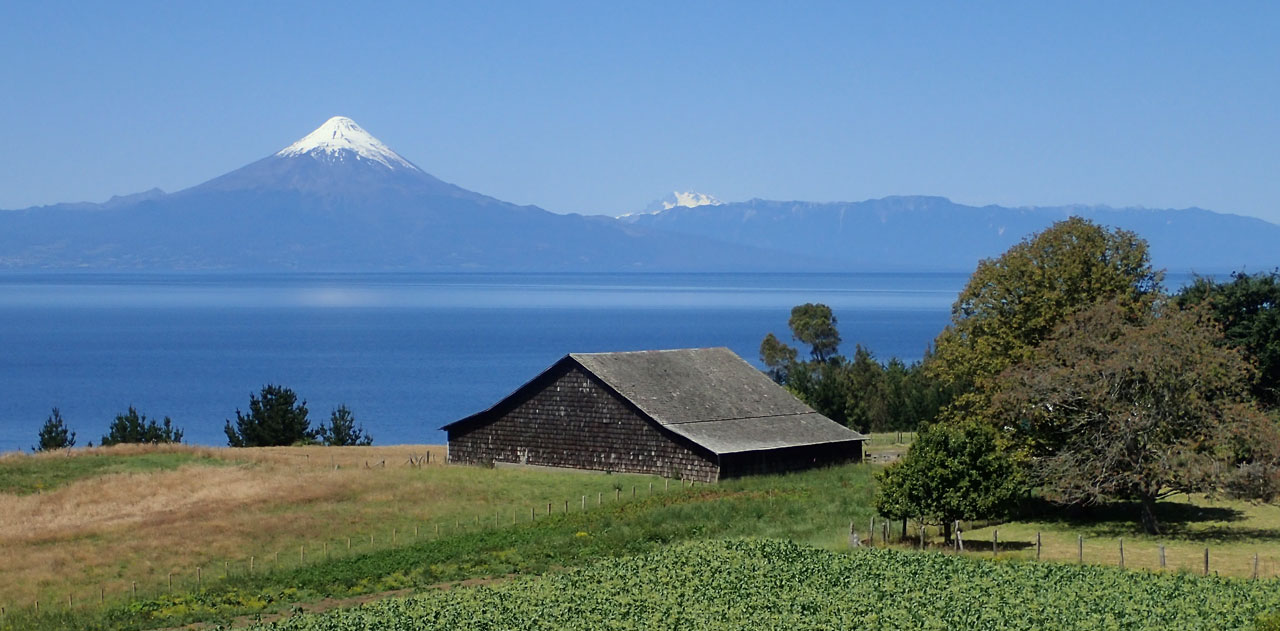 It was fun to catch a little band in a small outdoor cafe.  They turned out to be a very good three piece playing all their songs in Spanish, which is fun for me to try to figure out what the song is about.  Not so easy with all Spanish lyrics.  I was dumbfounded when they did a really fine rendition of Bon Jovi's song Wanted: Dead or Alive, in perfect English.  That song was extremely popular in 1986 when I was a freshman in college.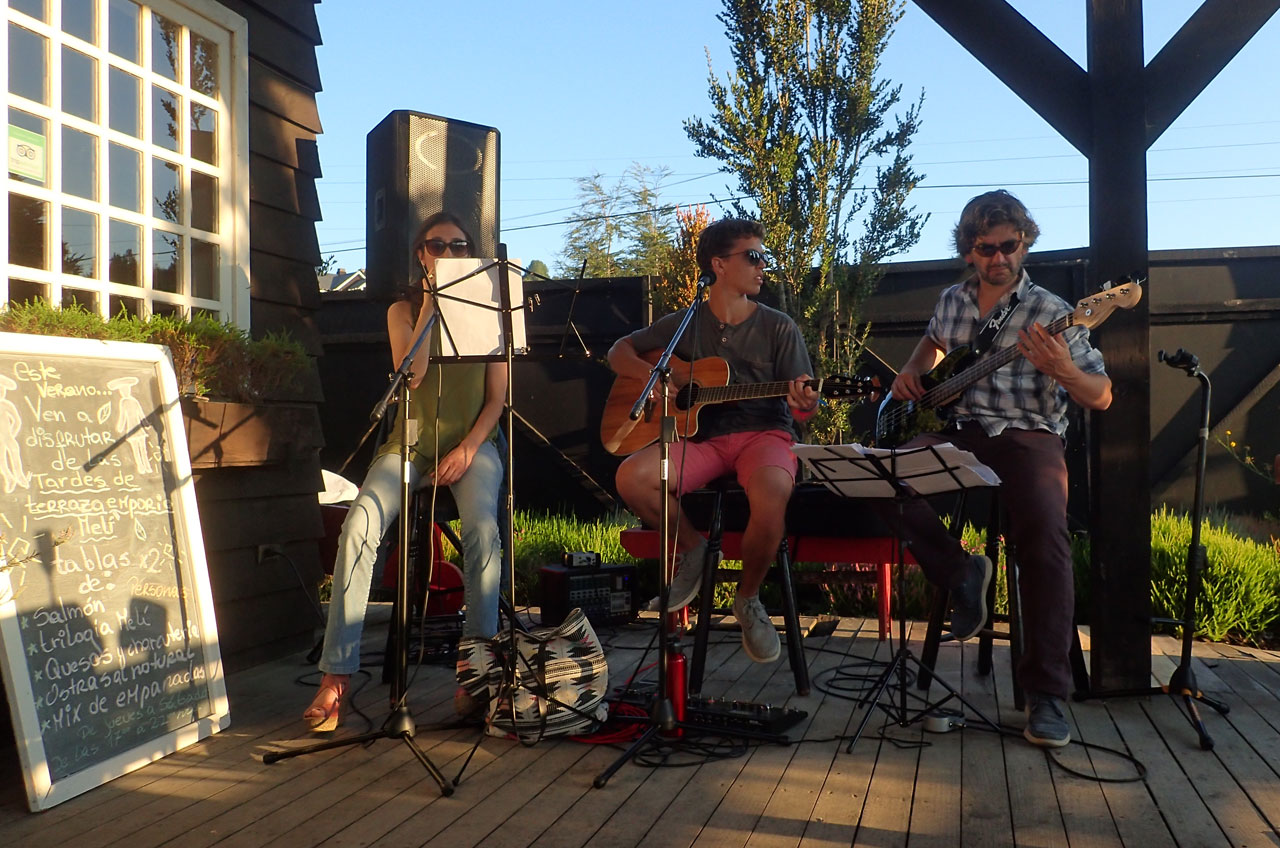 In the town of Fruitillar there is a fabulous theater built right on the lake called Teatro del Lago.  It was built by a local family and is privately owned and operated.  With their summer music festival going on, I had to try to catch a show, so I could see the inside of this place.
Over lunch they had a really amazing classical pianist from the city of Osorno playing in the small theater, that, as you can see sits right on the lake.  From every seat in the place you can see Volcan Osorno.  But it was overcast that day, so no such luck during this performance.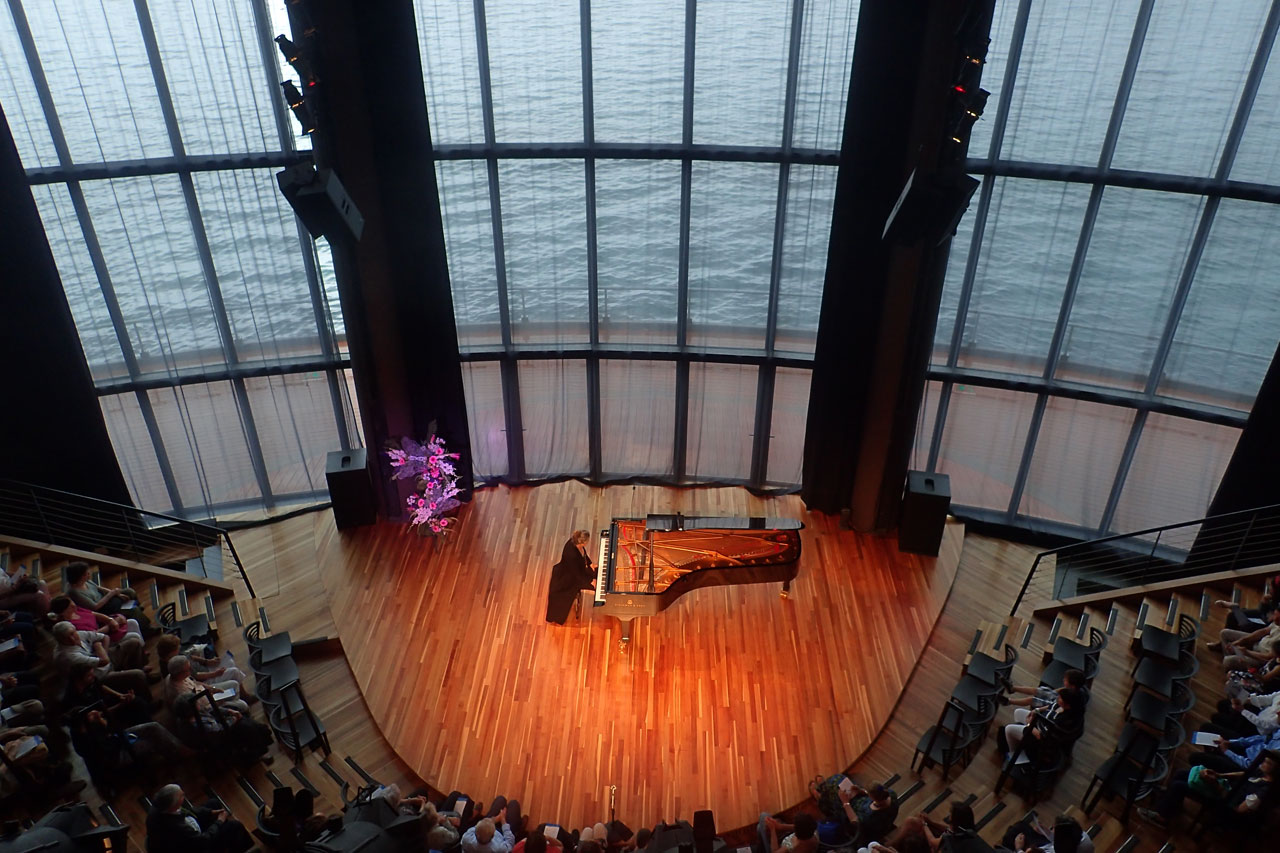 The next day, I headed north and then east exploring some more back roads that always look so inviting on the map.  It was overcast and chilly in the morning and you never know what you come across.  I guess that is half the fun.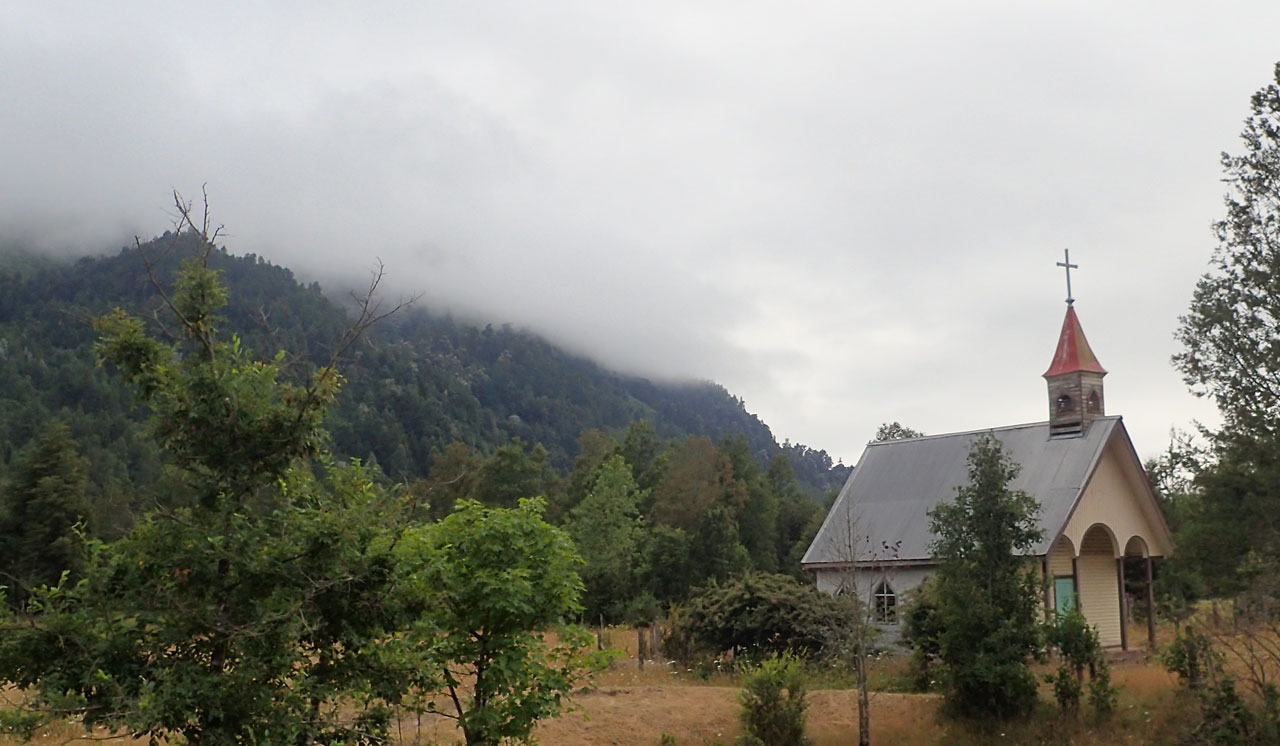 By the time I reached Puerto Fuy it was hot and sunny.  I had an hour to wait for the ferry so I tightened up all the loose bolts on the bike.  I have to do that every few weeks or there would be trouble.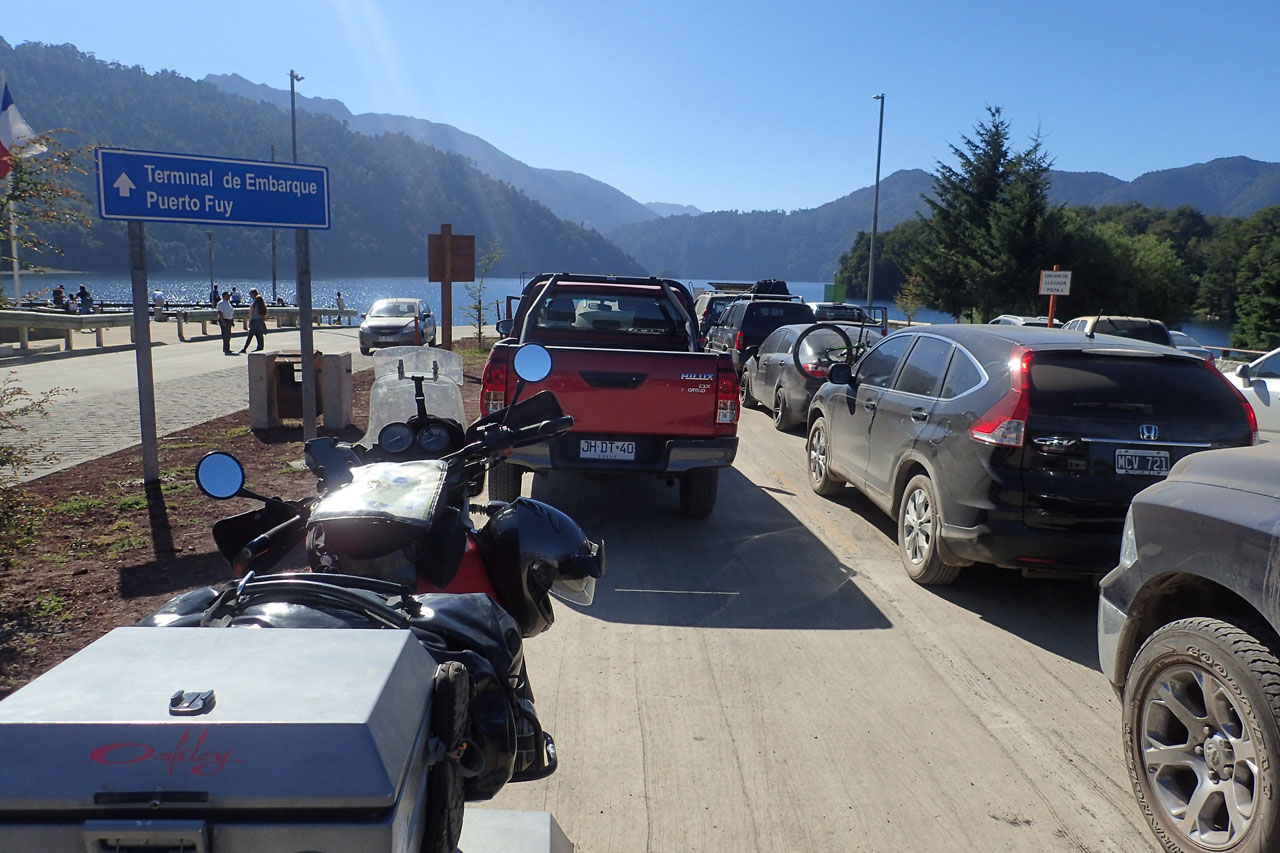 The  ferry showed up and we loaded up for the two hour ride across Lake Pirehueico.  Many of the names in Chile are names given by the native people, and so they seem a little hard to pronounce, even for the locals. 
This entire area of Chile offers up spectacular scenery with another snow covered volcano in the distance.
The ferry fit exactly 22 cars and 2 motorcycles.  There wasn't even room for one more motorcycle.
Once across the lake, I had few miles to go before I arrived at the border between Chile and Argentina.  Since motorcycles were the first off the boat, I was the first and only one at Customs, so it went very quickly.  I had none of the standard questions about Alaska and the bike, but rather the big question was, how many cars on the ferry.  The customs agents duty was pretty quiet, except when the ferry was running. 
And then back into Argentina, which was also very quiet, so it went very quickly.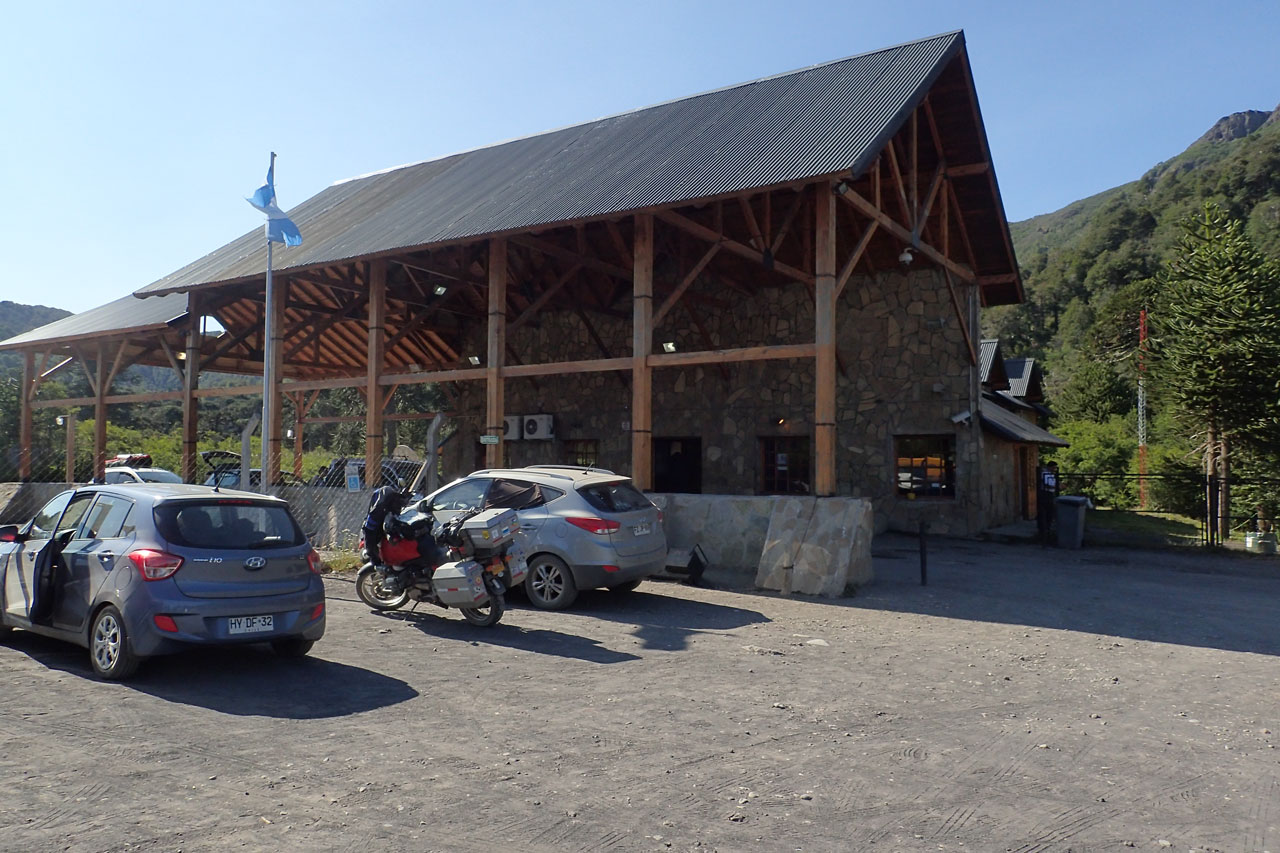 I rode a 100 mile loop into Argentina through the Parque Nacional Lanin, and then crossed back over into Chile.  So two border crossing today and both went really well.  There were a few local bikes at the border going back into Chile.  Border crossing here are so much easier than Central America.
I headed west through the Park, which had some really wild monkey trees.  That's not their official name, but what local friends call them.  And yet, another volcano on the horizon.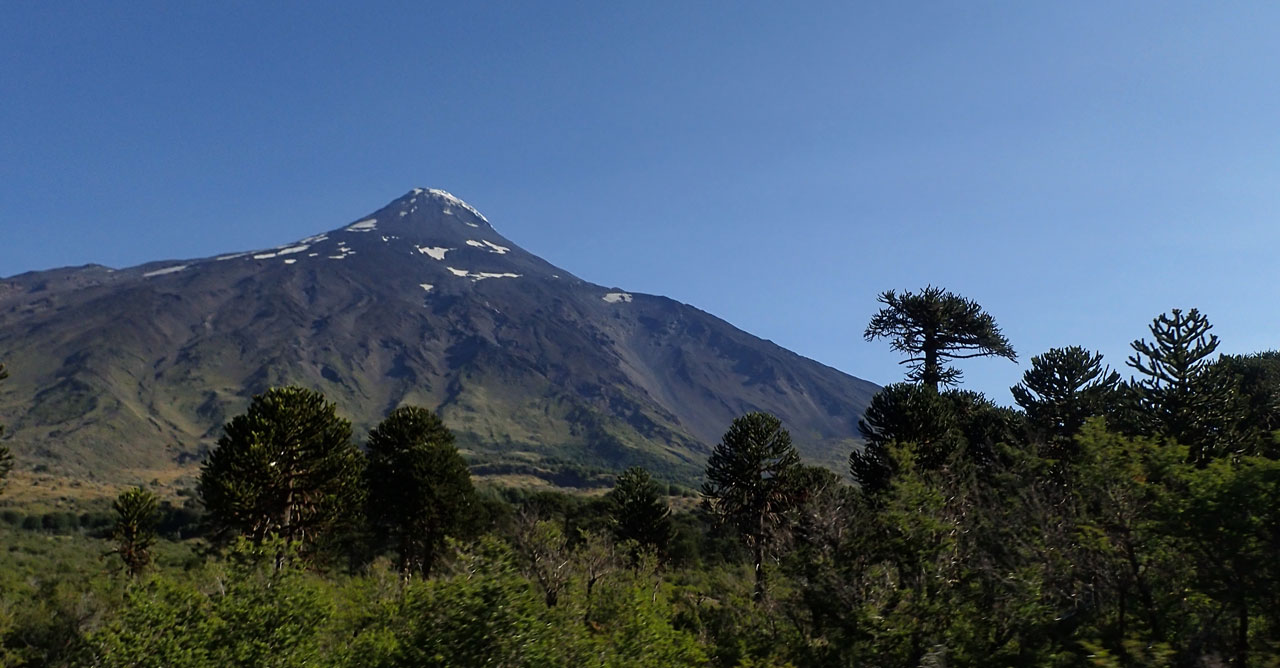 The monkey trees are pretty thorny and grow quite large.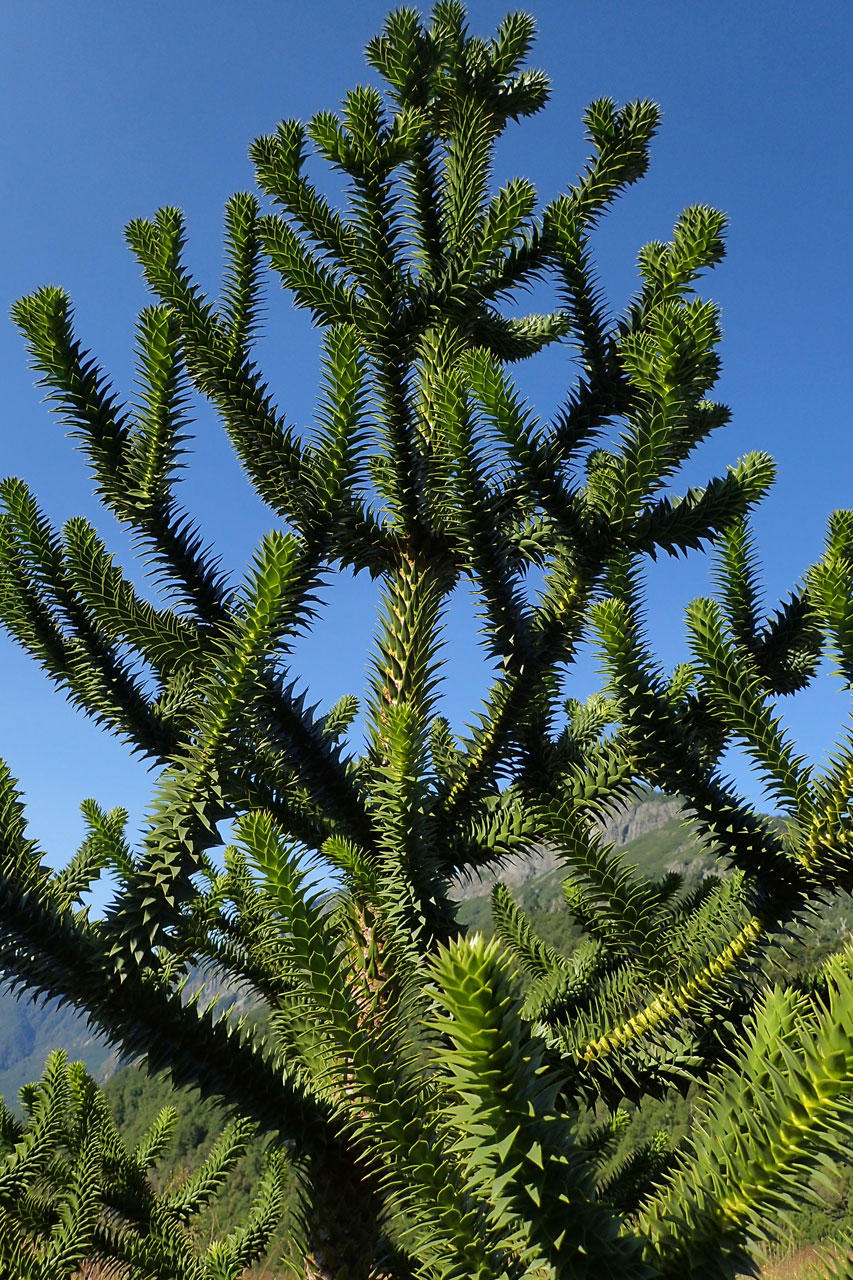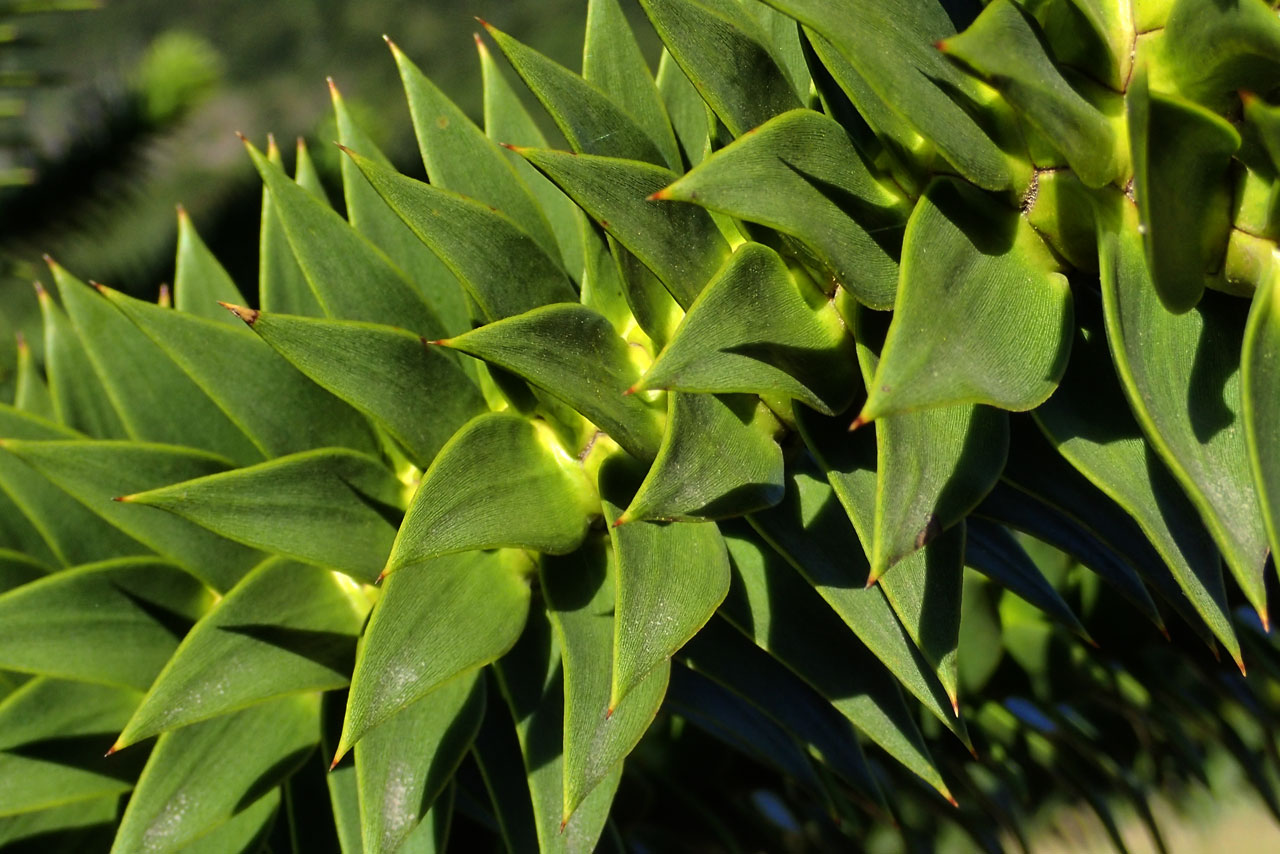 As I headed back into Chile the terrain turned green again and the mountains were once again spectacular.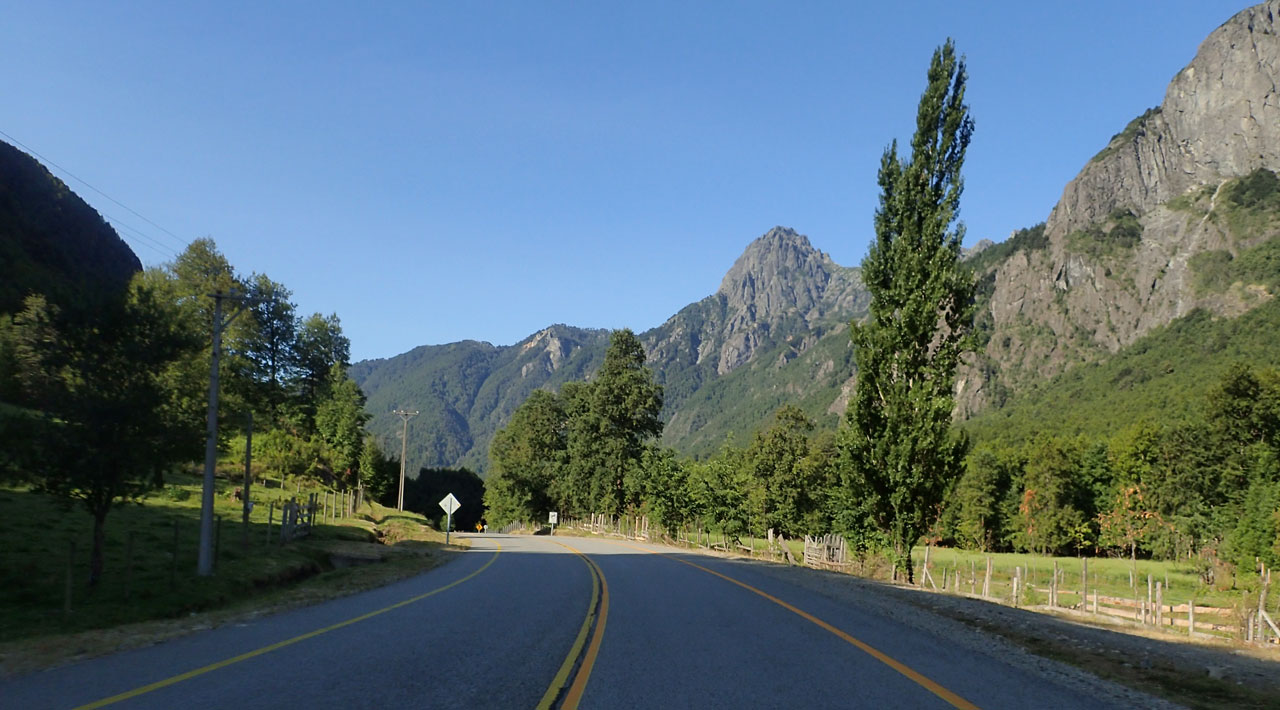 I ended up in a town called Pucon, right on the shores of Lake Villarrica. Tonight I'm looking at Volcan Villarrica, which has been smoking since I arrived.  Tomorrow I'll meet back up with Tracy who is on his way down from Santiago.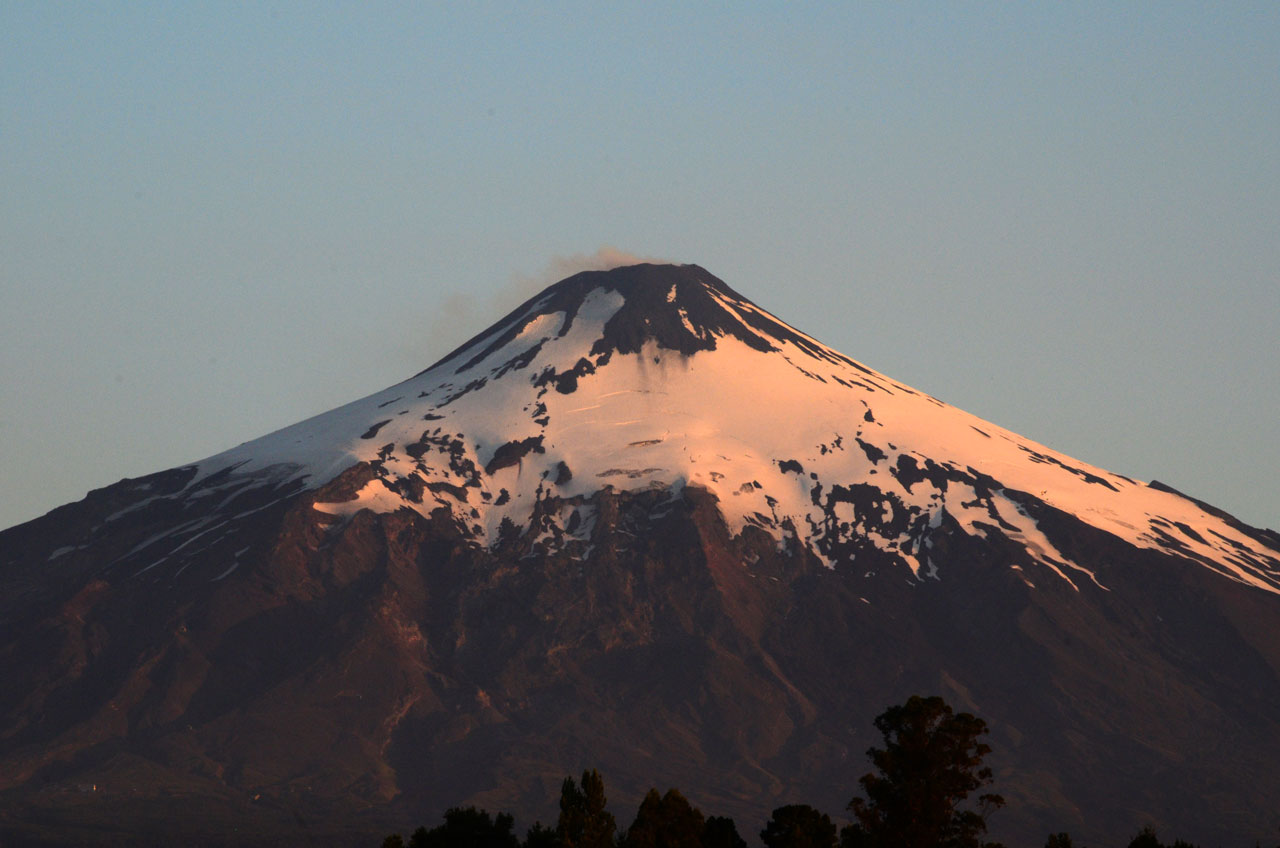 My last day exploring solo found me on some back roads around Pucon.  The entire area offers some really spectacular riding.  This particular bridge needed a bit of work though.
There is a road up Villarrica Volcano and it ends at a ski resort.  I hiked up as far as I could and the views were really great looking out over Lake Villarrica.   I can only imagine the skiing here would be fabulous.  I hiked up as far as I could, but when I saw climbers coming down with helmets, crampons, and ice axes, I was pretty sure I wouldn't be making it to the top in shorts and running shoes.  Next time.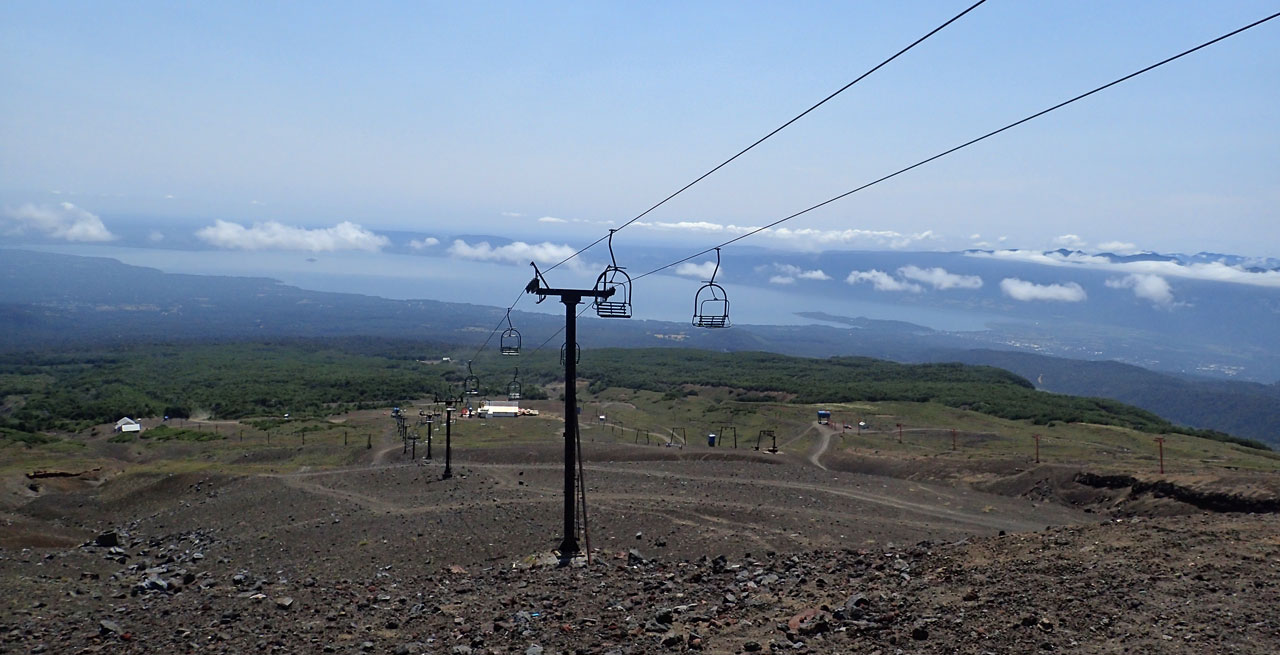 This volcano is one of the most active in Chile. It's last major eruption was in 2015 and it has been active ever since.  They use to offer helicopter flights over the crater, but those have now been suspended due to the possibility of an eruption.
The entire area is quite popular, despite an active volcano always within sight.  It's the summer tourist season here, so it's been very busy along the shores of the lake.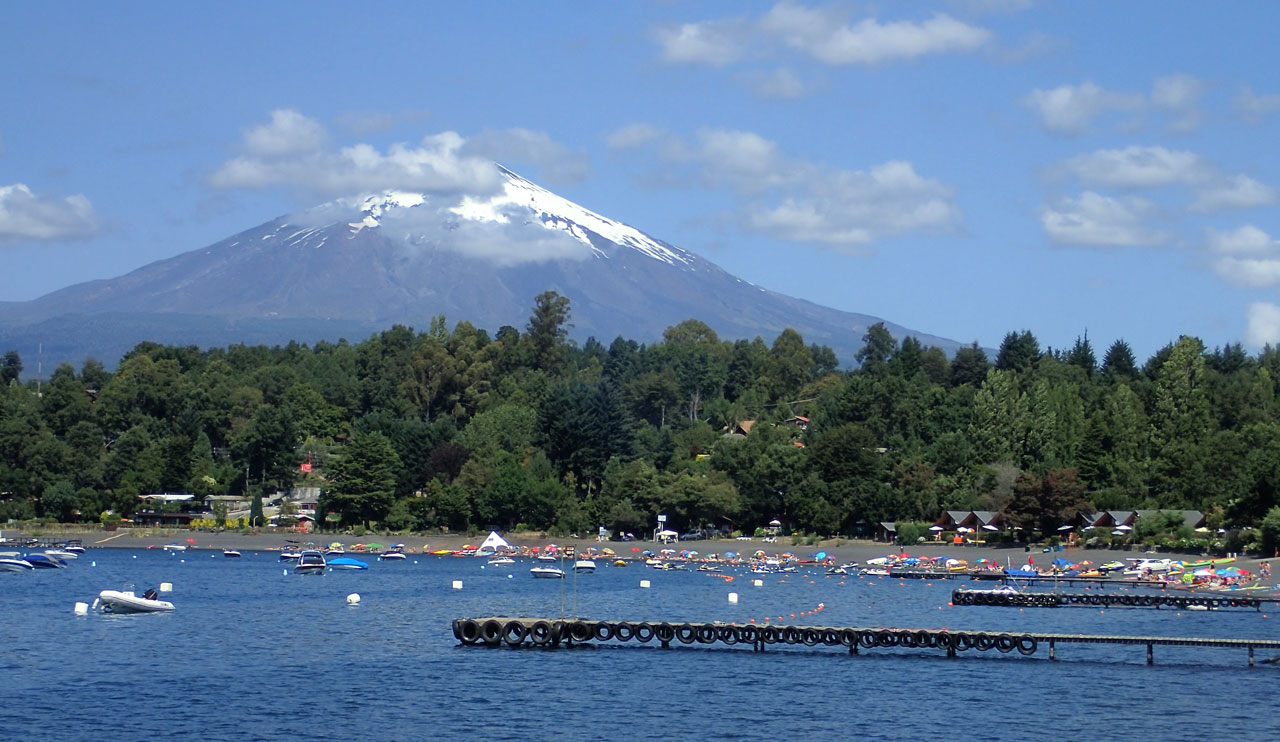 And again, it was a spectacular sunset on the volcano.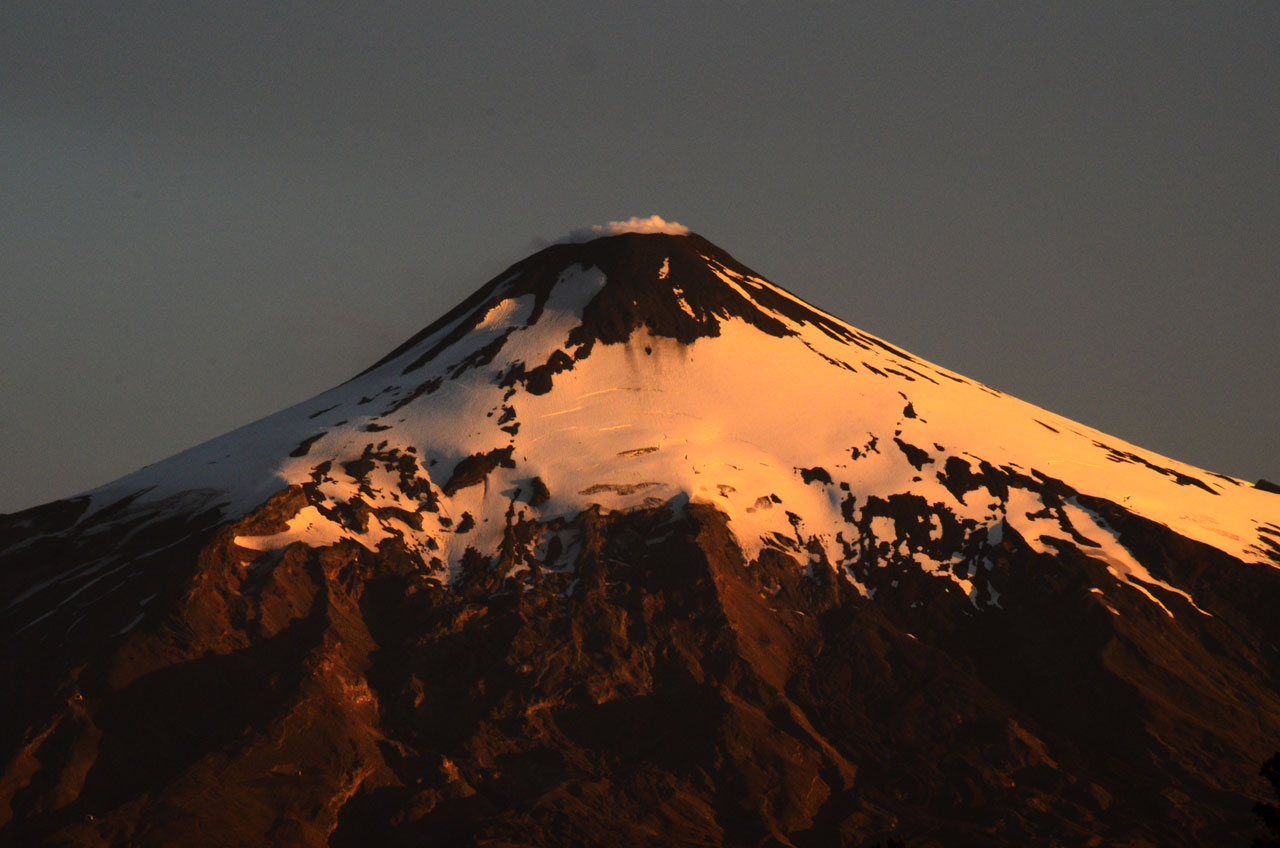 My time riding solo is over, so from here forward I will be posting under the Argentina tab.