Velocity Nation
Originaly published on VelocityNation.com 10/07
Troy Henkels has been to a lot of place and has done a lot of things. In fact that may be an incredible understatement. He's been to the South Pole, Mount Everest, Bering Strait, Kalahari Desert, Costa Rican Rain Forest and the mountains and ice caps of Greenland and Iceland. He lives in Eagle River, Alaska. He's been on climbing expeditions in Alaska, South America, Iceland and Tibet.
Henkels enjoys competitive endurance racing and has competed in several unique adventure races including: Iditasport - a winter endurance race across the interior of Alaska; Mt. Marathon - a mountain race, which ascends and descends 914.4 meters or 3000 feet in under an hour; Firewood Road Race – a 200 mile road bicycle race to Valdez, Alaska; and he ran a sub-four hour marathon in the Mayor's Marathon, Anchorage, AK. Troy has also been a team competitor in adventure races across the Kalahari Desert and the Costa Rican rain forest.
In 2003, Henkels was a finalist on the adventure TV show "Global Extremes" airing on Outdoor Life Network and ABC. "Global Extremes" took Troy and other participants all over the world competing in a variety of adventure races culminating in Troy and four other finalists attempting to climb the North side of Mount Everest. He also had the misfortune of knowing a young Dan Schmalz when they both grew up in Dubuque, Iowa.
My Trusty Steed
By Troy Henkels
Anymore, it's a question that gets asked fairly often, "Why do you ride THAT?" I don't have an easy answer, other than; it's always what I have ridden. I bought my main ride in Kansas City in 1991. I got a smoking deal on a blue and yellow 1990 model Fisher Montare, because it was the prior year's model. I paid an entire $746 for this hard tail. The poor thing, little did this bike know what was in store for her when I rode her off the showroom floor.
In those days mountain biking was becoming all the rage. I had several close friends who were serious riders and had serious bikes. I didn't have the money for it, and I already had a bike, an old 10 speed that my Dad had bought for me as a kid at a garage sale. I would ride every single track I could and visit all the pavement playgrounds that my buddies were riding. I must say I was less skilled and slower than the boys on the latest greatest mountain bikes, but then again, I was much younger and somewhat less wise back in those days.
It wasn't until I decided to quit Corporate America and get out of the city that I realized it was time I bought a real mountain bike. Moving to Alaska seemed like a reasonable reason to ditch the 10 speed and upgrade to a mid level Gary Fisher. The thing came with LX components and I added a front and rear Blackburn rack. I had no intentions of ever getting panniers, but I figured I might want to strap some stuff to this for some extended backcountry excursions. After all, it was Alaska, and I was 24, and I hoped this little dream machine would fuel adventures all over the Alaska wilderness.
The first ride I remember on my new Fisher was a middle of the night ride deep into Denali National Park. It was pitch black out and freezing, and neither my buddy nor I had lights. We rode 40 miles deep into the Park to the top of Polychrome pass. Even though the ride was a bit grueling, I kept pedaling, as this place is known for its grizzly bears. We topped Polychrome pass just as a full moon rose across the Alaska Range. I knew right then that Gary Fisher had done me right.
I was never much into conventional riding, on roads and with people. The bike was a tool for me to escape as far as I could into the Alaska wilderness and explore. Old mining roads, single track hiking trails, river beds, and dog mushing trails were the places that I rode. The terrain in Alaska is pretty rough and unforgiving. If it looked remotely ride able, I would try. If I couldn't ride it, I'd carry that damn Fisher until I found a place where I could ride.
After 16 years in Alaska, my old trusty steed has been on some pretty wild adventures. The Montare was with me on Stampede trail in 1992 when Moose Hunters found Chris McCandless, now of "Into the Wild Fame". It wasn't until years later I realized I was only a few miles from that old bus and where they found him. Stampede road was a regular fall ride for me and still to this day offers some great riding. Years later, I would make several, almost chest deep river crossings with my bike high over my head trying to get to that bus. I never made it. I guess I was more concerned about losing my Fisher in the Teklanika River than seeing an old bus that some guy died in.
About the bike. With a 16 year old bike, it is bound to see some changes. I ride the thing pretty much every day of the year and it has been on some long, long wilderness excursions. Both derailleurs blew out years ago. Oddly, the rear on Stampede trail. They both got upgraded to XT. At some point the rapid fire shifter started losing parts and malfunctioning. It was hard to replace those as they didn't make them anymore and they were part of the brake lever component. I couldn't see the reasoning at the time to buy new shifters and new brakes, so I hack sawed off the shifter parts and put the brake component to the grinder so I had room to fit in the new shifter components. It all worked out. The bottom bracket has been replaced, along with the headset. The headset was pitted and my ace mechanic didn't think he could find a headset to fit. He was talking like the frame was going to have to be scrapped. I started having wild dreams about a new, under warranty fully suspended model from Gary. Not to be, the mechanic found an oversized headset that fit good enough and, well, it still works. The rims have been replaced a time or two as have the tires. Even though I have ridden for many, many Alaskan winters, I have never bought studs. I've found summer tires work great as winter tires; you just have to be more careful. And about those racks, they're necessary in Alaska. In the course of any ride you can have sun, rain, snow, or sleet. And I've found that strapping a few things on the rack is easier than having it in a backpack on my back.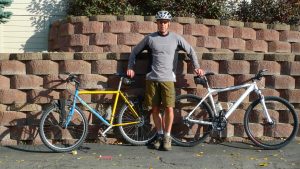 In Alaska there are some crazy races. One of the best is a 100 mile human powered race through some of the most amazing wilderness on the planet. You pick your mode of travel. The difficult part is it happens in the winter. My Montare completed the course in 2000 in 27th place in a little over 21 hours of non stop riding. With power bars duct taped to my rear rack and the rest of the required gear strapped on, I rode most of the course and only got lost twice, resulting in pedaling an extra 10 miles. In the end, snow conditions demanded that I push for part of the 100 miles. That ended up being about 30 miles worth of pushing that damn Fisher. I was not happy with Gary that day, as he could have made my Montare frame out of titanium. Probably bit much to ask for the early 90s. (For the full account and more details see: http://www.alaskaultrasport.com/, http://www.susitna100.com/, http://www.troyhenkels.com/page_news07.htm
The Fisher was with me when I had the hare brained idea to explore a 60 miles stretch of backcountry just outside Denali Park. That was a long day and the kid I took with me couldn't keep up, despite him being on the latest greatest piece of mountain bike machinery. The Alaska backcountry is pretty unforgiving and by the time we reached Boot Hill, an old miner's boot graveyard, we were both exhausted. In another hour we were back to civilization, and the Montare had fueled another epic adventure. (for the full account, clicker here)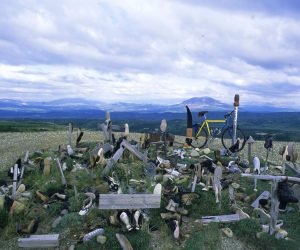 Probably my Fisher's proudest moment was a short sprint race in Denali Park called the Pygmy Tundra. It's a 12 mile road race from the Savage River to the Alaska Railroad Depot. Back in the day, when I was in my 20s I rode that race, with slicks every summer. I never, ever won, despite always beating out several riders on road bikes. I took second for four years in a row, always to the same guy who won, on a high end road bike. It has been almost 10 years since I last raced the Pygmy, but last summer I was in the Park and happened to hear the race was happening that very day. I entered and the Montare finally blew the field away and won! The rain, sleet, and near freezing temps really helped, as the Montare seems to thrive in weather that kills most other, pretty bikes. The amazing part was none of the bikers on actual road bikes could hold a candle to this 16 year old hard tail.
So, will I upgrade to a fancy, fully suspended model anytime soon? Well, maybe, but probably not. As long as this Montare has some life in her, we're in it together, for the long haul. There is something to be said for an old steed that has been a trusty mainstay for many years. Like the saying goes, "It's all about the Bike" and in this case, it is.