A Winter Ride Across Iowa
Former Dubuquer battles the elements and pushes his limits during his trek
By Troy Henkels, for the Telegraph Herald.  Originally published 2/16/20

When I was growing up in rural Iowa, I explored every country road within a bicycle ride of our family's apple orchard. Riding across the entire state was unheard of then, yet it was something that always intrigued me.
Now, even in Alaska, where I live these days, everyone has heard of RAGBRAI. But the annual event — joining thousands of people biking across the state in summer humidity — has never appealed to me.
So, I thought, why not ride across Iowa when no one else is out there?
In January?
Perfect.
My old friend Robert Waller used to say it is easy to see beauty in the Rocky Mountains, but it requires more perspective to see it in Iowa. I can see beauty in a frozen cornfield, at 10 below zero.
Why attempt such a seemingly crazy endeavor? To experience the sweeping Iowa landscapes in the depths of winter, but also to push my limits — to see what I'm capable of accomplishing. But really, I just like to ride. And what better place and time than Iowa in January?
The weather forecast for the day I had planned to start riding in western Iowa called for 5-8 inches of snow, coupled with wind gusts up to 50 mph. My decision to wait a day to begin was an easy one. However, on the drive to Akron, my starting point, I encountered some of the worst weather I've seen anywhere on the planet. (And remember, I live in Alaska.) Whiteouts, subzero temperatures and strong gusts made it tough to even drive. I started to question if this ride was going to be possible.
But as forecasters predicted, the next day dawned clear and cold, a solid minus-4, with wind chills dropping to minus-25. It was so cold and windy, churches in western Iowa canceled services. Conditions were far from ideal, but I'm hardly a stranger to cold weather.
So, with puzzled and inquisitive folks in Akron looking on, I turned my back on the frozen Big Sioux River, mounted my bike and started pedaling east. I set my sights on Cherokee and kept pedaling with an intense focus on moving my hands and feet to avoid frostbite.
My plan was to ride 50 miles per day and stay overnight in hotels. I've camped out in winter weather many times but decided against trying to bike with all the gear that would require.
After four hours, I made it to Cherokee. I felt so good that I contemplated riding another 20 miles but thought better of it. It took me some time to thaw out.
The challenge with biking in winter is dressing light enough so that you don't perspire. Overdress, then you're wet and you get cold quicker. It's a delicate balance.
Days two and three were again clear and cold, making riding mostly about enduring the cold. With the windchill between minus-15 and minus-25, a slight tailwind helped me along. Again, I had to focus on keeping my fingers and toes from freezing.
Despite the temperatures, the views were immense, with farmland for as far as the eye could see, often unfettered with fencing. Riding quiet roads through lonely landscapes is what I came for, and Iowa did not disappoint.
On these lonely roads, I realized that part of the beauty of riding across Iowa are the interactions with people along the way.
Of course, Iowans don't commonly see bikers in winter and certainly not in such weather conditions. I was an anomaly and people certainly noticed.
A few miles outside of Clarion, a pickup truck pulled beside me, and two bearded guys rolled down their window and asked, "Are you human?" We had a good chat as we rolled down the highway, before they wished me luck and were on their way.
Everyone I talked to was curious, friendly and welcoming.
The 70 miles I put in on day four, from Clarion to Waverly, were exhausting. Overnight, the temperature went from minus-4 to 33. I thought this would be a welcome change — until I started pedaling into a 25 mph crosswind amid driving, freezing rain and snow. The weather and snowy and slush-covered roads made the day's ride challenging.
Everyone I came across gave a friendly wave, and some even took pictures as they motored past.
The friendliest people I met on the trip were in Waverly, and as 5 inches of snow fell, we talked into the night. The next morning, roads were a mess and school was delayed. I climbed on my bike and headed east, bound for Manchester, another 70 miles away.
This part of Iowa started to feel like home. I saw place names that were familiar: Cedar River, Wapsipinicon, Maquoketa River, Strawberry Point. But what really made this stretch of road feel like home were the rolling hills and woodlands of eastern Iowa. To experience those in the depths of winter is something that took me back to days of my youth, cutting firewood in the woods with my father and brothers.
Despite the freezing rain, snow and headwind, the ride on Iowa 3, from Waverly to Strawberry Point, was the best of the entire trip. It was so good, I was tempted to turn around and ride back to Waverly.
The last day of riding, from Manchester to Dubuque, found me out in a headwind with more freezing rain and snow. I was determined to make it home. Not even a Delaware County sheriff's deputy could stop me — but he did pull me over.
On a quiet stretch of road, he said there had been numerous complaints that I was impeding traffic and people had to drive around me. I made the point that one way or another they were going to have to drive around me. He had a good laugh and agreed.
He said people thought maybe something was wrong with me. After all, there was a guy out riding his bike in a snowstorm, on a day when even school was canceled. Nope, I explained. I was just out for a winter bike ride across Iowa. He wished me well and sent me on my way.
The ride from Dyersville to Dubuque was a trip down memory lane. It wouldn't have been complete without a visit with an aunt and uncle in Dyersville, a visit with a cousin in Farley and riding past old haunts in Farley, Epworth and Centralia. So much of my growing up years in Iowa were wrapped up in those places, that it was a thrill to visit them again, in winter, on a bike.
I arrived home in Dubuque without fanfare. A few friends came out to meet me as I rode from the house I grew up in, down to the Mississippi River.
Ride complete.
What ended up being the coldest and worst week of weather (so far), this winter turned out to be a perfect week for a bike ride across Iowa. Like any grand adventure, some parts were fantastic and other parts challenged me like no other. It was an unforgettable, full value experience: Friendly people, sweeping landscapes and extreme weather.
Although I have lived for years in Alaska, I love Iowa. And no matter how I get here, even on a bicycle in winter, it's the coming home that I savor the most.
Henkels is a native of Dubuque and a 1985 graduate of Wahlert Catholic High School. He lives in Denali Park, Ala., where he writes about his adventures and experiences from around the world. You can follow his adventures at www.TroyHenkels.com.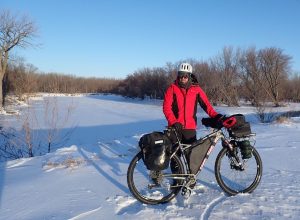 Henkels started in Akron at the Little Sioux River.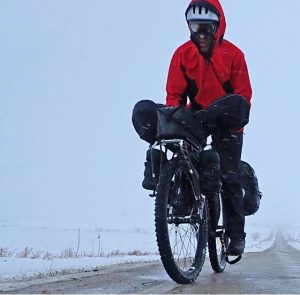 Troy Henkels during his bike trek across Iowa in January. Henkels battled snow, ice, wind and subzero temperatures during his trip.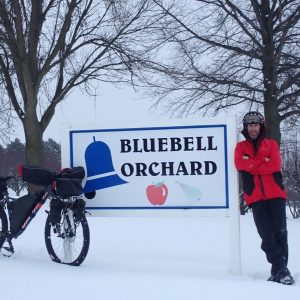 Henkels, back home at Blue Bell Orchard in Dubuque.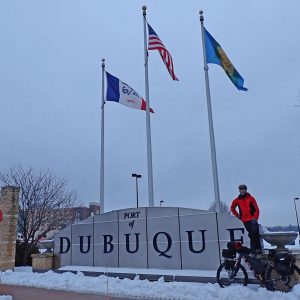 A bad week of weather didn't hamper Henkels' goal.